If they gave an ESPY for golf club line of the year then surely TaylorMade would have taken it home last year for its newly minted M1 and M2 Driver Series.
For starters Dustin Johnson used the TaylorMade M1 driver to capture his first major championship at Oakmont in June 2016. DJ, who had switched back and forth between the M1 and M2 leading up to the U.S. Open, used the M1 to boom the ball a whopping 316.75 yards on average off tee
Not to be outdone by its shiny sibling, the TaylorMade M2 was in Justin Rose's bag as he captured Olympic Gold in Brazil in August of 2016. Showing the accuracy that makes it attractive to many weekend golfers, Rose hit 90.38 percent of the fairways with his M2 on his way to the top of the podium.
Could TaylorMade's release of a 2017 series of the M1 and M2 drivers keep up the attention? That question was answered early this golf season when Sergio Garcia used the 2017 M2 to capture his first major championship at the Masters in April.
If these high-profile wins aren't convincing enough for the weekend warrior then consider that some two-thirds of the big hitters on the PGA tour this season, all smashing the ball over 300 yards on average, carry either the TaylorMade M1 or M2 in their bag.
Of course you might not even be ready to challenge for your club championship let alone the Masters so you simply want to know if either club is going to help your game. Let's take a closer look at each club: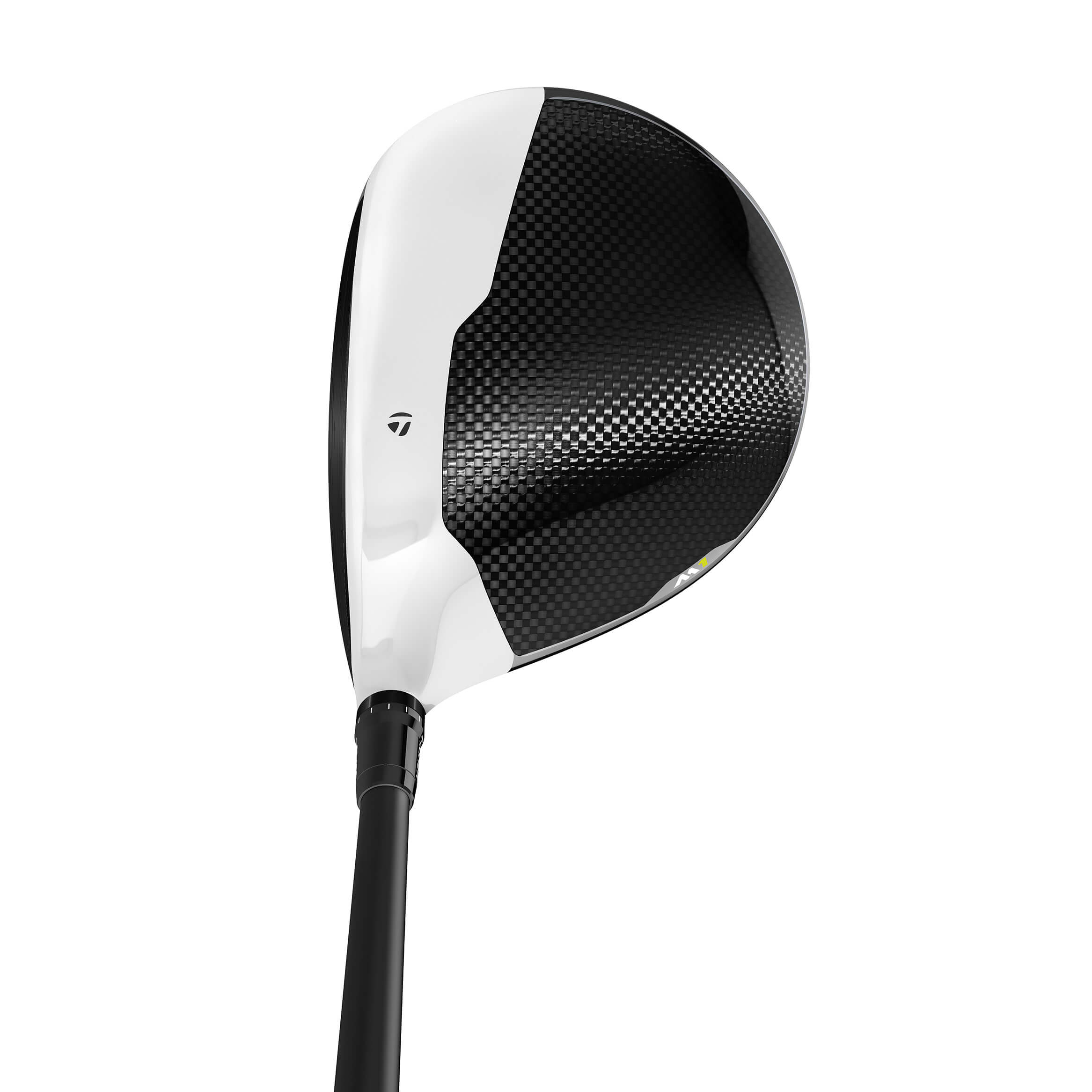 TaylorMade M1 Driver Review
Pros
Driver uses 43 percent more carbon than 2016 model which saves weight to lower the center of gravity for better launch conditions.
Expanded and redesigned longer T-Track allows for increased adjustability with more moveable weight.
Modified internal acoustic management techniques help control vibration and pitch at impact.
New ultra-lightweight aluminum Loft Sleeve sports a dozen settings that you can easily adjust to dial in face angle and loft without a trip to your local golf shop.
Three premium stock shafts — plus the ability to upgrade to 30+ shaft offerings with no upcharge — including Fujikura's highly-rated Pro XLR8 for high launch profile; Kuro Kage Silver Dual-Core TiNo 60 by Mitsubishi for mid launch profile; and — maybe golf's coolest shaft name — Project X HZRDUS Yellow 65 for low launch profile.
Cons
Shots hit low on the club face may not carry as well as expected.
On misses for some players the low-spin head may not produce desired distance.
Adjustability can be intimidating to some golfers, especially high-handicappers.
​
Distance
Let's face it when you are golfing with your favorite foursome you aren't going to play it safe and lay it up … you going to go for broke and blast it over the bunker! This clubs checks all the boxes for the big bombers who want to carry a big stick. There is a reason there was a rush on the PGA Tour to switch to the M1 upon its launch as the club throws up some serious distance numbers. It is longer than previous TaylorMade offerings and the 2017 M1 driver is slightly longer than its 2016 predecessor, if only incrementally so. This is the club you want in your bag when you reach the "Longest Drive" tee at the next charity golf tournament.
Forgiveness
The redesigned T-Track system on the sole allows you to modify 15 grams of weight for left-to-right trajectory and 12 grams of front-to-back weight for lower or higher ball flight. The result is more forgiveness off the tee. If there was one negative on the 2016 M1 driver it was a tendency to lack forgiveness on mis-hits and TaylorMade golf club engineers have addressed this issue on the 2017 model which doesn't lose as much speed on off-of-center hits and all shots launch with less spin. The bottom line is that directional misses tend to stay in the short grass and wind up closer to the green than expected.
Personalization
The re-engineering of the center track to extend it a half inch longer and to add heavier adjustable weight increase the adjustability of the 2017 M1 club by 132 percent over the 2016 model. The most adjustable club on the market now has nearly 6,000 total settings. The club comes in loft degrees of of 8.5, 9.5, 10.5 or 12 with all of them adjustable by +/- two degrees. By utilizing the moveable mass on the sole, weekend players can summon any shot shape including the always desirable long and straight result. For those players with a good feel for their game already, they can opt for the M1 440 Driver. This 440cc model has 30 grams of moveable weight compared to 27 grams with the standard model, as well as a marginally smaller club head and a deeper club face than the 460cc model.
Appearance and Feel
This is a club that doesn't scream "touch me" with some wild paint scheme but features a classic black and white crown. The club artfully combines both of refined taste and high-tech look. In addition the M1 is a big, friendly looking club that will give you plenty of confidence before you ever reach the first tee. Once you hit the M1 you will notice an improvement in the sound from the previous M1. Balls crushed now sound less hollow than before and closer to what players are used to hearing from more traditional all-titanium clubs.
TaylorMade M2 Driver Review
Pros
All-new Geocoustic™ technology unlocks more forgiveness and improves best-in-class sound. The Geocoustic engineering was accomplished by a new sunken curvature on the sole, making it stiffer and easier to control vibration at impact.
Speed Pocket is three times more flexible than it was in the original M2 driver.
The next time you talk about your love of 6-layer it won't be referring to your favorite tailgate dip but to the new 6-layer carbon composite crown. Thanks to the composite material, combined with a lower density 9-1-1 Titanium body and streamlined sound ribs, TaylorMade engineers freed up 25 grams of discretionary weight which were relocated low and back in the sole of the club. This increased the overall inertia of the M2 driver without sacrificing aerodynamic performance.
Available in M2 D-Type Driver which features a draw-biased design to help golfers eliminate a miss to the right and gain more distance with a straighter ball flight.
Make it a family affair with the M2 Ladies club. If your significant other is looking to upgrade from a club such as the TaylorMade Burner Driver she can gain an average of 15 to 20 drivers which will make the his-and-her rounds that much more enjoyable.
Cons
Does not feature T-Track center console adjustability that M1 driver boasts.
Those with faster swing speeds may not find as much spin and control as they can with the M1 model.
Distance
For many golfers it is all about the total distance. If you have historically been the first person to always jump out of the cart after a drive, then the M2 will give you hope that you will be dropping your buddies off first as you cruise on down the fairway to find out where your rocket landed. This is accomplished in the M2 by a low-launching, low-spinning shot profile that will pick you up valuable extra yards as it skips along the ground toward the green. Adjusting the hosel will result in higher loft and in some tests the M2 model out-drove the M1 by a few yards.
Forgiveness
Engineers at TaylorMade understand that the average golfer isn't going to enjoy their round if they spend most of it searching for their ball down the left side rough. Off-center hits will get a lot of distance and have a better chance to find the short stuff making this the club of choice for those that tend to have some wild swings during their round. Sidespin is minimized with the M2 and for most golfers this takes the left rough out of play. The adjustable hosel is set to a default that should result in many a screamer down the fairway. Confidence is gained and margin of error is reduced with a club face that is 7 percent larger than the previous M2 offering.
Look and Feel
Swing away friends as TaylorMade has manufactured this club such that you won't break it with your mightiest swing. The black and white contrast make alignment, especially for mid-to-high handicappers a breeze. The ball flies off the club face with a ferocious sound that will bring a smile to your face on the driving range and on the tee box.
Customized Performance
The M2 may not come with the adjustable T-Track system of the M1 but that doesn't mean you sacrifice your ability to customize this club. The M2 is equipped with a new aluminum Loft sleeve that features 12 adjustable settings. The M2 also comes with a stock Fujikura Pro XLR8 56 high-launch shaft that is available in A (senior), R (regular), S (stiff), and X (extra stiff) flexes along with a new dual-textured 360 performance grip that delivers a great feel throughout your swing.
Which TaylorMade M Series Driver is Right for Me?
When TaylorMade first released the M Series Driver for 2016 it seemed like it might be a case of the M1 driver being the big brother and the M2 being the try-harder sibling. As the year went on, however, the M2 gained in popularity among both armatures and touring professionals. With the 2017 unveiling the M1 and M2 are now seem on equal footing as similar yet unique clubs, each with their own set of merits.
While you can't go wrong with either choice, the M1 club is likely going to suit those players looking for that extra finesse in the spin and control. The M1 is also the club for those golfers, no matter what handicap, that like to do their own tinkering as it has so many adjustments that can be made.
The M2 may be the perfect club for those golfers with a little slower club speed that need to find the fairway with more distance.
Both of these drivers are going to provide you with the twin billing of distance and forgiveness.
19th Hole
The changes to the TaylorMade M Series Drivers are very real, but also not enough of a game changer to make you turn in your 2016 M1 or M2 model just year.
If, however, you haven't upgraded your driver in the last three years then you are in for a very real distance and forgiveness boost by moving to the TaylorMade M1 or M2. And if it has been more than five years since you have swapped drivers, you need to run, not walk, to the nearest golf shop because the revolutions in golf technology are happening very rapidly.
The TaylorMade M Series stacks up nicely against the other heavy hitters in the long ball game so it might come down to a matter of brand loyalty.
It is hard to argue against the most forgiving driver series Titleist has ever made, the 917 D2 and D3 Drivers and the Callaway GBB Epic Drivers will always have its fanboys with its incredible distance and ability to split fairways but TaylorMade has a set of clubs, the M1 and M2, that deliver on both the distance and forgiveness.
The bonus of putting the TaylorMade drivers in your bag, is not only the swagger it will add to your step during your next round, but also the joy of watching your favorite professionals wield that very same driver at the Masters or British Open.
(2018 Update, Taylormade has released the new M3 & M4 Drivers. Check out our full review of the M3 & M4 drivers here. Check out all of the 2018 drivers in our 2018 review of the best new drivers.)