Golf is one of the most satisfying sports ever and once you start, it's easy to get hooked on this great game.
But there are two things scare a lot of golfers away from the game before they ever truly get to enjoy the beauty of it. Those two factors are slow play and the overall difficulty of the game.
Chances are, if you've been playing this sport for long you know exactly what we're talking about. An average round of golf takes at least four hours but usually closer to five hours.
Not to mention warm up time and maybe a drink or food after the round. All in all, you need to invest 5-7 hours of your day for the course.
The second obstacle to more people enjoying golf is the difficulty. As a beginner, it's very overwhelming and easy to give up before it gets good.
But there is a solution to these two problems; an executive golf course.
In fact, when I first started playing I found an executive course that allowed unlimited play. After 54 holes on my one of my first visits to the course, I was hooked!
Keep reading to learn more about these types of golf courses, why you should play them, and how to find ones near you.
Executive Golf Course 101
You might have asked, "What does an executive golf course mean?"
It's a good question as an executive course is very different from a typical golf course. An executive golf course is a shorter version of a real golf course.
Executive golf courses were created for business executives who wanted to play golf in less time. They wanted to be able to sneak away from the office to practice and hit some balls, without the time spent at a typical golf course.
Thus, the executive course was born. The goal is simple; faster golf, fewer shots, and less time-consuming for each round.
Most are par 3 holes while there is an occasional par 4 or drivable short par 4, some might even have a short par 5 on some courses. Some of these courses are only nine holes while others are a full 18 holes.
Regardless of if they're a nine or 18 hole course, they are much more casual in nature and some might not even have a formal dress code, which also caters to new players. Plus, some might not even require tee times either (but it's always a good idea to call ahead).
These types of smaller courses are great for seniors, juniors, and casual golfers. Some are stand-alone courses, others are an extra nine holes at an 18-hole facility, while others are located on military bases. This is the type of golf course that Tiger Woods learned how to play the game at.
The total distance of an executive course is much shorter than normal courses which are 5,500 to 7,000+ yard. Additionally, there are several tees to cater to different types of golfers. While length is half of a normal course (or more), they're still beneficial for even skilled players.
Why You Should Play Executive Courses
While par 3 style courses are normally known for juniors, beginners, and seniors, they might be the secret to shooting lower scores too. While you will likely leave your driver and long clubs in the bag, a par three course has plenty of benefits.
#1: Improve Your Wedges
First, you can hone your wedge game much better than if you were on the driving range. Most ranges don't have great targets on the range, so it's hard to practice from short range effectively. But on an executive course you can practice on the links and hit all different types of shots.
#2: Play Fast Golf
Second, it's a good way to play faster. If you don't have 4-5 hours for a normal round of golf, a par 3 course is a good way to play golf much quicker than normal.
#3: More Exercise
Third, it's a good way to get exercise while playing golf as walking is more common.
While some short courses have golf carts, a lot of them prefer players to walk. This is a good way to train your endurance and warm up before trying to walk a full-length golf course.
#4: Save Money
Lastly, it's much cheaper to play a shorter course too. This will save money but still improve as a golfer.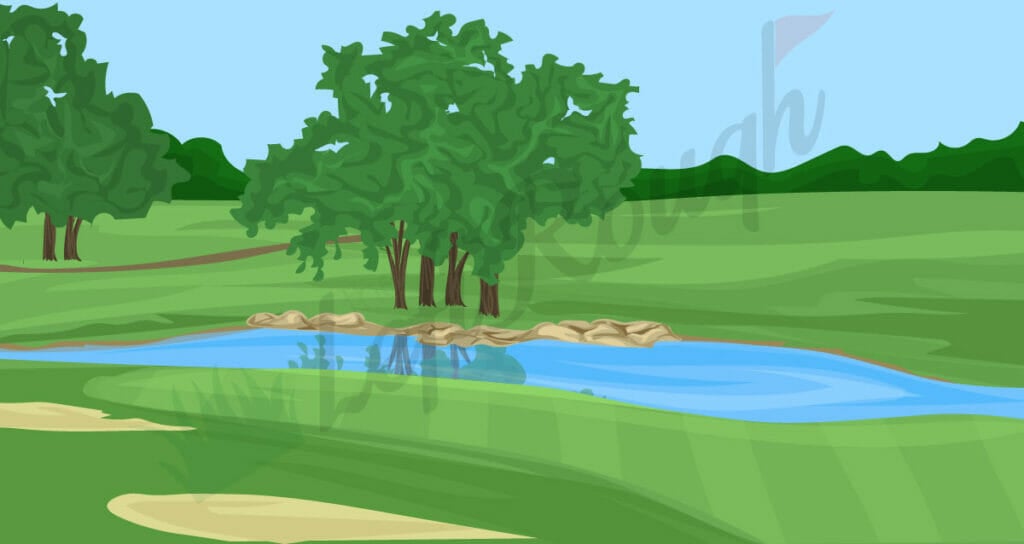 How to Find Executive Golf Courses
Now that you know more about these short courses, you might want to know where they're located.
Thanks to Google, you can quickly search for "Executive golf courses near me" to display the closest ones. Or, search for "par three courses" if you don't get a ton of results to find ones located near you.
Also, it's not uncommon to find regular 18-holes golf courses also have a smaller, nine hole course as well. Call some of your local golf courses and ask around so you can start enjoying the benefits of executive courses.
Most Famous Executive Golf Course: Augusta National
While most executive golf courses are smaller, not as well maintained, and catered to beginners, there are some notable exceptions. Perhaps no example is better than the nine hole course at the famed Augusta National.
Each year during the Masters, some players in the field tee it up on the Wednesday before the tournament for short game magic. They typically have their kids, wives, and significant others as caddies during the event.
The course is in pristine condition and very similar to the playing conditions of the full 18 holes at Augusta National. Plus, the greens are contoured to promote good shots to get really close to the pin and hole in ones are quite common.
While it's fun for players, fans, and family, there might be a "curse" if you win. Because no player in the history of the Masters has won the par three tournament and then went on to win the green jacket.
FAQs About Par 3 and Executive Courses
Do you have more questions about executive golf courses? If so, we have answers to help you out.
What is an executive 9?
An executive nine is much shorter than a typical golf course.
They're more of a fun course, often times only nine holes, and easier than a regular course. Plus, they're great for all skill levels and great place for beginners.
How long does it take to play an executive course?
The idea of this type of course is to play fast golf. Some nine holes might only take an hour while others might take longer depending on the layout, challenge of each hole, and if you're walking vs. riding.
All in all, it should take half the amount of time or less to play these types of shorter, par 3 courses.
How many yards is an executive golf course?
Executive golf course yardages can vary greatly. Some nine hole courses might only be a little over 1,000 yards. While others can be up to 5,000 yards if there is a full 18 holes.
Do executive courses have golf carts?
Most executive courses do have golf carts. If it's a nine hole, par 3 course, they might not have carts as they're generally not allowed on these types of holes.
Since you don't hit all your clubs, it's not uncommon to buy a smaller bag to carry or use a push cart too. Make sure to search their website ahead of time or call ahead so each golfer in your group can make arrangements.
If you have to walk, just remember it's much shorter in length and typically very flat.
What are par 3 courses called?
A par three course might be called an executive course or simply a par three course.
Most, if not all, of the holes on executive courses are short in length and a majority are par 3 holes. However, some courses might have a few short par fours or even a par five too.
Final Thoughts on Executive Courses
An executive golf course is a great way to enjoy the game fast, without having to spend your entire day on the links. Remember, these courses were originally made for "executives" who were busy during the day but still wanted to squeeze in time on the links.
Playing these types of course will help you save money, improve your wedge game, play fast, and get more exercise. Also, these shorter courses are great for beginners, juniors, and senior golfers too. Since they're much shorter and easier, it's a great way to get started in the game, learn golf etiquette, and work your way up to a longer course.
Plus, even if you're a skilled golfer, these courses can help sharpen your swing from short range and practice the shots that matter most. If you're struggling with your irons and wedges, an executive golf course can help you out tremendously.