Have you ever wondered how long it should actually take to play 18 holes of golf?
In a perfect world, golf should take between 4 to 4.5 hours if you have a foursome. Of course, that's a perfect world though. The sad reality is that most courses take the average foursome between 5-6 hours to complete a round.
Unfortunately, tough courses, long routines, and other reasons aren't allowing golfers to finish in that time frame. This is known as the pace of play.
Here's why pace of play matter and how you can speed it up to play faster and have more fun golfing.
What is Pace of Play in Golf?
Pace of play is the total amount of time it takes for each group to complete the hole. Combined over 18 holes, this is the total amount of time it takes from your first tee shot to your last putt on number 18.
A general rule of thumb is to try and keep it under 4.5 hours. That equates to roughly 15 minutes per hole. The par 3's are usually shorter in distance and tend to take less time while the par 4's and par 5's usually take longer.
This is a very general rule and usually a good pace for your average Saturday foursome. If you're competing in tournaments, the rounds are usually longer due to increased pressure.
Why Does Pace of Play Matter?
Pace of play is a big deal not only on the PGA Tour but also among amateur golfers. For the game to grow and thrive, people need to get more interested. One way to do that is to shorten the round of golf because 5-6 hours isn't appealing to most people who have never played golf.
The faster the pace of play, the more fun and enjoyable of an experience than one that seems to take forever. If you read my article on golf etiquette for beginners, you'll remember that slow play is 1 of the 13 Rules and maybe the most important.
Keep reading to identify what holds up most groups and how to play faster (and better) golf.
Top Reasons Golfers Play Slow
There are a few common reasons for slow golf. Here are the ones you will probably see the most often:
Ego. Don't play the back tees if you can't break 100 or 90. It's not fun for you or the groups near you. Make golf enjoyable by playing the correct tees for your handicap.
Not playing ready golf. More on that in the next section.
Walking hard courses. While walking can make it a more enjoyable experience, it can also slow up play if it's summer rules. Switch to walking 9 and riding 9 to speed up play.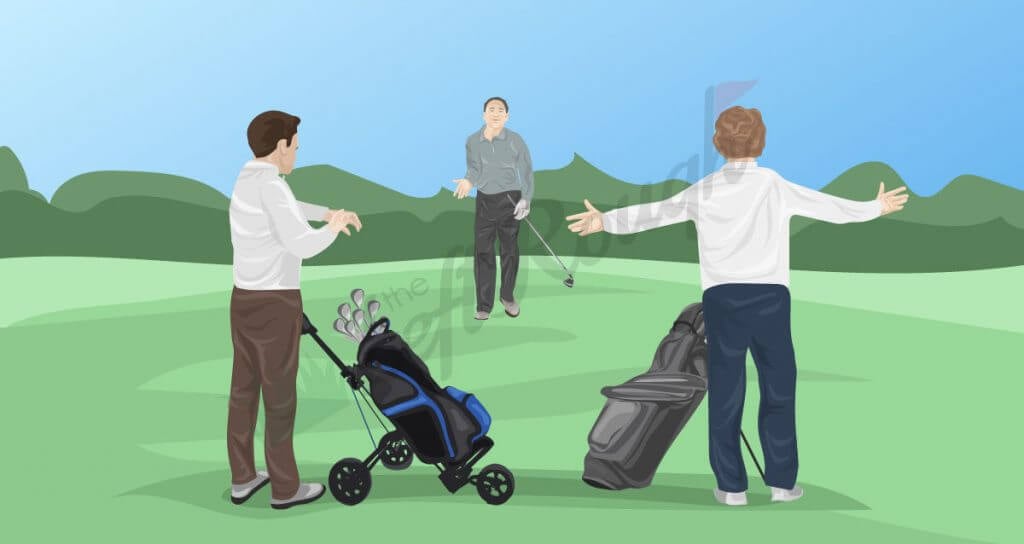 10 Ways to Play Faster Golf
1. Tee it Forward
The USGA has created a great initiative with the "Tee It Forward" mission. This encourages golfers of all ages and skill levels to play a tee up. By making the course shorter, it's easier for players and usually shortens the round.
As the USGA said, "Play from a set of tees that is comfortable for you – one where you are more likely to hit lofted irons into greens instead of hybrids or fairway woods. It is acceptable for players in the same group to play from different tees."
Plus, if you have a group where players hit from different tees, the handicap system makes it easy to offset things. Make sure that you double check the slope and total yardage from each tee before teeing off.
This way you aren't making golf harder than it is and also not making the group behind you mad. If you are playing a new course for the first time or you're not a 5 handicap or better, please don't tip the course out!
2. Play Ready Golf
In golf, there is "ready golf" and there is the standard, "honors" rule. The traditional way is that each player tees off based on the score from the previous hole. For example, if you make a 5 and the other players make 3's or 4's, you would tee off last in the traditional "honors" way.
Ready golf is the exact opposite. With ready golf, the slogan is "Fire when ready." This gets rid of the "who made what" argument on the last hole and ensures you aren't standing around on the tee box.
The same goes for hitting out of the fairway. For the most part, you want to let the person furthest out go but if they are walking or moving slow, hit when ready.
In my opinion, ready golf is simply common sense. If you're ready and not in the way of other golfers, make your stroke. Ready golf is one of the easiest ways to speed up the pace of play!
3. Don't Take Mulligans
Oh mulligans. What would golf be without the classic mulligan? If you're brand new to the game of golf, a mulligan is simply the act of throwing another ball down and giving yourself a second chance at the shot you just hit it.
Mulligans have a time and a place. A lot of players use them to combat the first tee jitters. But if you're playing on a jam-packed Saturday, skip the mulligans and play your shot regardless of the outcome. Taking mulligans slows down nearly everyone and also makes keeping a real score nearly impossible.
4. Keep Your Pre-Shot Routine Quick
Great golfers play fast for a number of reasons. First off, they hit it straighter and shoot lower so it takes less time actually hitting the golf ball (obviously). But something that almost every single digit handicap player has is a solid pre-shot routine.
A stock pre-shot routine allows them to hit shots quicker and usually hit better shots. They aren't standing over the ball over thinking of the shot. This usually makes things worse and easy to let some bad thoughts enter your mind.
Instead, create a solid pre-shot routine that has 1-2 practice swings and then hit the shot. Ideally, you want to have a pre-shot routine of 20 seconds or less. If you shoot in the 90s or 100s, make your routine even faster as it will help keep up with more advanced players.
Remember, a long, drawn out routine doesn't mean you will hit it well. Don't overthink it and keep it simple to speed up play.
Click here for a deeper discussion on how to build a Pre Shot Routine.
5. Use Carts on Long Courses
While there are tons of benefits for walking a golf course, some courses just aren't meant for it. If you're trying to walk a course that has a ton of room between holes or has severe hills, opt for the cart. Or least walk 9 holes and use a cart on the back nine.
Once you're riding, don't forget to use a golf cart bag that allows you quick access to your clubs and gear. Secondly, don't forget to use the buddy system. Help each other navigate the course and find each other's golf balls. Always make sure to be a good "cartner" and to pick up extra clubs, walk when needed, and help each other find the right distance.
6. Use a Rangefinder
Speaking of finding distances, make sure that at least one person in each cart has a rangefinder or golf GPS gadget to determine distance. It seems like more and more courses aren't marking sprinklers as they did in the past which makes it harder to find distances.
Having a rangefinder makes it easy to shoot to the flag, bunkers, and other hazards without wasting time. Make sure to take a look at the best rangefinders to find the best one for your game and budget.
7. Try Out Different Formats of Golf
While most golfers opt for traditional stroke play, there are tons of other options like scramble, best-ball, Stableford, and match play. These other options are fun ways to playing different types of golf games, mix it up and also speed it up.
Match play is another awesome way to enjoy the game of golf outside of watching the President or Ryders Cup. With match play, you will speed up your pace of play for a few reasons.
First off, you don't have to putt everything out. If your competitor concedes the putt, you don't have to waste time knocking in 2-3 footers. Plus, if things go bad off the tee, you don't have card a snowman or worse and can instead just concede the hole.
If you're giving match play a try, make sure to read the best strategies for match play to get an edge up on the competition.
8. Always Hit a Provisional Golf Ball
Have you ever hit a ball close to the out of bounds line only to figure out that it indeed is unplayable and OB? With out of bounds, you are required to go back and hit the same shot again. But if you've already driven up and looked for your ball, going back to the tee can take a lot of time.
Make sure to always hit a provisional if you think a ball has a chance of going out of bounds. This will speed up play and also make the group behind you much happier as well.
While you're at it, make sure you understand the other rules of golf.
9. Let Groups Play Through
Depending on the situation, another way to speed up your round of golf is to let the group behind you through. If you're rushing and still have the group close to you, let them through, especially if they're a single, twosome or threesome.
While the goal should be to always be able to see the group ahead of you, things happen. Whether you're playing with a golfer who is new or just moves a little slower, make sure to let faster groups through.
10. Don't Keep Score if You're a Total Beginner
If you're brand new to the game, forget abiding by all the rules and golf and certainly don't worry too much about the score. Sure, eventually you want to track your score so you can start beating your scores, start slow. Make sure that you're having fun first then start keeping score!
Final Thoughts of Pace of Play
Hopefully, these tips on pace of play will help you speed up your playing partners. While I was not able to find any specific study, I'm confident that the faster you play, the better you will play too.
The longer it takes you to play 18, the harder it is to stay in rhythm, keep your swing loose, and keep an optimistic attitude toward the round. Whether you're shooting in the 100s or in the 70s, make sure you create a routine that is quick and can play in under 4.5 hours.
Use these tips to start playing faster and better. Not only will you have a better experience but you will most likely shoot lower scores too.