Are you looking to mix up your next round of golf with your buddies but aren't sure what to do? Well, I wanted to let you know more about one of my favorites golf games out there – the Stableford. It's not like the normal scoring in golf which makes it a ton of fun.
While it's not as popular as match play (like they play in the Ryder Cup and Presidents Cup), it's equally as fun. Unlike traditional stroke play, the goal isn't to have the lowest score possible.
In fact, it's the exact opposite, the goal is to have the highest score but that doesn't mean the goal is card doubles and triples. Instead, it's an adapted scoring style that gives a score to eagles, birdies, pars, bogeys, and more.
In fact, the Stableford is the only other format (aside from stroke and match) that is used on the PGA Tour. The top players in the world use this system in the Barracuda Championship.
This format encourages aggressive play which makes it fun for fans and players. In this event, you won't see guys laying up or hitting for the middle of the green too often. Instead, they are constantly bombing it and attacking flagsticks in the hope to make more birdies and eagles.
So if you want to learn more about this unique scoring format, keep reading so you can get started this weekend with your buddies.
Stableford Scoring System
History of the Stableford
Believe it or not, but the Stableford scoring system has been around for over 100 years! That's right, the creator Dr. Frank Barney Gorton Stableford developed this system in the late 1800s (could you imagine what the game was like back in those days)? He is sometimes called the "Patron Saint of Club Golfers" as he always had the average golfers best interest in mind.
Anyways, the doc found that golfers were giving up too quickly when they had bad starts. So he developed the system to keep going and finish the round. So even if you have a disaster hole (which as you know, happens more often than we care to admit) it won't ruin the fun.
This style of play was first put into tournament play in 1932 at Wallasey Golf Club in England. Now, it's a wildly popular format over the pond for a lot of tournaments as the scramble is in the United States.
Now, let's break down how it works so you can start enjoying this ancient but extremely fun way of playing golf.
Stableford Scoring System
As I mentioned in the beginning, the goal of the Stableford is to score the most points (which usually means you played the best golf, but not always). Every score to par is equivalent to a set number of points that is pre-determined with your group. This incentivizes risk-taking, as the reward is greater and there isn't a huge penalty for big numbers.
For example, here's how the R&A breaks down this classic system:
Four strokes under (which there is basically no chance): 6 points
Three strokes under (aka double eagle/albatross or hole in one): 5 points
Two strokes under (aka an eagle) : 4 points
One Stroke under (birdie): 3 points
Even par: 2 points
One stroke over (bogey): 1 point
Two strokes over (double or worse): Zero points
Essentially, you want to make as many birdies (or better) and pars, to have the highest number at the end of the round. In the traditional format, there are no negative holes, which means anything after a double you can pick up. No need to card that snowman on a par 4 anymore!
But, there is a modified version of Stableford that you can play as well.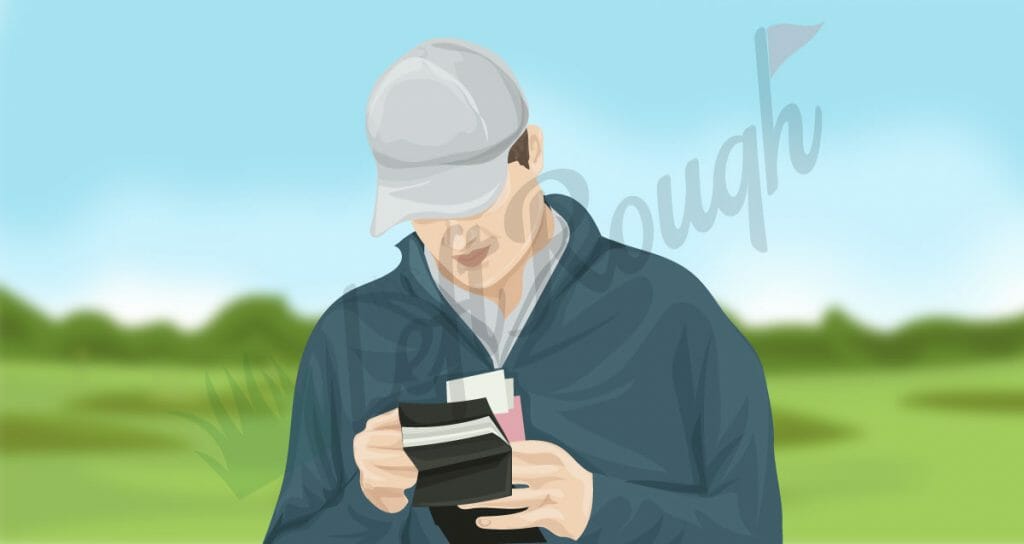 What is a modified Stableford?
A modified Stableford can be used to make it easier or harder, depending on the group of golfers.
Here is an example of how a modified Stableford works with the PGA Tour that punishes a higher number of strokes taken:
Four strokes under: 6 points
Three strokes under: 5 points
Two strokes under: 4 points
One Stroke under: 3 points
Even par: 2 points
One stroke over (bogey): -1 point
Two or more strokes (double bogey or worse): -3 points
Since the players are so good, they are penalized for anything over par. This is what the PGA Tour did when they used this format in the Reno-Tahoe Open (now the Barracuda Championship).
For amateur events, you want to use a normal system or a modified version to incentivize pars but not score negatively with bogeys (or maybe even doubles).
Stableford With Handicaps
The one part of this format where things become a little messy is dealing with handicaps. By the end of your round, the scorecard might look more like a balance sheet but it can be done using technology.
Here's how it works with a handicap stroke index for each golfer. Let's say that you're a 10 handicap golfer and you're playing a modified version where your handicap is factored in.
On the #1 through #10 handicap holes, you would minus one on the total score based on your handicap. So if you make a par on one of those holes, you actually make birdie. Then, you use the net score to calculate the amount of the point scored on each hole (not the gross score).
As always, if you're playing where you don't stroke on the hole, you don't get any subtraction of score. And if you're more than an 18 handicap, you get to subtract two strokes on certain holes as well.
Like I said, this can get a little messy if you do it manually but there are apps that make it a lot easier than scoring a golf card. Make sure to check out apps like 18 Birdies or the Golf Score app ($1.99 purchase).
Both of these apps make it really easy and automatically calculate the total number of points based on gross or net scores. It also makes it more fun if you're playing with several groups as anyone can log on and see the leaderboard.
Stableford Video
If you're still a little confused on how this scoring system works, make sure to watch this helpful YouTube video as well.
FAQs
How do you score Stableford points in golf?
To score more, you need to make more eagles, birdies, and pars. These equal the highest number of points to help you score the most. Unless it's a modified Stableford scoring, where bogeys and worse are penalized, the goal should be to play aggressively. Especially on every par 5 and if there is a drivable par 4!
You want to give yourself as many opportunities as possible to make birdies as you can score the most from them. But a par is a good score too. And you never know, maybe an eagle putt will fall in as well for a huge win!
How do I score points in golf?
Normally, golf rewards the player who shoots the lowest score, not the "most points." But this scoring system is the exact opposite and the player who scores the highest number wins.
The way to score the most points in this system is to have the most eagles, birdies, and pars while having fewer bogeys, doubles, or worse. Essentially, not much changes in terms of golf, you just want to make par and birdies but maybe take a few more risks, so you can get a higher total score.
What are some formats for golf?
As you can tell, Dr. Stableford created an awesome game that makes the sport more enjoyable for players of all skill levels. But this is just one of the many games and gambling methods you can try out on the course.
Click here to learn more about the best types of golf formats. We'll take you through even more ways to mix up your rounds and have more fun golfing.
And don't forget to check out our 10 best gambling games and how to run a Golf Calcutta tournament as well. Even if you're only playing for a few bucks, you won't want to miss these games to get the competition flowing on every hole. 
Final Thoughts
While Stableford golf has been around for more than a century, it's still one of the most fun ways to have fun on the golf course. It's unfortunate that this different format isn't used in the US like it is in the UK (as it would definitely help with the pace of place issues the game is facing).
But if you can't find a tournament or social outing that runs this type of format, just create your own modified version with your buddies using an app mentioned in this post.
Not only will it break up the normal weekend routine but it will also speed up play as well and reduce the number of strokes taken. Since golfers can't score worse than a double bogey on each hole with this system, they can pick up instead of letting a meltdown happen. This also makes it a great style for beginner players as well.
Finally, make sure that you clarify the point system before teeing off if you're using the modified version. This way, you and the guys don't have any post-round arguments in the 19th hole.
Do you love the this format?
Let me know in the comments (or if you prefer a different format for each hole instead).