Ready to start playing your best golf for 2021 but don't know how to choose the best golf rangefinders in your journey to greatness?
Don't worry, we've got you covered. There are so many choices with golf equipment, it can feel a little intimidating if you're just getting started.
Not only are there rangefinders but now there are wearable watches, apps, and tons of other devices to help you calculate the perfect distance.
At the end of the day, distance control is one of the secrets to playing well and shooting low scores.
All you want is a rangefinder that gives you a distance quickly, reliably, and is within your price range. If you're a more advanced player, I'm confident you will want the best golf rangefinder you can find. Better players can utilize pin seeking mode, slope and other features of the more pricey rangefinders.
Our Picks for Best Golf Laser Rangefinders
Keep reading to see each review and learn how to pick the golf range finder for you.
Here's a breakdown of what you should look for and the best golf rangefinders on the market.
What To Look For in a Rangefinder?
With so much information and new equipment coming out all the time, it's important to have your golf laser rangefinders up to date. If you're new to the rangefinder world, here's what you want to know and should look for in each device:
Accuracy
The most important function of a rangefinder is distance measuring. If you don't have the correct yardage to for your intended shot, you might as well guess. This isn't as much of an issue with these devices as it's been in the past with new technology but this is still the most important feature.
Ease of Use
Like the accuracy, this isn't as much of an issue as rangefinders become more reliable and consistently straightforward to use. But, that doesn't mean all of them are easy to use.
Ideally, you want a rangefinder that you can pick up, hit a button, hold with one hand, and have an exact distance to a flag or hazard.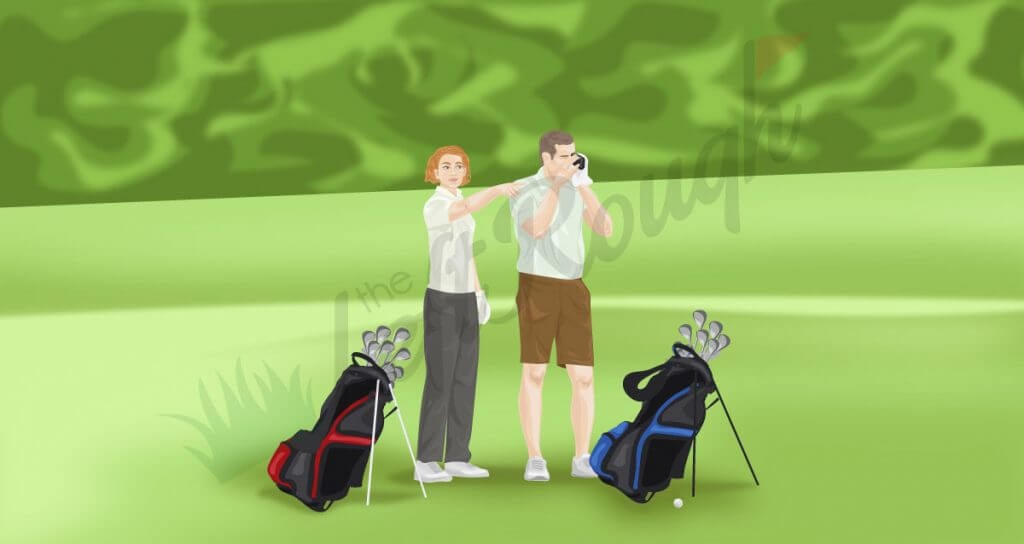 Distance Range
What's the maximum distance it can shoot reliably? Laser Rangefinders claim to be able to shoot a thousand yards but it's not realistic since the magnification isn't strong enough for you to see a target that far.
Remember, a long range rangefinder is worthless if you can't see the target from where you are. Be sure to have a large enough magnification (at least 5x magnification) to see far-away targets.
2021 Update: 5x magnification is a thing of the past. Now, devices are usually 6-7x magnification! Don't settle for good enough, make the game as easy as you can!
Price
The price range for laser rangefinders tends to fall within the mid $100 range to the over $500 range with the sweet spot being around $250. The $150 rangefinders on the market are pretty solid and functional while the more expensive ones give you extra features. Some of theme include slope calculation, pin seeking tech, and even 2D hole layouts.
Battery Life
This is almost a non-issue as the typical battery life can last six months to a year, unlike wearable devices like a golf watch (except number six on the list which makes it almost worth the sad battery life). Also, some companies like Precision Pro, offer free batteries for life when you register online.
This way you will never have to worry about battery life again and can get free ones for the foreseeable future.
Water Proof
If you're playing a lot of winter golf or in the rain, you want to make sure that the rangefinder can withstand the conditions and won't lose your money when the first rain hits. Check if it's waterproof or water-resistant as there is a huge difference.
Display Technology
Rangefinders have a very different display than golf GPS watches or handheld devices which is important to consider before purchasing. Plus, some of the higher end devices have crosshairs, slope settings, and for some players, a little bit too much information.
Remember, you want your device to be helpful, not overwhelming. Always keep it simple as golf is hard enough!
Slope Measurement Capabilities
Yes, rangefinders can not only tell you precise distance but they can also tell you if your shot is down or uphill thanks to the slope settings. Certain models come with the slope compensation features and are usually a bit pricier. And, they're also illegal to play with during tournament play to make sure it's turned off for competitive events.
Storage and Looks
Rangefinders aren't cheap so you want to make sure it comes with a case that can handle some wear and tear. Between being dropped, playing in inclimate weather, and traveling, you want to make sure the case will help increase the life of your rangefinder.
While all the previous functions are important, you want a rangefinder that looks good and easily recognizable.
Now that you know how to identify the best golf rangefinder, here are our picks for the top golf rangefinders 2020 edition:
Review of the 13 Best Golf Rangefinders in 2021
1. Precision Pro NX9 Laser Rangefinder
When it comes to rangefinders, few brands have been doing it as successfully as Precision Pro. They're one of the top trusted brands in the industry and continue to upgrade their amazing rangefinder every single year.
2021 is no different as they unveiled the Precision Pro NX9, a great upgrade from the NX7. It has everything that you want and need from a high quality rangefinder, without breaking the bank.
It's small, affordable and extremely dependable. Here's why we love it…
Pros
Pulse vibration technology. You'll never hit the wrong target again as the device will send a short vibration to confirm that you hit the target (and not something behind the green).
LCD Display & 6X magnification. This device will work up to 400 yards and is easy to spot your distances with its upgraded crystal clear screen.
Slope technology. If you elect to buy the slope version, you get even more data from your device. It does all the math for you so you can hit your target and it'll update the distance based on whether it's an uphill or downhill shot. With a click of the button, you can turn the slope off and can use it in competitive events.
Magnetic grip and cart mount. One of the best features of this new rangefinder is that it won't fly out of your cart when you hit a bump or venture off the path. Thanks to its magnetic grip and cart mount, you can secure your device and ensure it doesn't get lost or damaged. It begs the question, why doesn't every device offer this?
Style and look. With its sleek green, white, and black design, it looks great and since it has some brighter secondary colors, it's easier to make sure you don't accidentally leave it in your golf cart.
Carry case, instructions, battery and more all come included. You get everything you need to start using this purchase right out of the gates.
Precision Care Package. This package separates this rangefinder from most of the market. This offer includes a 90-day money-back guarantee, two-year warranty, and free lifetime battery replacement. Plus, you can trade it in with their guaranteed trade in allowance if you want to upgrade to the next model in the future.
Cons
Not much bad to say about this device. We love the features, and think it's moderately priced for such a great product.
Click here to read our full hands-on review of the Precision Pro NX9 rangefinder.
Overall
Needless to say, we're big fans of this new product for 2021. The NX7 was a solid choice but the Precision Pro NX9 just makes it even better. Plus, with their amazing support, you know that if anything does happen to your device, you can count on Precision Pro to make it right.
Overall, this is a great choice for all golfers.
Click here to pick your NX9 rangefinder. Or you can go here to order straight from Precision Pro.
Looking to save a dollar? The NX7 can still be found and remains a high quality rangefinder. Go here to see our hands-on review.
2. TecTecTec ULT-X Golf Rangefinder
Compared to the earlier TecTecTec VPRO500 rangefinder, the ULT-X edition is a nice upgrade and a great value rangefinder for this price range. This device will help you instantly lock onto flags at up to 450 yard and hazards up to 100 yards with it's high quality, 6x magnification.
Plus, unlike the original model, it vibrates when it locks onto the pin. This way you never have to worry if you hit the pin or something behind the green.
Pros
Scan mode – Get immediate and accurate distances to all hazards and obstacles (this is a really nice feature)
400+ yard range (1,000 yards for hazards) – much longer than the original, highly rated version
Pinsensor with vibration lets you accurately measure overlapping targets and is perfect for measuring the distance to flags standing in front of wooded areas.
Easy to remove the slope feature by pulling the attached faceplate into place to turn off slope (yellow on means slope, black equals non-slope)
Rainproof and moisture resistant
Comes with premium carrying pouch, CR2 batter, strap, quick start guide, a two-year warranty and lifetime customer support
Cons
No magnetic clip on feature. Other than that small complaint, we are a big fan of this unit.
Overall
If you like the original model but want a rangefinder that vibrates when you hit your target and need the slope feature, check out this TecTecTec upgrade. This rangefinder with slope is excellent for most golfers and makes its one of the best budget GPS devices if you want slope. Scan mode really is a great feature. It makes finding the "right target" very easy.
Plus, it comes with all the extra accessories that come standard, this rangefinder is ready to go right out of the box.
Go here to check out our detailed hands-on review of the TecTecTec ULT-X rangefinder.
3. Bushnell Tour V4 Jolt Golf Laser Rangefinder
Bushnell is one of the best names in the game of golf and each year they seem to one up an already great product with an even better one. The Bushnell Tour V5 shift is even more equipped than the V4 which was a huge hit among golfers worldwide.
The Tour V5 Shift is perfect for committed golfers of all abilities but it does come with a price. Here's why we think it warrants that price and is great for golfers who are serious about their game.
Pros
6x magnification (up from 5x in previous model).
Compact design. It easily fits into the palm of your hand or pocket and has a sleek, black, gray and red design.
Visual jolt technology. Vibrating pulses and a flashing red ring to confirm that you're locked on to the flagstick.
True "play as distance." With its new slope algorithm you now get even better accuracy to account for uphill and downhill shots.
More clarity than the V4. Magnification, color, and more definition when you hit any target.
Bite magnetic cart mount. You can easily attach this device to a cart for easy transport without spending money on additional accessories.
Bushnell golf app included for even more information. This smartphone app will show you 3D flyovers, hole layouts with distances and has over 36,000 courses available!
Two-year warranty, battery, and hard cover carrying case included.
Cons
Not much bad to say about the #1 rangefinder in golf other than price! It's roughly 2-4X the price of some rangefinders on this list but in our opinion, worth every penny. Besides, if it works for the best players in the world, it's hard to argue about too many downsides.
Tour V5 Edition (Non-slope)
If you don't need slope features and want to save a few bucks, grab the Tour V5 edition instead. It has all the same features as the V5 Shift, except it doesn't provide a "Play as" distance for uphill and downhill shots. But you still get the 6X magnification, jolt technology, accessories, and everything else.
Overall
The Tour V5 shift is a great upgrade from the V4, especially when it comes to the screen itself. Plus, with it's updated slope feature, I can almost guarantee that your distances are more accurate than ever before. This means fewer mistakes and hopefully lower scores for your average round of golf.
Don't forget, there's a reason that Bushnell is a leader on the golf market and trusted by professional golfers worldwide. According to their website, they're used by 99.3% of all PGA Tour pros. If all else fails, trust the guys who get paid a lot of money to play golf.
Click here to grab your V5 Shift today.
4. Garmin Approach Z82 Rangefinder
If you're familiar with golf watches and golf GPS devices, chances are you know the brand Garmin. They're a top name in the industry for handheld devices and also have a nice selection of rangefinders as well. While this device isn't the cheapest on this list (in fact, from it) there's a reason for it.
The Garmin Z82 rangefinder is part rangefinder and part GPS with its full color display. This rangefinder provides the pin distance but also the middle, and back distances as well.
Perhaps one of the biggest disadvantages of most rangefinders is that you only get the distance to the flag, not the front or back. That means more math for you, which isn't always easy or fun when you're on the golf course. Nor does it help pace of play (which is a big deal these days).
But the Garmin takes the confusion and number crunching out of the picture to allow you to focus on golf. Here is why we love this rangefinder:
Pros
41,000 preloaded golf courses with the device.
Buzz technology to make sure you're locked on with the flagstick.
Garmin App. For even more detailed information on each hole you can use the app. Or, keep score and compete with friends and family using the app as well.
Find my Garmin. With this feature, you'll never have to worry about losing your device again. Similar to Apple and "Find my iPhone" you can use this feature to locate your device and protect your investment. Since it's so much more expensive than most, this is a much needed feature.
Tournament legal. The indicator light updates to remove "Playslike distance" and makes it ready for you to compete in tournaments.
Front, middle, and back distances with green view feature. Now you can easily pick the right number and play to the fat part of the green, instead of always flag hunting and ending up short sided.
Wind readings. Unlike any other rangefinder on this list, you can beat the wind with Garmin's help. It displays the wind direction and speed to make sure you know everything you need before picking the right club.
Hazard view. You can easily scroll through the entire hole and see the distance to each hazard and carry distance.
Cons
Cost. Compared to most on this list, it's a lot higher investment than other devices. But since it's part rangefinder and part GPS, it's almost like a 2-in-1 device. If you currently use a GPS and a rangefinder, this is a great solution to make it easier to find the right distance for each shot with one device.
Battery life. While Garmin has said it has a longer battery life than the Garmin Z80, it's still significantly shorter than most. The color display and other features zap the battery and you need to recharge every few rounds with the mini USB cable that is included.
Overall
Garmin pulled out all the stops with this new product for 2021. Plus, you can also add a carrying case and cart mount as well to make sure your new toy is safe and protected. If budget isn't an issue, this is one of the best rangefinders to ever hit the market.
Click here to purchase your Garmin Z82 Rangefinder today.
5. Nikon Coolshot 20 GII Golf Rangefinder
Yes, Nikon is in the golf business.
While Nikon isn't a household name for golf products, they do make a heck of a rangefinder for the everyday golfer. The Nikon Coolshot 20 GII is a great upgrade from the original Nikon Coolshot and priced low enough to make it a no-brainer for almost any golfer.
So what's different about it from the 2019 version? First off, appearance. It has a slightly different front of the device that makes it easier to grip and lock in your target.
The second biggest difference is the increased ranging capabilities. Not only does it give you a distance to the flag but all sorts of other things like bunkers, doglegs, and more. It goes all the way to 800 yards with it's 6x magnification.
Finally, it's even more compact than the 2019 model making it their smallest rangefinder yet.
Pros
All white design. This rangefinder is easy to spot and won't blend in your bag or golf cart.
First target priority and 8-second continuous measurement. This scanning feature helps you find multiple results without hitting different targets. You can easily scan to see the flag, bunker, front of green, and more to pick the right club. It's like having a caddy on the bag to give you all the necessary information.
Bright 6X monocular screen. Thanks to updated technology, you now get an even better display that makes it easy to survey the hole and hit distances to anything you need.
Case, battery, and strap are included as well as a five-year warranty. Unlike most rangefinders that are 1-2 year warranties, this one has five years of support from Nikon which is pretty unbelievable.
Cons
May not be as durable as others thanks to its thinner design.
Other Models
If you have trouble stabilizing a rangefinder and prefer a handheld GPS device, there's an alternative in the Coolshot Pro Stabilized rangefinder. With it's stabilized technology, it is designed to reduce vibrations of the image from hand movements by nearly 80%.
Plus, it also has a slope adjusted distance to pick the right club. With its ID (incline/decline technology), no more second guessing your distance uphill or downhill. Let it act like your caddy so you can focus on your target and hitting the right shot.
While it is more money than the original, I think it's worth it. Not only does it still have a 5-year warranty but you get slope and it's patented stabilization features.
And if you don't need the stabilization feature but want slope, check out the Coolshot 20iGII. It has all the same amazing features as the original but also adds slope as well. Don't let elevation changes screw up a great round – use the slope feature for help on each shot!
Overall
There are a lot of pros for this Nikon rangefinder especially the 5-year warranty. It's definitely best for golfers who are keeping costs low and don't need all the high tech features. And if you do want more features, grab the stabilized version instead.
Click here to learn more about the Nikon Coolshot 20 GII rangefinder.
6. Bushnell Pro XE
The Bushnell Pro XE is the upgraded version of the Bushnell X2 edition. It's faster and more accurate but comes at a higher price. This rangefinder for golf is one amazing piece of equipment.
Not only does it look sleek but the features warrant the higher price as well. One of the coolest features is "Slope with elements." This means that the device factors in barometric pressure and temperature when providing you a distance.
Another feature that is simple and convenient is the built-in magnetic cart amount. This lets you easily attach the device to your cart without an extra accessory. But make sure to not leave it on the cart after the round!
Pros
500+ yardage range (longest of any Bushnell rangefinder).
Bushnell golf app included with purchase of hybrid (doubles as a golf GPS).
Visual JOLT – This advanced featured now displays a red right as the device will vibrate for greater feedback and confidence knowing you locked onto the flag.
Full-metal housing for increased protection and is 100% waterproof (not water-reistatnt like other Bushnell rangefinders).
Comes with the BITE magnetic amount that allows you easily mount the rangefinder directly on the cart bar.
Slope-Switch lets you easily toggle in and out of Bushnell's patented Slope with Elements function.
Cons
Price. This is one of the most expensive ones on the market but comes with enough features to warrant the investment in your golf game.
Some reviews have said the cross hairs can get blurry and difficult to see at times.
Overall
This device is not made for the beginning golfer. With a price like this one, it's made for the truly committed player who can't make a mistake and accidentally get the wrong distance.
If you're the type of golfer who plays a lot of competitive events and break 80 (or 70) on a consistent basis, this is the best rangefinder for you. It will vibrate when you lock onto the pin, factor in weather conditions with the slope feature, and stay dry in even the worst conditions.
7. TecTecTec VPRO500 Golf Rangefinder
If you just type into Amazon, "best golf rangefinders" you're hit with over 1,000 results! But among all of those results, the TecTecTec VPRO500 golf rangefinder comes up first and it has an astonishing 4,100+ reviews at the time of this post. That is 20X as many as the nearest closest competitor.
Clearly, TecTecTec has created an amazing product and one that I can personally attest to using in the past. This is one of the best golf rangefinders as it's reliable, sleek, and very cost efficient. Priced very affordably, this rangefinder is cheap enough to let you spend more money on other gadgets that might help improve your game.
Pros
Measures up to 540 yards with continuous scan mode for long distance yardage.
Pinsensor technology provides fast measurement with 1-yard accuracy. This is perfect for measuring golf flags, water hazards and wooded areas.
Lens display is super simple and clear with a distance and battery meter. Plus, with continuous measurement mode, it will help get you a yardage quickly without slowing down play.
Very lightweight and portable (like most on this list). The measurements are 104 x 72 x 41 mm and weights only 185g.
Easy to setup once you unpackage and includes a premium carrying pouch, strap, CR2 battery, cleaning cloth and quick start guide so you can use it in no time.
TecTecTec provides a "Happy Guarantee" of two years with lifetime customer support.
Cons
In reading some of the golf rangefinder reviews, it's not quite as accurate as Bushnell and Leupold models. Overall, with the number of reviews of this product on the internet, it's a very small percentage.
Overall
The VPRO500, has a ton of great features and a great price point for the average, everyday golfer wanting the best value. It has a 6x magnification mode, works long range, and is very simple and uncomplicated to start using right out of the box. Plus, it comes fully stocked with a case, cleaning cloth, battery, and warranty.
This model from TecTecTec seems durable and makes it a great fit for someone who's yet to use a rangefinder and doesn't want to rely on watches or other distance gadgets. It's why we rated it one of the best golf rangefinders of 2019 and would suggest for players just getting started.
Slope Model (TecTecTec VPR500S Version)
While not as highly reviewed as the original model listed above, there is a slope version as well. The VPR0500S has all the same features as the original, plus the ability to use slope to notate the downhill or uphill factors into the total distance.
Remember, you can use this rangefinder as a standard rangefinder and turn off the slope setting on the golf course for tournament play.
If you have a limited budget and want to go with a TecTecTec rangefinder, we recommend the TecTecTec VPRO500 as our pick for best golf rangefinder for the money. This is a little bit older model compared to the ULT-X, but still a great value.
8. Bozily Golf Rangefinder
A new addition to this list in 2020 that wasn't one of top-rated golf rangefinders of 2019 is the Bozily rangefinder. This seems to be the best value rangefinder that provided slope calculation and tons of other features at a very low price.
After reading more about the company, I am impressed with this new upgrade for the new decade. Reviews have said that you can spot targets up to 1200 yards and works reliably well on the golf course when locking onto the pin. Plus, it has 6x magnification, slope technology, ergonomic design, and +/- within one yard of accuracy!
Pros
Durable plus easy to grip design.
Waterproof and fog resistant.
Pinseeker with JOLT technology.
Scans targets up to 1200 yards and four modes of use.
Slope switch technology determines slope degree and slope compensation distance quickly.
Ready to go straight out of the box. The rangefinder comes with USB cable, carrying case, lanyard, carabiner, cleaning cloth, and manual.
Cons
This rangefinder is pretty new and users don't have many bad things to say at this time.
Overall
For the price, I really can't believe this rangefinder offers so many features. This is by far best value rangefinder with slope on the market.
Don't forget, while this device was made for golfers it can work in other areas as well. It can be used for hunting, racing, bird watching, shooting, climbing, and other outdoor sports.
If you're an outdoor enthusiast and want a new device for 2020, this could be a great choice for you!
9. Bushnell Pro X2 Golf Laser Rangefinder
The Bushnell Pro X2 is another model from their product line that is extremely accurate but also much more pricey. This model also has rave reviews as it's been known for extreme durability, easy to use display, and unbelievable sleekness in design.
Pros
6X magnification and up to 450-yard distance to a flag.
Bushnell has added a color toggle for "dual display technology" which lets you change the colors of the crosshairs and numbers to ensure t contrasts against your target.
Like the other Bushnell model, it has a vibration mode to give you confidence that you hit the flag and not a different object.
As it's a higher end product, it also comes with slope compensation technology built in as well. It'll take the incline or decline and adjust the yardage for you. It's also easy to switch off for competition.
Cons
Other than the higher price, there aren't many downsides to this sleek and sexy device. It'll show your competitors that you're there to play!
Overall
If you want the reliability of a brand like Bushnell and have the budget, this product is for you. With the slope feature, clean design, and easy to use display, this product is a winner for the brand.
For more information, go to our full review of the Bushnell Pro X2 Rangefinder. While this model can now be found at a discount, keep reading below for Bushnell's latest model, the Bushnell Pro XE.
10. Callaway 300 Pro Golf Laser Rangefinder
The tenth laser rangefinder is the Callaway 300 Pro Golf Laser rangefinder. This rangefinder is simple, easy to use, and consistently rated by golfers on Amazon as best budget picks.
While Callaway isn't typically known for rangefinders, they seem to have struck a winner with this one. Not only is it affordable but it comes with slope features as well.
Pros
Water and fog proof.
Easy to read LCD display.
6x magnification; yardage range 5-1000 with +/- 1 yard accuracy.
Scan functionality allows you to hit distances to multiple targets at once.
Pin acquisition technology (P.A.T.) quickly locks on the target from up to 300 yards away.
Slope setting measures angle of incline or decline and automatically calculates slope adjusted distance so you don't have to do any math.
Exclusive "birdie" feature delivers an audible "chirp" to confirm distance acquisition to flagstick.
Cons
No magnetic clip and minimal accessories.
Some users have mentioned a short battery life.
Slope isn't a clip on so it could cause confusion if used in tournament play (only a button) but is legal.
The "birdie chirp" could is a con as well as a pro. While I'm sure you can disable it, most players prefer a vibration instead of a chirp to not interrupt players.
Overall
With so many options, this would be a great new choice for 2021 if you want a rangefinder that is accurate, affordable, and has slope capabilities. While they aren't known for their rangefinder additions this one is highly reviewed and loved by players worldwide.
11. Leupoid GX 2i3 Rangefinder
The Leupoid GX 2i3 rangefinder was a new rangefinder in 2020 that is for more than just golf. But when it comes to the game it has unique features like club selection recommendations based on your hitting strength, slope, and current weather conditions. Of course, this feature is able to be turned off for competitive play but it pretty neat for practice rounds.
Pros
Fog mode helps cut down on false readings.
1-Touch Scan Mode to target other obstacles (trees, bunkers, hazards, etc).
Range capabilities: 400 yards to the pin, 700 yards reflective.
Completely waterproof construction.
Line of sight distance is USGA legal.
Delivered with case, extra battery and microfiber towel.
PinHunter 3 Laser Technology that picks up the flag even faster and easier.
Made with Prism Lock Technology that uses highly reflective prisms for the most accurate readings.
Powered with performance DNA (Digitally eNhanced Accuracy) engine and advanced laser measures faster with greater accuracy.
Cons
Not suited for low-handicap golfers.
Some issues focusing and hitting the flag in the distance over 200 yard.
No magnetic clip some reviews said it was too small for a magnetic strip.
Overall
As with any rangefinder, this gadget isn't perfect but it can also double to help with other outdoor activities. If you're looking for one rangefinder just for golf, I might choose something else solely based on the price which is a bit steeper than most on this list.
12. Gogogo Laser Rangefinder for Golf
The Gogogo Laser Rangefinder is arguably one of the most cost-effective rangefinder you can find on the market. While it has glowing reviews for using during your next round, it also works well for hunting, bowhunting and other outdoor activities.
Pros
Water-resistant.
Low-price, budget friendly.
Scan functionality to hit multiple targets.
Power by AAA batteries (much cheaper and easier to replace).
Measuring range from 5 to 650 yards, with +/- 1m high accuracy and 6x magnification.
It provides high-precision distance measurement by integrating the latest functions such as continuous range readings and ARC (angle range compensation).
Pin-Seeking and Flagpole-Locking Vibration (vibrates when the flagpole is locked). The flagpole locking function support a distance up to 150 yards (Flagpole only) and 250 yards (Aim the flag when it's unfolded).
Fully multi coated optic lens that helps reduce reflected light and increases the transmission of light giving you a brighter clear image.
Cons
Some users have said that it has some timing and accuracy issues.
Overall
For a double digit priced rangefinder, you can't expect the world but it really delivers on value with such a low price. If you're a beginner who wants something to help you find mor distances and use outside the course, this is a great option for 2021 and beyond.
13. PeakPulse 6Pro Golf Laser Rangefinder with Slope
The final best rangefinder to round out the list is the PeakPulse 6Pro. It's very similarly priced to #12 but more geared for golfers than outdoor enthusiasts. It's a top rated golf gadget and hard to beat for the price.
Pros
Low-priced, budget friendly.
Accurate to one yard up to 400 yards.
Black and white colors make it easy to identify and not leave behind.
To help save battery this rangefinder will automatically shut down after 8 seconds of inactivity. To turn it back on, all you need to do is press the power button again.
Fast Focus System: Even you're the type of golfer who wears glasses or sunglasses you won't have any issues getting the laser focused.
PinSeeker technology makes it easy to lock on to the flag (even if you have with shaky hands). When you hit the flag, it will provide you with a short vibrating burst to verify the laser has locked onto the flag.
Cons
No scanning features.
No magnetic clip and minimal accessories.
Overall
This is another great option for beginning players. If you're focused more on golf than other outdoor activities and on a budget, this is a great deal. The biggest downside is that it doesn't have a scanning feature but you can upgrade to the slope version for another key feature.
Alternatives to Best Golf Rangefinders
If you don't like rangefinders or enjoy wearing a golf watch there are plenty of alternatives as well. You basically have two routes that you can go:
Golf GPS Watches
If you prefer a golf watch over a traditional rangefinder, Garmin pretty much has the market cornered. They are very accurate, convenient, and usually a cheaper than rangefinders.
Golf GPS Devices
If you feel like you can't ever lock onto the target with a rangefinder and don't enjoy wearing a watch on the golf course, plenty of players find success with golf GPS devices.
Whether you decide to go with either route, make sure to read our full post on the best golf GPS devices and our review of the best GPS Golf watches.
Final Thoughts on Rangefinders
Hopefully, you learned everything you want to know in this post so you can find the best rangefinder for your game. As you can tell, there are so many awesome choices out there when it comes to finding the best golf rangefinder to help you hit better approach shots and improve your scores.
Not too long ago there were minimal brands and they much were much for expensive however golf courses don't use GPS in carts much so having one your own GPS is vitally important.
When choosing, I'd consider your price range, functionality, and durability as some of the biggest factors. If you buy any of these then I'm confident they will help you feel more confident having a clear plan of attack on your next shot.
Pair the best golf rangefinder with an affordable golf launch monitor and you will quickly start playing your best golf yet! Finally, remember if you don't want a rangefinder, don't forget there are tons of other golf GPS devices such as watches and handheld devices as well. For more reviews of golf gadgets and accessories, click here.