Are you looking for the best hats to protect yourself from the sun? If so, we got you covered.
In today's world, protecting yourself while playing the game we all love is more important than ever. The last thing you want is to get too much sun and run the risk of cancer and other conditions from being out in the sun too much.
Plus, when you're playing in hot weather, you want to also stay cool as well. Some things you can do to stay cool include:
Wearing light colors.
Using wide brim hats and sunglasses.
Wearing shorts and short-sleeve shirts.
In this post, we'll specifically break down the best hats so you can find the right hat for your game and look good on the golf course. Make sure to also check out our full article on skin protection for golfers.
How to Buy Bucket Hats
If you're like most golfers, you probably wear a traditional, baseball style hat for most rounds of golf. While these look good and fit well, they don't give your face any extra protection from the sun like bucket hats.
Instead, we suggest wearing larger, wider hat or a bucket hat when playing summer golf. Here's what to look for when buying non-traditional golf hats to guard your face and neck.
Size
The biggest thing to think about when buying non-traditional bucket hat is the total size to block out the sun. The larger the bucket hat is, the more it will cover your face, ears, and neck which means less harmful UV rays.
If you've never worn a bigger bucket hat while golfing, this will take some getting used to. At first, it's kind of awkward as you might notice the hat when standing over your shot. Plus, you might feel the chin strap on your backswing as well.
But if your top priority is sun protection, opt for the biggest bucket hat possible.
UV Protection
While the size of the hat does play a role in the amount of protection, don't forget the rating as well. Most bucket hats provide a UV rating to let you know exactly how much they will protect you from the sun. When searching hats, look for a higher UPF for the highest amount of sun protection.
Brim of Bucket Hat
The second thing to think about is the overall style of the hat. Do you want a traditional bucket hat or a wider, flimsy hat? Or, do you want a hat that looks more like a cowboy hat?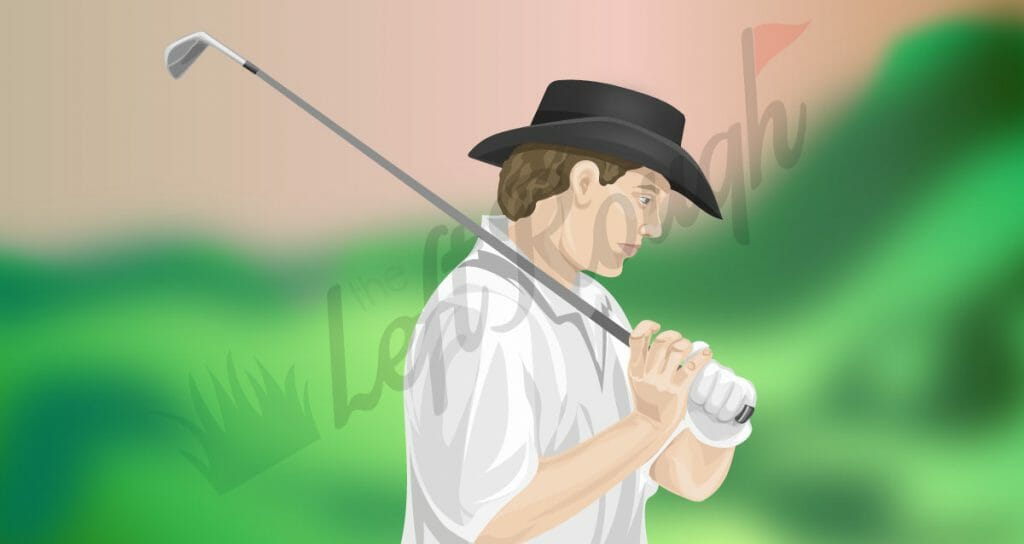 The choice is up to you and each person is different so make sure to factor in the style and color before purchasing.
Chin Straps
One of the biggest differences among golf hats are the adjustable chin straps. Some of them come with a drawstring while others don't. Some golfers hate having the strap while others prefer it in case it gets windy. Plus, hats that do have straps can also work for other outdoor activities like hiking, kayaking, camping, and more.
Fitted Hat
As you will see from the hats below, some hats are custom fitted while others are a one size fits all. Fitted caps tend to come in specific sizes (ranging from small to 3X large sometimes) while the one size fits always have a drawstring.
Make sure to only use a hat that fits well!
The last thing you want to deal with is a hat that is moving around in your backswing. Or, even worse, blows off when it gets windy forcing you to chase it down. While most of them do have straps or even a back strap, make sure you get a bucket hat that fits secretly.
Material
Finally, don't forget to check out the vents and material that the hat is made out of. Some are polyester while others are cotton.
You want to buy a hat with lightweight material that is built to last. Plus, you want it to be able to withstand the conditions. In general, the higher the cost, the better the materials which means the longer it should last you.
Also, you want to make sure that your hat has mesh vents to get more airflow through. This will help keep you cool during your entire round of golf.
Purpose
Lastly, don't forget to factor in if your hat is just for golf or you plan to use it for off the course as well. For example, some are great for hiking and have a neck guard for maximum neck protection. Others are more casual and can look good on vacations or when you're out with friends.
Best Golf Hats for Sun Protection
There is no shortage of hats for the sun there to keep you safe during your next round of golf. Here are some of our favorites to make your buying choices that much easier.
EINSKEY Sun Hat
The Einskey hat is a wide brim bucket hat that is waterproof and built to keep you cool. Plus, this is a very popular bucket hat.
This hat is made with 100% polyester and is a very casual style designed for both men and women. It does come with a drawstring closure and fits most adults with a head size between 22-24 inches. The EINSKEY hat also comes with a built-in sweatband and breathable mesh vent.
This hat will keep the sun off your face and works for golf and other outdoor activities like boating, fishing, and more. The only downside is that it only comes in a single size but it does have six different colors.
>>Click here to pick up an Einskey Sun Hat.
Henschel Aussie Breezer 5310
The Henschel Aussie Breezer is made by a company that has been creating fine headwear since 1947. They have a wide range of choices and this arugably their top offering.
The Aussie Breezer will make you look as cool as Greg Norman while protecting your face from the sun. It is made of 100% cotton mesh, is four inches high, and 12 inches wide with a classic brim.
This cowboy style comes in nine different colors including earth, khaki, distressed gold, navy blue, black, olive, and more. It also comes in six sizes ranging from small to 3X large.
Also, unlike others on this list, the Aussie Breezer is dry clean only so make sure to dry clean instead of hand wash!
>>Grab the Henschel Aussie Breezer here.
Coolibar UPF 50+ Men's Leo Shapeable Wide Brim Hat
Another offering from Coolibar is the Leo wide brim model. This hat is also made with 100% polyester and blocks 98% of UV radiation as well.
The Leo style is more of a flimsy, casual style hat than the Crushable version. This one also has an elastic draw cord and should fit snugly as you have three sizing options to choose from (small-medium, large-x-large, and xx-large).
Finally, the Leo comes in two colors (stone-navy & khaki-navy) which is one of the few downsides. Overall, this is a very high quality hat that will last you a long time and works great for any outdoor activity with maximum sun protection.
>>Buy the Coolibar Leo Shapable Hat today.
Boonie Hat Wide Brim Golf Hat
If you're an outdoor enthusiast and love to hike or fish when you're not teeing it up on the links, the Boonie hat could be the best option for you. For a very affordable price, you can get a premium hat that only protects your face but your neck as well.
The Boonie Hat is made with quick dry nylon and comes in a single size that fits all (roughly 24 inch head size). This golf hat comes in five color selection with matching neck flap for a small fee.
It also has breathable mesh panels, a back cord for universal fit, and an adjustable strap under your chin. Another perk about this hat is that it's very easy to pack and fold which makes it great for keeping in your car or bag.
You'll never end up on the golf course without it!
>>Learn more about the Boonie Wide Brim Golf Hat.
Nike Golf UV Sun Golf Bucket Hat
If you're a brand loyalist and love anything that Nike puts out, you will love their bucket hat. This thing is huge and one of the biggest hats I found when researching the huge amount online.
Their UV bucket hat is made to keep the sun out of your eyes while staying comfortable and looking good. It's extremely breathable and has mesh lining around nearly the entire hat. Not to mention, it comes with Nike's patented Dri-Fit technology to ensure that you stay dry at all costs.
This hat comes in three colors; black, white, and dark gray. It also comes in four sizes for each color including small, small-medium, medium-large, and large-x-large.
The only downside to this hat is that it doesn't have a strap underneath your chin. This isn't the hat I'd suggest if you frequently play in windy conditions.
Otherwise, you might be chasing it down between shots. Also, it's not a cheap golf hat but it is made with incredibly high quality materials so it will last longer than most.
>>Purchase the Nike Bucket Hat today.
Dorfman Pacific Co. Men's Soaker Hat
If you're looking for a hat that is focused more on style than sun protection, you will love the Dorfman Pacific men's soaker hat. While it still provides more sun protection than a traditional baseball style, it won't protect your face as much as others on this list.
This hat is made with 60% polyester and 40% nylon. The dimensions of it are six inches high and 12 inches wide. It comes in three sizes; small-medium, large-x-large, and xx-large.
The Aussie Chiller hat will make you look nearly as cool as "The Shark" and only for a modest price. Since this is made of polyester and cotton, make sure to hand wash only.
This hat is great for a beach vacation, casual golf rounds that aren't too hot or something to wear to casual gatherings.
>>Pick up a Dorfman Soaker Hat today.
Under Armour Men's Vent Warrior Golf Bucket Hat
If you prefer a traditional bucket hat vs. a wide brim hat, this hat from Under Armour could be the best for you. This is made with 84% polyester and 16% elastane and comes in three different colors (black, white, and artillery green).
The bucket hat also has a drawstring closure and adjustable cord for a secure fit if it gets windy on the course. The UPF protection isn't as high as some but still has a UPF 30 rating.
>>Click here to get a Warrior Bucket Hat.
Kangol Men's Striped Lahinch Classic
Another great option for a smaller bucket list hat is the Kangol classic bucket hat. It's made with 100% cotton and has a flat crown instead of a flimsy style like some others on this list.
This hat comes in five colors; beige, white, navy, black, and grey. Plus, it comes in four sizes as well.
While it doesn't have as many sun benefits as some, they're meant for more than just golfing. They're very moderately priced, provide some protection, and made by a company who's been in business for over 80 years!
>>Go here to get a Kangol Lahinch Classic.
Columbia Bora Bora Booney Bucket Hats
Columbia is a huge name in the apparel industry and brings a great deal with the Bora Bora Booney hat. While this hat is not intended solely for golfing, it is great for sun protection and doubles for pretty much any outdoor activity. With such a large brim, you will have plenty of protection whenever you're outside.
The Booney is made of 100% textured Nylon and has a UPF 50 rating. It also has an ultra-sweat-wicking headband to keep your head dry throughout the entire hound. Plus, it comes in 10+ colors and is very moderately priced.
>>Click here to grab a Columbia Bora Bora Booney Hat.
Stetson Men's Mesh Safari Hat
If you're an outdoor enthusiast and part-time golfer, the Stetson safari model could be the best for you. This hat is great for extreme temperatures as it's extremely breathable with tons of ventilation.
Since the hat is made with nylon mesh your head will get plenty of air even if it's hot or humid playing conditions. Plus, it has a coolmax sweatband built in to keep your head dry and extreme durability.
>>Go here to learn more about the Stetson Safari hat.
Frogg Toggs Waterproof Breathable Boonie Bucket Hats
If you're on a shoestring budget but want a non-traditional hat, the Frogg Toggs could be the best choice for your game.
This hat packs a punch for a small price with UPF 50 sun protection, waterproof, and is very lightweight. This makes it great for more than just golf and easy to take with you on any outdoor excursion.
Plus, it comes in five different fun colors and has a drawstring as well.
>>Grab a Frogg Toggs Boonie Hat here.
Other Protective Wear for Hot Weather
While the golf hats for sun protection above will help protect your neck/face, don't forget to use these other items as well.
UV Sun Protection Arm Sleeves
While a lot of golfers wear caps and use sunscreen, one area that gets neglected in the heat is your arms. Luckily, for a small price you can buy a pair of compression arm sleeves that will cover you exposed forearms.
The cool thing about these arm sleeves is that they only cover the exposed part of your arm and don't have to worry about getting too hot. They are designed to help keep you cool and protect your arms. Plus, they're easy to throw in the laundry and wash with your clothes.
When buying, I'd suggest buying a few pairs as they can get pretty sweaty and don't cost much. Here are some of our top picks:
Suntan Lotion
I know it sounds obvious but I can't forget to add in sunscreen on this list. You would be shocked by how many golfers neglect sunscreen entirely or forget about it. Instead, keep a bottle in your golf bag or car so you never play a round without it. Additionally, opt for a lotion instead of a spray sunscreen so it's more likely to protect your skin longer.
Sun Umbrellas
If you're a golfer who loves walking instead of riding, even when it's hot out you might want to consider a golf umbrella for the heat. These types of umbrellas are designed to keep the sun off your face and protect you from harmful rays. Check out this UV travel sun umbrella that is great for summer.
For more umbrella options, check out our favorite golf umbrellas article.
Cap Liners
While golf hats are great, sometimes lighter colors can get ruined quickly by sweat that doesn't wash out easily. To help you protect your investment, make sure to purchase a liner.
We like the NoSweat Liner to help protect your favorite caps. These come in a six pack or more so you can add one in each of your favorites. Plus, they are comfortable and you likely won't even notice they're inside. For a small price, this can help make your hats last a lot longer than normal, even if you're playing in consistently hot conditions.
Sunglasses
Finally, don't forget sunglasses either, regardless of your brim size. Even if you only wear them in between shots (as a lot of golfers struggle with wearing sunglasses while hitting) they can help protect your eyes.
>>Check out our list of best golf sunglasses in 2020 here.
FAQs About Bucket Hats
Do you have more questions about which golf bucket hats to use in the sun? We got answers about all the golf sun hats below…
What are the best golf hats for sun protection?
If your number one goal is sun protection, then get a bigger hat with a larger brim. A larger hat for sun will ensure that less of your skin is showing which means fewer harmful UV rays hitting your face, ears, and neck.
What is the best bucket hat?
The best bucket hat is the one that works for you as each one has so many styles! Some golfers might want one with a chin strap while others won't. Some might want a bigger, wide brim golf hats to block out the sun while others won't.
I would suggest trying out several models and seeing which you prefer best. While of course you want to protect your health, make sure the hat doesn't have any negative effect on your game either.
What is the best color to block the sun?
Usually, lighter colors like white, light gray, and beige help the most. But the one downside to wearing lighter color hats is that sweat does tend to show up sooner and might not last as long. That's why we suggest buying sweat liners so you can make your caps last a lot longer than normal.
What's the right size for my head?
As you can tell from the hats above, there are normally two main options. There is single size with a draw string or custom size based on the brim.
The best way to do this is to measure the diameter of your head with a tape measure or a piece of string. Simply measure the widest part of your head and compare it to the sizes online. If your head isn't bigger than the dimensions, you should be good to go.
How do you wash golf hats?
That's a good question and one that you want to check before you throw it in the wash. Each hat is different depending on the materials.
Some materials allow you to throw it in the wash like your clothes after a round. While others might require you to dry clean it (usually the higher end ones or hats with leather). Make sure to read the label and double check so you don't accidentally ruin your hat when washing.
Final Thoughts
While this great game can help you stay active, regardless of your age, don't let your favorite hobby put your health in jeopardy. The sooner that you can start wearing golf bucket hats, arm sleeves, and sunscreen, the longer you can protect yourself for years to come. Remember, the more that you are covered, the more you are protected (including ears and neck).
With so many hats for golfers, here are the top best golf hats for sun:
Best budget hat: EINSKEY Sun Hat – At an affordable price, you can buy multiple ones to match all your gear. The brim will help you whether you're avoid light when rafting on the river or teeing it up on the course.
Best golf hat (large brim): Coolibar UPF 50+ Men's Kaden Crushable Ventilated Hat – This is a great all-purpose hat that you can wear both on and off the course. You get the best of fashion plus functionality to protect your health. The large brim has a firm structure so make sure to pack carefully.
Best overall outdoor bucket hat: Columbia Bora Bora Booney – This hat is great for all outdoor activities and made by a brand that you can trust. With a large amount of choices in both colors and sizes, this is our pick for the best overall outdoor bucket hat for sun.
Do you wear golf bucket hats with a large brim when it gets hot or a normal golf hat? Let us know in the comments if we missed your favorite bucket hat!