If you don't love your driver, you're making golf 10X harder on yourself.
The Titleist TSR drivers might be just what you need as they're great looking, high performing, and got some nice upgrades in 2023. If you've played the TSi series from the last few years, chances are you'll love these clubs even more.
If you haven't played a Titleist driver for a while (or ever) I think you'll be pleasantly surprised with the newest driver lineups. With four drivers in the series there is one that is perfect for your swing. Let's get into the technology, which player should play each type of club, and more to see how they might make golf a little easier.
Titleist TSR Driver Review
I think Titleist makes some of the best looking clubs in the game.
While they're typically known as the "number one ball in golf" don't sleep on their clubs from drivers to wedges (and Scotty Cameron putters) too. Tee to green, they can help you shoot lower scores on the golf course. with high-quality golf equipment
Today, let's focus on their newest driver line as it looks to compete with Callaway's Paradym and TaylorMade's Stealth 2 driver. Like the previous TSi drivers, there are four clubhead options to suit all types of golfers. But they've made some upgrades to the look and technology behind these clubs to make them even better than past versions.
Key Takeaways
Titleist replaced the TSi drivers with the new TSR drivers in 2023.
They have some similarities to the previous models including four driver head options to suit all types of golfers.
Titleist has more stock shaft options than almost any other brand to help you dial in distance and accuracy off the tee… without having to pay for an upgraded shaft.
Keep reading for a full breakdown of these clubs and why we think they're some of the best options available. First, let's start by reviewing what these clubs have in common.
TSR Drivers Overview
The TSR drivers can help improve carry distance and gain better ball speed consistency if you pick the right one for your swing. Before breaking them down individually, let's go over what they have in common.
Aerospace Titanium design: Unlike other golf brands Titleist is sticking with a titanium design vs. carbon. In testing drivers it's surprising how many golf brands are opting for carbon vs. Titanium for more clubhead speed. But currently Titleist hasn't switched yet but my guess is they will in the next model.
Improved Aerodynamics: Each clubhead is unique to the type of player they're made for but all have updated aerodynamics for faster ball speeds.
SureFit Hosel Technology: You need to customize your driver to your swing and the SureFit hosel helps you dial it in to match your game. With the wrench you can easily add/remove loft and change lie settings to find the ideal ball flight (and max out distance). Not to mention this is included in all four models.
Grip: All of these drivers come with a stock grip that is a Golf Pride Tour Velvet 360. Or, a premium grip of the Golf Pride Z-Grip (which costs extra).
Now that we've covered what each driver has in common, let's dive into what makes each of them unique.
Titleist TSR1 Driver – Most Forgiving Driver
The first option in the new Titleist driver lineup is the TSR1.
This is the most forgiving of the four clubheads and ideal for higher handicap golfers and/or players with slower swing speeds.
While it's far from a beginner's driver, it definitely caters to golfers who need help with distance. It's the lightest of the four drivers making it easier to swing faster (and hit it longer) and a great driver for older golfers.
Although all four drivers have an updated face, the TSR1 makes the sweet spot even bigger. Here's what Titleist said about the changes to this model.
"This new Variable Face Thickness construction approach builds the face inward, layer by layer, to create a large sweet spot across the entire hitting surface. In other words, it produces amazing forgiveness and ball speed from every strike.​"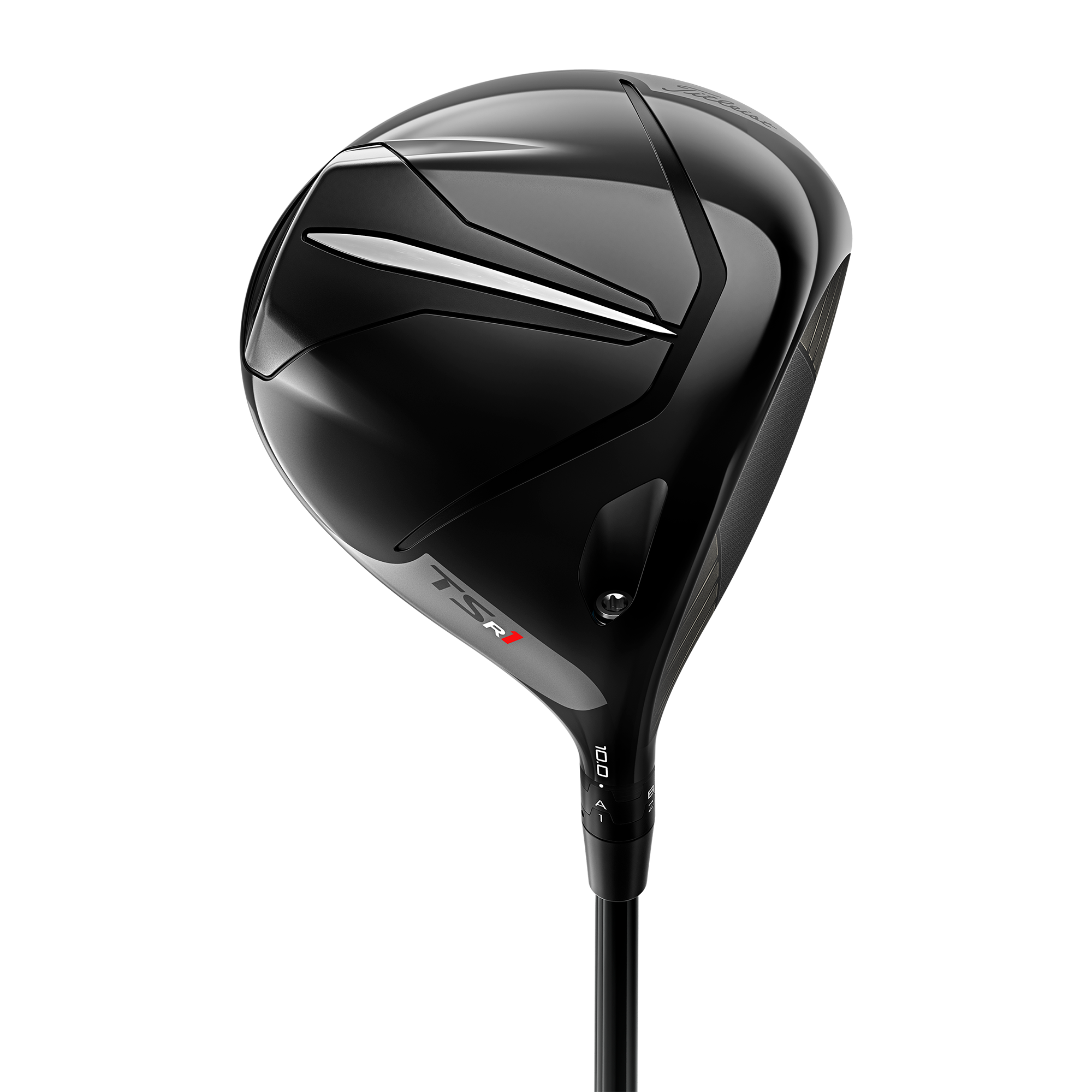 Another change from the other models is that the TSR1 has face centered CG to promote a higher launch. This will help improve ball speed and trajectory to max out distance, even without 100 mph swing speeds.
Additionally, this driver has only one shaft option compared to the others having four choices. Since the TSR1 is meant for players with slower swing speeds it comes with an incredibly lightweight shaft that only weighs 45 grams (regardless of which flex you choose). More on the specifics further down in this article.
This driver is available in 9, 10, and 12 degree loft options for both right and left-handed players.
Titleist TSR2 Driver – Best for Everyday Golfers
The Titleist TSR2 driver is arguably the best all around driver for the everyday golfer. It's also high launching but has much lower spin as it's designed for moderate swing speed players.
Here's how Titleist described the updated design features. "Greater speed means greater distance, and the new shape of TSR2 has been refined to make it as fast as possible through the air. The redesigned toe shape also improves the face angle for a better look at address."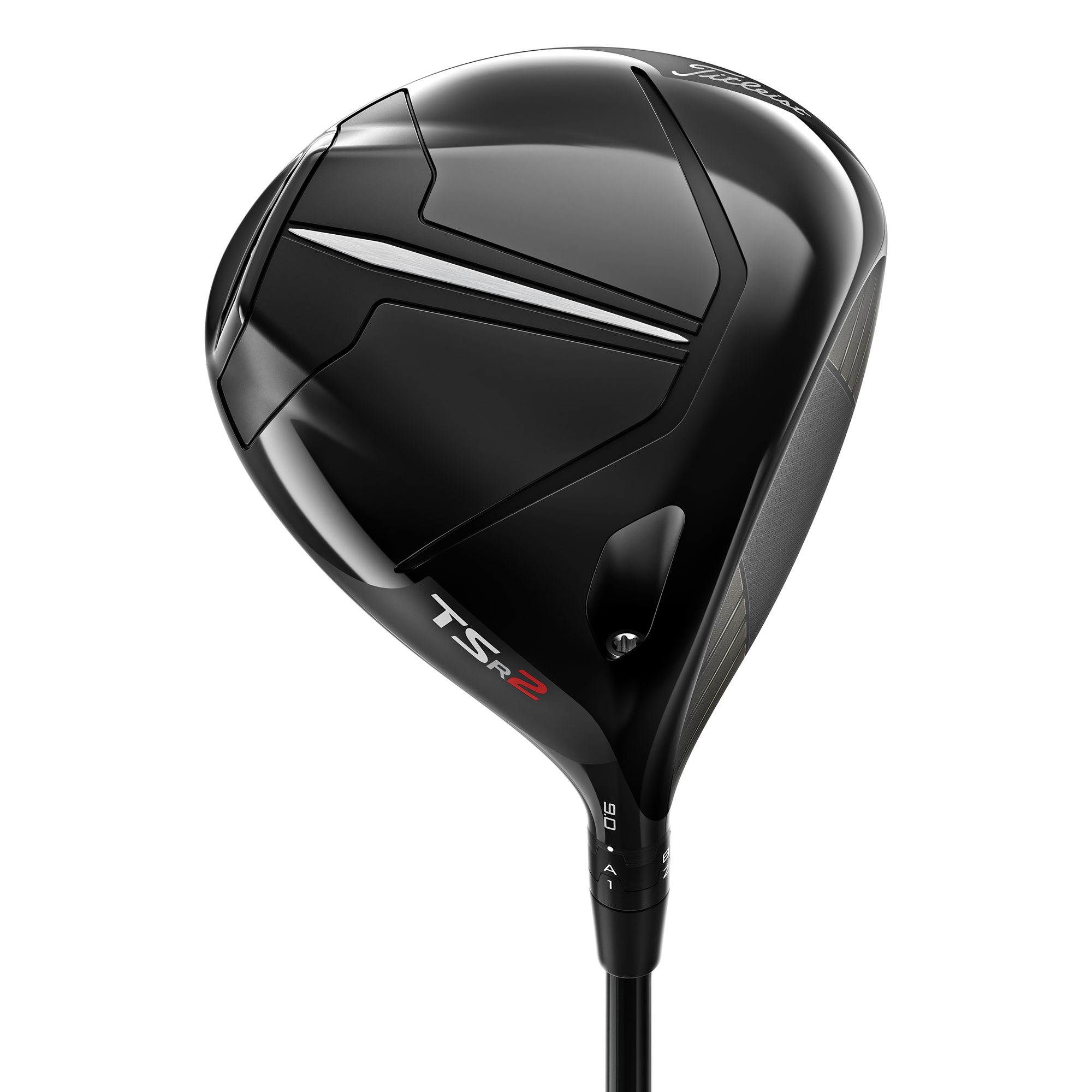 The CG also changes in the TSR2 as it's shifted lower and more forward in the clubhead. This update helps increase ball speed while still promoting a high ball flight.
Unlike the TSR1, the Titleist TSR2 driver has tons of shaft brands, weights, and flexes to choose from. Make sure to read the shafts section to find the right one for your game. The Titleist TR2 driver is available in 8, 9, 10, and 11-degree loft options for right and left-handed golfers.
Titleist TSR3 Driver – Most Adjustable Driver
Similar to the TSi3, the TSR3 is the most adjustable driver of the four options. While all four drivers come with a SureFit hosel, this club has performance-tuned adjustability in the CG track system.
Here's how Titleist described this feature. "The refined SureFit Adjustable CG Track System makes it easier to position that focused hitting zone where you want it and dial in the exact setup you need to generate maximum ball speed and performance."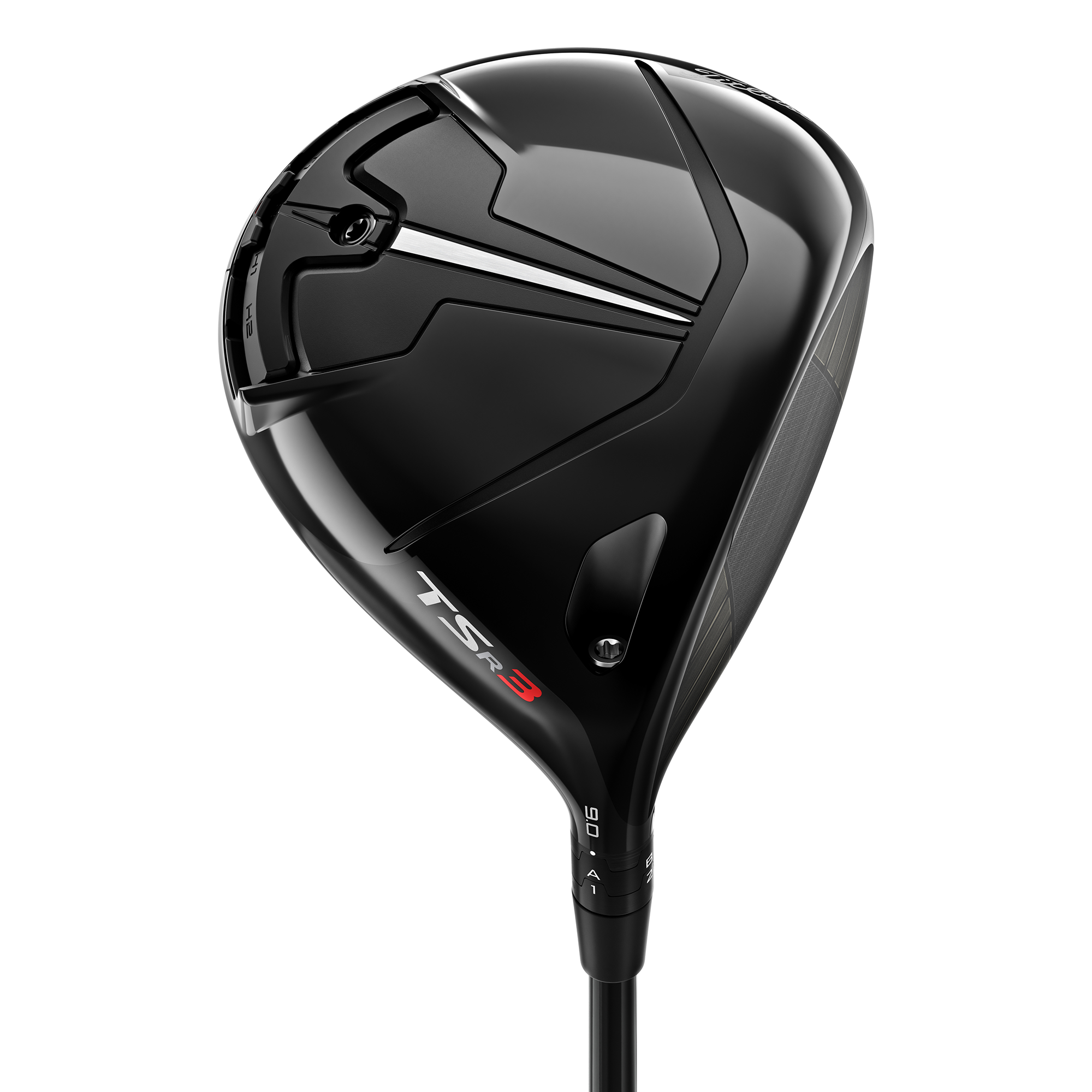 Paired with the huge line-up of shaft options, the hosel, and CG track this club can be perfectly fit to your swing. So, what type of golfer should play this driver?
Probably one that is consistent, likely a single digit handicap all the way up to certain PGA Tour pros. It's a little less forgiving than the TSR2 and not as high launching either.
This driver is available in 8, 9, 10-degree loft options for right and left-handed golfers.
Titleist TSR4 Driver – Best for High Ball Speed
The final option is the Titleist TSR4 driver which is different from the other three drivers for one main reason – size. The TSR1, 2, and 3 drivers all have 460cc club heads while the TSR4 is only 430cc. It's enough to notice a difference at address and has more of a "player's profile" look.
The reason it's smaller is to minimize spin and allow more advanced golfers to shape shots in either direction. A smaller head makes it easier to work the ball but does give up some forgiveness of the larger head. This is the model generally used by Tour players thanks to its low spin characteristics.
Beginner and intermediate golfers should stay away from this club unless you have enough swing speed. Otherwise, you'll lose out on tons of distance due to the low spin, low launch profile.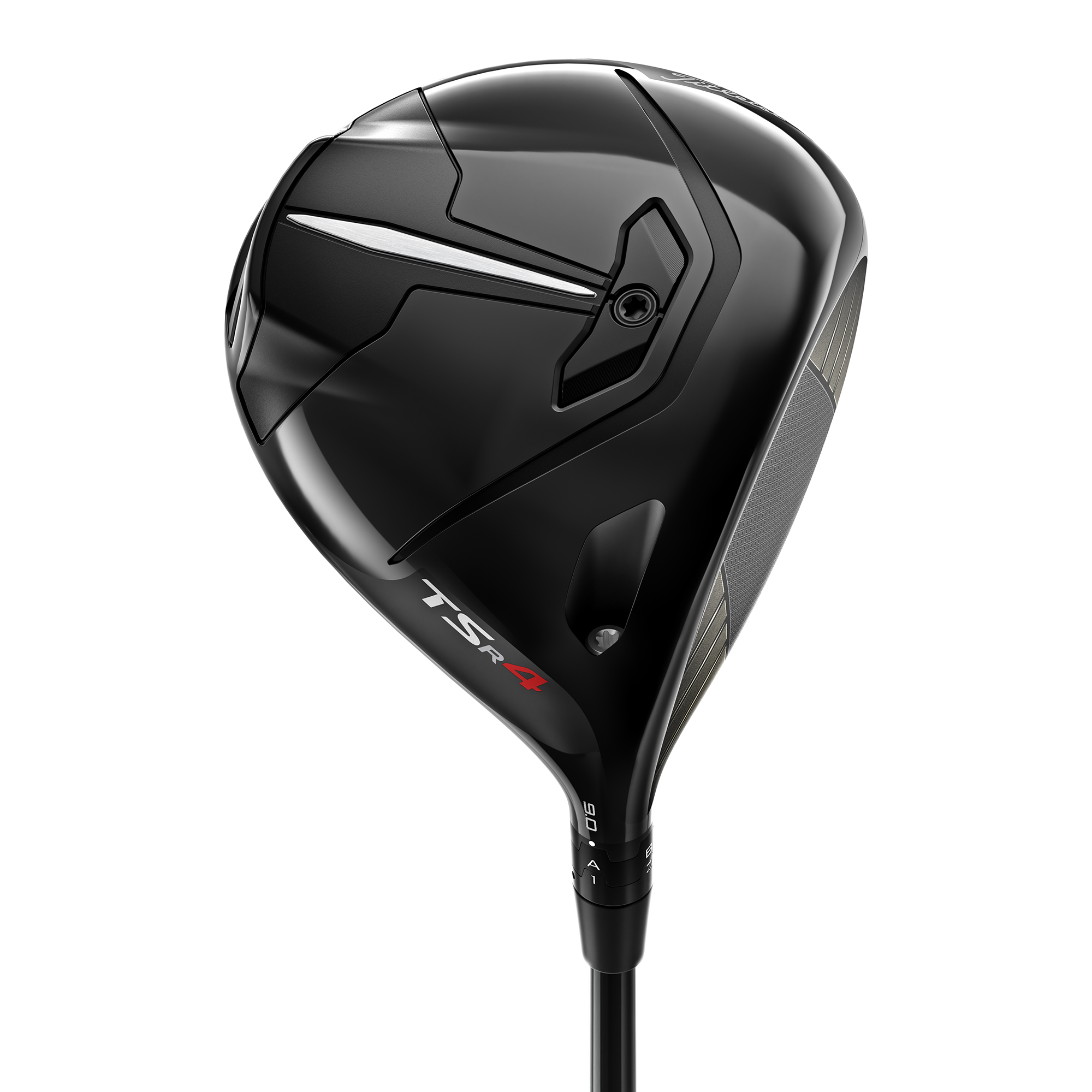 Speaking of spin, this club has something none of the other drivers do have – adjustable spin control. While the TSR has a sliding weight track to reposition the CG, the TSR4 does not. However, it does have the ability to change the weights in the head and ultimately the spin.
Here's what Titleist said about this feature. "TSR4 provides both front and back weighting options to allow even more players to experiment with gaining distance through lower spin. The forward setting produces maximum spin reduction, while the back is more moderate – creating more of a TSR3.5 performance profile."
This is an amazing benefit as you can dial in the spin to match your swing. The TSR4 is available in 8, 9, 10-degree loft options for right and left-handed golfers.
Great Stock Shaft Options For Improved Ball Flight
Now that we've covered the four driver heads let's talk about the incredible stock shaft options. This is what separates Titleist from a lot of other brands that simply don't offer as many choices. This makes it harder to find one that is right for your game and can lose out on a ton of distance by playing the wrong shaft.
I'd argue that playing the right driver shaft is nearly as important as the driver head itself. Here is a recap of the shafts to ensure you pick the right one for your average swing speed to maximize distance.
MMT Speedmesh Shafts: The lightest shaft is the MMT Speedmesh which is only available in the TSR1. What makes it so different from the others is the incredibly lightweight design; all flexes weigh less than 45 grams! This is why it's such a good fit for seniors and players who don't have fast swing speeds.
HZRDUS Red CB: This is the most lightweight shaft that is geared toward slower swinging golfers. All flexes are less than 60 grams which make it easy to swing faster and improve distance.
Tensei AV Blue: This mid-launch shaft is a better choice for the everyday golfer who swings in the 90-100 mph range. But make sure to choose the right weight option as they range from 55 to 75 grams. The stiffer the flex also increases the total weight too.
HZRDUS Black 4G: HZRDUS shafts tend to be more stiff and stable and this option is a low-mid launch. Like the Tensei you can choose from three weight options and range from regular to Tour extra stiff.
Tensei 1K Black: The final shaft option is for the best of the best players with very fast swing speeds. It's a low launch, low spin shaft that is only offered in stiff, extra stiff, and even a Tour Stiff option.
While the stock shafts are incredible, they do have upgraded "premium" shafts as well. They include the Tour AD IZ, Tour AD DI, and Tour AD UB. Each of these shafts have different flexes and weights but will cost extra.
FAQs About Titleist Golf Equipment
Do you have more questions about the latest drivers from Titleist? If so, keep reading to learn more and
Can you adjust Titleist drivers?
It depends on the model of the driver but all four models have an adjustable hosel unlike other brands. With the TSR series there are four options and the TSR3 has the most adjustability thanks to the SureFit hosel plus the sliding weight track. While the TSR4 has adjustable weights to change ball speed and produce more consistent results.
Do Titleist drivers have sliding weights?
Only the TSR3 driver has an adjustable sliding weight feature. While all four models have adjustable hosels, this model has a CG track system that makes it easy to change the CG and thus, the ball flight. So if you struggle with a slice, this is likely the best option for your game.
How long are the Titleist drivers?
All four Titleist TSR drivers are 45.5 inches except the TSR1 which is 45.75 inches long. Unlike other brands you can't get a shortened shaft option.
What is the best Titleist driver?
All four Titleist TSR drivers are incredible golf clubs that are popular with golfers around the world. I wouldn't say there is a "best" one as each one has its pros and cons.
But the Titleist TSR2 driver is arguably the best for the everyday golfer. While better players will prefer the adjustability of the TSR3 or TSR4.
Does Titleist make a small driver?
While they don't make a mini driver (like TaylorMade), they do make a smaller driver head for the TSR4. The other three models are 460cc while the TSR is a "player's club" and is only 430cc.
This makes it easier to shape shots in either direction, reduce spin but also lose out on some forgiveness. But for more advanced golfers with faster swing, it's a no-brainer decision thanks to the adjustable spin control features too.
Does Titleist make fairway woods?
Yes, you can buy matching fairway woods too (even with the same shaft as well). They have four options that are similar to the TSR1 – TSR4 lineup. The only difference is they don't offer a TSR4 set of woods.
Final Thoughts on Titleist TSR Drivers
The new Titleist drivers are some of the best looking and highest performing drivers on the market. Highlights include speed ring design, advanced aerodynamics, Surefit hosel, and more features. Whether you're a golfer with slow clubhead speed or a PGA Tour pro, you can fine tune a driver to fit your needs.
Here is a quick recap on how each clubhead differs from each other:
Regardless of which model you choose, don't forget to buy the right shaft too. Aside from the TSR1, you can choose from a ton of shafts in different weights and flexes. This will help you maximize your driving potential, hit more fairways, and play more consistently.