If you're like most golfers, chances are you love recording your golf swing. Whether you're in practice and need to figure out how to get out of a swing slump or on the course, documenting your swing is a good idea.
Smartphones have made golf so much better as you can record your swing, study it, and hopefully improve. Plus, they make it so much easier to document bucket list golf courses and maybe even capture greatness on any swing with a video.
But the problem with most swing videos is that you can't see the ball flight. While it's cool to see your full swing, it'd be even better if you could see the ball flight too, just like pros on TV.
Unfortunately, Apple and Android haven't made this a built-in feature on your photo editing (we can only dream). However, there are shot tracing apps that now make it possible so it looks like you're watching golf on TV.
Keep reading to learn more about the best golf app for shot tracing and if shot tracking apps are worth the money.
3 Best Shot Tracer Apps for Your Golf Swing
Before getting into the best shot tracer app to make the most of your golf videos, let's differentiate shot tracing vs. shot tracking.
Shot Tracking vs. Shot Tracing
Shot tracing is referring to using a video of your golf swing and adding a line to see the flight of the golf ball. This is similar to what you see when watching golf on TV as the tracer shows the path and flight of the golf ball.
Shot tracing apps allow you to see your golf ball in the air, after impact, not just the swing. Think of it like a visual representation of the flight and something you've likely seen at places like TopGolf. They use "Shot Tracer Technology" to show your flight, total distance, and calculate your score so you can compete against others.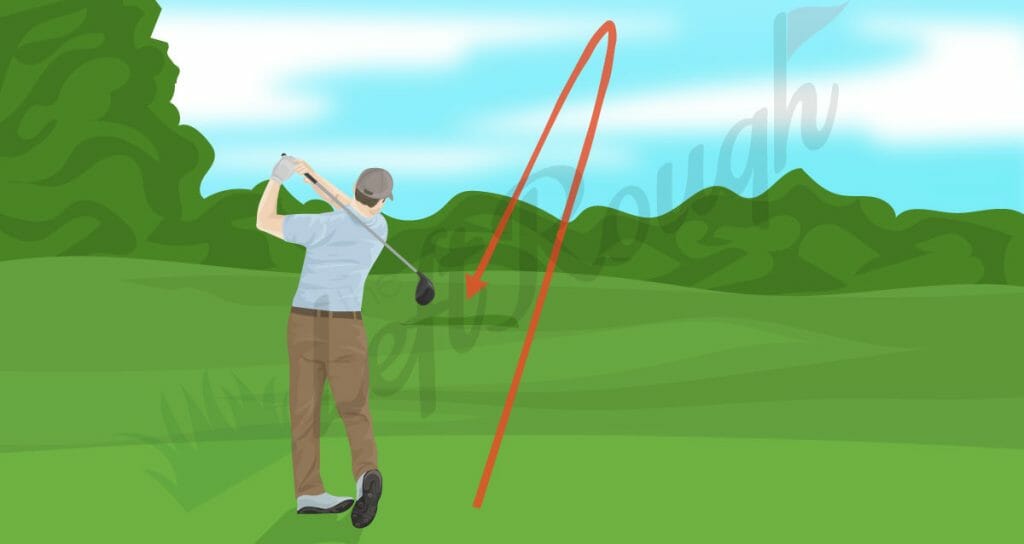 Shot tracking on the other hand is very different than ball flight tracking.
Tracking your shots is using an app or program to document every shot during a round on the golf course. After the round is finished, a shot tracking app will recap your round with certain statistics like fairways, greens in regulation, driving distance, and more.
Tracking your statistics is something that we recommend for committed golfers as it's a good way to learn more about your game. This insight can give you valuable information about your game, specifically your weaknesses, so that you can practice more effectively.
Now that you know the difference between shot tracking vs. shot tracing, let's get into the best shot tracers first. This way you can show off your golf swing videos on social media and text message and make them look much more professional. Plus, we'll later review our favorite shot trackers to get your game to the next level.
1. Shot Tracer
If you type in "shot tracer" in the app store, chances are this is the first app that shows up to download. So, is the shot tracer app good?
In my own experience I've had mixed reviews when using it on an iPhone. While it's not highly reviewed on the Apple app store, it's the most common app I see being used on social media.
First, the Shot Tracer app is available on iOS, macOS, PC, and Android which is a bonus. A lot of apps are only available on one or two of the devices mentioned, not all four. The Shot Tracer app beats a lot of other apps since it works on almost any device.
According to their website, "Voted Best Golf App by Golf Digest and Golf Magazine. The Shot Tracer app shows what seemed impossible, ball flight tracking using an iPhone or iPad. Not only does it track ball flight, but it also traces your golf swing, putt and pitch shots and is fully automatic."
Plus, the app allows you to add all kinds of special effects to your ball flight after impact. Some examples include a rocket launcher, fire swing, lightsabers, and more (plus the standard shot tracking line).
The Shot Tracer app also allows you to add 3D maps to your swing videos too. This makes it easier to better illustrate your round and enhance video quality. This is available for 36,000+ golf courses worldwide.
Lastly, they have a feature so you can showcase your score on each hole using an animated scorecard feature. This makes it looks like you're on the PGA Tour and the overlay is a great way to upgrade your video.
Shot Tracer Pro
While a lot of the app is free for users, the Shot Tracer Pro on Mac or PC is an upgraded feature. But I think it's worth it as you get Golf Channel/PGA Tour quality using your home laptop or computer which is pretty cool.
According to their website, "Now, for the first time, anyone can access the pinnacle in ball flight tracking for post-production. This software is a content creator's treasure trove and will help propel your golf vlogs and storytelling to new heights. Now it is your turn to access a technology that has previously been limited to the Golf Channel, the PGA Tour, and the European Tour Production."
Aside from the normal shot tracer technology, you also get:
Swing tracer. This allows you to add a switch path tracer for your backswing and downswing. It's a cool way to analyze your swing and see the graphics, just like announcers do when watching players swing on TV.
Putt-chip tracer. While full shots are great, let's not forget the short game either. The putt-chip tracer makes it easy to see your performance from around the greens as well.
Camera tracking. This is a neat feature as it actually tracks your shot, even if the camera moves to follow the ball flight. For example, if you're on a picturesque par 3 and a friend is recording your swing and following the ball, the video will adjust as the camera moves. This way you can see where the ball ends up on the green (or maybe even goes in the hole) and not affect your video either.
The app is compatible with Windows 10, Windows 11, M1 Macs, and Intel Macs. See pricing below to learn more about this awesome upgrade.
2. The Golf Tracer
The Golf Tracer app has a lot more reviews on the App store than other ones on this list. It allows you to do all kinds of custom overlays and graphics that other apps don't allow.
Here are some of the features of this app:
Manual tracer gives you full control of your tracer style (change the color, type of tracer, and more).
The shot yardage feature allows you to add yardage to the video, just like you see when watching golf on TV.
Swing sequence feature allows you to create a swing sequence with the tap of a button.
The video looper allows you to loop your swing video for repeat views.
Finally, the app allows you to add golf emojis, scoreboards, and crowds, just like you're a professional golfer.
Search "The Golf Tracer" on your app store to learn more about it now.
3. Golf Shot Tracer
Another similar shot tracing app is the Golf Shot Tracer which is free for a three-day trial, then requires a paid subscription. What's great about this app is that you can use it without the internet to save battery life and can make swing videos, even if you're not in a Wi-Fi friendly location. Here are some of the features that you get with this app:
Create 3D ball flight animation.
Export in various formats so you can optimize for each social media platform.
Easy to use – just upload your video and let the app do the hard work. You should be able to start tracing your shot in 10 seconds or less.
Overlay your golf shots on 3D hole maps with access to more than 30,000 golf courses.
Use the GPS data that is attached to your video to set location points and measure the total distance.
The paid service is only $1.99 per month and charged through the App store. This allows you to add the map features and make your videos even better.
Recording Your Swing
To make the most out of these swing videos, you need to record your golf swing properly. On the driving range, we suggest using a tripod to get the correct angle for a down the line video. Not only will this allow you to upload your video correctly to these apps, it will also make it easier to analyze your swing.
If you're on the golf course, try to have a friend get the right angle too. To get the best swing video, you should have them positioned directly behind you in line with your hands with the phone at hip height. This will ensure that you get the right angle for the shot tracer app and will capture your full swing too.
Click here to learn more about recording your golf swing.
More About the Best Golf Shot Tracking Apps
Now that you know about shot tracers, you might have wondered, are golf shot trackers worth it?
It's a good question as there are tons of golf shot tracking apps that can also give you new insight into your golf game.
While shot tracers are more for vanity, shot trackers are great golf gadgets to analyze your game like never before. Ben Hogan or other legends of the game would be shocked with all the incredible technology we have to understand the data.
Here are the best apps to collect data with all your golf clubs.
Game Golf Pro
I love their slogan – smart golfers score lower! With Game Golf Pro, their services will help you learn more about each club and one of the top rated apps on the market.
Here's what the company said about the app, "We track every shot, yardage and club hit, even giving you recommendations as you play. Our sensors allow for fully automatic shot detection to play with absolute freedom."
Plus, the coach dashboard is unlike almost anything else out there. You have the ability to get expert instruction about your golf game by sending data straight to your coach. Game Golf will funnel your data to your coach (or your student if you're a golf coach) so see details about every shot they hit on the course.
It has all kinds of other features like challenges, benchmarks, performance analytics, and shot tracking data. Overall, this is a great investment in your golf game.
Arccos caddie smart sensors
Another shot tracking app is the Arccos Caddie Smart sensors, which use A.I to produce quite possibly some of the most accurate data. They've been the winner of four Golf Digest Editor Choice Awards and allow you to track the performance of every club in the bag.
These sensors screw into the end of your grip and each time you hit the ball, give you real time data. Plus, they account for things like elevation, wind, humidity, and altitude for the most exact yardage when playing. It will even give you access to tools like strokes gained analytics, highlight your strengths/weaknesses, and more data than you could imagine.
Hitting the links will never be the same with all these awesome features. Go here to see our full article on Arccos smart sensors.
Golf Pad Tags
Another accurate shot tracking system on the market is the Golf Pad Tags. This automatic shot tracking system works on Android or iPhone and is a better price than others. If you're on a budget, this is a no-brainer decision.
Simply insert the tags into the grips of each club and start learning more about your game. They work on more than 40,000 courses, provide recommendations on club selection in real time, and provide personalized golf game analysis.
They're compatible with most devices including smartwatches too.
FAQs
Do you have more questions about making great golf swing videos with a shot tracer app or program? If so, we have answers below to help you find the right one to document your best golf shots.
Can you get shot tracer on your phone?
Yes, as mentioned above there are tons of different apps to start tracing shots on your phone. All of them are pretty similar in terms of usability and effects that you can add to your video. You can start ball flight tracking, show the exact pin location, and watch your game at a different level.
But one thing that separates the apps is being able to use on a computer vs. just the phone. Myself, and a lot of other users based on the reviews, have had some issues with the apps not working all the time. However, the computer apps seem to be much more reliable and make it easy to download and share across devices.
How do you make a tracer shot?
By downloading one of the shot tracer apps mentioned above from your phone's app store. If you golf monthly or not as frequently, you might not need an app. But if you like to watch videos of your swing or show your game on social media, they're well worth it.
How much is the shot tracer app?
As you can see, whether you have an iPhone or Android, there are plenty of apps to choose from. Most of them are free for some features or allow a certain amount of days with a free trial.
Then, if you want to keep using the app or unlock other features, you will need to pay a subscription or one-time. Luckily, the monthly subscription isn't much money as some are only about $2/month and billed through the app store.
If you do need to cancel your subscription, make sure to do within your app store purchases, not the app itself. Otherwise, you will get billed until cancelled.
Overall, a great deal for the price!
How much is a shot Tracer pro?
Shot Tracer Pro is a great upgrade from the free version and available on PC or Mac operating systems. At this time, there are three pricing options available:
Monthly – $24/month
Annual – $89/year and included a free map tracer subscription for iOS with the purchase too.
Half-year – $59/year but no map tracer is included with this option.
Visit their website to watch the tutorials and learn if you're the type of golfer who can benefit from this awesome software.
Does shot tracer work when hitting into a net?
No, shot tracing won't work if you're hitting into the net. The tracer technology needs to see the ball flight in order to put a tracer on the video.
While a shot tracer app won't work with a net, a lot of launch monitors will work perfectly. As long as you have enough space behind the indoor setup, you can still learn important data about your golf swing.
Most launch monitors provide detailed insight about each swing including swing speed, ball speed, distance, spin rates, smash factor, and more. These are a great way to practice at home and make the most out of your winter golf season.
How do they trace the golf ball on TV?
They use similar technology to the Shot Tracer Pro. A lot of golf coverage on TV you will hear them say, "Presented by TopGolf using TopTracer technology" which is their software to track ball flight and swing tracer. It makes watching golf on TV much easier for viewers.
Final Thoughts
Hopefully, you should have a better understanding about the difference between shot tracing vs. shot tracking.
Remember, shot tracing is a fun way to make your golf swing videos 10X more professional. They allow you to see your golf ball flight after impact and make it seem like you're at TopGolf or watching golf on TV. You can add cool effects, lines, and other settings for fun to watch videos.To get started, search your app store for one of these apps.
While shot tracking is using an app or sensors to document every shot during your round. This makes it easier to learn more about your performance on the course and make adjustments in practice.
Both are great ways to get additional insight into your game and show your skills when sending golf videos to friends or sharing online.