Tournament golf is unlike anything else. Golf is hard enough but add in the pressure of competition and it's as exciting as riding a roller coaster.
I'm not talking about a friendly competition or casual gambling games with friends either. But a real tournament where you have to putt everything out and follow the rules of golf.
People either love or hate the pressure… but it's a thrill ride no doubt. An exciting golf format is a Round Robin event as you get to play vs. a lot of different competitors in 1 vs 1 or team setting.
Keep reading to learn more about these events to mix up your rounds of golf.
Round Robin Golf Tournament Format
A Round Robin format is not just for golf but all types of sports. This type of tournament is where each competitor plays in turn against all other teams involved.
It's a way to schedule events in all types of sports to play against each other and common in NBA, MLB, and NBA. It's also the exact opposite of an elimination tournament where you're typically eliminated from the event with a loss.
But as you know, golf is not usually two player teams so this changes things. So, what is a round-robin in golf anyway?
The goal of a round-robin golf tournament (also known as sixes, Hollywood, COD and other terms) is to still play all other players or teams.
In this format the lowest net score is the winner but there are variations as well.
For example, I played this format with my friend and his two brothers a lot growing up. If you're player A, you will play with B for the first six holes, C for the second six, and D for the final six holes. You'll compete for a set number of points during those six holes and the person with the most points wins.
It's also common to see this type of tournament in a member-guest. This usually happens with a flight of six teams who play five nine hole matches (that means you get to play 27 holes in one day). Every team in a flight will play each other in order to win a certain number of points, typically in a match play format.
From the first hole to the last shot, it's exciting for golfers to take on one opponent after another. But you can play this format individually in a pod system which is discussed in the next section.
PGA Tour (Dell Match Play)
Round Robin tournaments even exist on the PGA Tour as well. While the best players in the world typically play 72-hole stroke play events, there are a few different formats each year. A good example is the Dell Match Play.
While each golfer doesn't play every other player (as that would take a month), they're broken into team play pods where each pod plays round robin format. Basically, inside each pod all the players play one match against each other.
After the winners are determined they go to the next stage, a bracket tournament, where the winner is decided. It's one of the most fun tournaments to watch and highly suggest you check it out to see who can get the victory!
Double Round Robin
Now that you know about a single round robin event, let's get into how a double round robin works. According to Golf Software, "In a double round robin, each player or team plays all other players or teams twice. When you have 10 players or teams, it will require 9 events to complete a single round robin. When you have 20 teams or players, you will need 19 events to complete a single round robin."
As you can imagine, this is a scheduling nightmare if you work at a course and why we suggest using a golf app or software to make things easier.
Golf Software
Here are different pieces of software to help you schedule these otherwise tricky events:
Golf Software: The name is catchy right? It's a great app to schedule these tournaments, leagues, and handicapping.
Beezer Golf: You can access this app to learn more about your scores and access 25 group or side games.
Golf Genius: One of the most comprehensive scoring systems to help you run and organize large events. It's not cheap but it's worth it.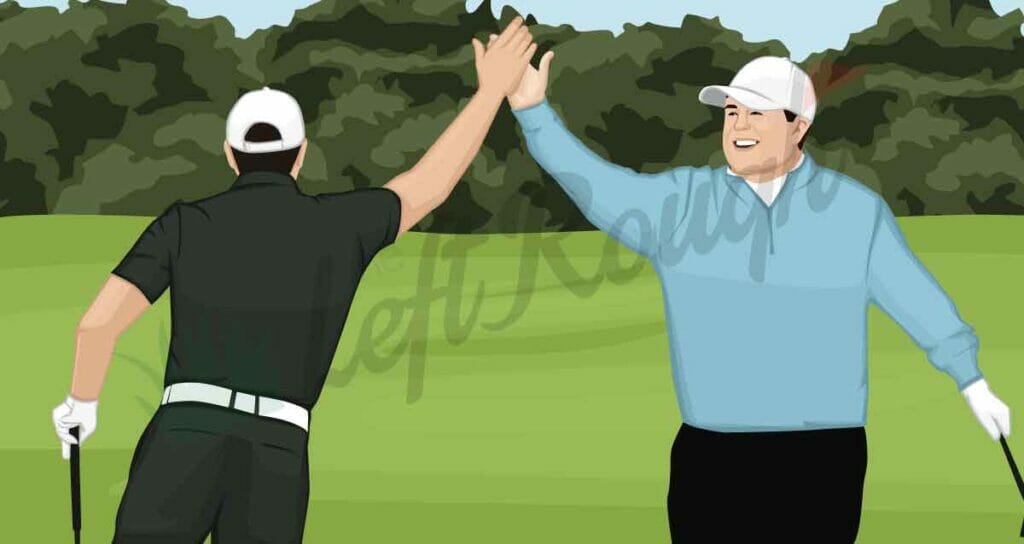 Other Golf Formats
One of the reasons we think golf is the best sport ever is because of the endless formats to play the game. Not only can you play at thousands of courses around the world, but also different formats too. Here are some of our favorites to learn more ways to play this great game.
Scramble
One of the best ways to play golf with a group of friends is a scramble format. Each golfer tees off then you pick the best shot and play the next shot from there. This continues all the way through the hole so each person gets an attempt at the shot.
If you play this format with four people you will need to go low to win. Click here to learn more about scramble golf tournaments.
Match Play
Whether you're playing with a buddy or three, match play is a great way to mix up scoring. With match play you can only win or lose the hole by one shot. So if you make an 8 and your buddy makes a 5, you only go one down.
This format has a ton of strategies involved and why it's so much fun to watch the Ryder and Presidents Cup. Click here to learn more about match play in golf.
Stableford
Normally, the goal of golf is to get the lowest score at the end of the round. But with a stableford golf tournament, the goal is to get the most points; each score (birdie, par, bogey, etc.) gets a certain number of points that is predetermined before teeing off.
This format encourages everyone to play more aggressively as eagles, birdies, and pars get rewarded. Click here to learn about a Stableford golf tournament.
FAQs About Round Robin in Golf
Do you have more questions about a Round Robin in golf? If so, keep reading to learn more about it and other types of golf tournaments.
How do you play Robins in golf?
Robins is another term for round robin and a great way to play golf.
If you're with a foursome of players with similar skills, you can each play together for six holes. There are a certain number of points awarded to each player and the person with the most during the round wins.
How does a round-robin tournament work?
It's a team or individual event where you'll compete against a lot of other players unlike an elimination event. It's common to see these at country clubs each year during a member-guest invitational.
Final Thoughts
A Round Robin event is a fun way to mix it up and play with a variety of players or teams. Whether you're playing individually or as a team, it's a great way to play golf. Plus, it's a good game that is suited for all levels of players but ideally works best if most guys have similar handicaps.
If you're playing in this type of event, especially in a member-guest, it's a ton of fun. You get to have a lot of 9-hole matches vs. different groups which makes for an exciting weekend on the links. If you're in charge of running one of these events, it's a good idea to use golf software as scheduling is difficult.