A 3-wood is one of the few clubs that almost every golfer has in the bag.
Whether you're a PGA Tour player, scratch golfer, or average player struggling to break 90, the overwhelming majority have a 3-wood. Depending on the type of golfer you are, you might have a different loft and design than other players.
There are three main types of 3-woods which we'll cover in detail below. Before buying a new fairway wood, read this full article to learn how to optimize this one golf club for a better long game.
3 Wood Loft – Choose Carefully
Key Takeaways
3-wood lofts vary from 14 to 16.5 degrees depending on the manufacturer. 
3-woods are one of the most versatile clubs in the bag and a great choice if you don't love your driver.
Strong 3W's are great for faster swinging golfers who want to minimize spin and use it off the tee for a lower ball flight.
A high loft 3 wood is great for slower swinging golfers and those who want a higher launching fairway wood.
Keep reading to learn more about each type of 3-wood and see which one is right for your game.
Types of 3-Woods
So what is a 3-wood loft? It varies – unlike other fairway woods which have pretty standardized loft options.
My guess is because 3-woods are such a versatile club that all types of players use. Since a lot of golfers hate their driver(or just terrified of a slice), they resort to a 3-wood instead.
Plus, in recent years more and more 3-woods are adjustable too. This gives players the options to tweak the loft and lie setting to fine tune it to your ideal trajectory and launch. Some higher lofted fairway woods are adjustable (typically a 5W) but higher options like a 9W, 11W, or heavenwood are typically a fixed hosel. 
A 3-wood has a lot of advantages with very few downsides. Let's get into them before reviewing the three main types of three woods.
Pros
Most have adjustability features.
Multiple loft options to suit all types of players.
Most golfers hit more fairways than with a driver.
Smaller club head inspires more confidence off the tee.
Can be used off the tee, from the fairway, and in the light rough.
Cons
Hard to hit from the rough.
The longer shaft and lower loft make it difficult for some golfers to hit it from the fairway or tight lies.
As you can tell, there are almost no downsides to carrying a 3W which is why they're a staple in nearly every golfer's bag. Let's get into the different types of 3-woods to see which one works best for your swing.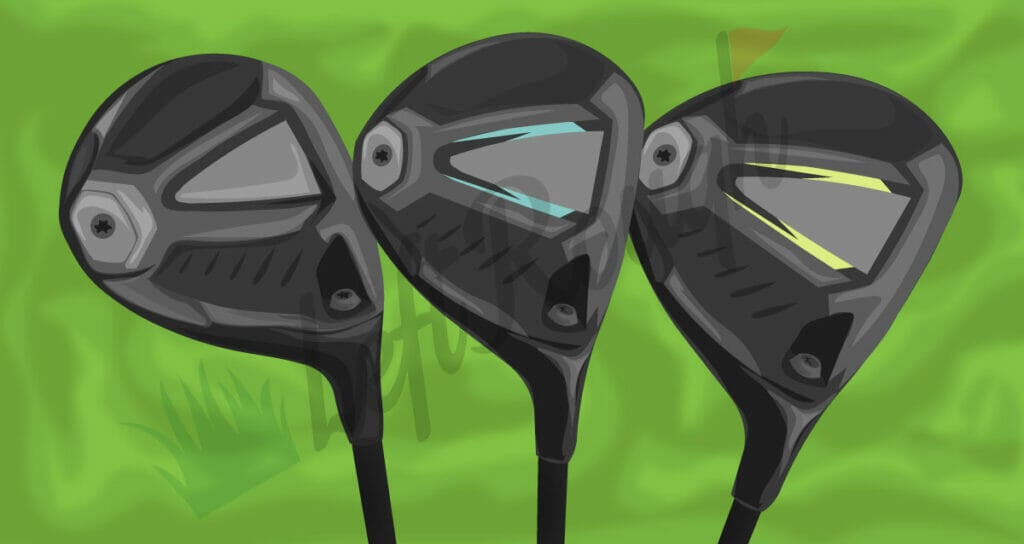 Strong 3-wood (3+)
A strong 3W, also known as a 3+, has less loft than a normal 3W. A strong 3W is typically 13.5 or 14 degrees, depending on the manufacturer.
These lower lofted fairway metals are a great choice for players who want maximum distance out of a 3W. The lower loft helps produce a more penetrating ball flight which can lead to a ball that hits and rolls out a ton. It's great to use on tight golf courses where hitting the fairway is a premium.
The clubhead itself usually doesn't change size from a standard 3W.
For example, the Paradym series has a Triple Diamond model (low spin) that is available in 3+, 3, and 5-wood. The clubhead is the exact same size but the strong 3-wood has less loft.
Strong 3-woods aren't always available with every club as they're not as popular in the golf world. With the Callaway example the other two Paradym fairway woods do not offer a 3+ but instead offer a 3HL (high launch) instead – more on that in a second.
So why don't all brands include a strong 3W option?
Because the lower loft makes them more difficult to hit from the fairway, especially for the everyday golfer. The lower loft requires more speed and precision to create the proper launch angle and maximize distance.
If you've ever tried to hit a driver from the deck, you know how hard it is to get enough launch on a low lofted club. While the center of gravity doesn't help when hitting a driver off the deck, the low loft also makes it challenging.
But for consistent golfers with faster swing speeds, a strong 3-wood is a great option.
Pros
More distance off the tee.
Great alternative to hitting a driver.
Lower launch and spin is great for faster swinging golfers.
Cons
Hard to hit off the fairway for everyday golfers.
Lower loft can lead to less accuracy than a 15 or 16.5 degree option.
Standard 3-Wood
The second type of 3W is a standard option that has 15-degrees of loft. This is the most common loft for 3W's as the extra 1 to 1.5 degrees more than a 3+ can make a big difference.
If you've ever tried to hit a 3W and 3+ in the same range sessions or during a club fitting, you likely know it's a big difference. What's great about a 3W is that it's very easy to hit off the tee and pretty easy to hit from the fairway too.
Plus, you can use it from the light rough too – although we recommend against trying to hit it from the deep stuff. Instead, use a higher lofted wood, hybrid, or iron to get the ball back in play.
Pros
Great driver alternative.
Most standard 3-woods are adjustable.
Easy to hit off the tee and from the fairway.
Cons
Slower swinging players and higher handicappers might struggle to hit from the fairway.
High-Lofted 3W
The third type of 3W is a 3HL (which stands for high loft). This version is typically 16.5 degrees, which is close to a 4-wood.
These types of three woods are somewhat newer and much easier to hit from the fairway. I think that club manufacturers realized that the everyday golfer hits their 5W a lot more frequently from the fairway and saw an opportunity.
While a 5W is generally easier to hit off the deck, you will lose distance compared to a 3W due to a shorter shaft and more loft. Thus, the HL option was born.
Like the strong 3W, nothing changes in terms of the size of the clubhead. They just add more loft to make it easier to hit and launch higher. This also makes this fairway wood a much better option when hitting from the rough.
Pros
Easier to hit from the fairway.
Most high lofted 3-woods have adjustable lofts.
Some are offered in a draw-biased design to improve accuracy.
Typically more accurate than a 3W or 3+ thanks to more loft.
Cons
Might lose out on distance due to the higher loft.
These are the best choice for everyday golfers who struggle hitting a standard 3W off the deck.
Alternate Option: Mini Driver – 2W
If you want an additional option there are also mini-drivers (sometimes referred to as a 2W) as well. The most popular mini-driver is from TaylorMade in the BRNR Mini Driver.
Here's how TaylorMade described this driver alternative.
"A combination of carbon fiber, titanium and steel creates the foundation for BRNR Mini's incredible sound, feel and performance. Split weights allow golfers to switch between the standard setting (13g in the back) for balanced performance, and the low spin setting (13g in the front) for a piercing trajectory and increased roll out."
This driver is a modern interpretation of the classic Burner design of the 1990s. Thanks to the "K-Sole design" it's much easier to hit off the turf despite the larger clubhead size. 
Most 3-woods are between 140-185 cc – depending on the manufacturer. Smaller heads are preferred by better players for more workability. While mid to high handicappers prefer a larger clubhead for maximum forgiveness.
But the BRNR mini-driver is much bigger at 304cc. This makes it an interesting size for most golfers as it's much smaller than a modern day 460cc driver.
The mini-driver is available in 11.5 or 13.5 degrees, which will also make a big impact on distance and launch. The 11.5 is a better choice if you want to completely replace your driver. While the 13.5 option is a strong 3W but will also go much longer than a 185cc 3W thanks to the bigger clubhead.
Plus, there is a 4-degree adjustable sleeve to customize the club even more. Unfortunately, most other brands like Callaway and Titleist haven't caught on to the mini driver trend.
Alternate Option: 1-iron or 1-Hybrid
The other option to replace a 3W in your set is a 1-iron or a 1-hybrid. But be careful – these clubs are not for the everyday golfer.
As Lee Trevino said, "If you are caught on a golf course during a storm and are afraid of lighting, hold up a 1-iron. Not even God can hit a 1-iron."
This famous Lee Trevino quote is hilarious but also quite true. If you've ever tried to hit a 2 or 3 iron, you know they're one of the most challenging clubs.
A 1-iron is even more difficult but some brands like Titleist now make them in a driving iron design. These clubs are much more forgiving than a standard 1-iron that matches the rest of your irons (but most manufacturers don't even make them anymore).
A driving iron (also known as a utility iron) however is a great choice if you're the type of golfer who loves irons over hybrids or fairway woods. One of the best choices is the Titliest U505 which is offered in a 16-degree model.
It comes with a lightweight graphite shaft that makes it easier to launch from any turf conditions. Whether you need a go-to shot off the tee on par 4s or want to hit it to the green on par 5s, this club can help.
However, we don't recommend a 1-iron – even if it is a driving iron – for 90% of players. Most golfers don't have the consistency and speed to reap the benefits of these clubs.
An alternative is a 1-hybrid (if you can find one). Most hybrids offer an 18 or 19 degree loft, which is more like a 2-iron or 5-wood replacement.
But there are some brands that offer a very low loft hybrid like Mizuno. The new ST-Z 230 2HB is 16-degrees with an adjustable loft sleeve that allows you to tweak it down to 14 degrees making it a strong 3W.
This club is 41 inches – a few inches shorter than a standard 3W. But it's much larger than a driving iron and a lot of hybrids making it more forgiving and higher launching.
FAQs About Fairway Woods
Do you have more questions about fairway woods? If so, keep reading through our most frequently asked questions and answers below.
What is a 15-degree wood?
A 15-degree wood is a standard 3-wood – one of the most common clubs in golf. Almost every golfer carries one of these clubs as they're useful for a lot of tee shots and from the fairway too.
A lot of three-woods are adjustable too so players can change the loft (up or down) to make it stronger or weaker.
Is 13.5 degree 3-wood hard to hit?
A 13.5 degree 3 wood (referred to as a 3+) is harder to hit for some players off the fairway due to the lower loft. Since most 3-woods have 15 or more degrees of loft, the 1.5 degree difference can make it much more difficult.
Is it better to have a 3 or 5 wood?
A lot of golfers have both a 3-wood and 5-wood in their bag. Since a 3W is typically 15 degrees and a 5W is typically 19-20, there is a distance gap between the clubs.
Plus, a lot of golfers prefer to use a 3W off the tee and a 5-wood from the fairway. The higher loft on the 5W makes it easier to hit from the fairway or rough and higher launching than a 3W.
Learn more about a 3W vs. 5W here. 
How do you hit a 15-degree 3-wood?
To make solid contact and these long distance shots check out the guide to hitting the second-longest club in the bag here.
Do you hit more fairways with a 3-wood than driver?
Most golfers think that a 3-wood is more accurate than a driver, especially with off center hits. But the data might say otherwise – even if you're a low handicap golfer.
According to this Golf Monthly article, "The data shows that they actually hit just under 50% of fairways with driver. Taking a 3 wood ups that chance by just under 3% at 52.6%, showing that maybe 3 wood isn't always worth hitting compared to driver. Overall, 5 handicaps average 245 yards off the tee but are probably more wayward than you might think."
My Experience
A 3W is a great club for all types of players – whether you're an average golfer, scratch player, or just getting started playing golf. Throughout my own game I've always had a 3-wood as I think they're one of the most beneficial golf clubs in the bag.
But the loft you choose in your fairway wood plays a big role in how you hit the golf ball.
I think most golfers should work their way up to a 3+. Otherwise, a strong loft fairway wood might hurt your golf game as it's more challenging to hit from the fairway and not as accurate either.
Additionally, spend time finding the right shaft to improve carry distance, get the ball airborne easily, and have a good ball flight. Also, don't be afraid to use a 5W or 7W from the fairway until you're more confident in your 3W.
Final Thoughts
99% of golfers have at least one fairway wood which is typically a 3-wood. Many golfers then have a combination of hybrids, woods, and long irons to complete their long game.
Each type of 3-wood has the same shaft length (roughly 43 inches) but the lofts make a big difference.
Here's a quick recap of each 3-wood:
Strong 3-wood (3+): Great if you have plenty of ball speed and don't have trouble getting the ball airborne. This fairway wood is a great driver alternative thanks to the piercing ball flight and used more frequently on the tee box. Preferred by low handicap golfers and professional golfers.
3-wood: A standard loft (15 degree 3-wood) is great if you have moderate to fast swing speed (most average golfers). This fairway wood is used by all types of players from the tee box, fairway, and sometimes light rough.
High loft 3-wood (3HL): This golf club makes it easy for high handicap golfers to launch it higher and straighter than most 3-woods (especially on tighter lies). It's the best fairway wood for golfers with slower swing speed and need help getting the ball airborne.
Playing the right fairway woods in your golf bag is key to getting the most out of your game. Check with a local club fitter to see if you need to change to higher lofted woods.
What type of 3-wood do you play?
Let us know in the comments below.