A golf simulator room is a dream for most avid players.
Imagine being able to swing any golf club without having to leave home. Or playing a quick round at St. Andrews before heading into the office?
But how much space is required for golf simulators? What are the ideal room dimensions? Can you hit any golf club into a net or screen?
These are great questions to ask before you start shopping for golf simulators.
Golf Simulator Room Size – How Much Space is Needed?
A golf simulator is a great way to improve your game and might be a better choice than joining a country club. They've never been more affordable than now with different price points and size to fit nearly every golfer.
The price isn't the issue anymore for a lot of golfers – instead, it's having enough space. You need to factor in ceiling height, golf ball flight, right and left-handed players, accessories, and more. Otherwise, it can get cramped and possibly dangerous if you hit an errant shot.
Today we'll review the width, height, and length of a room to build the right at home simulator. Plus, discuss some of the most common places to put a simulator and other factors to consider.
Key Takeaways
Having enough space is one of the most important components of building a DIY golf simulator. 
A room needs to not only have enough depth to hit into a net but also enough height and width too.
Some of the most common places to install a golf simulator at home are a basement, garage, family room, media room, carport, or even a backyard.
Different types of screens/nets and/or launch monitors will ultimately determine how much space is needed.
Keep reading to create the simulator of your dreams and keep your game sharp year round (regardless of weather).
Room Height
Arguably the most important dimension and one that stresses out golfers the most when building a simulator is height.
Most golf simulators require at least 8–9 feet high ceilings for adequate space. The average ceiling height in most houses is eight feet so it will be a little bit of a stretch.
You need a high enough ceiling to make sure you can swing freely with every club in the bag.
You also need to ensure a net or screen can fit and possibly a ceiling mounted launch monitor too. Otherwise, you're investing in a simulator that won't let you play and practice like you normally would on the golf course or range.
If a ceiling isn't high enough it can limit the clubs you might be able to swing. And who wants to invest in a simulator but not be able to hit a driver or fairway woods?
Another reason you need enough height is to make sure you can take a full backswing. The last thing you want is a simulator to accidentally shorten your swing and mess with your fundamentals.
Additionally, a ceiling needs enough height for your screen or net. Some enclosures and nets are 10 feet tall and might require you to opt for a smaller net/screen to fit your space.
Finally, you should also consider your size as taller individuals might need higher ceilings too. Ensure that you can swing a driver at full speed fully unrestricted before buying any parts of the simulator.
Room Length – Room Depth
The second dimension to consider is the length of your room. So how much room length is required?
More than a lot of spare bedrooms or even family rooms, unfortunately. The correct length/depth of a room is primarily to make sure you have:
Enough room from the mat to the net or screen.
Enough room behind you to swing the club freely.
Not to mention depending on the location of your launch monitor, you'll need space for that as well. For example Trackman – a premium golf simulator – requires a minimum of 16-feet but the ideal room is 18 feet long/deep. More on launch monitor requirements below.
Room Width
The final component is the width of the room which is mostly about functionality more than anything else. You need a room that is wide enough for the mat and net more than anything else. But if you have extra accessories or have right and left handed golfers, this is something to consider.
Hitting Screen or Net
While the room itself is the most important requirement, the accessories used also play a role for what you need for a golf simulator room. The hitting screen, enclosure, or net is another big factor as some are quite large.
For example, the RS Tour Series DIY Golf Simulator impact screen has multiple sizes to fit different rooms. The smallest is 7.7 x 10 feet and the biggest is 9 x 16 feet.
Nets tend to be smaller and great if you're using indoors like a spare bedroom. For example, the Net Return Mini Pro Series V2 is perfect for smaller spaces. Check out the best golf nets here.
Enclosures require the most space but also provide the most immersive simulation experience. A great option is the Swing Bay Golf Simulator Screen and Enclosure. The recommended dimensions are 9'H x 12'W x 16'D which is a lot of space compared to a net.
Once you have the room dimensions, make sure to check out different nets, screens, or enclosures too.
Launch Monitor Requirements
Another thing to think about when finding the right golf simulator room is the launch monitor itself. Since a personal launch monitor is the engine of a simulator, it needs to have enough room to work properly.
Some launch monitor technology requires the device to sit behind the golf ball to provide accurate data. A good example is the FlightScope Mevo+ which requires 8-feet behind the ball and 8-feet to the hitting area.
While other launch monitors sit directly next to the ball and don't require space behind it. One of the top picks for this monitor is the SkyTrak+.
Projector Specifications
Lastly, don't forget to think about the projector as well. If you choose a net over a simulator screen or enclosure, you don't need to worry about this part.
But if you want an impact screen you'll need to check the specs on the projector as well. If you buy an all-in-one launch monitor and simulator – like the Uneekor Qed – mounting to the ceiling is a must.
However, some packages like SkyTrak+ also include a short throw projector. You have the option to mount on the ceiling or they come with a floor projector enclosure. This allows the projector to sit directly in front of the hitting area (with a proactive case).
If you have ceiling height issues, opt for a floor projector which provides great graphics as well. Check out the best projectors for simulators here.
Picking the Right Space for Your Home Golf Simulator
Now that you know about the golf simulator room dimensions to build out your new simulator, let's compare the best room to get started.
Spare Bedroom
A spare room is one of the most common places to install an indoor golf simulator as not all houses come with a garage and/or media room. But if you have a spare room that isn't getting a ton of use, it could work for a great simulator setup.
Pros
Climate controlled.
Might already have a spare room available.
Cons
Ceiling fans might get in the way.
Too loud in the house as it's next to other rooms.
Narrow room dimensions. Even if the ceiling doesn't impact your golf swing it might be tight to hit driver.
Garage Simulator Setup
A garage is another common area for a full swing golf simulator room. This space is away from the rest of the house and might be a nice retreat from a home office if you work at home.
Pros
Plenty of room width.
Won't take up room in the house.
Might still have room to park a car when the simulator isn't in use.
Quieter than hitting balls in the backyard or building a simulator in a spare bedroom.
Cons
Standard garages might be too small.
Garage door controllers might get in the way of a full golf swing.
Not climate controlled so it can get really hot or cold depending on weather conditions.
Paired with an indoor putting green and launch monitor's driving range you might improve your game more than ever (without leaving home).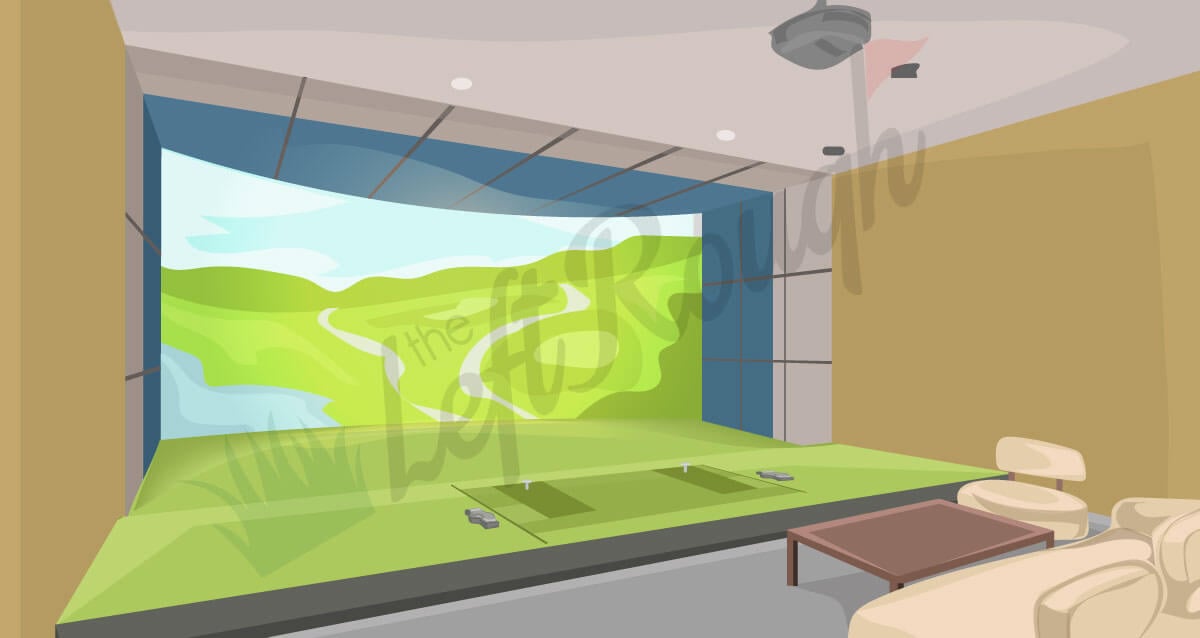 Media Room/Family Room
If you look at the images for a golf simulator online they are consistently placed in a large, open family room (or media room). This is usually an ideal golf simulator room because they have taller ceilings and much bigger than a normal bedroom.
Pros
Tons of space which allows you to get any simulator.
Multipurpose use. Some golf simulators can double for other family activities too as they have other sports included. Or, can act as a movie theater type setting with the right golf enclosure.
Cons
Might get in the way of other family activities.
Last Resort: Outdoor Golf Simulator
Finally, you can always build out a simulator outdoors in your backyard too. Of course this comes with plenty of downsides, you won't have to worry about room height which is the biggest issue for most golfers. 
Ideally, a carport or covered patio would work best to keep you and your gear away from rain or other weather conditions.
Pros
Don't have to worry about ceiling height or room dimensions.
Might be nice weather and feel more like a normal practice session.
Cons
Need to find a flat surface for the mat.
Might be too loud for your neighbors.
Possibly damage to neighbors yard/house with an errant shot.
Outdoors so you'll generally need to take everything down after each use. Otherwise, you risk ruining a net/screen and or a launch monitor.
However, if you've already built out your own putting green an outdoor golf simulator might work out.
FAQs About Golf Simulators
Do you have more questions about creating the perfect golf simulator at home? If so, keep reading through the most frequently asked questions and answers below.
Is a garage big enough for a golf simulator?
Yes, most garages are big enough to build a DIY simulator. But it's always important to measure the dimension first for height, width, and depth.
Also, check the monitor and screen/net requirements. This will guarantee enough space for your ideal launch monitor and screen (or net).
How much room do you need for a Trackman golf simulator?
Trackman is one of the most popular names in the simulator industry but they do come with a hefty price tag. The recommended room dimensions from Trackman are:
Width: 15'0 | 4.6 m
Height: 10'0 | 3.1 m
Depth: 18'0 | 5.5 m
But the minimum required room dimensions (for single dexterity) are:
Width: 10'0" | 3.0 m
Height: 9'10" | 3.0 m
Depth: 16'5" | 4.9 m
How big is the room dimensions for a SkyTrak simulator?
The SkyTrak (and newer SkyTrak+) are great simulators that won't break the bank. They are a great "engine" for your simulator and don't require a ton of room either.
SkyTrak unfortunately does not provide room requirements for its simulator (which is hard to understand). But after doing some extra research most users are saying you need at least 12' L x 10' W and 8.5' H.
Can you have a golf simulator with 9-foot ceilings?
Maybe, but it depends on the simulator and projector requirements. It's best if your ceiling is 10 feet to give you plenty of room to swing safely.
Can you build a simulator in an apartment or condo?
It depends on the room dimensions more than anything else. The main factor is the ceiling height, especially in apartment buildings. Plus, if you are renting an apartment an errant golf ball might also do some serious damage to a place you don't own.
However, a condo or townhouse might work great for a golf simulator room. Even if you only get a hitting mat, net, and launch monitor to build your golf simulator, it's better than nothing.
In general to build a full golf simulator room you'll need to do it in a house (or one that has a garage).
How deep does a basement need to be for a golf simulator?
A basement is a potentially awesome spot to build a DIY golf simulator. Since it's away from the rest of the main rooms it can help reduce the volume and still have AC/heat (unlike the garage).
You will need at least 10–12 feet of length to get enough distance from a screen or net. But it also needs to have a high enough ceiling (8-10 feet) which basements aren't necessarily known for. However, if you can make it work, this is a great place to install a simulator and build out a great golf man cave.
What do I need for a golf simulator?
A good golf simulator setup requires a hitting mat, golf net (or screen enclosure), launch monitor, projector, software, and other accessories. Make sure to check out our full article on how a golf simulator works.
My Experience
Simulators have changed the game of golf not only for fittings but for everyday players who want one at home. Until recently most simulators were only at golf stores or high-end teaching facilities but now anyone can set one up at home.
Even if you're on a budget, there are tons of options to help you play or practice at home.
Of course, you need one thing – the right amount of space. Otherwise, it can get a little cramped and make it challenging to hit a lot of full swing golf shots.
But if you love golf, it's a great investment.
Final Thoughts on Golf Simulator Space Requirements
Building a simulator is easier than ever but still requires a bit of planning to ensure everything works properly. Before shopping for simulator software, launch monitors, golf mats, and screens you need to find the right amount of space.
Most golf simulators require at least 10W x 10L x 8.5H.
Ideally in a golf simulator room it'd be better to have 11W x 11L x 9.5H. Don't forget to check the hitting net, screen, or enclosure dimension as well as the monitor specifications too.
Always make sure you can swing every golf club in your bag freely and without restriction. Once you have a room or area with the right dimensions, then you can start shopping around to find the right gear for your simulator.
Remember, double or triple check sizing before investing hundreds or thousands of dollars on different pieces of equipment. All manufacturers should list out the minimum recommended room size on their website as each one is slightly different.
Aside from having enough space don't forget to think about the sound from hitting in a simulator and space for other accessories too.