The right pair of shoes can make your game a lot better. While the wrong pair can turn a fun day of golf into a long day on the links.
Luckily, we've reviewed the best womens golf shoes to find the right pair for your feet and golf game. The golf shoe world has expanded so much with so many brands it's hard to pick sometimes so we narrowed it down to make it easier for you.
Whether you want athletic golf shoes, waterproof golf shoes, or traditional womens golf shoes, we've got you covered. Plus, some other accessories as well.
Best Womens Golf Shoes – 2023 Edition
Key Takeaways
There are more women's golf shoes than ever from a ton of different brands.
Women can choose from spiked or spikeless shoes and largely depends on the weather, typical course conditions, and lower body movement.
It's best to buy shoes that are snug without your feet moving around too much during the swing.
You should consider comfort and support above all else if you prefer to walk 9 or 18 holes vs. ride in a cart.
Keep reading to learn the best golf shoes for women from top brands and our buyer's guide to easily compare and find the right pair.
FootJoy FJ Fuel Sport
FootJoy has claimed they're the "Number one shoe in golf" and as you'll see today, they might be right. They have a massive selection of styles, colors, and sizes to fit all types of women golfers.
The FootJoy FJ Fuel Sport is a great all around shoe and looks nothing like a traditional golf shoe. These shoes are offered in three colors, are very lightweight, and a great shoe if you like to walk vs. ride in a cart. The performance mesh delivers all day comfort and lets your feet breathe during the round.
But what makes them such a great choice is the cushioning. As FootJoy said, "Stratolite foam delivers lightweight cushioning and ensure ultimate comfort and max walkability round after round." Plus, they have on-course traction with the power stabilizer outsole for maximum support and control (even with higher swing speeds).
Despite being so lightweight, these shoes are also waterproof and come with a one year warranty too.
G/Fore Women's Gallivanter Shoes (Luxury Level Golf Shoes)
If you want a high-end pair of premium golf shoes you'll love the Gallivanter from G/Fore. These Gallivanter golf shoes combine style and comfort with a premium athletic fit. They have an ultra lightweight sole with a bespoke cleat design to give you tons of traction on the golf course.
Plus, these shoes are built for all day comfort with their triple density foam cushion. Alongside their comfort system technology they're like a massage for your heels. These leather shoes are waterproof, fully padded mesh lining but are a narrow fit (they suggest ordering a size up).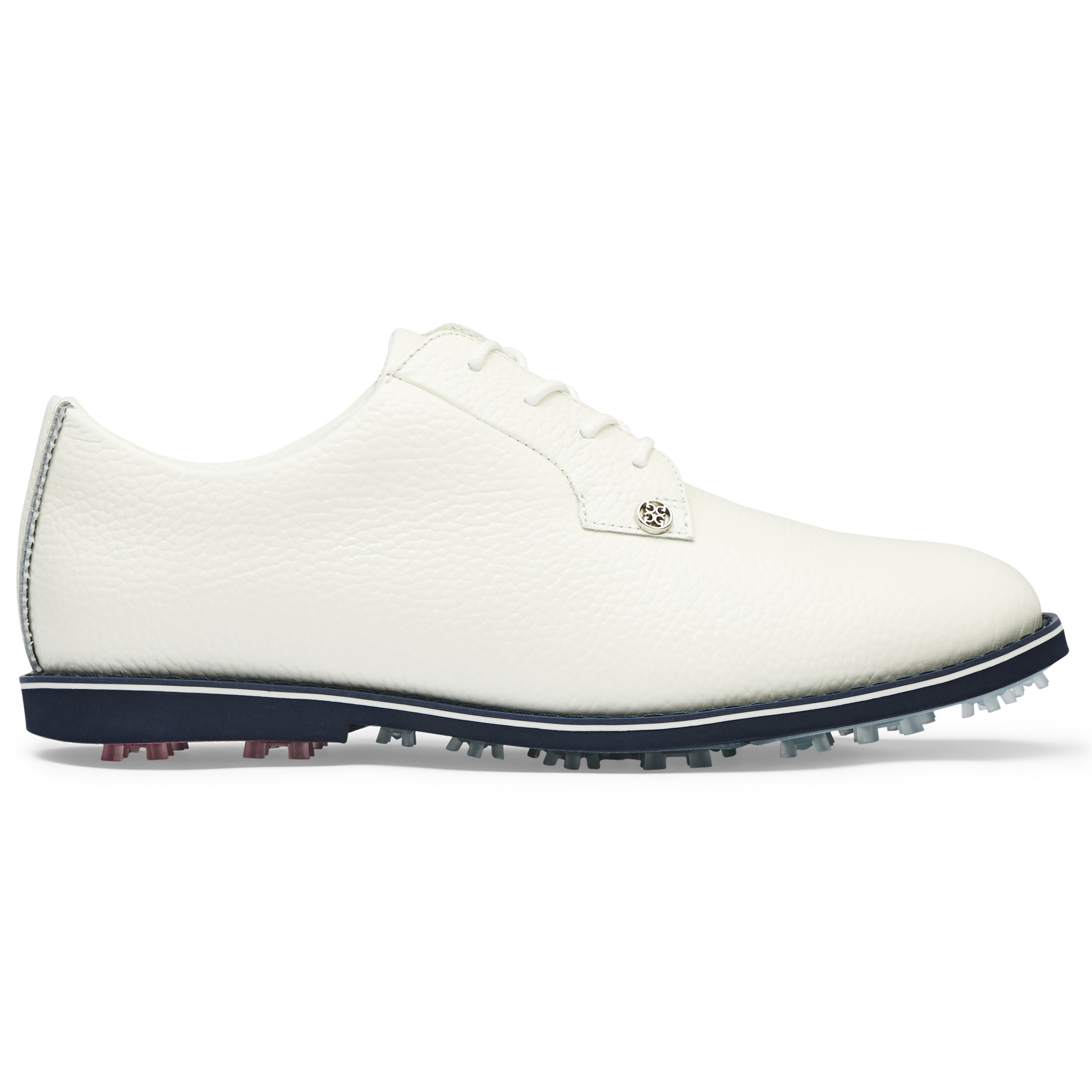 This women's golf shoe is offered in tons of different styles and colors too. You can opt to have a tassel on the front, a steel toe, or a range of different colors. They have a hefty price tag but they're sure to make a statement on the golf course.
FootJoy Traditions Cap Toe Women
If you prefer a more traditional, winged foot option than an athletic shoe these FootJoy's are hard to beat. The Traditions Cap Toe shoes look great with their minimal design but are much more comfortable than golf shoes of the past.
The Traditions shoes are lightweight, super cushioned, and easy to clean with their simple design. These shoes come in white, white/navy, and white/black and are preferred by some of the top golfers in the world.
If you want a classic look with modern day comfort, you can't beat these shoes. Plus, they're available in medium or wide options as well.
We've got a full hands on review of the men's footjoy traditions here.
G/Fore MG4X2
These G/Fore women's shoes are some of the best looking shoes out there. If you're the type of golfer who wants a more casual shoe than a traditional golf shoe, you can't go wrong with these. The MG4X2 is bright, stylish, and has an insane amount of cushioning.
According to G/Fore, "The G/Dry is a full rubber outsole with sawtooth traction pattern design to provide flexibility and grip. Impressive 360 degree molded heel cup prevents heel slip and provides superior comfort."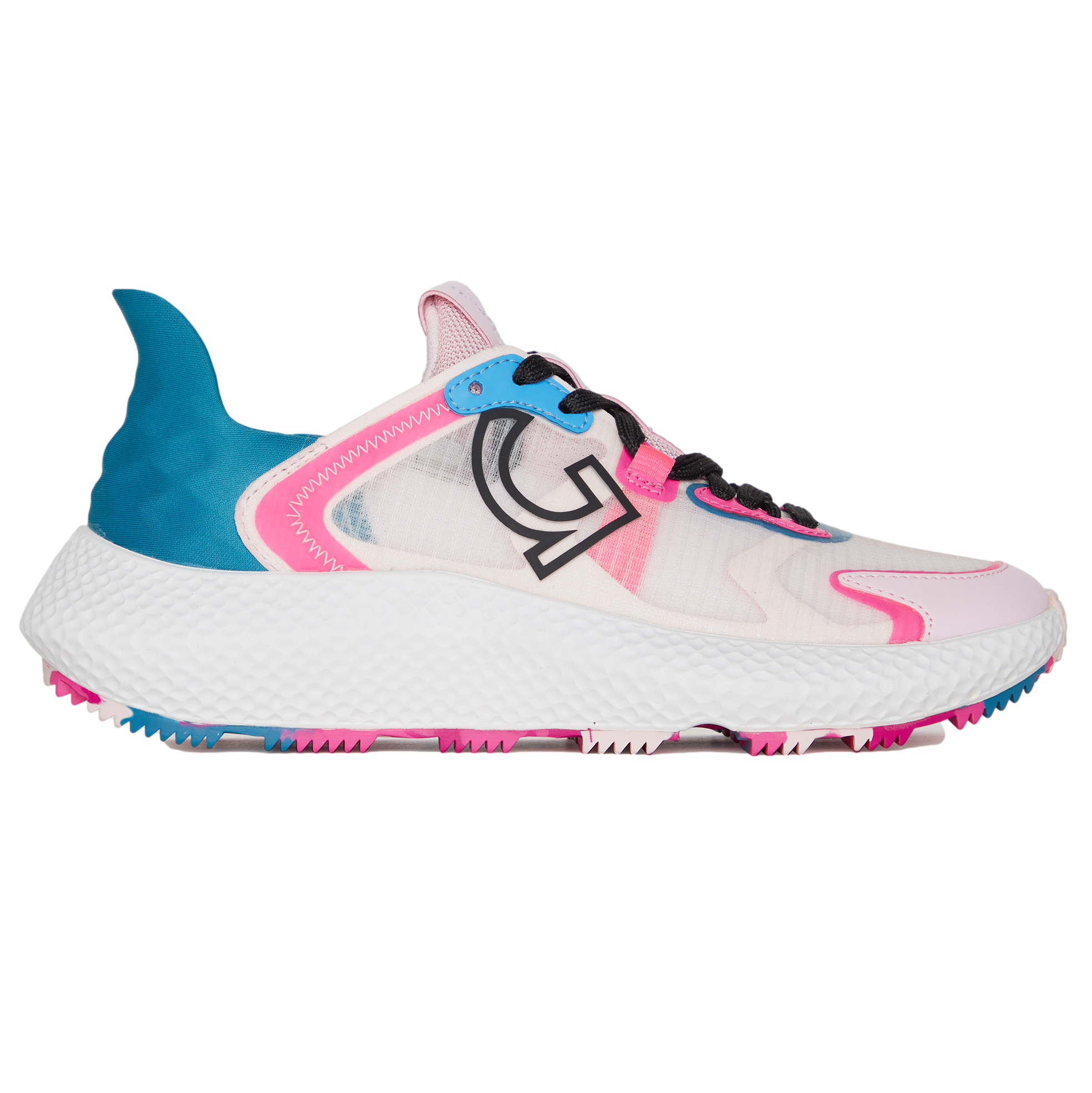 These shoes have a very wide base for direct, under-heel comfort. While the responsible EVA midsole makes them great for days when you prefer to walk the golf course.
Plus, unlike a lot of golf shoes these have a removable and washable insole too. They also come with a backup pair of reflective laces.
ECCO S-Three Women's Golf Shoes
If you want maximum comfort in a golf shoe it's hard not like these new ECCO S-Three shoes. They're built for comfort above all else and no doubt some of the best golf shoes for women.
Here's what makes them such a hit for women golfers according to Ecco. "Refreshed with a new upper design and innovative technology, the waterproof ECCO W GOLF S-THREE blends superior performance with modern style for the course and beyond.
Embossed and printed details contribute to the premium aesthetic of a women's hybrid golf shoe that has been upgraded with X-TENSA INVISIBLE TECHNOLOGY for extra stability."
These shoes have tons of traction, 100% waterproof, and are very breathable despite the leather design. These shoes also have three different zones for a great blend of cushioning and support. Not to mention they have removable, washable Ortholite insoles too.
Click here to purchase your pair today.
Skechers Go Golf Max 2 Women's Shoes
Skechers has some of the most comfortable shoes both on or off the golf course. While they might not have the fashion of other brands, they're supremely comfortable and great if you have foot issues.
The Go Golf Max 2 are a great choice for women thanks to their stylish and lightweight design. Not to mention these shoes have Archfit insoles which are podiatrist certified. With over 20 years of data and 120,000 unweighted foot scans, these are built to support your arches.
They offer traditional laces, waterproof protection, and ultra-light cushioning. Plus, these shoes have removable insoles that mold to your feet naturally. This helps increase your weight dispersion and reduce shock while providing tons of support as you swing the golf club.
These spikeless golf shoes are offered in white/light blue or black/pink which are great color options.
Click here to purchase your new Skechers today.
FootJoy Flex Women
If you prefer more of a sporty style than a traditional golf shoe you will love the Flex Women from FootJoy. These shoes are very well priced and offer a great spikeless golf shoe for the summer and warmer weather. These are lightweight, very breathable, and like all FootJoy shoes, quite comfortable.
They're so lightweight thanks to the performance mesh instead of leather that is used in a lot of womens golf shoes. But they also have tons of traction unlike a lot of other spikeless shoes too and feature a versa trax rubber outsole. Here's what FootJoy said about the VersaTrax technology.
"The VersaTrax outsole is engineered with traction elements to create an outsole that is perfect for on course performance with wear-to-the-course versatility. Each traction zone maximizes traction during your swing and provides exceptional grip when walking the course."
These shoes also have a soft EVA midsole which provides more cushioning underneath the middle of the foot plus more stability. They have a full rounded toe, and narrower fit in the heel too.
Plus, these shoes are half the price of their golf shoes on this list and offered in five colors. Whether you want light or dark colors or medium or wide options, they have a shoe that is right for you. Definitely one of the best shoes for summer golf!
Click here to purchase the Footjoy Flex shoes.
Adidas Golf Shoes Womens W-Tech Response
Adidas has one of the best budget golf shoes available.
The W-Tech response shoes are great for beginners and players who need more traction thanks to their soft spike design. Not to mention some of the most affordable shoes on the list.
But they don't skimp on features or colors (as they're offered in five great colors). They have Adidas Primeknit for extra support and full-length responsive boot cushioning too. These are a great pair of shoes for any type of weather!
Click here to order the W-Tech Response now.
FootJoy HyperFlex Boa Shoes
The HyperFlex BOA shoes are some of the best shoes available. They're definitely not the cheapest but one of the most popular options from FootJoy for both men and women. These shoes look great and are designed for today's modern athletes.
First off, they look great and with two color options (white or gray) so they're bound to match about any outfit in the closet. But the noticeable difference between these and other shoes is the sidewrap.
Here's what FootJoy said about the technology, "Hyper powered with a custom molded and integrated thermoplastic side wrap and saddle, this innovative design wraps around your foot to provide the perfect balance of control and stability through your swing while delivering all day walking comfort."
Not to mention they have extra ankle padding, are very breathable (despite being 100% waterproof) and extremely durable. They also come with a two-year waterproof warranty as well! Plus, you can't beat the Power Stabilizer design to increase energy efficiency (and hit it longer) or the soft insoles that mold to your feet over time.
They're also a great option if you prefer to walk 9 or 18 holes as well. As FootJoy said, "Two durometers of foam specifically tuned for golf. Stratofoam absorbs shock on every step and returns energy to reduce walking fatigue. FTF+ delivers stiffer perimeter support and stability for complete control during your swing."
We've got a full hands-on review of the men's hyperflex that can be found here.
Puma Laguna Fusion Sport
Another great sporty shoe option for year round golf is the Puma Laguna Fusion. These shoes are very simple but extremely comfortable and great for walking.
As Puma said, "From the course to the clubhouse the Laguna FUSION Sport will keep your style on point and your feet feeling sporty and fabulous. The PERFORMANCE MESH upper presents a fashion-forward, athletic style while the FUSION FOAM midsole provides you with all day comfort."
These shoes have a crystal carbon rubber outsole that grips the ground as you swing. Plus the fusion foam on the heel and forefoot deliver even more comfort. These are water-resistant, lightweight, and great for better weather conditions.
Not to mention there are five single color options: white, black, gray, navy, and lavender.
Click here to order a pair now.
Nike Roshe G Women's Golf Shoe
Nike is no stranger to the golf world with some of the best shirts, pants, shorts, and shoes. The Roshe G are some of the best budget golf shoes and look great on or off the golf course. Thanks to the simple and spikeless design you can wear these shoes just about anywhere.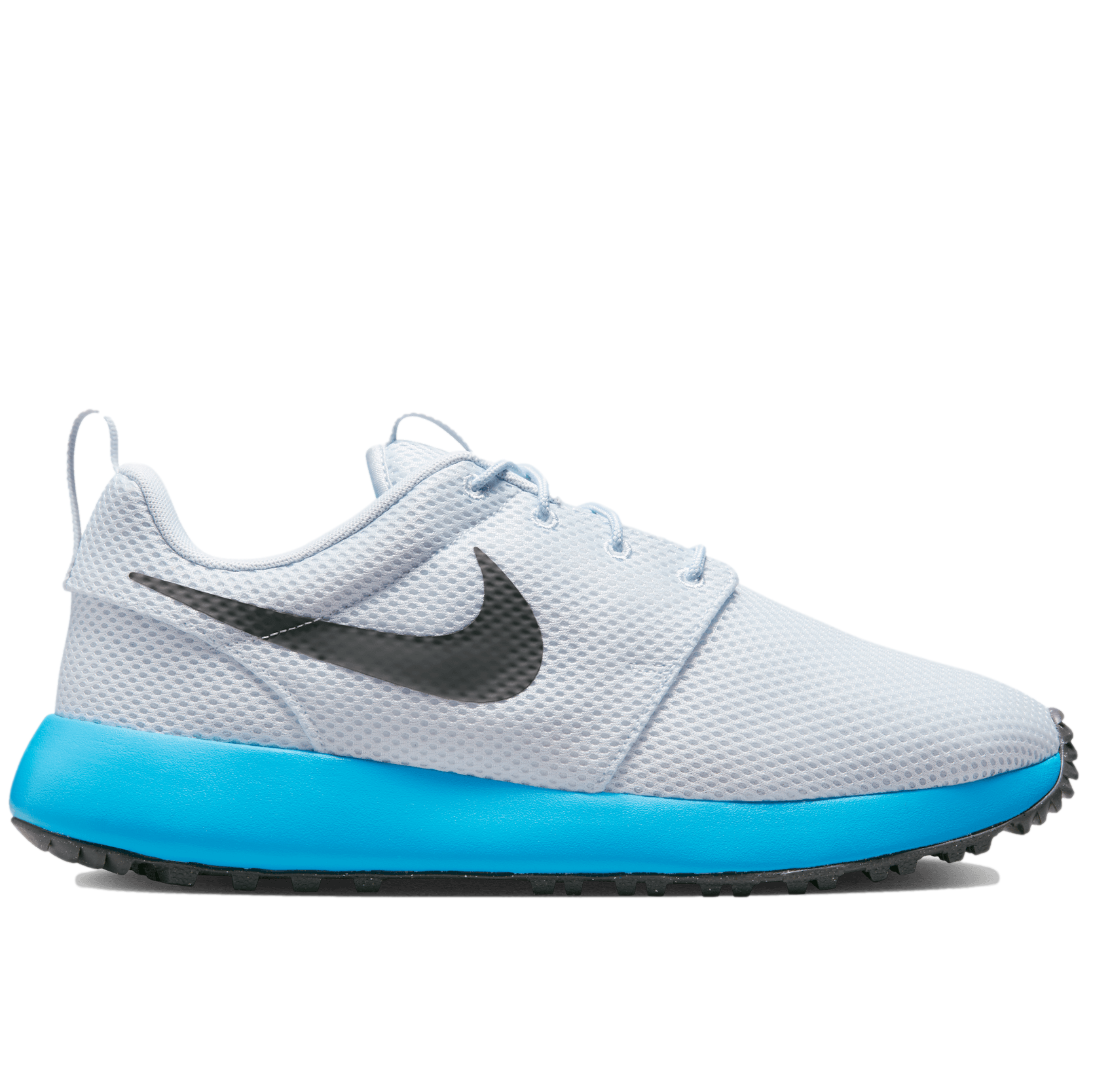 As Nike said, "Inspired by a Nike icon, the Nike Roshe G elevates your look with plush, breathable materials. Its integrated traction pattern means you won't lose time transitioning from the course to the concrete."
These shoes are lightweight, breathable, and have a pressure-mapped outsole for maximum comfort. They also have an injected foam midsole for lightweight cushioning too. These are available in a ton of colors at a very low price so you might need to grab more than one color!
Adidas S2G Boa Women's Golf Shoes
Want a simple and lightweight pair of summer golf shoes? Then you'll love the new S2G BOA spikeless Adidas golf shoes. These have a simple, all white design (or white/light yellow) which are great for playing golf in the heat.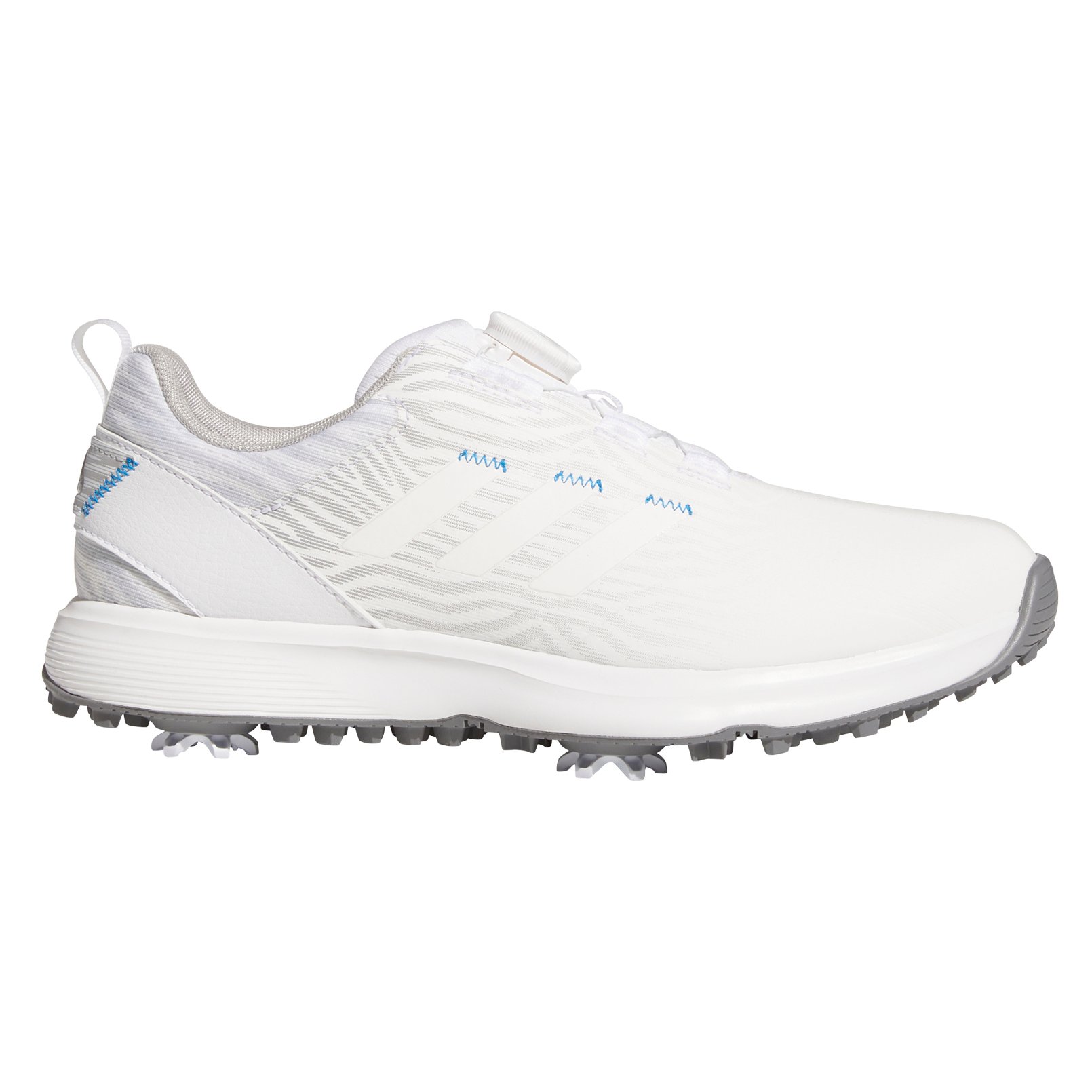 Here's what makes them so popular according to Adidas, "The Bounce midsole provides cushioning and flexibility to keep you feeling fresh through your round. The cleated V-Traxion outsole delivers solid grip for stability on variable terrain."
Not to mention they have a BOA Fit System for a precise fit and are waterproof too. Unlike a lot of other golf shoes these are used with at least 50% recycled materials in their initiative to end plastic waste.
Athalonz Womens Golf Shoes
When searching for the best women's golf shoes I bet you didn't think that a golf shoe can actually help you add distance too. That's right, the new Athalonz golf shoes are designed to help you increase swing speed and hit bombs off the tee.
Due to their unique design, they make it easier to use ground forces to hit it longer than ever. Plus, you don't have to change anything about your swing.
Not to mention they look great, are super comfortable, and very well priced. Athalonz makes a universal shoe for both men & women but the sizing is based on men's sizing. So make sure you check their website for male / female size conversion.
Click here to order these today.
New Balance Women's Fresh Foam Breath Golf Shoe
New Balance has one of the top-rated shoes on the internet.
This comfortable shoe has a simple design, rubber soles, and breathable performance mesh upper overlays. The rubber soles have pressure mapping to help your golf game and a molded cushioned insole for tons of comfort.
As New Balance mentioned, they're like a running shoe that can help your golf swing. "The Women's Fresh Foam Breathe introduces the extraordinary softness of Fresh Foam to the fairways of golf in a versatile spikeless golf shoe.
With a breathable performance mesh upper, added cushion, and a pressure mapping rubber outsole the Women's Fresh Foam Breathe is built to feel like a running shoe on the course."
These womens golf shoes are available in five colors and at a great price.
Click here to order you New Balance shoes today.
FootJoy Women Golf Sandals
While most of the shoes are actual shoes on the list, there are some great sandals too. These are great for warm summer days and super comfortable as well.
These FootJoy sandals look like a normal pair of women's sandals when looking down on them but have spikes underneath them. The only downside is that there is only one width size and color option. Otherwise, these are great when playing twilight golf in the summer.
Choosing the Right Pair of Womens Golf Shoes
As you can tell, there are tons of great golf shoes for women which makes it hard to pick one or two pairs. Use our checklist below to easily compare shoes and find the right ones for your game.
Spiked vs. Spikeless
I'd argue that the biggest decision to make with golf shoes isn't the color or style but using spikes or skipping them. Some golfers can't stand shoes without spikes while others see no need for them. But they make a big difference and can directly impact your performance on the golf course.
Spiked shoes used to be the norm in the golf world – including metal spikes – until they were essentially outlawed by golf courses. Then golf brands start making spikeless shoes that still provide traction but not nearly as much as traditional soft spikes. They have more of a "rubber teeth" structure and can be worn indoors or outdoors.
If you play in colder weather with a lot of wet conditions, I'd opt for spiked golf shoes. These will give you a lot more support and minimize the chance of slipping while you swing. There's nothing worse than accidentally coming out of a shot which can happen with spikeless shoes in winter golf conditions.
But for better climates or summer golf, you can probably get away with spikeless shoes. These tend to be lighter, sometimes more comfortable, and still provide more traction than normal athletic shoes. Most golfers have a winter pair (spiked) and summer pair (spikeless).
Comfort + Support
The second thing to consider when buying a new pair of shoes is how comfortable they are because sore feet make it hard to shoot low scores. Since a round of golf takes 4-6 hours, it's vital to find a pair of shoes that are comfortable and provide plenty of support.
As noted in the list of best golf shoes above, there are tons of options to choose from when it comes to support. Some shoes provide more arch support, others have more structure, and some are built for comfort above all else. This is even more important if you choose to walk 18 holes vs. ride in a cart.
Because when you walk 18 holes it's about 4-5 miles! Not to mention a long day on your feet so make sure they fit right and provide plenty of support. Lastly, make sure the shoe fits snug and is the right width too.
Waterproof vs. Water Resistant
Another important thing to consider when buying shoes is how they deal with wet conditions. If you're playing in the cold and wet weather a lot it's best to opt for waterproof shoes vs. water-resistant.
Waterproof shoes tend to weigh slightly more but provide tons of protection against the elements. They might also cost a little more but it's worth it to ensure you don't have wet feet during the round. While water-resistant shoes are more breathable and usually lighter as well.
Color and Style
The fourth factor to consider when buying golf shoes is the color choice. Darker colors are usually a better choice for winter golf since you have to deal with mud and wet conditions. While lighter colors are better for summer golf.
As you can see above the styles of women's golf shoes are quite different too. Some are very standard and plain while others are quite sporty with different colors. Make sure to find a pair that reflects your style and matches your golf outfits too.
Price
The final thing to consider when choosing the right pair of shoes is the price since they can vary greatly. Some are $50-$75 while some are more than $200! If you play a lot of golf (or walk a lot instead of ride) it's easier to warrant a higher price tag.
FAQs About Best Women's Golf Shoes
Do you have more questions about finding the right pair of golf shoes? If so, keep reading to learn more now.
What is the most comfortable golf shoe for women?
We're confident all the golf shoes on this list are super comfortable and will keep your feet feeling good all round. Athletic shoes tend to have less structure while others have more comfort and support. Finding the right size is half the battle to make sure your feet are snug but not too tight as your feet need to breathe during the round.
What shoes do women wear for golf?
Women wear all types of shoes for golf; some are spiked, while others are spikeless. Some have more arch support than others and some are more waterproof than others.
It's 100% up to you to make sure they keep your feet comfortable, dry, and supported throughout the day.
Which womens golf shoes have the best arch support?
The Skechers womens golf shoes are some of the best choices when it comes to arch support. The Go Golf Max 2 are podiatrist approved and will have your feet fresh the entire round.
Should you wear spiked or spikeless golf shoes?
It depends more on your swing and weather than anything else.
If you tend to have "happy feet" and a lot of lower body movement, it's best to wear spiked shoes. But if you don't have any slippage issues or play in warmer weather, opt for spikeless shoes instead.
Do golf shoes really make a difference?
Yes, golf shoes make a huge difference in this sport.
Since they provide more traction it helps lower body movement to ensure you don't spin out of shots. This extra support makes it easier to use the ground force to generate power and more consistency.
Should golf shoes be a size bigger?
Each brand is different – some run true to size while others might be 1⁄2 size too big or too small. Make sure to check the sizing guide on the website if possible.
How many golf shoes should you own?
It's usually best to own at least two pairs of golf shoes.
I think every golfer should have a darker, waterproof pair for winter golf and a lighter, more breathable shoe for summer. Having a pair for each set of elements will give you the best chance of playing great in any weather conditions.
Do professional golfers wear spikeless shoes?
Yes, a lot of them do opt to not use soft spikes. Since the professional tours follow the sun throughout the season to avoid delays, they typically play in good weather. But it's uncommon for them to switch if there is rain in the tournament or if it's a cold week.
What's the best way to clean golf shoes?
Cleaning golf shoes is kind of a pain as you can't throw spiked shoes in the washer and dryer. For any type of shoe you can clean with a wet towel and water. If they're very dirty you can also use a magic eraser cleaning pad, soap, or other shoe cleaning supplies.
But if you have a pair of spikeless golf shoes you can also throw them in the washing machine too.
Final Thoughts on Womens Golf Shoes
As you can tell there are tons of shoes to help make your game better. Don't make golf harder by trying to play without using shoes that are made for golf!
When trying to find the right golf shoes with different footwear companies make sure to compare:
Type of laces.
Arch support.
Washable insoles.
Cushioned insole.
Golf spikes vs. spikeless shoes.
Leather upper vs. mesh upper.
Color and how easy they are to clean.
Premium waterproof leather vs. water-resistant.
Hopefully, you'll find the best golf shoe for your game to lead to more confident golf shots.
Also, make sure to check out these other related posts too: