If you're the type of golfer who loves riding in carts, you need the right bag. While you can attach any type of bag to a golf cart, if you don't plan on walking, why not get a bag with more storage? That way you can keep extra accessories, training aids, and more in your bag 24/7.
But if you've done any research yet, chances are you know that not all cart bags are created equal. Some are way too heavy, some have cooler pockets, and some have dedicated putter wells.
While it depends on what you need in a bag, Titleist offers a large variety and selection of golf bags. From stand bags, cart bags, lightweight carry bags, and some in between.
When it comes to cart bags, their Cart 15 is the best option. At 6.5 pounds it's not too heavy and has ample storage for every type of golfer. Let's break down why this bag is so popular and worth the money.
Titleist Cart 15 Bag Review
First off, this bag looks great, unlike a lot of cart bags. While cart bags are obviously larger than stand bags, some look like eye soars and barely fit on the back of a golf cart (or your car/trunk).
But this bag is not one of those bags as it's sleek, good-looking, and much more compact than other cart bags. Aside from the good looks, here's what makes this bag such a great choice for the everyday golfer.
Cart strap tunnel. This makes it easy for your bag to attach to the golf cart and fit securely. I recently got this in my bag and will say it makes a huge difference. It's so nice to not have the bag rattle around on the back of your cart and know it's secure.
One large carry strap. Since this is a cart bag, you won't have to worry about lugging it around the golf course, but the large strap makes it easy for short distances. Plus, it has tour-inspired top cuffs that make it easy to grab from the back of your car or trunk too.
Large Velcro landing patch. If you like to use more than one glove in a given round, just strap it to the Velcro patch and let it air out every few holes. This should also help your golf gloves last longer since they'll have better airflow than being stuff away in the bottom of your bag.
Black rain hood. If you're someone who doesn't mind golf in the rain, this bag comes with an all black rain hood to keep your gear dry.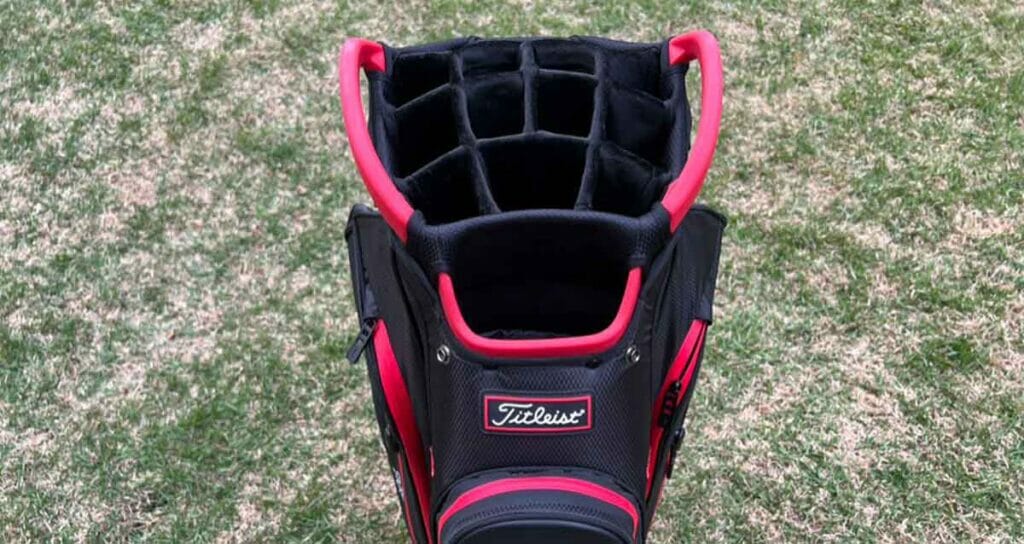 15 Full-Length Dividers
This cart bag comes with 15 full-length dividers. Your shafts will never get damaged again by just sitting inside your golf bag. Plus, they won't rattle around as much when you're driving the cart since they each have their own space.
You might be thinking… "Why are there 15 spots when you can only have 14 clubs?" It's a good question and unfortunately the USGA isn't letting us add a 15th club to make golf easier. No, the extra spot is for an umbrella. There is a dedicated putter well that will make sure your putter has its own spot too.
Tons of Storage and Space
If you're someone who likes to have plenty of extra golf balls, clothes, and other accessories, you're in luck. This bag has all kinds of storage including 11 (yes, 11 pockets). Some of the highlights include:
Two pen caddies. If you prefer Sharpies to mini pencils, you can keep them in easy to find spots dedicated just for them.
Two velour lined valuables pockets. These are great places to stash your phone and other accessories that you don't want to accidentally damage in your golf bag.
Molded valuables pocket. This is unique with golf bags and ensures that nothing will get crushed (like sunglasses) during your round of golf.
Huge apparel pockets. I can't get over how big the apparel pockets are on this bag. You will never have to worry about storage again as there is enough room for an extra outfit if you decide to play 36 holes.
Removable ball pocket. If you want to get your name embroidered on your golf bag, this one makes it easy. Simply unzip the ball pocket and have someone add your name or nickname to customize your bag.
Huge Selection of Colors
A huge perk with this Titleist bag is the massive selection of colors. You don't have to settle for all black or black and white like other manufacturers.
Instead, you can choose from 10 different options:
All black design.
All navy blue designs.
Black, black, and red.
Gray, citron, and white.
Charcoal, gray, and black. Great bag for winter golf.
White, gray, and black. Great all around design and ideal for warmer climates.
White, edgerton, and gray. This is likely the best fit for ladies with the pink zippers and accents.
Navy, canary, and white. If you're a Michigan fan, this is probably the best choice to show your school pride.
Charcoal, royal blue, and black. This is a unique design pattern that isn't common and great for wet weather.
Navy, white, and red. This one is a very patriotic look that shows off your team USA pride.
Alternatives to the Titleist Cart 15 Bag
If you aren't sure if the Titleist cart bag is the one for you, check out some of our top alternatives.
Titleist Players 4 Plus Stand Bag
If you want a hybrid type of bag that you can easily push or attach to a cart, this is a great option. While it's not as big as a cart bag, it still has tons of pockets, waterproof valuables pockets, two water boot holders, and eight pockets in total.
Since it's a hybrid bag, it's significantly lighter at only 4.3 pounds. Plus, there is a dual strap system that makes it easier to carry as well.
Not to mention, you can choose from a massive color selection just like the Titleist Cart bag. The navy, white, and red even comes with an embroidered USA flag on the side-saddle pocket too. The only real downside is that you only get four full length dividers, not 15 like the cart bag from Titleist.
Click here to read our hands on review of this golf bag.
TaylorMade Supreme Golf Bag
TaylorMade is another top brand in the golf world and offers a very similar bag with the Supreme model. It's one of the most highly rated bags on Amazon and loved by golfers around the world.
First things first, I think the Titleist bag wins in terms of looks. Not to say the TaylorMade isn't good-looking but it only offers four different colors and the overall patterns aren't as visually appealing. But it does have fade resistant yarn dyed fabric, so your bag should last a long time, even if you play in sunny, warm weather.
Aside from the looks, this bag has a lot of similarities to the Titleist bag including 15 individual club dividers. But it doesn't have quite as many pockets (only even) but does include a cooler pocket. Plus it has waterproof zippers, a cart strap loop, and pockets for your valuables.
Click here to learn more about this golf bag now.
Or, check out the TaylorMade cart 8.0 bag. It's even cheaper but still has 14 dividers and tons of storage space. Click here to learn more about this golf bag now.
Yovital 14 Way Golf Cart Bag
If you want to save money but still want a cart bag, this is a great alternative. This bag has 14 full length club dividers and 14 pockets! Plus, the reviews on Amazon are glowing about this affordable golf bag.
One main benefit of this bag over the Titleist cart bag is the fully insulated beverage pocket. You can keep your beverages cold the entire round. It has a total of nine front facing pockets, including two full length pockets for maximum storage.
This bag also comes with a matching rain hood, matching shoe bag (great perk), and endless storage. You can choose from three colors too.
Click here to learn more about this bag now.
FAQs
Do you have additional questions about this Titleist cart bag? If so, we have more information below to help you decide if it's the right one for you.
Are there any downsides to this bag?
Not too many but a few to consider:
No easy to grab handle makes it kind of a pain to take out of your car.
No water bottle holder so if you decide to push the bag it's not the most convenient when trying to stay hydrated.
Some golfers have said the putting well isn't big enough for some large, oversized putters.
Is Titleist StaDry worth it?
If you tend to play golf in less than perfect conditions, then yes, it's 100% worth it. While it will look different than the non-waterproof bags, I think it's worth it to keep your clubs and grips dry. There isn't much worse than trying to dry your clubs during a wet, rainy round of golf.
Where does the umbrella go in the Titleist cart bag?
Unlike stand bags, there is no umbrella holder. Instead, you can use the 15th divider which is made for the umbrella and use the putter well to house your flat stick.
Why do cart bags have 15 dividers? Are full length dividers good?
Cart bags are larger than stand bags and make it easier to have 15 dividers. This is a good thing as it will protect your golf clubs and shafts much more than a normal bag with 3-5 compartments.
Since each club has its own divider, you don't have to worry about the shafts getting damaged in your cart. This is great with driver shafts that are quite expensive and can get even more expensive if you buy upgraded ones that cost $200-$400 (on top of the $500+ clubhead).
Are Titleist staff bags waterproof?
There are three main types of bags in the golf world – stand, cart, and staff bags. Stand bags are the lightest, cart bags are in the middle, and staff bags are just huge. Staff bags are pretty much reserved for PGA Tour players and not something you will likely see at your local golf club.
Titleist does offer staff bags to the public but it does come with a high price tag. Their staff bag is called a "Tour Bag" and is well constructed but lightweight enough to help caddies.
Unfortunately, it does not say on the website if it's waterproof. But I would have to imagine for the price and the fact that it's made for the best players in the world, it will keep your clubs and equipment dry.
Click here to learn more about this Tour bag now.
Final Thoughts
While it's not the cheapest golf bag out there, it's moderately priced and made from the most trusted names in golf. Titleist has an outstanding track record for creating all things golf, including world-class golf bags. If you need a cart bag for more storage and club protection, this is the one for you.
With 11 pockets, you will never have to worry about storage again. Plus, the 15 way divider (and putter well) will keep your shafts looking brand new which will help if you decide to sell in the future. Overall, this is another great product from Titleist and I think you will love it.
>> Click here or here to order your Titleist Cart 15 Bag today.