Today we're breaking down the best golf shoes for wide feet. Because getting the right width size is just as important as shoe size.
FootJoy noted that nearly 40% of people should be wearing shoes that are wider or narrower!
Your shoes need to fit your feet just right to play your best golf.
That means finding a pair in the right size and width that are both comfortable and breathable. Unfortunately, most golfers focus more on size vs. width which is a big mistake.
While size is important to secure a snug fit, width is equally important. Since the golf swing is such a rotational movement, you need shoes that allow your feet and lower body to work with your swing. If your shoes are too wide or small, it can cause swing issues.
Best Golf Shoes for Wide Feet
In this article let's review shoes that have additional width options to help you find the right pair that can help your game. Some brands (like FootJoy) have four width options; narrow, normal, wide, and extra-wide golf shoes. Not to mention some brands tend to run wider than other brands too.
According to FootJoy, you want to leave about ½ inch of space between your longest toe and the end of your shoe for a good fit. Not to mention a good flex point. As they said in their golf shoe sizing guide, "When flexed, the break of the shoe should fall perfectly with the flex of your forefoot."
Key Takeaways
Sizing of golf shoes is important as shoes that are too small can lead to golf blisters and foot injuries.
While shoes that are too wide or big can lead to swing issues from a lack of lower body stability.
Wide golf shoes are only offered by some golf brands but can help players stay comfortable throughout the round.
Keep reading to learn more about the best golf shoes if you have wider feet below.
FootJoy Premier Series (Best Wide Golf Shoe – Traditional Look)
The Premier series from FootJoy are some of the most traditional golf shoes around. You'll see guys like Justin Thomas wear these on the PGA Tour a lot as they look professional but are super comfortable.
They offer full grain leather that won't stretch and Calfskin leather detailing for a truly iconic look. They also have a performance outsole with VersaTrax+. Here's what FootJoy said about this design.
"The VersaTrax+ outsole is engineered with traction elements to create an outsole that is perfect for on-course performance. Translucent rubber traction elements offer a high end look and feel while maximizing traction with each step you take. The unique anti-channeling traction pattern is designed for grip from any lie or angle."
Additionally, they have an Ortholite EcoPlush Fitbed for maximum comfort. They have low profile spikes for maximum stability not to mention a 2-year waterproof warranty. The full round toe and standard fit (with wide options) make these a great golf shoe.
These shoes are available in the Wilcox, Packard, and Field Spikeless version as well. We've got a full hands on review of the Footjoy Wilcox here.
>> Click here to purchase today.
FootJoy HyperFlex
The HyperFlex from FootJoy are some of the most highly rated golf shoes available. These shoes are very stable and give you maximum traction during your swing.
As FootJoy noted on the website, "An integrated thermoplastic saddle wraps your foot for lateral control and the Power Stabilizer design maintains connection to the ground for maximum energy transfer."
Not to mention added ankle padding and a back pull tab for extra stretch. These shoes have soft insoles, a cot knit bootie for lightweight performance, and a two-year waterproof warranty.
Also, don't forget you can buy these shoes in the Carbon, Carbon BOA, and Hyperflex BOA as well. Not to mention several colors too. (Don't worry, they have other colors if you don't like the modern look above!) You can check out our full hands on review of the Footjoy Hyperflex Carbon here.
>> Click here or here to purchase a new pair of Hyperflex today.
Adidas Tech Response 3.0
Unfortunately Adidas doesn't make a huge selection of wide golf shoes like FootJoy. But they do have one specific model that is great for all types of golfers – the Tech Response 3.0.
As they said on their website, "The Adidas Tech Response 3.0 golf shoes blend step-in comfort with the support and grounded feel you need to push your game. From the confident grip of its six-cleat design and easy walking flex of an X-Traxion outsole, to its bounce cushioning, the Tech Response delivers on performance."
These shoes are some of the most affordable on this list and a great looking, athletic style. The wide fit shot has a traditional lace closure system and is available in three colors. Overall, a very solid golf shoe!
>> Click here to purchase today.
FootJoy Contour Casual
What I love about FootJoy is that they have a style for every type of golfer; old or young, traditional or stylish, spiked or spikeless, there is an option for you. The FootJoy Contour Casual men's golf shoes are a very stylish design and could easily wear off the golf course too.
They have a fashionable full grain leather exterior, light cushioned fit. These golf shoes also have VersaTrax, one-year waterproof warranty, and a Duramax outsole for even more comfort. For good weather days at the country club, these are hard to beat!
>> Click here to purchase today.
ECCO Biom C4
ECCO might not make wide fit shoes but their standard fit is very similar to the wide fit of other brands. The ECCO Biom C4 shoes are 100% waterproof, very breathable, and stylish as well.
Here's how ECCO described their highly-rated golf shoe. "​​Crafted from ECCO Performance Leather and a new, super-stretchy mesh sock, the hybrid is set on the progressive ECCO MTN GRIP outsole, and powered by BIOM® NATURAL MOTION® Technology."
While they're definitely not a traditional booking shoe, they have tons of stability and control thanks to the ECCO MTN grip. These spikeless golf shoes also have removable Ortholite insoles for long term cushioning too.
>> Click here to purchase today.
FootJoy Originals
Sometimes it's hard to beat a classic and the FootJoy originals are just that – a classic golf shoe. These are well priced, genuine leather, and one of the most comfortable shoes out there.
The timeless golf shoe has a DuraMax rubber outsole for maximum gripping, lightweight EVA cushioning, and a full rounded toe. The traditional spikes also add to more traction for less than perfect playing conditions too.
They're available in medium wide, and extra-wide in four color options. I've found these to be some of the widest shoes from FootJoy and supremely comfortable – not to mention very affordable.
>> Click here to purchase today.
Skechers Torque
Skechers makes some of the most comfortable shoes available. After wearing them for years I think they run slightly wider than most brands even in the standard fit.
Click here to read our full review about these golf shoes. Or, check out the Skechers Go Golf Elite 4 shoes too – however, these aren't as wide as the Torque and would suggest buying in a wide fit.
>> Click here to purchase today.
Nike Infinity Pro 2
Nike doesn't make a lot of shoes for wide feet in the golf world but the Infinity Pro 2 are a great option. They're far from a traditional looking shoe and much more of a running style shoe.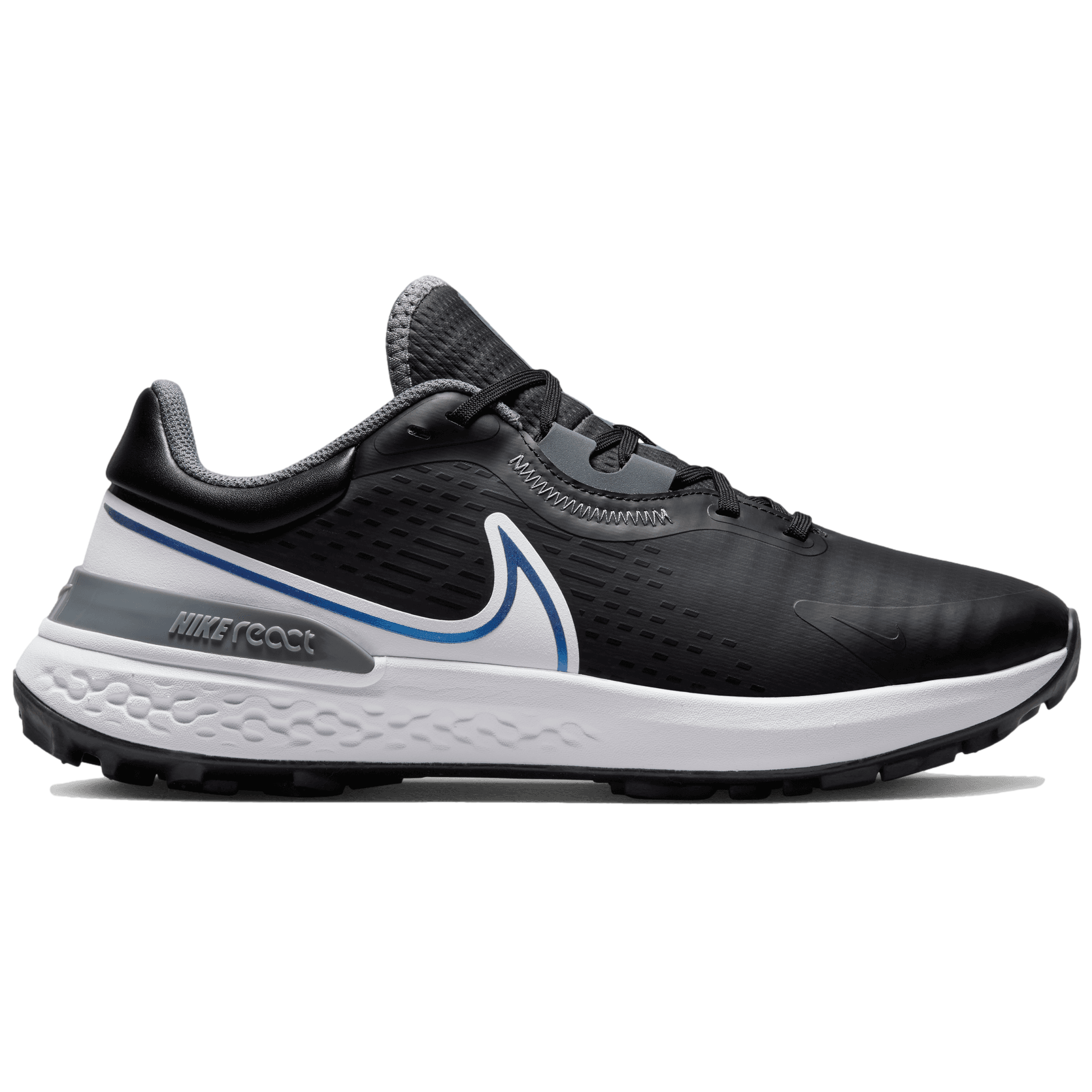 According to Nike this looks like a running shoe but performs like a golf shoe. Here's what they said on their website, "It pairs the incredible comfort and versatility of integrated traction with a sleek, breathable textile upper that's easy to clean. Plus, it has Nike React foam cushioning, so you'll be more than ready to go from the course to the concrete, and everywhere in between."
These are great shoes for wide feet and an awesome choice if you like to walk vs. ride in a golf cart.
>> Click here to purchase today.
Buying the Right Pair of Wide Feet Golf Shoes (Shoes for Wide Feet)
As you can tell, there are no shortage of options when it comes to shoes for wide feet. Here is our guide to help you compare different brands and find the right ones for your feet.
Sizing
The first factor of course is sizing; a wide golf shoe and overall size.
Your golf shoes should be snug on your feet and allow you to comfortably walk 18 holes. If you find a brand you love, try to stick with them to ensure you always buy the right width and size.
Spiked vs. Spikeless Design
One of the biggest decisions to make when buying golf shoes is the type of spikes used.
While metal spikes are a thing of the past (I do miss the sound of them on the cart path), it's now soft spikes or no spikes at all. While the spikeless option still does have extra traction and support too.
Spikeless shoes are best for warm weather, walking vs. riding in a golf cart, and casual rounds. While a spiked golf shoe is better for wet weather, hilly golf courses, and serious rounds where you can't afford to slip.
If you have an active lower body it's a good idea to opt for spikes for the maximum traction with spiked shoes so you don't lose your footing.
Click here to read the best spikeless golf shoes in 2023.
Comfort
While sizing is super important, obviously you want to buy a comfortable golf shoe too. This is even more important if you're walking 18 holes as that's usually four miles or more of walking! Some brands prioritize comfort above all else – like Skechers – and have arch support, extra cushioning, and more.
Additionally, you can always buy custom insoles if you want too. I've done this with running shoes and put them in my golf shoes when walking for maximum comfort.
Waterproof
While getting the right size and width of shoes are important, don't forget about keeping your feet dry too. If you play in a lot of wet, cold, winter golf conditions it's best to buy 100% waterproof golf shoes. These will keep your feet dry and make for a much more comfortable day on the course.
Some brands are only "water-resistant" and don't provide nearly as much protection in the rain. Make sure to double check the description so your feet don't get soaked in cold weather. Make sure to pair them with some good rain gear too.
Type of Shoe
Another thing to consider when buying wide golf shoes is the type and style. Do you prefer athletic/casual? Traditional? Or, ones that are bold and make a fashion statement on the course?
With certain brands, especially FootJoy, there are options for all types of golfers. Whether you prefer a traditional leather shoe or casual option, they have one for you.
As they said on their website, "Your golf shoes should also speak to who you are. The best shoes for playing golf will match your style, so shop for shoes in different styles and colors to match your game-day look."
Price
The final factor when comparing golf shoes is the price as they can vary greatly with each style and brand. While there are some shoes below $60, most are between $60-$120 and some styles are more than $200.
FAQs About Golf Shoes
Do you have more questions about finding the right pair of golf shoes? If so, keep reading to check out the most common questions and answers below.
What shape of shoe is best for wide feet?
If you're looking for a wider fit check out open sided shoes. These tend to have more of a relaxed fit vs. a fully closed shoe and might have more wiggle room.
Who makes the best golf shoes?
FootJoy claims to be "the number one shoe in golf." After researching different brands for this article, it's hard to argue otherwise.
They have a massive selection of styles, colors, spiked, spikeless, and different price points. Not to mention most are also available in narrow, standard, wide, or extra-wide fit.
Are Skechers golf shoes a wide fit?
Yes, I think Skechers are a pretty wide shoe even in the standard fit.
I've worn the Skecher Go Golf shoe for a while and think this particular model is pretty wide compared to other brands. But if the original fit isn't wide enough Skechers does offer wider fit sizes as well.
Not to mention Skechers has some of the most comfortable shoes around. You can't go wrong with them on or off the golf course for maximum comfort. Plus, they're very well priced as well and won't break the bank.
Does FootJoy make non-golf shoes?
Yes! Alongside a massive selection of spiked and spikeless golf shoes they also make boots, loafers, slide on, and other types of shoes for off the course.
How often should you replace golf shoes?
It depends on how much golf you play and what type of weather too. FootJoy said this about replacing shoes, "A general rule of thumb is to replace your golf shoes every 15-20 rounds. This is because golf shoes can break down and stretch over time, providing less support and structure needed to play efficiently."
But I have to be honest, that sounds like a marketing ploy more than anything else.
If you play twice a week, that means you need new shoes every two months which isn't feasible for most golfers. I play and practice a lot and notice that shoes last twice that long (or longer).
If you have spiked golf shoes it's a good idea to replace the spikes but otherwise, they'll last much longer than 16-20 rounds. However, if you notice less comfort and/or blisters starting to develop, it's time to invest in a new pair to protect your feet.
Do Nike golf shoes come in a wide fit? How wide is Nike extra-wide?
Some Nike golf shoes are available in a wide fit and some in extra-wide as well. Although, the extra-wide fit is harder to find since they're not as common as standard or extra wide fit.
Can I make golf shoes wider?
If you want to stretch a pair of shoes opt for a leather style as they typically stretch over time. You'll want to avoid certain materials like knit or synthetic as they don't stretch much over time.
But ultimately you should buy shoes that are wider to begin with to ensure the proper fit on the golf course.
Does ECCO have wide golf shoes?
Yes, ECCO makes golf shoes in a variety of sizes and width options.
They're another comfortable alternative to more common names in the golf world like FootJoy or Adidas. They're similar to Skechers in a lot of ways and prioritize comfort above all else.
Are Adidas or Nike wider?
When comparing a standard fit for both Nike and Adidas golf shoes it seems like Nike is a little wider. However, both brands offer some wide fit options in their golf shoes and other athletic shoes as well.
Should you buy golf shoes a size bigger?
You want golf shoes to be snug but not overly big either. If your golf shoes are too wide it can lead to swaying and slipping during your swing.
However, if you're walking vs. riding in a golf cart shoes that are slightly bigger vs. tighter might be a good idea. This is why runners tend to buy shoes with a little more wiggle room as it can help their feet breathe a bit more.
Ultimately you want to find a good fit in both the size and width to avoid blisters and discomfort during the round.
My Experience
Some golf brands have wider options than others and it makes a big difference. While I don't have wide feet I do prefer a little more wiggle room in my shoes as I swing the club. There's no doubt certain brands and styles have a unique fit and offer more room than others.
If possible, I always suggest buying the same brand of shoe so you can ensure the right width and sizing. This ensures you don't have to deal with the hassle of returns or settling on a pair of shoes that don't fit your feet perfectly.
Finally, it's a good idea to have several types of shoes; winter vs. summer pair for all types of golf. This allows you to rotate your shoes and make sure they match the conditions of the golf course and weather. Also, don't forget to clean your shoes regularly and replace spikes to get the most amount of traction possible.
Final Thoughts on Wide Feet Golf Shoes
Hopefully you can find a pair of shoes for wide feet to play your best golf. There's nothing worse than worrying about your feet vs. worrying about your golf game so make sure your shoes are comfortable.
Don't forget, nearly 40% of golfers use shoes that are too wide or too narrow. Which is why it's so important to buy the right size for your feet and not settle for standard fit.
Buying the right size golf shoes will lead to better golf, more comfort, and an overall better experience on the golf course.
Also, don't forget to check out other related golf footwear blog posts below: