Golf shoes, like most equipment, have changed drastically over the past decade. Which is why we had to write about the best spikeless golf shoes because there are more choices than ever.
It's pretty funny that golf has gone from harsh metal spikes (which have a sound synonymous with golf) to shoes that are more like athletic shoes than ones meant for golf. While metal spikes are essentially banned from golf courses worldwide (except for the pros), most golfers opt for soft spikes or spikeless designs.
Today, we'll cover the best spikeless shoes for golf, the questions you need to ask before buying, if they're right for your game, and more.
Best Spikeless Golf Shoes
Before revealing the best shoes without spikes, it's important to remember these aren't your normal athletic shoes. While they don't have interchangeable spikes, they still have built in traction and design features to help your feet stay secure while swinging.
Unlike spiked golf shoes, these are usually lighter and more comfortable than traditional golf shoes. They're much better than a pair of normal athletic or casual shoes that are more for everyday wear.
Here are the reasons why golfers choose spikeless shoes:
Sometimes cheaper.
Better for walking a round of golf.
Can wear them on or off the golf course.
Are lighter and sometimes more comfortable.
Have more fashion and styles available than spiked golf shoes.
Key Takeaways
Golfers can choose from spiked or spikeless golf shoes to wear on the course.
Spiked golf shoes are a better choice for wet course conditions and/or playing hilly golf courses.
Shoes without spikes are better for warmer weather conditions and walking 18 holes as they might be lighter/or more comfortable.
It's not a bad idea for golfers to have a pair of both types of shoes so they're ready for all types of course and weather conditions.
Keep reading to find the best spikeless golf shoe for your game.
1. FootJoy Pro SL Golf Shoes
FootJoy Pro SL golf shoes (read the full review here) are another top pick when it comes to spikeless golf shoes. These are mid-priced, provide maximum comfort, and according to the company the "number one performance spikeless shoe."
These shoes have been updated to be fitter, faster, and more comfortable too. What makes them so comfortable is the Stratafoam in the midsole. This is a proprietary blend of materials for maximum support and comfort while playing golf.
These have ChromoSkin leather (100% waterproof), superior traction thanks to the infinity outsole, and the "power harness" delivers a ton of support throughout the swing. These shoes are available in different sizes, styles, lace systems, and colors to make sure they are right for your game.
>> Click here to purchase your Pro SL golf shoes today.
2. FootJoy Flex Golf Shoes
If you want a pair of shoes that are lightweight above all else, it's hard to find a better option than the FootJoy Flex. These golf shoes won't break the bank and offer a simple design that are great for warm weather days. So if your feet tend to get a little overheated in the summer, this pair of shoes is right for you.
The performance mesh delivers all day comfort and maximum breathability for those hot days on the links. They also are very versatile thanks to the Versa Trax outsole. Here's what FootJoy said about this design feature.
"The VersaTrax outsole is engineered with traction elements to create an outsole that is perfect for on course performance with wear-to-the-course versatility. Each traction zone maximizes traction during your swing and provides exceptional grip when walking the course."
Not to mention complete foot support thanks to the soft EVA midsole and underfoot cushioning. These have a full rounded toe and offer a standard fit across the shoe with a slightly narrow heel.
Choose from six color options and multiple width sizes to find the right pair of your feet. The all white is great for summer while the black "galaxy" color is sure to make a statement on the golf course.
>> Click here to purchase your pair of Footjoy Flex today.
3. Adidas Tech Response (Best Budget Shoes)
If you're on a tighter budget but still want a great pair of shoes, these from Adidas are a great choice. They are one of the bestsellers on Amazon and won't break the bank either.
The Adidas Tech Response golf shoes are 100% synthetic, have a regular fit, and lace closure system. These are spikeless, lightweight shoes that are great for most playing conditions. They have a very simple design and are great when walking vs. riding in a golf cart thanks to the design.
Choose them in black, gray, or white designs that will match just about any golf outfit in your closet.
>> Click here to purchase your pair today.
4. FootJoy Premier Series (Best Premium Golf Shoe)
If you're a traditionalist and like the old-school golf shoes (without the metal spikes), you'll love the Premier series from FootJoy. Let me start by saying these shoes aren't cheap but there is no doubt they are some of the best looking ones around. Older golfers might enjoy the throwback to the traditional saddle leather design.
But unlike older golf shoes (which were not comfortable at all) these shoes are built for all day comfort. These timeless golf shoes have premium construction and full grain leather for a great fit and won't stretch out either. Not to mention they offer a performance outsole to maximize traction nearly as much as shoes with spikes.
Here's what FootJoy said about the updated design. "The VersaTrax+ outsole is engineered with traction elements to create an outsole that is perfect for on course performance with wear-to-the-course versatility. Translucent rubber traction elements offer a high-end look and feel while maximizing traction with each step you take."
These shoes are great from just about any lie or any type of weather – despite not having spikes. They have an Ortholite EcoPlus cushion, two-year waterproof warranty, and BOA fit system.
>> Click here to purchase these premium golf shoes from Footjoy today.
5. Nike Air Jordan 1 Low G
Want to look like Tony Finau and other professionals who love Nike golf shoes? Then the Nike Air Jordan 1 is a great choice. They look more like basketball shoes than golf shoes but have plenty of traction to support the movement of your swing.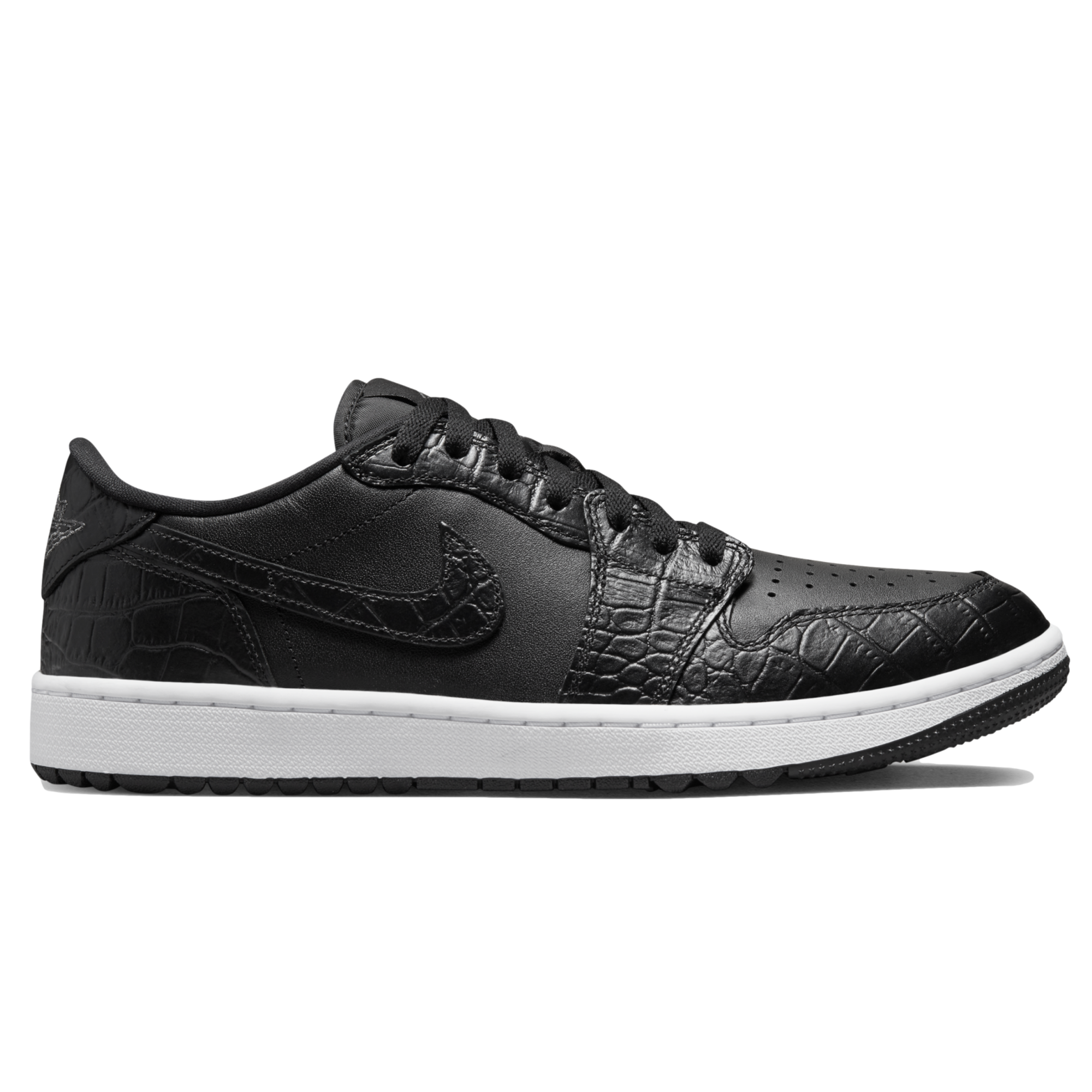 Here's how Nike described them. "The Air Jordan 1 G is an instant classic. With Air in the heel, a Jumpman on the insole and an integrated traction pattern, it recreates the look of the low-cut original—but gives you everything you need to play 18 holes in comfort."
These modern golf shoes have a one-year waterproof warranty and come with two sets of laces to personalize your shoes.
>> Click here to purchase the Air Jordan golf shoes today.
6. FootJoy Contour Casual Golf Shoes
One of the reasons that a lot of people like to play golf in spikeless shoes is because they can be worn on or off the course. So if you have to run errands or meet your family for lunch afterward, you can keep the same shoes on. The new FootJoy Contour shoes are arguably the most "fashion forward" shoes as they are great looking shoes on or off the course.
Here's how FootJoy described them on their website. "Contour Casual men's spikeless golf shoes bring versatility to golf footwear. Discover how these incredibly comfortable golf shoes utilize a spikeless outsole, super-soft premium leathers, lightweight underfoot comfort, waterproof protection, industry-leading size options and a world-renowned fit."
These shoes are 100% leather, offer waterproof construction, and come in four colors (white, black, brown, or navy blue). Choose from multiple width sizes as well. You can't beat the relaxed style either!
>> Click here to purchase your pair today.
7. Adidas S2G
The Adidas S2G are some of the best looking shoes around and great for all types of golfers.
These shoes are timeless, comfortable, fashionable, and great for most weather conditions. Not to mention a great price too.
These are a wide fit and great for players who need a little more room for their feet to breathe. They have a bounce midsole for tons of cushioning and a traxion rubber outsole for a durable grip. Not to mention these are made with 50% recycled materials too.
>> Click here to purchase your pair today.
8. New Balance Breeze V2
New Balance isn't known for their golf gear but these Breeze V2 shoes are the exception. These are some of the most lightweight, comfortable golf shoes and made for golfers who love to walk (or need maximum comfort).
What makes them such a hit (and so highly reviewed on Amazon) is likely the Cush+ design. According to the company this is, "A revolution insole foam compound. Offering ultra soft and responsive cushioning and comfort without sacrificing durability or stability."
They also have "Revlite" which is a lightweight cushioning to make it easier to walk 18 holes in total comfort. Don't forget these have water-guard technology for extra protection against all types of weather conditions. These are available in black, navy or gray color.
>> Click here to purchase your pair today.
9. Skechers Go Golf Elite 4 Victory
We love Skechers as they're comfortable on or off the course. Take a look at our full review of these shoes here to see why they made this list of the best spikeless shoes.
>> Click here to purchase your pair today.
10. Athalonz (Best Golf Shoes for Adding Distance)
Did you know that some golf shoes can help you add yards to every drive?
That's right, Athalonz golf shoes aren't only comfortable and lightweight but can help you hit bombs off the tee. What makes them unlike almost any golf shoe available is the EnVe golf shoe guide.
Here's how Athatlonz described it. "Our EnVe golf shoes automatically guide you to a more optimal athletic position, to reduce sway and give you the power to reach your genetic potential, so you can focus on the countless other aspects of the game a little easier."
The physics of these shoes help improve your ground reaction force to hit longer than ever before. They force your knees to angle slightly inward and on the ball of your feet for maximum stability and can generate up to 9% more power with every swing.
Not to mention stop swaying so you can create more power – without speed training or updating your golf swing. These shoes are used by Bernhard Langer, long drive professionals, and tons of amateurs to help gain distance and stability on every shot. We've got a full hands on review of the Athalonz shoes here.
>> Click here to purchase your pair of Athalonz today.
How to Pick the Right Golf Shoe
As you can tell, there are tons of different shoes from major golf manufacturers when it comes to playing golf. So, how do you decide which pair is right for your game (and feet)?
Use our five-step checklist below to compare top brands.
Spikes vs. Spikeless Golf Shoes
If you're reading this article chances are you want a pair that doesn't necessarily have spikes. But it's a big decision and shouldn't come down to fashion vs. function as well.
Spikes in golf shoes are preferred in two main scenarios:
Wet weather and/or a golf course with hills: If it's rained a lot or planning to rain, opt for shoes with spikes. These will give you the best traction and not let bad weather or course conditions negatively affect your game.
An important round: If you need your swing dialed in it's a great idea to opt for spiked shoes as they can give you more precision. The spikes will help keep you balanced and hopefully help you swing your best when you need it most.
As Adidas said, "Many dedicated golfers choose spiked shoes for games where your footing is key. The extra grip of the spikes helps keep your feet locked in place for executing that perfect swing, even on a slippery slope."
Here's when you should opt for spikeless shoes.
Warm weather: If it's a sunny spring or summer day, opt for these shoes as they're lighter and let your feet breathe in the heat.
Walking vs. riding in a golf cart: Spikeless golf shoes are great if you're walking in warm weather and want the most versatile shoes available. They tend to offer more comfort than spiked shoes too.
Casual round of golf: Finally, these shoes are great for a recreational day out with friends vs. highly competitive golf.
This is why it's a good idea to have a pair of both shoes for all types of weather and rounds.
Design
Once you decide which type of spikes are best for your conditions, next up is the design.
Some golf shoes offer more arch support, some are built for maximum comfort, and some have more style than comfort. While others offer wide options, built in laces, and other design features.
Make sure to weigh the pros and cons of each shoe to see which one will benefit you the most. Some things to think about:
Shoe's outsole
Zero drop design
Good breathability
Midsole cushioning
More traction points for a good grip
Color
The next factor to find the right pair is the color. Darker colors are a better choice for colder, wet conditions as they won't get as dirty and last longer. While lighter colors are better for warmer weather since you can wear white more and not get dirty on the course.
Completely Waterproof vs. Water-Resistant
Another important factor in buying golf shoes is if they're waterproof or water-resistant. A lot of the spikeless shoes on this list are water-resistant, which means they're better for warmer rounds. While others are 100% waterproof and should keep your feet dry in even the worst playing conditions.
Budget and Warranty
Finally, don't forget to factor in the different price points as golf shoes range from $50 to $200 or more. Prices change a lot so make sure they are right for your budget. If you need a lower budget option, buy last season's model to save some money.
Also, don't forget to check out the warranty too. Some golf shoes have one or two-year warranty so you can buy with
FAQs About Spikeless Golf Shoes
Do you have more questions about buying the right golf shoes for your game? If so, keep reading to learn more now.
Do any pros use spikeless golf shoes?
Yes, there are a lot of professional golfers (both men and women) who don't use spikes on the golf course.
Since most golf tours "chase the sun" these players can wear shoes without spikes since the weather is typically pretty decent. However, when the rain and wet weather happen, it's not uncommon for them to switch and wear shoes with spikes.
What is the number one shoe in golf?
FootJoy has claimed they are "the number one shoe in golf."
They're a Titleist owned company who also has a bold claim that they are "the number one ball in golf" which is pretty hard to argue at this point.
FootJoy golf shoes are overall great shoes and have tons of styles in both spiked or spikeless models. Men, women, and kids can all enjoy FootJoy as they're so many options.
Plus, they now offer "off course" shoes to cater to golfers who love the brand but don't need any traction features.
What is the most popular golf shoe on the PGA Tour?
There isn't a hard and fast study like there is with golf balls.
Before the start of every PGA Tour event players document their equipment (clubs and balls) with the tournament for research purposes. But it's not common for them to disclose their golf shoes in this process.
Some of the most popular golf shoe brands among professional golfers (both LIV and PGA guys) are FootJoy, Nike, Adidas, and Puma.
Why do people wear spikeless golf shoes?
Typically, because they're lighter and sometimes more comfortable. As Adidas said, "Some golfers find spikeless shoes more comfortable for walking or casual wear, since they're lighter and there are no spikes to interfere with your balance."
Can you walk in spikeless golf shoes anywhere?
Yes, this is one of the reasons that a lot of golfers prefer these types of shoes. They're able to wear them on or off the golf course and look like a normal pair of athletic shoes.
My Experience
In my opinion golf shoes are absolutely necessary. Golf shoes can play a big role in helping you play your best on the course.
There's nothing worse than using shoes that aren't snug, don't provide enough traction, or don't fit properly. Since you're in your shoes for 4–6 hours, it's essential that you love them and keep your feet comfortable.
A spikeless golf shoe is a great alternative to soft spikes as they look different, are sometimes more comfortable, and provide more support than normal shoes. However, if you play in a lot of wet, winter golf conditions, I'd suggest opting for soft spike shoes. This will help you avoid slipping and mishitting shots due to bad weather.
It's not a bad idea to have a pair of spike free shoes for warmer weather and a normal pair of soft spikes in winter. This will help you play your best regardless of what the weather does during your round of golf.
Final Thoughts on Purchasing Spikeless Golf Shoes
Golf shoes are an important part of the game and it's essential to find the right ones for your feet and typically playing conditions. Don't make this game even harder by trying to wear shoes that aren't right for the situation.
There isn't a single brand I'd suggest as there are so many great options as mentioned above. FootJoy, Callaway, Nike, Adidas, GFore, and countless others can help your game from tee to green. Just make sure they fit right, are wide enough, and have enough traction for the weather to avoid slipping.
Also, don't forget to check out other related shoe posts below: