If you're looking for golf irons for women, we have you covered. Today, we'll review all types of women's golf irons to find out which golf club set is right for you.
Because if you're like most golfers you probably have questions like:
Should I play hybrid irons?
Should I play game improvement irons?
What irons will help me hit all types of golf shots?
Luckily, we'll answer all those questions and more to take your golf game to the next level.
Best Irons for Women
Let me ask, is your set of irons helping or hurting your game?
Most golfers focus on their driver and woods but neglect their irons too often. This is a big mistake as your irons make up a big part of your golf bag.
Having the right set can improve your ball flight, improve accuracy, and ultimately, shoot lower scores.
Key Takeaways
Choosing the right golf iron set and/or combo sets is vital to playing your best golf.
Combo sets with hybrids or hybrid irons make golf easier by replacing hard to hit long irons with more forgiving clubs.
Beginner golfers should play with larger, more forgiving irons while more advanced women golfers should use smaller irons.
Keep reading to learn our best irons for women in 2023 and beyond.
Callaway Rogue ST Max OS Lite
Callaway makes some of the most forgiving and easy to hit clubs for both men and women. The Paradym driver and fairway woods are a hit in 2023 but the Rogue series from 2022 is still wildly popular. These clubs are long, easy to hit, and a full cavity back iron that will make it easy to launch your irons high.
Most golfers will benefit from the "lite" set as they're significantly lighter and easier to swing faster. Here's how Callaway defined this set of irons, "Rogue ST MAX OS Lite irons have a refined game-improvement shaping, with high launch, wide soles, and enhanced offset. The Lite version features more loft, lighter shafts and lighter swing weights to make these our highest launching, easiest to swing Rogue ST model."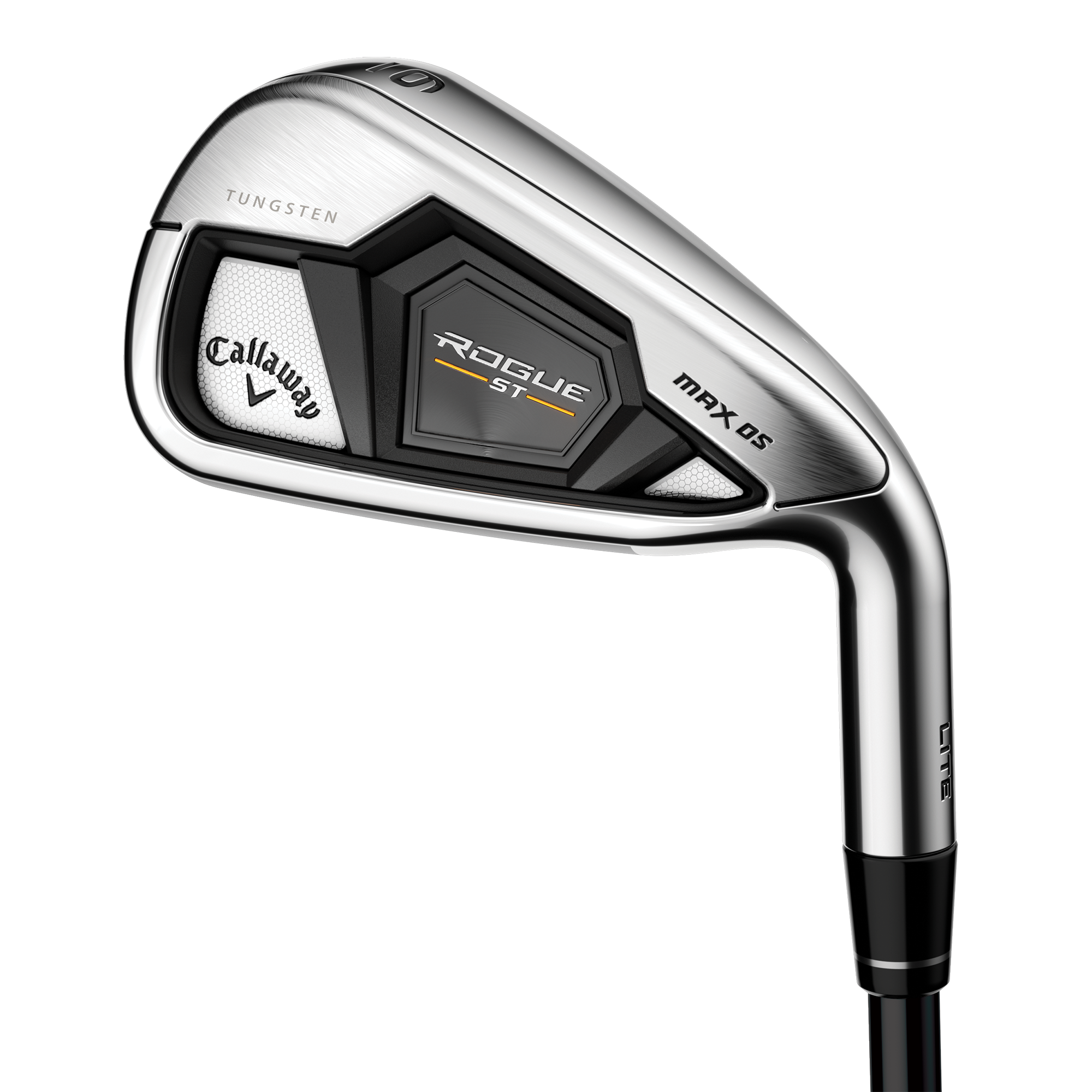 The Flash Face Cup technology makes these clubs easy to hit further thanks to extra ball speed. While the new precision tungsten weighting is a big upgrade from the previous Mavrik irons.
As Callaway stated, "Our new precision tungsten weighting features up to 46g of high-density tungsten, a 188% increase over MAVRIK. This provides improved launch conditions and also maximizes speed across the face."
These Callaway irons also come with a Project X Cypher Black 40 graphite shaft. These have a low kick point to promote a higher launch and will land softly on the greens.
Pros
Very lightweight shafts.
Some of the best golf irons to improve ball speed.
Lite irons are built with wide soles and more offset (plus lighter shafts) to make them very easy to swing.
Cons
Slightly larger topline and not ideal for more skilled golfers.
Overall, these irons are a great choice for most golfers who want forgiveness and distance.
Plus, you can also buy this set with matching Rogue Max OS hybrids instead. They're a little bit more expensive but replace the hard to hit long irons with hybrids.
>> Click here or here to purchase the Rogue ST Max OS Lite irons today.
TaylorMade Stealth HD Irons
Do you struggle with a slice even with your irons?
If so, these new Taylormade Stealth HD irons might be the ones for you thanks to their built-in draw bias. This is normally reserved for drivers and some fairway woods, it's nice to see this feature in irons too.
Before getting into that, let's talk about how high launching these clubs are even without a fast swing. As TaylorMade said, "Stealth HD irons feature an ultra-low CG that progressively shifts it higher throughout the set for easier launch and playability in the long irons, while optimizing trajectory and spin in the scoring clubs."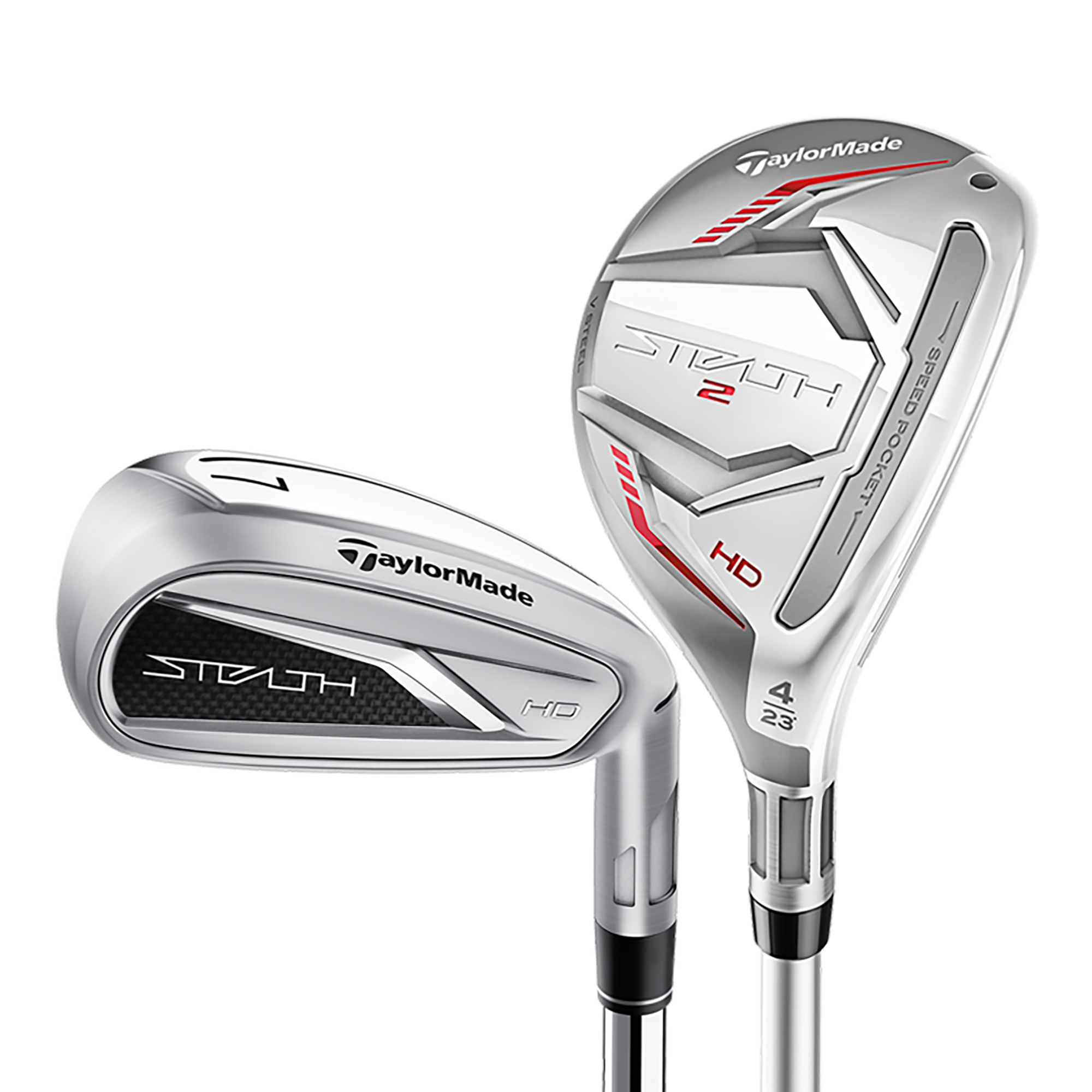 The performance shape makes it easy to hit these long, extra forgiving (or as they say "fargiving") and easy to hit. The Cap Back design is even better than a traditional cavity back iron and promotes a higher launch for more distance.
Plus, the HD (which stands for high draw) version has weighting to make these clubs straighter than ever. By adding more weight in the heel of the club it's easier than ever to square the face at impact. This should lead to straighter, higher shots that find the green more often instead of always missing right.
Pros
HD has a great draw bias feature.
Available in right or left-hand models.
Multiple sets available including a 5-iron and wedges up to SW.
Lightweight easy to swing Aldila Ascent 45 gram shaft is one of the best options available.
Cons
These are slightly bigger than most irons and might take a little longer to adjust. But they're not as thick of a topline as other brands.
Also, like the Callaway iron set above, you can buy these in a combo set too. This replaces the long irons with new Stealth 2 hybrids which look more like fairway woods due to the larger design. This should help improve confidence on longer shots and promote much higher launch than irons for women golfers.
>> Click here to purchase these irons today.
Cobra Aerojet Irons
The new Cobra Aerojet lineup has made quite a splash in 2023 and these golf irons even made the Golf Digest Hot List. So, what makes them such a great set of irons?
First is the design – they're much thinner of a topline than most irons and look great at address. These are significantly smaller than most sets which feels like they're designed for the better than average golfer. But don't worry, they still have plenty of forgiveness too thanks to PWRSHELL technology.
Here's what Cobra said, "PWRSHELL insert maximizes speed and launch while the A.I. designed H.O.T Face delivers more efficient speed and spin creating a larger sweet spot and more looks at birdie." While the PWR-BRIDGE weight design helps improve launch and ball speed.
This set of golf irons also come with Arccos Smart Sensors too. These accessories go into your grips and sync with the Arccos Caddie app to learn more about your game. You can track your distances, rounds, and more to learn more than ever about your game.
Pros
5-SW options available.
KBS graphite shaft can improve shot dispersion.
Arccos Smart Sensors included with free trial to learn more about your game.
Cons
Left-hand is a custom order.
A 50-gram shaft is likely too heavy for beginners or seniors.
This set of Cobra irons is made for the more advanced golfer due to the smaller design and heavier shaft. But they're great for those golfers as they'll manage spin and are very workable to hit all types of iron shots. Plus, you can't beat the Lamkin Crossline grips and sensors that go into them either.
>> Click here to purchase these irons today.
Callaway Great Big Bertha Irons/Hybrids Set
If you want a premium set of women's irons you need to consider the new GBB from Callaway. The Great Big Bertha (GBB) driver put the company on the map and continues to be some of their top-performing clubs. But they're not cheap and by far the most expensive clubs on the list.
Here's why women golfers love these clubs according to Callaway, "Our first multi-piece titanium and tungsten iron provides driver-like power with the precision of an iron and hybrids creating exceptional ball speed and forgiveness on a wide variety of shots."
These irons are wildly long thanks to their titanium face and body as they saved 100 grams of weight. This makes it easier for the engineers to redistribute the weight and improve forgiveness and promote higher launch.
They're also longer than most irons thanks to the A.I. designed titanium face up and other new technologies. As Callaway said, "By leveraging materials that are typically reserved for drivers, we've generated up to 96g of discretionary weight, and precisely repositioned this saved weight to increase launch and forgiveness. The Commercially Pure Grade (CP) Titanium body flexes more at impact than traditional steel and works together with the thinner face to transfer more energy to the ball."
The Great Big Bertha iron combo set comes with several hybrids that have a fairway wood like shape. These are all adjustable hosels to get the right launch and distance with ease. Not to mention, they're high launching just like the forgiving irons.
You can configure the set with multiple hybrids (from 3H to 7H), irons, and wedges. All clubs come with a lightweight UST Mamiya Helium Nanocore graphite shaft.
Pros
Multiple sets available.
Great mix of hybrids and irons.
Both sets come with a matching gap wedge.
Extremely long, high launching, and super forgiving thanks to the updated design.
Cons
Expensive – otherwise these clubs are some of the best out there.
Overall, it's hard to say anything negative about them other than the price. Callaway pulled out all the stops to make a high performing set of hybrids and irons.
>> Click here to purchase these irons today.
Titleist T400 Irons
Titleist makes the number one golf ball in golf and some great equipment too. The new Titleist T400 irons are a great set of game improvement irons to take your game to the next level. They're much more forgiving than the T100, T200, or T300 thanks to the bigger design.
Here's how Titleist described their most forgiving golf irons. "Every aspect of Titleist T400 irons is engineered to produce greater playing distance – starting with the incredibly fast Super Thin L-Face. The lower edge of the face wraps around the sole, maintaining ball speed even when impact is made lower on the face. Masterfully fused with a confidence-inducing head shape, it makes faster feel effortless."
More weight (100 grams) is inserted into the heel and toe of the 5, 6, and 7-irons to lower the center of gravity. This helps launch it higher and promote longer distance in typically hard to hit clubs. They also have a smooth turf interaction thanks to the wide body design.
Not to mention, they are extremely forgiving thanks to the hollow body construction. This set is available in 5-SW and sure to improve your iron game. Unfortunately, Titleist does not offer combo sets with a hybrid golf club (or two) like most of their competitors.
Pros
Great looking design.
Easy to hit from rough, fairway, or off the tee.
Hollow body construction makes them easier to hit.
Cons
No combo set available.
Need to get the right shafts as these are more geared toward male golfers.
>> Click here to purchase these irons today.
Wilson Dynapower Ladies Irons
If you're looking for a mid-priced iron set it's hard to beat the new Wilson Dynapower irons. These clubs are hot and have variable face thickness to improve mishits that happen off the toe drastically.
Here's how Wilson described using A.I. to help with the forgiving design. "Dynapower analyzed thousands of combinations of variable face thickness and power holes locations, delivering the optimal combination. Dynapower Irons deliver maximum ball speeds across the entire club face, with a focus on the center and toe, because that is where 65% of shots are struck by 10+ handicap golfers."
The low center of gravity fuels higher launch and a better landing angle to hold the greens. The shape of the head is geared toward mid-handicap golfers and wouldn't consider it a game improvement iron. The set also comes with a gap wedge and sand wedge too.
Pros
Greatly improves mishits.
Gap and sand wedge included.
Great mix of forgiveness and style without an overly large head.
Cons
Right-hand model only.
Only one set option available.
Overall, these are a great set of irons for a solid ball striker not so much a beginner player.
>> Click here to purchase these irons today.
TaylorMade Kalea Premier Irons
Another great all-around iron set that won't break the bank is the new TaylorMade Kalea irons. Here's how the company described them, "Utilizing a lightweight Cap Back™ Design, Kalea Premier irons deliver easy high launch, exceptional forgiveness and premium feel. All coupled with a streamlined shape making it playable for a wide range of swings."
They look great and have increased the amount of low-toe mass which pushes the CG lower. This helps promote a higher launch and makes it easier than ever to launch shots high and land soft. These TaylorMade irons also have Inverted Cone Technology which improves mishits drastically.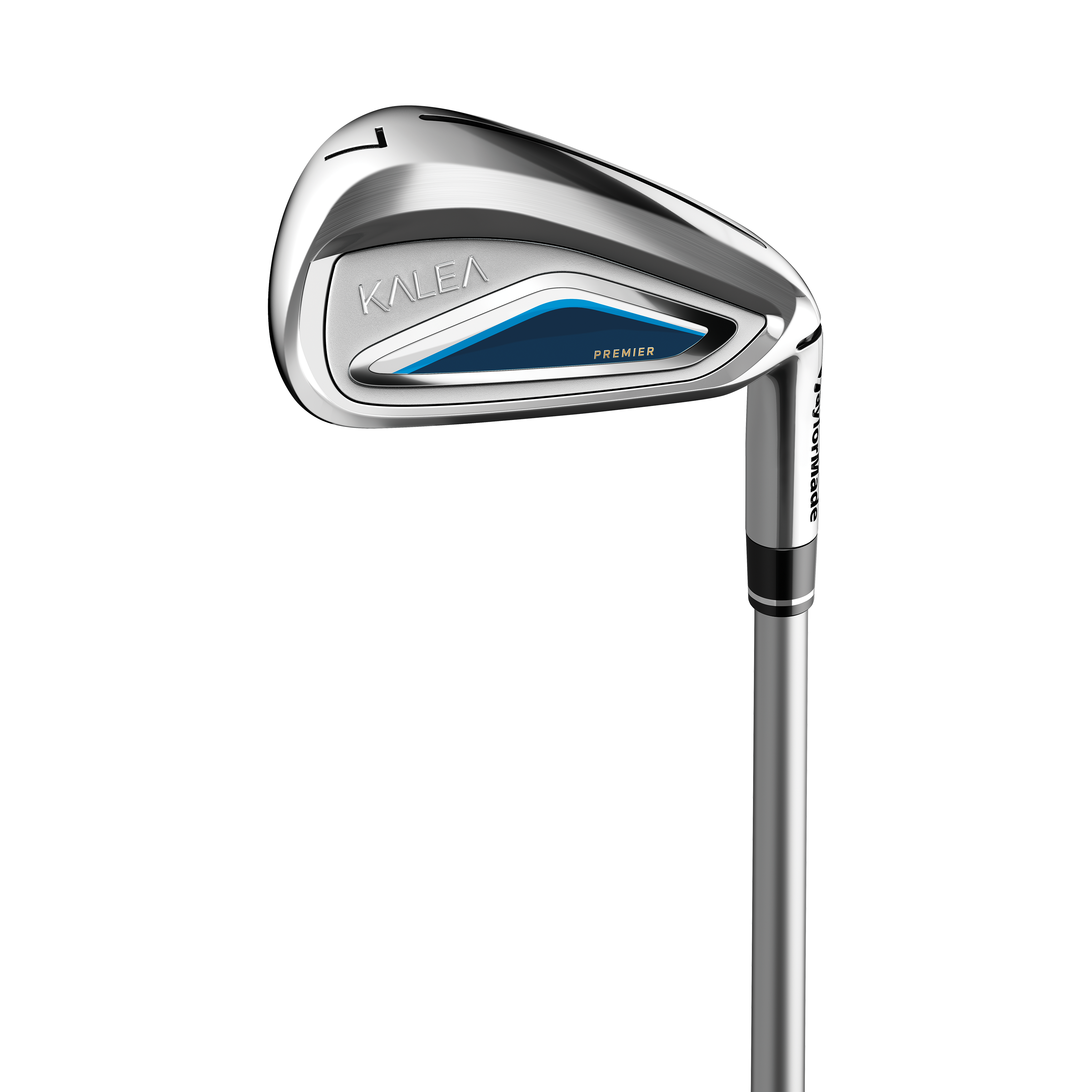 One thing these irons have that few others do is a new set of specialty wedges. This makes it easier to buy your irons and wedges together for a seamless transition throughout your set.
Here's what TaylorMade said about this awesome feature. "Kalea Premier wedges are designed to fit seamlessly within the set with cohesive aesthetics and shaping. The soles of each wedge (AW-SW) feature a wide camber for versatile performance around the green and optimal sand displacement on bunker shots."
There are a few downsides though; they have a steel shaft but it's only 40-grams which is still very light. The other downside is that 7-iron is the longest club in the bag but there is a combo set available to add in hybrids.
Pros
Low CG means high MOI and launch.
Specialty wedges unlike most iron sets.
Extremely affordable – some of the best irons if you're on a budget.
Cons
Right hand only.
Steel shaft only – no graphite option.
Plus, like the other TaylorMade set mentioned above, you can buy these irons in a combo set. The long irons get replaced with larger fairway-wood like hybrids and only have mid-irons instead. This is a great option for senior golfers or players who don't generate as much clubhead speed.
>> Click here to purchase these irons today.
Cobra Air-X Women Irons
While the Cobra Aerojet irons we mentioned above are great, they're not for every type of golfer. If you're more of an average golfer or just getting started, you need something lighter and easier to hit; this is where the Cobra Air-X irons come into play.
These irons also made the Golf Digest Gold List in 2023 as they're extremely popular and easy to hit. They look great with the silver/pink design and are offset to make it easier to launch high and hit straighter.
What makes this iron set better than most is the amount of stock shaft choices. Unfortunately, most brands only offer one (two at most) for stock shafts. But these Cobra irons come with four options with different weights to find one that is right for your swing.
Plus, they're very affordable and come in a combo set as well.
Pros
Combo set available.
Two sets available; 5-GW or 6-PW with a SW.
Arccos Smart Sensors and a free trial to the Arccos caddie app to track your game.
Cons
None – these are great clubs that are easy to hit.
>> Click here or here to purchase the Air X irons today.
Comparing the Best Irons for Women
As you can tell there are tons of great irons sets for ladies but how do you pick which one is right for you? Use this guide to easily compare sets and find the right irons for your game.
Full Set vs. Iron Set
Before buying a new set of irons it's always a good idea to ask if you need a new set of irons or a whole bag? There are a lot of complete set golf clubs for women (and men) which have everything you need to get started.
Beginner golf sets are geared toward new golfers who are just starting out and don't need all 14 clubs. They tend to have a driver, 1-2 fairway woods, 1–2 hybrids, 4–5 irons, a wedge (or two), putter, and bag. This helps save money and play with easy to hit clubs.
While more intermediate to advanced golfers should focus on buying woods, hybrids/irons, wedges, and putters individually. This way you can make use of all 14-clubs in your set and ensure they're right for your game.
If you need a set of irons, keep using the comparison guide below.
Club head Design
The clubhead is one of the most important things to consider when buying a new set of golf irons. Clubheads are usually extra forgiving with an emphasis on distance, somewhat forgiving, and not very forgiving but much more workable.
Newer golfers and those who play more recreationally should focus on larger, more forgiving clubs. These are typically known as game improvement irons and are much easier to hit, even with slower than average swing speed.
Golfers who play somewhat consistently should use a mid-handicap iron as they're still forgiving but slightly smaller. While the most advanced women golfers should use smaller irons that make it easier to shape shots. Plus, this will help get the spin rates dialed in for the right swings speeds and hit certain types of golf shots easier.
Set Makeup
Another important factor to consider when buying golf irons is the clubs that are included. As you can tell from above, each golf club set is quite different. Some iron sets are 5-PW, others are 6-GW, and some included hybrids.
A lot of golfers can enjoy the benefits of playing a combo set of irons and hybrids. This replaces hard to hit long irons with hybrids to make difficult shots a lot easier. Plus, buying your hybrids with irons ensures that your lofts are spaced out accordingly vs. buying clubs separately.
Shafts
Once you find the right set of irons, don't forget the shaft too. So many golfers research the club heads but forget to consider the shafts which play a big role in distance and trajectory.
When it comes to picking the right shafts you want to consider weight and flex. Almost all women irons are graphite shafts but they are some steel shaft options for higher swinging golfers. But the weight is very important too.
Golfers who don't have as much club head speed should play lighter shafts which can help add speed. While more advanced golfers should play heavier shafts to optimize spin rates and trajectory.
In general you want your driver as the lightest shaft, then fairway woods, then irons, and wedges are the heaviest.
Price
The final item to consider when buying a new set of irons is the price. As you can tell, prices vary greatly depending on the brand, type of clubs, and how many irons are included.
However, the good news is that you don't need to buy new irons every year or two. While a lot of golfers can see huge benefits from a new driver every few years, iron technology doesn't change as much. So hopefully you can invest in a quality set that will last three or more years.
FAQs About the Best Golf Irons for Women
Overall, these are some of the lightest, easiest to swing clubs out there. Plus, the hybrid combo set adds two hybrids to make them even easier to hit. Make sure to read our full review of the men's clubs to learn more.
Do you have more questions about finding the right set of golf irons? If so, keep reading to learn the most frequently asked questions and answers below.
What is a good brand of women's golf clubs?
All the brands listed above are great brands for women. Cobra and Callaway are two of the top names for both men and women, especially newer golfers or players without a ton of swing speed.
Can women play with men's golf clubs?
Yes but it's not advised in most cases. Men's clubs are longer and heavier, which require taller people with faster swings to reap the benefits of them. This is why juniors, women, and men should play the right clubs.
Golfers who are shorter or taller than normal can also improve their equipment by trimming or adding length to shafts. If you're struggling with speed to hit it further make sure to check out SuperSpeed Golf. They provide easy to follow protocols to increase swing speed with different sets for men and women.
Click here to learn the difference between men vs. women golf clubs.
Is there a difference between expensive and cheap golf clubs?
Yes and no – it ultimately depends on your skill level.
For example, if you're an advanced golfer you will notice a huge difference between more expensive and cheaper clubs. While beginner golfers won't notice nearly as big of a difference.
The better you get at golf, the more you should worry about equipment. In the beginning, it's all about finding lightweight, easy to swing clubs that are very forgiving. As you advance, you'll need upgraded equipment to match your updated swing.
Typically, more expensive equipment is better for more skilled golfers.
How do I know what size of golf clubs to buy?
All iron sets (and golf clubs for that matter) come in a standard size for the "average" golfer. You can do a custom fitting to learn more about your ideal shaft length, weight of shaft, and more if you think you're outside the norm for a woman golfer.
Do women's golf clubs make a difference?
Yes, women should play women's golf clubs as they're very different from men's golf clubs. A set of ladies irons are lighter, shorter, and geared towards slower swing speeds.
If women try to play a lite flex of men's irons (or regular) they're likely way too heavy and long. This will negatively impact performance from tee to green as they're not right for your game. This is why it's vital to play in women's clubs.
My Experience
Playing the right set of golf clubs makes this game substantially easier. If you're playing clubs that are too heavy, too stiff, and not forgiving enough, you're making life much harder on yourself. This is why it's so important to play equipment that matches your game.
Conversely, as you progress and hit your golf goals, you need to upgrade your equipment too. If you become a better player you need better clubs to match faster swing speeds and optimize spin rates.
Luckily, you don't need to buy a set of irons every year like you should with a driver (assuming you play frequently). Iron technology doesn't change nearly as quickly so you don't need to replace them quite as often. But when it comes to a driver, we suggest upgrading every 1–2 years as the extra distance can also make golf easier.
Remember, brands aren't that important.
It's about looking down at a set of golf irons that gives you confidence and playing ones that are right for you. Don't focus on brand loyalty but instead playing the clubs that suit your swing.
Final Thoughts on Golf Irons for Women
So, which are the best women's golf irons?
It depends on your swing, frequency of play, age, and more.
Golf isn't getting any easier so make sure to play the right set of irons for your game. This will help your scores on par 3s and massively improve your approach shots on par 4s and 5s. Use the selection guide above to find the right set of ladies irons quickly.
Once you get the right set of golf irons, make sure you pair them with the correct woods, hybrids, and wedges too. Also, it's not a bad idea to get the lie angles tweaked (upright or flat) to match your swing and improve your shot dispersion.