Do you need a new pair of golf shoes that you can wear year round?
Keep reading to see why we think the FootJoy HyperFlex shoes are some of the best options available.
FootJoy is no stranger to making great golf shoes but these might be the best ones yet. Don't get me wrong, they aren't the cheapest but they warrant a higher price tag and easy to see why so many golfers love them.
They're a great mix of style, comfort, and stability (not to mention soft spikes) for a great shoe for serious golfers.
FootJoy HyperFlex Carbon Golf Shoes Review
Key Takeaways
HyperFlex shoes from FootJoy are a high-end golf shoe.
FootJoy Hyper Flex shoes are available in multiple colors, sizes, and width options.
These golf shoes offer a great combination of style, comfort, and have soft spikes to give you tons of stability as you swing.
Here's why we like them so much.
Maximum Comfort
While Titleist has the "number one ball in golf" it's hard to argue that FootJoy isn't the number one shoe in golf. These shoes are extremely comfortable and great for walking a round of golf.
Here's what FootJoy said about the design. "Two durometers of foam specifically tuned for golf. Stratofoam absorbs shock on every step and returns energy to reduce walking fatigue. FTF+ delivers stiffer perimeter support and stability for complete control during your swing."
Additionally, these golf shoes have an OptiFlex plate; this provides tons of support and swing stability and are super comfortable to walk in as well. Not to mention the Ortholite Impressions FitBed insoles mold to your feet over time so it feels like they were custom-made for your feet.
These shoes are very easy to get on and off thanks to the extra padding too. As FootJoy said, "Added ankle padding and seamless design locks in your heel with comfort and support. Back pull tab and extra stretch across the foot opening makes the shoe easy to get on."
Stability Features
Some golf shoes today seem more like casual shoes than ones meant for golf but this pair can actually help your game. These HyperFlex shoes are extremely stable and will help you stay centered over the ball at all times. Which should make it easier to keep your golf swing sequence correct at all times.
The first way they keep your feet stable is the carbon-enforced stability features. According to FootJoy, "Custom molded carbon fiber plate maximizes stability and torsional flex increasing ground leverage. Wrapping the carbon plate around the FTF+ midsole allows for enhanced structure without sacrificing comfort."
Additionally, these shoes have coated knit booties which also adds more structural stability yet they are still very breathable. Not to mention these golf shoes come with six soft spikes instead of a spikeless design.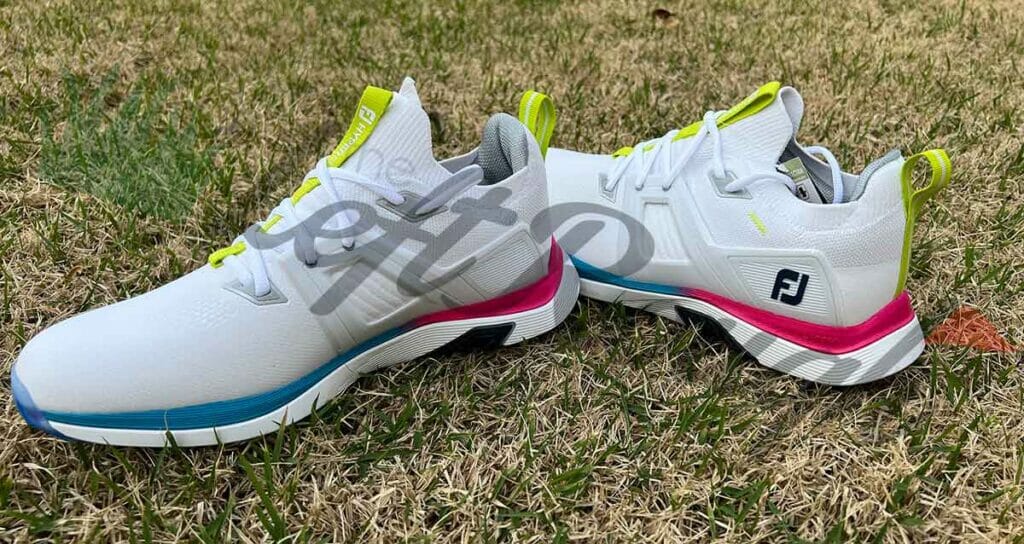 These HyperFlex shoes use the Fast Twist 3.0 Cleat System; this locking design makes sure the cleat is secret and will help you stay balanced throughout the swing. If you need help with swaying, these shoes should definitely help (almost as good as metal spikes used too).
Three Color Options
These golf shoes are great because all of them will match pretty much any outfit in your closet with three color options including:
White/multi: These shoes are primarily white with a multicolor design at the bottom and throughout the laces.
All black: These all black shoes are great if you play a lot of winter golf and don't want to risk an all white pair in wet weather conditions. The bottom of the shoe is white but otherwise the all black color and waterproof design make these great for winter golf.
All white: These all white shoes are perfect for summer but can also work year round due to the waterproof design.
Multiple Sizing Options
FootJoy separates themselves from a lot of other shoe companies thanks to their extensive size options. They offer shoes from size 7-15 (which is a huge selection) and also multiple width options too.
Golfers can choose from narrow, medium, wide, and even extra wide sizes so they fit your feet securely. These shoes also come with a traditional lace system.
Waterproof with 2-Year Warranty
Golf shoes need to keep your feet dry throughout the round… even when you're battling out harsh winter weather. Because let's face it, there's nothing worse than playing golf with wet shoes. Luckily, you won't have to worry about that with the HyperFlex shoes.
These FootJoy golf shoes are 100% waterproof (not just water-resistant) and will last up to two years with normal use. You can trust these shoes will be there for you even when the conditions aren't ideal for golf.
Similar Shoes from FootJoy
With the release of the FootJoy HyperFlex Carbon shoes they also released similar models including the HyperFlex, HyperFlex Carbon BOA, and HyperFlex BOA. Each of these has a lot of similarities in terms of comfort/design but different lacing, colors, and a few other features.
Also, don't forget to read our full review of the FootJoy Pro SL shoes or the nothing in common Footjoy Wilcox lineup.
FAQs About FootJoy Golf Shoes
Do you have more questions about FootJoy golf shoes? If so, keep reading to learn more now.
Are FootJoy Hyperflex comfortable?
Yes, FootJoy typically has some of the most comfortable shoes in the golf world. But these Hyperflex are arguably the most comfortable due to the insoles and design features. Whether you like to walk or just want a pair of comfortable shoes for golf, these are one of the best options available.
Are FootJoy Hyperflex waterproof?
Yes, these golf shoes are 100% waterproof, not just water-resistant. Plus, they come with a two-year warranty as well.
How do FootJoy shoes fit?
When researching these shoes on their website it looks like they run slightly big. FootJoy noted online to suggest sizing down ½ size for the optimal fit.
Does Tiger Woods wear FootJoy golf shoes?
After his scary car accident in 2021 many people thought Tiger Woods would never play again, let alone compete on the PGA Tour. Yet, here we are and Tiger is once again proving everyone wrong and playing in major tournaments.
Despite being a longtime-sponsored athlete of Nike, he was spotted with FootJoy shoes in 2022. This was due to his limited mobility and found the most comfort from FootJoy shoes. However, it's been reported that Nike is now developing a new custom shoe for Tiger in 2023.
My Experience
These are great shoes that are some of the most comfortable I've ever worn in golf. In terms of comfort it's hard to not think of them as Skechers as they're extremely comfortable even if you walk 18 holes. Clearly FootJoy is on to something and they're worth the slightly higher price tag.
Final Thoughts
While these golf shoes aren't cheap they're worth every penny thanks to the endless comfort built into them. The foam padding, soft insoles that mold to your feet over time, and OptiFlex plate make these shoes truly one of a kind.
Not only are these shoes comfortable, they're also very functional in helping you play your best golf. The carbon enforced stability, Power Stabilizer, and six soft spikes will give you tons of control during your swing. Paired with the waterproof design, they can help you in cold, wet, conditions and never worrying about slipping.
Overall, these are some of the best shoes from FootJoy and don't have any chinks in the armor. Serious golfers (especially those who like walking vs. riding in a cart) will enjoy these shoes for years to come.
You can order these shoes here or here.
Also, don't forget to check out the best golf shoes comprehensive list here.