What if all it took to become a better putter was a pair of new glasses?
No, I'm not talking about going to an optometrist and getting your eyes checked out.
Instead, I'm talking about the newest training aid that will help your putting stroke… Introducing the Laser Putting Glasses from Perfect Practice Golf.
These glasses are truly one of a kind and can help you master one of the core fundamentals of putting – your head position. These glasses are unlike any other training aid and can help your short game more than you could imagine.
If you're ready to start putting better and more consistently, these glasses can help. Let's get into what makes these glasses so unique and effective.
Laser Putting Glasses Review
These glasses caught my eye on a social media advertisement with Dustin Johnson wearing them and had to learn more. I kept thinking, could a pair of glasses and a laser really help my putting and ultimately, my golf game?
The answer is yes!
But first, let me explain how these putting glasses can help you become a more consistent putter.
The Laser Putting Glasses are not actually glasses but a frame that holds a small laser between your eyes. It points down at the golf ball and your putter. When worn while making a putting stroke, they can help identify a few key checkpoints during your stroke.
Let's get into the specifics…
How the Laser Putting Glasses Work
The concept is simple, if your head moves during your putting stroke, you're going to change your distance to the golf ball. When you make this change, it will alter your putting stroke, which will lead to inconsistent putting on the greens as your path changes.
One of the few things that all great putters do is keep their head incredibly still when rolling the rock. Tiger Woods, one of the most clutch putters of all time, is a great example of this. Watch any YouTube video of him putting, and his head doesn't move a centimeter during his stroke.
While the head can move slightly during the full swing, it should remain stagnant when putting. Even the smallest move laterally or up and down can impact your stroke.
Additionally, the second main benefit of these glasses is they make sure your eyes are positioned correctly over the ball. Another common trait with great putters is where their eyes are in relation to the golf ball.
All good putters have their eyes directly over the ball or slightly underneath it. Meaning, if you dropped a ball from your nose straight down, it should hit the ball or be slightly under the line.
Meanwhile, higher handicap golfers tend to crowd the golf ball and be more over it. This negatively affects your ability to see the line and tends to lead to compensations in the putting stroke.
But these glasses make it easy to see where your eyes are at setup position. Now, let's get into what makes these glasses such a great investment in your golf game.
Instant Feedback
Here's what separates good training aids from ones that are a waste of money – instant feedback. The devices and gadgets that can help you immediately change something about your swing or putting stroke are the most effective.
The Laser Putting glasses are just that and provide instant feedback with every putt. These glasses will ensure that your eyes are over the ball and that they remain there the entire time. If your eyes are over the ball or your head moves, the laser will let you know.
Plus, this training aid is great because you can actually use it while putting. Unlike other training aids where you can't use a golf ball, which aren't nearly as effective.
Comfortable Fit
There's nothing worse than buying a training aid, only to feel the discomfort of using it consistently. Some training aids are bulky, awkward, and uncomfortable, which make them less likely for you to actually use. But these glasses are different.
The modifiable frame material is made of ABS & Polycarbonate for a lightweight design. Plus, it comes with a nosepiece that allows you to calibrate the glasses to your head shape. Making them great for any type of player and the nosepiece makes them super comfortable.
These glasses will help you refine your putting stroke by keeping your head stable and centered over every putt… so it's something that you can't train with enough!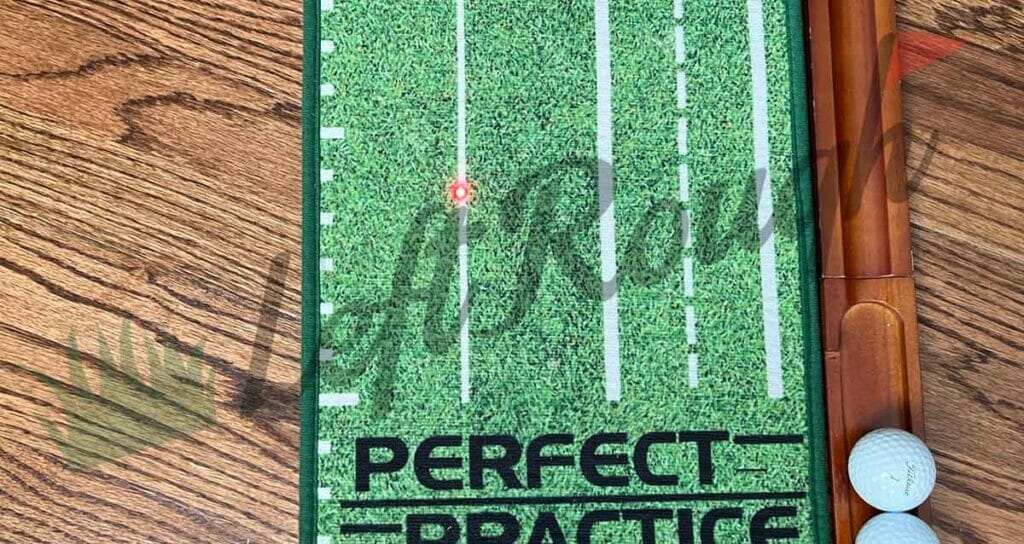 Use at Home or the Golf Course
The more training aids we see and test out, the more we value training aids that can be used at home or on the golf course. Because let's face it, we're all busy and can't always get to the course as often as we'd like. But these glasses can be used at home or on the golf course.
Whether you have an indoor putting mat or simply want to make a few strokes on your carpet, these glasses can help. Or, you can put them in the carrying case, take them to the golf course, and work on your putting stroke on a real green. Either way, these glasses are very convenient and make it easy to use them repeatedly to develop a more consistent stroke.
Easy to Use
Unlike a lot of other training aids on the market, these are easy to use. Follow this simple 3-step process to start getting the benefits of these glasses instantly.
Put on the glasses and step up to a putt and point the laser so it's directly at the golf ball.
The goal is to keep the laser at the same spot during the entire stroke. This will make it easy to see if you're centered and stable over the putt.
Keep using for instant feedback on your putting stroke. Kind of like a divot doesn't lie on full swing shots, these glasses won't lie on your putting performance.
Plus, the carrying case makes them easy to transport to the course too.
FAQs
Do you have additional questions about putting glasses and improving your game at home? If so, we have answers below to help you understand the best ways to become a better putter at home.
What other products do Perfect Practice offer?
Perfect Practice is committed to helping golfers improve their practice routines for better results on the golf course. They make several products for your game including:
Perfect Putting Gates
Putting Alignment Mirror
Perfect Practice Putting Mat
True Pendulum Motion (TPM)
The Raindrop – Retractable Putting String
All of these are great tools for your short game and will help you practice much more effectively. The best product to use with your new glasses is the Perfect Putting Mat. This mat is perfect for golfers who want to hone their stroke at home.
This putting mat isn't like most others and is made of high-quality turf that makes it feel like you're on a real green. The standard and XL mats also have two holes, one normal size and one smaller to make putting practice more difficult. Plus, it's easy to assemble and offer three sizes to find the right fit for your space.
Click here to read our full review of the Perfect Practice Putting Mat now.
What's included in the package?
These glasses are simple and easy to use right out of the box. They come with the glasses, USB charging cable, and carrying case. Everything you need to use and store your glasses for regular use.
What is the best putting technique? What is the perfect putting stroke?
Putting isn't like the full swing in golf. If you look at some of the best players in the world over the past 50 years, there are so many putting strokes. Tiger Woods is very different from Jack Nicklaus who is very different from Arnold Palmer.
To learn more about becoming a great putter, check out some of our best articles below:
Can you improve putting at home?
Yes, unlike the full swing it's much easier to improve your putting from the comfort of home. Even if you have a full-time job and busy schedule, you can refine your stroke at home with training aids like these glasses. Or the putting gates and other products offered from Perfect Putting practice.
We suggest that all golfers have a putting mat at home, so there's no excuse to not practice. Even spending 10 minutes on putts inside six feet will have a massive impact on your game. Don't forget, putting represents nearly 50% of all shots hit during a round, so work on the part that matters most!
What are the best putting drills?
A great final question. We've compiled a list of the best putting drills here to help you never get bored while practicing. Paired with your mat and glasses, you will become a clutch putter on the golf course.
Final Thoughts
These Dustin Johnson glasses are the real deal and can help your golf game overnight. Don't forget, putting is one of the most important parts of the game.
The better you can get at alignment, path, and stroke, the more putts you will drain.
What's great about these glasses is that they are simple and easy to use. All you have to do is wear them while putting at home or the course and use the instant feedback. Quickly, you will learn the importance of head stability and eye position over the golf ball for a better roll.
For the price, these glasses are more than worth it. Paired with a Perfect Practice Putting Mat, your short game should become unstoppable.