Learning how to shallow the golf club is one of the most important parts of the game. A golf swing that creates lag separates the everyday golfer from consistent ball strikers.
While we won't go into detail about shallowing the club in this article, it's important to define lag. It's what's created when you drop the club in the slot on the downswing. It's the "re-routing" of the swing that happens during the transition.
When done correctly, you will hit it longer and straighter than you thought possible. Most golfers know that lag is important but learning how to do it is easier said than done… until now.
A new training club from Lag Shot Golf might be just what your swing needs to finally understand this critical move in the golf swing. It was voted the best swing trainer of the year in 2022 by Golf Digest and is one of our favorite golf training aids.
Keep reading to learn more about this unique training aid so you can generate more lag in your golf swing.
Lag Shot Golf Training Aid Review
First, let's break down the details of the popular new swing trainer.
Unlike a lot of similar devices, this is a golf club that you can take right out of the box and start swinging. There are no attachments or accessories needed. It's not something you wear or need to use with your current clubs either.
The original Lag Shot swing trainer is a 7-iron with a whippy blue shaft. The shaft helps you load the club, improve your tempo/timing, and naturally create lag for a more powerful golf swing. The whippy shaft of the lag shot also helps exaggerate a shallow downswing that PGA teaching professionals are constantly trying to teach players.
The club is also designed to promote a relaxed grip and one-piece takeaway that plagues most golfers. The majority of golfers take the club too far back inside and it gets them off plane and over the top on the downswing. But the Lag Shot naturally fixes this takeaway so you can have a better transition and "load up" more efficiently on your backswing.
The result is a pure downswing that leads to longer distance and more accuracy. When you create lag, it makes it easier to square the clubface, compress the golf ball, and rotate through the shot. Pretty much, every golfer's dream swing.
Lag Shot Design
The design is simple but thanks to the weighting and unique shaft flex, it basically swings the club for you. You can definitely feel that it's heavier than most clubs (especially if you use graphite shaft irons) and comes with a midsize grip. Overall, it's heavy duty but designed very well so it should last for a long time.
All it takes is 10-15 minutes of training each day to groove a more consistent, powerful, and pure golf swing. Plus, you can hit golf balls with their swing trainers too which is arguably one of the biggest benefits. It's always reassuring to hit pure golf shots with a new trainer!
One of their biggest promoters of the product is Adam Bazalgette, a 3-time PGA Teacher of the year; he's also the founder of the largest online golf instructional website in the world (Scratch Golf Academy).
Here's what he said about the Lag Shot 7 iron, "Lag Shot is the ultimate training aid in this sense, because it does just that. It delivers the proper feel to a golfer, so there is no need to bog down with conscious swing thoughts. If you want more lag, great timing, and a smoothness to your swing, then you want to train with Lag Shot."
After swinging the club myself, I couldn't agree more. There's no "trying" to create lag, it just happens thanks to the intelligent design. It's easy to feel the club dropping in the slot and getting into a powerful position.
Lag Shot Driver
The original Lag Shot club is a 7-iron and great for tempo, timing, and grooving a more efficient swing. But as I'm sure you know, swinging a 7-iron isn't like swinging a driver. They're very different clubs that require different swings to get the most out of each and perform well on the golf course.
Luckily, Lag Shot realized the differences and made a separate device that is perfect for adding distance to your drives. If you feel like you're "too quick" or rush your downswing in the transition, the Lag Shot driver will help.
Similar to the 7-iron, it has a blue whippy shaft that helps you drop the club in the slot on the downswing. Which is what most amateur golfers need to hit a straight shot or a draw. Since most golfers come over the top, especially with a driver, these trainers will help you feel a one piece takeaway.
Once you have a better takeaway, it's much easier to swing from the inside on the downswing. It will help eliminate the casting motion and create an inside to outside swing path. This will likely increase swing speed naturally and add distance to your drives.
Paired with better tempo and timing, your accuracy should improve too. Let's check out some other benefits of this revolutionary new training club.
Different Lengths and Models
Aside from the driver model, they also have a Lag Shot Lady, Lag Shot junior, and Lag Shot XL which is one inch longer for larger men. Plus, they have left-handed models too so no player has to miss out on the feeling of creating effortless lag in the golf swing.
They also have a triple threat combo which is a driver, 7-iron, and wedge. Or, a 7-iron and driver combo as well.
After trying out tons of swing trainers and similar training aids, it's great to see Lag Shot offer so many options for all types of golfers. Regardless of your gender, size, or dexterity, you can reap the benefits of this club.
Versatile
One of the reasons this swing trainer has been praised by PGA instructors and amateurs alike is its versatility. You don't need to make 100+ swings every day or hit balls on the range 3X a week to see results. Instead, you can start grooving a more consistent swing with only 12 swings per day!
Plus, you can use this swing trainer on the golf course at the driving range or at home. This is a huge benefit that separates it from a lot of other training aids. There's nothing like being able to see it in action while hitting a real golf ball!
Convenient Design
What's great about the Lag Shot is that it's convenient and easy to carry in your golf bag or car. It's not bulky and won't take up tons of room in your bag if you choose to take it to the golf course.
A similar product in the market to help you create lag is the PlaneMate by Tour Striker. While we're also big fans of this training aid, it's also very large and nto easy to transport in your golf bag. But the Lag Shot fits in your bag like any other club so there's no excuse not to use it.
Bonus Training Videos
Another huge benefit of this training aid is the free 10-part video series that will teach you how to make the most of the Lag Shot. Unlike other training aids with a set of generic instructions, this one has full videos to make it easy to use. No more wondering if you're using it right!
The 10-part video series is a $67 value and comes with world-class instruction from Adam Bazalgette. You'll learn how to start seeing results fast, at home training drills, Lag Shot specific drills, and more to create lasting progress.
These free training videos come with all Lag Shot trainers!
30-Day Money Back Guarantee
Finally, Lag Shot has an incredible guarantee on their product unlike a lot of training aids.
Here's what they said on their website, "We'll send a Lag Shot Coaches 3-Pack right to your door (shipping is FREE in the U.S. on orders over $250), and if it doesn't deliver on every promise we've made on this page, including giving you an effortless, silky smooth, yet powerful golf swing with tremendous lag…just send it back, and we'll give you a full refund.
We can make this promise because we know that 96.2% of golfers would recommend Lag Shot to a fellow golfer. It's a great product!"
They are confident that this swing training aid can help improve swing plane for better practice sessions and more pure golf shots on the course.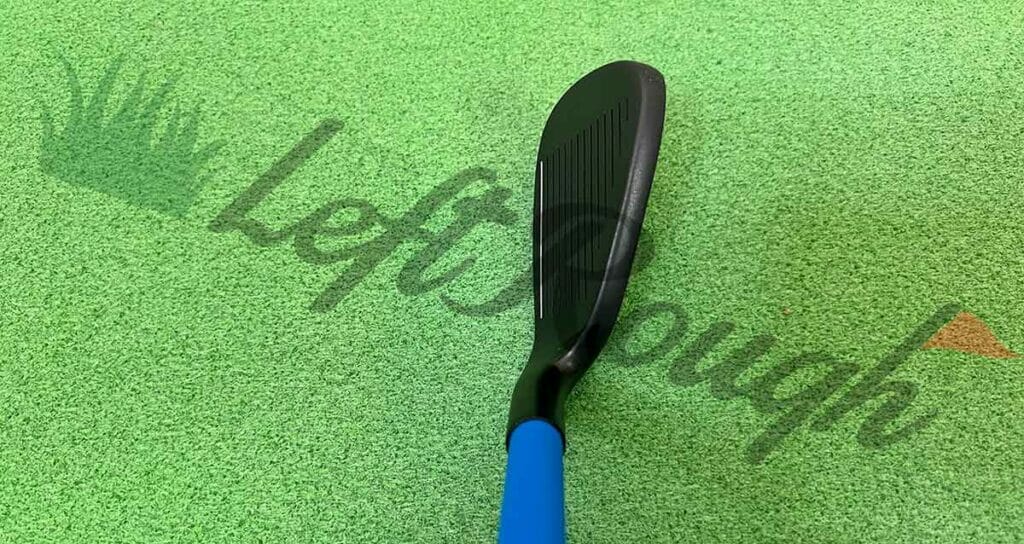 Lag Shot Drills
This high performance training club comes with video instruction but Mr. Short Game Golf has even more drills to get the most of this training aid. Here are some of his favorite ways to use your natural swing to hit pure golf shots.
One-Piece Takeaway (The 1-2 Drill)
Using the lag shot iron, make a few swings to get a feel for the device and then start this drill. Take the club back to the top of the swing and start counting "One – Two."
Stop at the top of the swing, say one, then swing the flexible blue shaft down. At the end of your follow through, count two for an effortless golf swing. This drill will help you feel a better timing and make sure you don't rush the downswing.
Driver acceleration
Once you've hit plenty of balls and are warmed up, it's time to hit the Lag Shot driver. There's no stopping in this drill, instead, it's about learning how to unwind and fire your hips quickly.
At the top of your backswing, try to unwind as fast as possible. The goal is to accelerate at the very top of your swing to get the feeling of a proper sequence. Since the club will naturally create lag, you should be able to unwind faster and still hit the ball straight.
Even if you do suffer in terms of accuracy, this drill will help you when you hit your normal driver by learning to increase swing speed.
FAQs About Lag Shot
Do you have more questions about this unique training aid to see if it's right for your game and swing? If so, keep reading to learn more based on some of the most searched questions.
Is the Lag Shot training aid any good?
Yes, the Lag Shot is one of the most trusted swing trainers on the market. It was chosen as the top trainer in 2022 by Golf Digest and endorsed by My Golf Spy, Golf WRX, Golf Channel, Scratch Golf Academy, and more.
Not to mention, the reviews on the internet are very strong from golfers all around the world. People are praising how easy it is to use and how much it can help with a better backswing, tempo, and timing. Golfers love how the Lag Shot helps exaggerate the proper downswing for more effortless power.
Does the Lag Shot swing trainer work? Do lag clubs work?
Yes, it works great as it teaches you how to feel a move in your swing that's not always easy to feel on your own. Even 12 swings a day when using at home and you can start seeing results. You don't need to hit jumbo buckets of golf balls at the driving range to start grooving a more consistent swing.
Start by watching video instructions to make sure you know what to feel and how to use the device. Hopefully in no time you'll notice precision accuracy, more distance, and faster clubhead speed whether you use it on the range or with practice swings.
What are the best ways to use the Lag Shot?
As mentioned above, one of the biggest benefits is the extreme versatility of this training aid. You can use it in a variety of ways to start seeing results quickly.
At-Home Practice Swings
Even if you don't have time to go to the driving range or golf course often, you can still get better at home. Hank Haney once told Golf Digest, "There's no way to avoid the work that comes with building a good swing, but the best way to create a great base for improvement is to make 100 practice swings with an iron every day. You don't need a ball, and you can do them in your living room in front of the TV."
To make the most out of those practice swings, make sure to use the Lag Shot training clubs. While you don't need to make 100 each day with it, alternating between your normal iron and this club is a great way to improve timing, tempo, and swing plane.
Driving Range Sessions
While the training clubs are great for at home practice, they're also ideal for use on the driving range too. Before hitting any golf balls, I make sure to stretch and then make 10-15 swings with the Lag Shot.
During practice, I'll also hit shots with the device and alternate with my normal irons too. While the trainer is great, make sure you don't get overly dependent on it.
Pre-Round Warmup
In a perfect world, I'd always suggest getting to the golf course early for a proper warm up. It's always better to hit a small bucket of golf balls, test out the green speeds, and get mentally prepared for the round. But life isn't always perfect and sometimes you're rushed or don't have time to hit golf balls before heading to the first tee box.
If that is the case, the Lag Shot is a great way to warm up before the round. Even 10-15 swings before the round in the parking lot can help set the tone for the day!
How do you use the Lag Shot training aid?
The instructions to this swing trainer are simple – swing the golf club!
You don't have to worry about anything else as the club will do all the hard work for you. Thanks to the whippy blue shaft, it naturally creates a better transition and lag on the downswing.
Who is the Lag Shot designed for?
Any type of golfer who wants a more efficient swing. When you use the club, you can learn how to hit longer tee shots, more consistent irons, and overall, a more consistent golf swing.
If you've tried all kinds of lessons, training aids, and other drills, this can help. However, don't expect the Lag Shot or any training aid to give you immediate results.
There are a few statements such as "double your greens in regulation" on their website which are misleading in my opinion. Don't get me wrong, it can help and it's a great club, but don't expect to become a scratch golfer overnight. You still need to train your swing and mind (plus have a solid short game) to become a more consistent golfer.
Will this trainer help me hit it longer?
The Lag Shot can help you hit it longer by getting into a better impact position. Most golfers get too steep, come over the top, and hit the ball with an open clubface to produce a slice.
But this device can help all those issues which in turn, will lead to better impact position. By getting the face square at impact and creating more lag, you will likely see better distance too.
I think the 7-iron is more for ingraining your swing, while the Lag Shot driver can help more with distance. If your number one goal is distance and you aren't looking for more lag, check out Super Speed Golf sticks instead.
What are Lag Shot clubs?
Lag Shot clubs are training aids to help you create a more efficient and powerful swing. These training clubs are great to use on or off the course to help you develop a more consistent downswing.
As they said on their website, "Lag Shot practically forces you to load the club perfectly, generate tremendous lag automatically, and make confident swings with ideal tempo and rhythm."
They're recommended by PGA teaching professionals, leading pga instructors, and countless amateur golfers. If you want more speed, precision accuracy, longer distance, and ultimately more consistency, this club is for you.
Alternate Options
If you've been around the game of golf you know there are tons of training aids available. While we're confident the Lag Shot can help you in more ways than one, we did want to point out a few alternatives too.
Momentus Swing Trainer
One of the oldest training aids to help golfers with precision accuracy and a better swing is the Momentus Swing Trainer. It's been used by more than 100 touring professionals and countless golf instructors.
This club is a shortened 7-iron with a very heavy shaft — unlike the very flexible shaft of the Lag Shot golf club. But it has the same goal – groove a more consistent swing by ingraining muscle memory.
The only downside is that you can't hit golf balls with it and instead, used on the range between shots or as a warm up before the round. It also has a molded grip to help train your hands to be in the right position, has video training series, and drills.
A few short swings with this club and you will feel the difference in your backswing, transition, and downswing.
Click here to learn more about it now.
Orange Whip Swing Trainer
Another top-rated training aid in the golf industry is the Orange Whip Golf Swing Trainer. Like the Lag Shot 7-iron, it has a very flexible shaft but it is built more for flexibility than increasing clubhead speed.
The flexible shaft will coordinate your body to move together, improve tempo, and help get you warmed up before the round. Unfortunately, not hitting balls with this revolutionary new training club as there's no actual clubhead.
But they do have junior, midsize, compact, and full sizes available. While it won't help create the "free lag" you might need in your swing, it's a great device to help with timing and warming up before the round.
Click here to learn more about the Orange Whip Swing Trainer now.
Planemate Swing Trainer by Tour Striker
The final device that has helped countless amateur golfers is the Planemate swing trainer by Tour Striker Golf. This product has the same goals as the Lag Shot 7 iron and Lag Shot driver – learn how to shallow the golf club. It works great too and in a few swings golfers can feel a better takeaway and transition.
But the Lag Shot difference is that it's a club, while the Planemate attaches to your club. You also have to wear the Planemate around your waist, then attach a device to your club in order for it to work. It's a little bulky and not very convenient to take to the course.
However, it can be used to hit balls, use in practice sessions, and has video training series as well. It also promotes ideal tempo and trains you to hit pure golf shots with any club in the bag.
Click here to read our full review of the Planemate now.
Final Thoughts on Lag Shot Swing Trainers
This PGA endorsed training aid will help you hit good shots more consistently and is a true game changer. Not only will you straighten out that slice but you might even learn how to hit a slight draw by creating a more efficient swing.
Don't forget, lag is one of the most important fundamentals in developing a reliable swing. But understanding how to create that feeling isn't always easy. While there are some similar training aids on the market, nothing is quite as simple as the Lag Shot 7-iron and driver.
The Lag Shot forces you to take the club back for the proper swing sequence, which leads to a much better impact position. Other benefits include:
Improve your swing sequence
Realistic feel of normal golf clubs
Perfect tempo so you don't rush the downswing
Instant feedback as you can hit balls with it or use at home
Shop Lag Shot now as this single training aid can make a massive difference in your game.