How do you build a golf simulator setup? Is a DIY golf simulator worth the money? Or is it better to find an indoor practice facility instead?
Today we'll take a look at the different ways to build a golf simulator so you can play bucket list golf courses without leaving home. A simulator also gives you the option to practice 24/7 which is great if you're busy or live somewhere with a shorter golf season. 
Plus, it's not as expensive as you might think for a basic setup. As golf continues to grow and technology continues to improve, it's never been easier or more accessible for the everyday golfer to build a simulator.
Hopefully this article will help you upgrade your man cave or build a golf room to enjoy the game even more.
How to Build a Golf Simulator
Before getting into the steps to build a golf simulator let's outline what is required to get started.
The first thing you need is plenty of space to swing and enough room for all the equipment. Each simulator setup provides a recommended size required but normally it's built in a room with high ceilings, spare room or even in a garage. 
The other pieces of equipment you need are a hitting mat, net or screen, and a launch monitor. You can add on other accessories and upgrades which we'll cover as well but these are the basics.
Key Takeaways
An indoor golf simulator makes it easy for you to play or practice to improve your golf game from home.
Luckily golf simulators are cheaper than ever as long as you have enough space.
The core components of a simulator include a net or enclosure, software, mat, launch monitor, and other accessories.
If you want to keep a DIY golf simulator cost down stick with a net vs. golf simulator enclosure.
Keep reading to learn more about this process so you can golf 24/7 at home with our DIY golf simulator guide.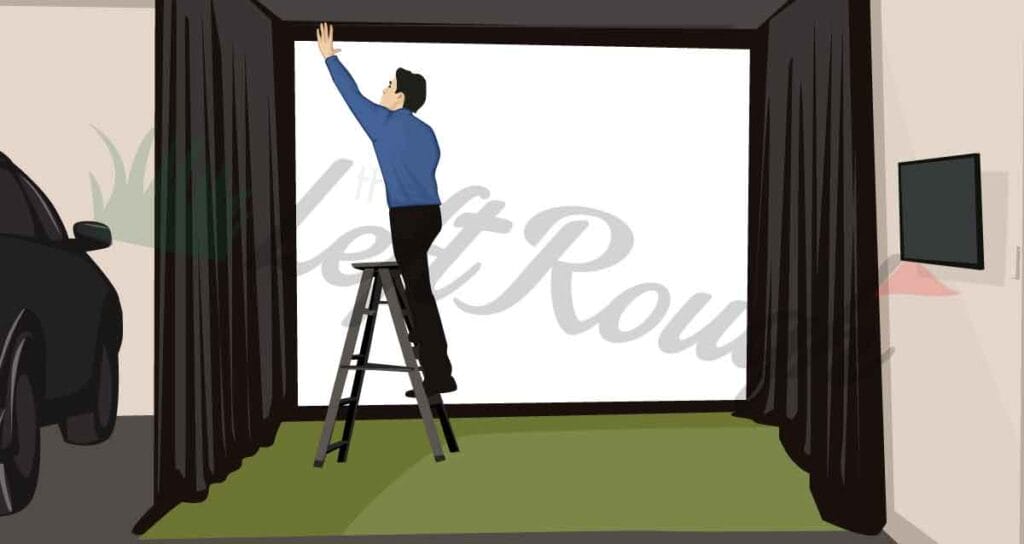 Step 1: Find the Right Golf Simulator Room
The first step in your simulator journey is to figure out where you will install the simulator.
The size of the room or garage you're using will determine what type of products will compromise your setup. Most golfers install them in a spare bedroom, outdoor shed, basement, garage, media room, and even in the office.
The general room requirements range from simulator to simulator. But the main thing you need to check is that you can comfortably swing a driver freely. 
This is where spare bedrooms struggle as most don't have the right ceilings and depth for a simulator. However, if it's an oversized room or has vaulted ceilings, it could work great.
The problem sometimes with a simulator is finding a room that fits all dimensions of height, width, and depth. Here are our general guidelines:
Depth: A room must be about 12 feet deep/long to ensure there is plenty of room between you and the screen or net. Plus, room to swing, room for a monitor, and room behind your enclosure or net.
Height: A room usually needs to be at least 8-9 feet tall to accommodate screens, nets, and possibly a projector.
Width: A room usually needs to be about 12 feet wide as well. This ensures you have plenty of space to swing plus the enclosure or nets are pretty big too. Not to mention you'll need room for your bag and other accessories too.
Aside from the dimensions you'll also want to think about the sound too. Banging drivers in the house might keep your family up or scare the dog so plan accordingly. While a simulator in your garage might upset the neighbors so plan accordingly.
Click here to learn more about room requirements for your simulator.
Once you have a space with the right dimensions and aren't worried about sound, then it's time to shop for the different pieces.
Step 2: Buy Your Golf Simulator Equipment
When it comes to buying the right equipment you have two options; piece a simulator together yourself or buy everything together. A good example of buying all the pieces together is "Sim in a Box" which is a mid-range option to buy it all together. This is a solid choice if you want to avoid researching each product and its compatibility with one and another.
If you're buying everything individually here are the different components you'll need for a DIY golf simulator.
DIY Golf Simulator Enclosure or Golf Net
The first thing you'll need is a net, enclosure, or screen for your golf ball. The cheapest option is to use a net for your simulator but if you go with this route you'll need a phone, tablet, or laptop to view the simulation software and see the ball flight. 
There are some great golf nets available now for all types of rooms and size dimensions. Some nets even have side nets to catch any errant shots and automatically return the ball back to you.
The other option is a hitting screen which will provide the visuals of your round or practice session. These are significantly more money than a net but definitely gives your simulator a more professional look and feel. Some screens are retractable too which allow you to use the room for other activities as well. 
Another option is a hitting enclosure which is usually the most expensive option but arguably the best. This will make it feel like a professional hitting bay, provide the best visuals, and catch errant shots too.
Launch Monitor
The second thing you'll need for a simulator is the launch monitor which is the engine of it all.
This is where your budget comes into play as launch monitors range in price greatly. Some are a few hundred dollars while others are $5,000, $10,000 or even $25,000 (or more).
Simulator Software
The next piece of your simulator puzzle is golf simulation software. This will enable you to play different golf courses and use different practice facilities.
Most launch monitors that double as simulators come with a few basic courses and a driving range to get started. Then you have the option to upgrade for an annual fee to different packages to access more golf courses.
For example, the new SkyTrak+ is a launch monitor and provides an immersive simulation experience. The basic plan that is included with the launch monitor only includes a driving range – no golf course.
While the game improvement plan includes skill building changes and golf simulator integration. The play and improve plan includes everything from the game improvement plan with WGT by TopGolf and TurGolf E6 Connect to play even more courses.
While others like th Rapsodo – a great low-cost simulator option – include more than 30,000 virtual courses. As they mentioned on their website, "MLM2PRO is also a golf simulator that allows users to play more than 30K virtual courses anytime and anywhere.
Included free with the purchase of MLM2PRO for the first year, get the MLM2PRO Premium Membership ($199 value) which unlocks access to Rapsodo Courses, the Rapsodo Virtual Range, plus other exclusive membership features like Rapsodo Combines."
Ultimately, your simulator software is dependent on the launch monitor you buy. Check out the best simulator software here.
Projector
Another component of a golf simulator is the projector. But as more and more options come out, a projector is more of an accessory than a requirement.
As mentioned in the previous example, the Rapsodo MLM2Pro has two cameras that pair perfectly with an app on your phone. No projector is needed to get started!
But other simulators do require a projector to get installed in the ceiling to optimize graphics on a screen or enclosure. However, if you plan to use a net to save money, you won't need a projector.
Check out the best golf simulator projectors here.
Golf Mat
Another vital component to a DIY simulator is a hitting mat.
There are more options available than ever before which is great for players with different budgets and sizing options. Luckily golfers no longer have to settle for chunky, firm mats of the past that felt like hitting off concrete.
Now, hitting mats are nearly as good as hitting from grass. Not to mention a lot of mats have multiple surfaces to simulate hitting from fairway, light rough, and normal rough.
Another thing to consider with hitting mats is if you're able to use a real tee or only a rubber tee. Most golfers prefer to use a real wooden tee as it's most realistic to the golf course so make sure to double check ahead of time.
Check out the best golf hitting mats here.
Golf Simulator Setup Accessories
Lastly, don't forget about different accessories to compliment your simulator setup as well. Some the most common include:
Golf Ball tray: This makes it feel like you're at the driving range and easy to keep your practice golf balls in one place.
Floor mount enclosure: This new accessory is great for a home golf simulator if you don't want to mount a projector to the ceiling.
Tech bundle: Some bundles come with a specific gaming laptop to run your entire simulator. They might also include other cables and accessories for everything to sync and display the graphics properly.
Side barrier nets: If you choose a net vs. a screen or golf simulator enclosure, side barriers can help ensure all the balls come back to the mat (and catch a shank).
Indoor putting green: While simulators are great for the full swing, they're not the most accurate with putting. This is why it's a good idea to invest in an indoor putting green to work on your short game too.
Step 3: Install Your DIY Golf Simulator
Once you order a boxed simulator set or all the pieces, it's time to install your simulator.
If you're someone that is pretty handy, this is something you can do without hiring a professional. But you'll likely need to recruit a friend to help with some parts of the installation process like the projector.
If you're someone that is far from handy (trust me I get it) I'd recommend hiring a professional. They can make sure that your investment is protected and ready to go without the frustrations of installing yourself. Depending on where you live you might even be able to find a golf company that specializes in simulator setups.
Step 4: Start Practicing and Playing on Your Home Golf Simulator
Once you have your simulator installed it's time to get to work on your game.
Depending on the software you buy there are tons of ways you can use a simulator to improve your game. Some software offers challenges (long drive, closest to the pin, wedge practice, etc.). While others have leagues you can join to compete with players around the world.
Even if your simulator didn't come with a ton of practice options, use it to dial in your distances with each club in the bag. This is one of the most important things you can do if you want to take your game to new heights. So many golfers have an estimate with how far they hit each club this leads to indecision and lack of confidence on the course.
If you don't have time to play 18 holes you can still use it to practice too. Even 15-20 minutes speed training, working on wedge shots, or finding your ideal shot shape can lead to better golf on the course. 
Want more ideas to use a simulator and improve your game? Read our full guide on how to practice with a simulator here. 
FAQs About Building a DIY Home Golf Simulator
Do you have more questions about building a golf simulator at home? If so, keep reading through the most frequently asked questions and answers now to learn more.
How much does it cost to build a DIY golf simulator?
Luckily there are more options than ever when it comes to building a golf simulator. Some projects might be $1,000 or less for a basic setup. While others can be $2,000 to $5,000 and higher end projects (with projectors, enclosures, accessories) are $5,000 or more.
If you're new to the simulator world it's best to start off small and make sure you use it regularly. You can always upgrade your net, mat, screen, software, projector or other accessories if you find yourself using it frequently. Plus, a lot of companies make it easy to get started with financing too.
What do you need to build your own golf simulator?
To build a golf simulator you'll first need plenty of space in a media room, basement, garage, or other area of your home. Then you'll need a hitting net/screen, launch monitor, mat, simulation software and possibly a projector or other accessories.
How long does it take to play 18 holes on a simulator?
Golf is a great sport but most would not describe it as a fast activity – taking 4 or 5 hours most rounds.
But a round on a simulator is a fraction of the time and if playing solo might only take an hour to play 18 holes. Having a simulator at home allows you to play and practice even if you don't have tons of time to hit the links.
A simulator is a great way to buy back your time and keep your game sharp during winter. If you have a few friends over it'll take longer than an hour but still much less time than a normal round of golf.
Can you build a simulator in a basement?
Yes, a basement is a great place to set up your simulator as it's often more soundproof than a garage or spare bedroom. But you'll need to measure the dimensions required for the simulator to make sure there's plenty of room.
Is a garage big enough for a golf simulator?
A garage is typically big enough for a golf simulator but it depends on the dimensions.
All simulators will provide a minimum size required to set up the launch monitor or projector properly. Always error on having slightly more room when it comes to space suggestions so it's not cramped and/or might damage anything in the garage.
If you're tight on space there are smaller nets and different monitors that work best too. You can also buy side netting and other accessories to catch any errant golf shots.
Can you build a golf simulator outdoors?
Yes and no. A simulator can work outdoors but it'll likely need to be taken down after each use so weather and other elements don't damage it. If you're using a net, mat, laptop, and launch monitor it is possible though.
For a lot of golfers this is a good option as it's fairly cheap compared to building an indoor simulator. Not to mention you won't have to worry about room dimension sizing either. But if you're looking for a more immersive hitting environment it's best to build your simulator indoors.
Read our full article on outdoor golf simulators.
What does a Trackman cost?
A Trackman is one of the most well known names in golf and very common among PGA Tour players. The iconic orange launch monitors provide more data than you could imagine learning about your game. Unfortunately, they're also one of the most expensive and not in the budget for the everyday golfer.
While they don't have a price online different forums and people in the golf industry say they're about $20,000. If you're committed to getting a launch monitor that can provide incredible data about all parts of your game it's a great investment.
Luckily, they do offer financing so you can pay it off over time.
Is Skytrak as good as Trackman?
Skytrak has been found to be very similar in terms of data to Trackman and is a fraction of the price. For the everyday golfer I've found that Skytrak has more than enough data to help you analyze and improve your game. Not to mention they're only a few thousand dollars which is nothing compared to a Trackman.
What is the most expensive simulator?
The two most expensive launch monitors for a simulator are Trackman and Foresight. These are two of the top brands in golf and used by a majority of professional golfers.
If you want something similar but for a fraction of the price check out the Bushnell Launch Pro.
My Experience
I've yet to build a simulator as I rent an apartment (I'm sure the leasing office would love that) but found an indoor private simulator nearby. I joined a monthly membership and have loved having the ability to practice and play regardless of time or weather conditions. Once I get home I'll no doubt make sure there is plenty of room for a simulator.
I do have several friends with simulators and everyone loves them. If possible opt for a golf enclosure and golf simulator screen as it makes for a better experience.
While the home golf simulator cost can vary, there's never been more choices for any budget.
Final Thoughts on DIY Golf Simulator Setup
A DIY golf simulator is a fun project and can help improve your game fast. The DIY route should save money and remember you can always upgrade to a better golf launch monitor, short throw projector, or golf enclosure if it's too much money in the beginning.
Check out our list of the best golf simulators here.
Now, grab a golf club and start swinging!
Once you have a homemade golf simulator, it might be time to tackle another home golf project – a DIY outdoor putting green. If you have enough space in your backyard it's a great opportunity to work on your chipping and putting from. Plus, it makes the backyard look great.