Is this the year to stop using a golf cart and start walking for a better golf experience? If so, I've found the best golf push carts so you can make the trek a whole lot easier.
While I love the convenience of carts, if I'm being 100% honest the game was meant to be walked. Back in the 1800s in Scotland, golfers were wearing shirts, ties, and walking old school, links type golf courses. Now, people zoom around in golf carts, have motorized push carts, and a few people go old school, walking and carrying.
Courses today aren't like the old link ones which can make it very difficult to walk the full 18 holes. If you want to save some energy (and your back), walking with a push cart is the way to go.
One quick search on Amazon and you can see there are no shortage of options available. Some have three wheels, some have four, and some today even have seats that pop out.
With all the selection, it can make it hard to find the best golf push cart (or pull cart) for your own situation…until now.
Keep reading so you can find the best one for your game and your budget.
Our Picks for The Best Golf Push Cart
Why Do You Need a Push Cart (or Pull Cart)?
So why should you use a golf push cart (or a pull cart as some call it) and walk the course in the first place?
The obvious reason is exercise. With a growing obesity epidemic across the United States, exercise has never been needed more than it is today. If you don't want to lift like Bryson DeChambeau or pound the pavement running like Tiger Woods did in his heyday, walking instead of riding is a great strategy.
A golf push cart makes it easy to walk 9 or 18 holes without having to worry about carrying your bag and potentially injuring your back. A push cart also makes the game more enjoyable as you can spend more time with your friends/friends and walk straight to your ball. Plus, you'll probably enjoy the outdoors instead of zooming around in an electric cart.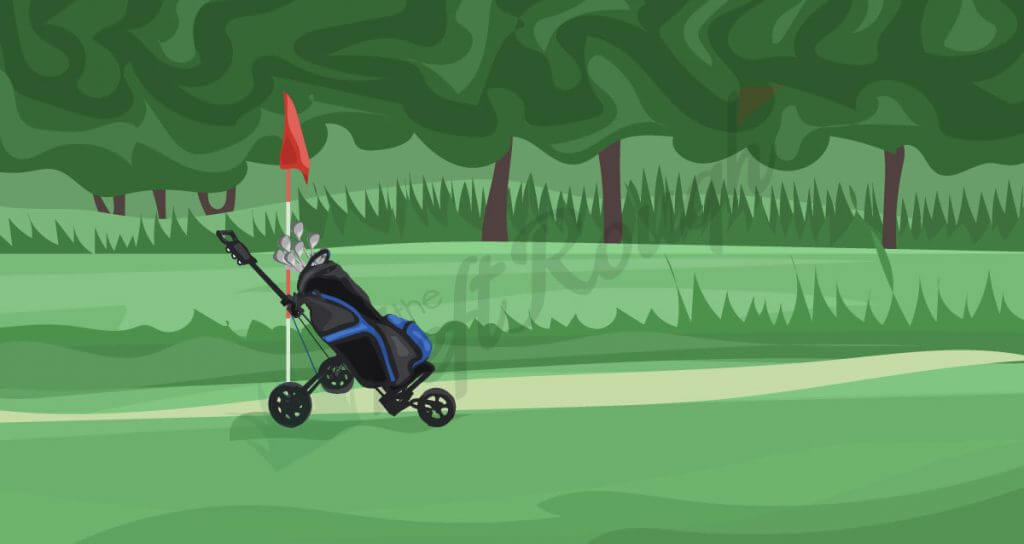 Even if you can't walk the full 18 holes, start with the front nine holes and work your way up. Personally, I've found that the more you walk a golf course, the less distracted you get during the round. Not to mention it's easier to stay loose and ready to hit your next shot instead of sitting between each shot.
Walking should help you get more exercise than normal, focus on the game, and enjoy your playing partners much more than riding in a cart. It's a win-win-win!
What To Look For in a Golf Push Cart
As I mentioned in the beginning, there are an endless amount of choices of golf push carts on the market. But I don't want you to get overwhelmed with all the choices out there and keep riding instead of walking.
So, here's how you should compare the list of the best golf push carts:
Number of Wheels
One of the biggest differentiators is the number of wheels on each style of cart. Old school pull carts had two wheels and were pretty straight forward devices.
Then, 3 wheel push carts were unveiled to push instead of pull with an added front wheel. Until recently, there were rarely never more than three wheels, but lately, a growing trend to add a fourth wheel to make it easier for golfers to push their bag throughout the round.
With a double front wheel, you're much less likely to accidentally tip over and get flustered mid-round. Plus, it just makes pushing it that much easier for any golfer who might not have walked in a long time. But it's not all perfect; the biggest downside to a double front wheel cart is that they are extremely hard to maneuver compared to the convenience of the three wheel model.
When shopping for the right choice, make sure to compare a two vs. 3 wheel push vs. a 4 wheel push cart.
Storage Compartment
One of the best reasons to push your clubs is to have a little extra storage for your gear and apparel unlike walking. Conversely, if you're carrying your bag on your back, the last thing you want is more weight as it makes it much more difficult!
Personally, I'm a little bit of a pack rat. A lot of my golf buddies like to tease me and say I could survive for weeks with what's in my golf bag if I ever got lost in the woods. That being said, storage is important for me and a lot of other players.
I always suggest making sure that there is plenty of storage, especially if you play a lot of golf in the rain or cold weather so you can keep everything dry. Or, if you're bringing a bunch of snacks or maybe a few cold beers to the golf course as well.
Adjustable Handle
Another thing to think about with the deluxe golf push cart is an adjustable handle. Some higher end models have more adjustability than others.
It just depends how you like to push or pull the cart and the right handle can make it a lot easier on your body. Plus, some are more ergonomic friendly too!
Seat
Walking a round without golf carts has never been easier now that some push carts have a seat or stool attached. While it's not typical for all push carts, they are a great way to sit between shots or if there is a big wait between holes.
This should help you rest your lower back (especially on a hilly golf course) and stay loose on the back nine. Pretty soon you'll be thinking… who needs golf carts if you buy one with a seat!
Maneuverability
Another factor that a lot of golfers don't think about when buying a cart is how it maneuvers around the course. As you'll see on this list, some have a 360 front wheel rotation while others that are lower price don't.
Fixed wheels make it harder to steer on the course and when changing directions. Plus, the 4 wheel style has less maneuverability but fold up great if you have a smaller space to store it.
Brake System
Have you ever had a runaway cart on the course? I have and can say there's nothing worse than chasing your bag down a hill because of a faulty braking system.
Needless to say, if you intend on walking hilly courses, get a higher end model with the best braking system. Some have a hand brake handle while others have a foot brake that locks the front wheel. While each one on this list should be good to go, always make sure it's locked before walking to your ball or green!
Durability
As you'll see on this list, some are under $100 while others are 2-3X the investment (or 8X for an electric cart). But like all golf products, you get what you pay for with high quality materials. The more expensive ones on this list are built with better materials and likely to last much longer.
From better wheels, an aluminum frame, and other features will make it the best bang for your buck. Plus, you also want to double-check the warranty length on any golf accessories in case something does happen during your round.
Accessories
With so many golf push carts on the market, golf companies have stepped it up and made a lot more accessories for each cart. In the old days, it was simply two wheels, a handle, a spot to put golf balls/tees, beverage holder, and a place for your scorecard. Now, they are much more high tech and feel like they could've been designed by Tesla and SpaceX CEO Elon Musk.
When shopping for the best cart, double check if they have things like an umbrella mount, seat, adjustable handle, and storage. Some carts even have other features like matching coolers, custom color options, smartphone holders, and even pop out stools.
Size and Ease of Use (Compact Size)
The final factor that you want to evaluate is the size of the push cart and how easy it is to travel with. Compact size is a must-have if you don't have a ton of storage in your house/garage or your car doesn't have much room in the trunk. While you're probably not going to be traveling with these on an airplane, it needs to be light and easy for transport.
Just recently, I threw my golf cart in the trash of my condo complex because I couldn't get it to fold up easily and fit in my car (plus it wasn't one of these from this list). It doesn't help that I played awful that day and my temper was running hotter than Sergio Garcia but still, portability is important.
Best Golf Push Carts (Pull Carts) for 2021
Now that you know what to look for in your next push cart, here are our favorite picks to help you make the right choice for your game!
SereneLife 3 Wheel Push Pull Cart
The SereneLife golf push cart is a simple, straightforward, and moderately priced option. It's made to last with its solid design, aluminum frame construction, and double brackets (upper and lower). Its elastic strap works with any size bag and it's a sleek, simple look with its two color design.
Pros
Height adjustable handle. This pull cart collapses and has a handle making it ergonomically friendly and the bag holder fits stand bags or larger cart bag sizes.
Ball bearing wheels. This cart has three ball bearing wheels for proper balance and should have a smooth roll on any type of terrain.
Comes with a cup holder, storage compartment (kind of small), and ball holder.
Easy to fold and unfold in seconds.
Cons
Only one color option.
Tires aren't as heavy duty if you intend on playing winter golf.
Overall
This is a moderately priced push cart with everything you need to get started! They also make a great two wheel and four wheel option too.
BagBoy Triswivel II Golf Push Cart
The Bag Boy Triswivel II is one of the best golf push carts for so many reasons!
The first being that it's one of the few golf push carts to have a 360* front wheel, thanks to swivel tech technology. The aluminum frame is great for tough weather conditions and extremely durable if you plan on walking more often than riding. Plus, it has an awesome storage setup so you can hold your favorite beverage and golf gear yet is still very portable.
Pros
The biggest pro is the 360* front tire ahead of the rear wheels. It makes it so easy to maneuver when you find yourself in a tight spot on the course.
It's also got a handle-mounted parking brake and adjustable handlebar for golfers of all sizes.
Plus, it's super compact and easy to transport in your car.
Cons
Could be a little pricey for some, you get what you pay for with this cart.
The other downside is that some players found it hard to collapse, but this isn't a very common issue.
Overall
This 3-wheel cart is sleek, is a very compact size and functional. With its huge storage compartment, it makes it for an awesome choice to get started walking.
For more information, head over to our full review of the Bag Boy Triswivel or Click here to pick up yours today.
CaddyTek 4 Wheel Golf Push Cart
The CaddyTek Caddy cruiser is the Rolls-Royce in the push cart world. It's easy to see why it made the best golf push carts list, despite its high price. If you're looking for a low-cost option, keep reading because this isn't it. But if you want one of the best golf push carts money can buy, then you might have found yourself a winner here.
Pros
Four color selections.
Adjustable and ergonomic handle.
One click button folds the cart to its super compact size. Yes, only one click and it folds the cart to only 17″ x 14.2″X 26.4″.
Storage basket with built in cooler! No need to buy any other accessory here, it has tons of storage and it's insulated cooler will keep your beverages icy cold throughout the round.
Not only is it easy to use, it's very lightweight (under 17 pounds) for easy pushing.
Front axle suspension adds more balance to the cart and has storage for your phone, GPS, and more with its mesh net.
Cons
Some players found it hard to collapse, but this isn't a very common issue.
With four wheels and a slightly larger storage bag, it looks big once it's unpacked.
Overall
It's easy to see why this CaddyTek made the list of best push carts with its one button that folds the cart easily. With four wheels, aluminum frame, storage, built-in cooler, and more it has everything you need in one package. Plus, it's incredibly lightweight and arguably the easiest to use.
This seems to be a step up from the CaddyTek Superlite deluxe golf push cart I recently threw in the trash. Personally, I wasn't a fan of the previous model but this seems to be a step in the right direction.
Click here to pick your color and find yours today.
Clicgear 8.0 Push Cart
The Clicgear Model 8 Golf Push Cart is the first one on this list that is a 4-wheel cart. It also has a powerful parking brake system in which the front two wheels have a switch on the handle.
Plus, the Model 8 Golf Push Cart is easier to fold than most other carts since it uses a patented V-slide feature. It also has the standard umbrella holder, two cup holders, scorecard storage and more.
Pros
High quality tires for any type of terrain and four wheels give it a very stable base.
I also love the storage aspect of this push cart as it has options for 2-cup holders (one big, one XL) and a place for your scorecard/umbrella.
Plus, it closes magnetically so if you're playing in the rain it'll keep everything dry!
Cons
The one common thread is that some golfers are having a hard time with the resistance when trying to push around the course.
Overall
This push cart is extremely sturdy and reliable. Some golfers might not want the size of it or the four wheels but otherwise, it's a great product that has very little downsides.
Click here for more information on the ClicGear 8.0.
Sun Mountain Golf Speed Card GX
When it comes to one of the top names in the golf bag world, look no further than Sun Mountain. They primarily make golf bags and have become a leader in all things golf bag/cart related. A great example is the three wheel, Speed Cart GX.
Pros
Tons of storage. With two large mesh pockets, you have plenty of room to store all of your golf gadgets and accessories.
Upgraded bracket system. This golf cart is heavy duty and will easily hold a cart bag or smaller stand bag with ease.
Color options. With eight color choices, you can accessorize your wheels and frame to match your bag or favorite sports team colors.
Cons
Sun Mountain isn't cheap but they make excellent products.
Storage compartments are mesh so not a good idea to store a money clip or valuables in them.
Overall
If you're an avid player and want to buy something that will last a long time, you can't go wrong with the GX cart. It's sleek, durable, and made with high quality material that is built to last.
Tangkula Swivel 3-Wheel Golf Push-Pull Cart
The Tangkula Swivel 3-wheel golf push-pull cart is another great choice and easy to see why it's one of the best golf push carts on the market. It's sturdy base and adjustable handles are great but what makes it really great is the sitting stool!
That's right, this cart has a stool so you don't need to stand all round! While it's not quite as comfortable as a traditional golf cart leather seat, it's better than nothing. The push cart makes it easy to walk a full 18 holes of golf and have a great resting spot for when you need it.
On top of having a spot to rest your feet, the cart also comes with a small storage unit and sleek design. I also love the handles that allow you to push (or pull) the cart and are shaped for both right and left-handed players.
Pros
Super lightweight but doesn't sacrifice quality as it has a very strong steel framework.
The handles are easy to adjust and made for the left and right-handers.
Very portable and features a stool with its own storage compartment for maximum comfort and convenience.
Foldable design that has three removable wheels to store it in smaller places.
Cons
Like most on this list, I found it hard to find many complaints other than the fact sometimes parts were reported missing.
The other thing is that it only comes in one color so if you're not a fan of the neon green wheels, you're going to have to opt for a different push cart as customization isn't possible.
Overall
I'm a big fan of this push cart mainly for the seat but also it's high-quality design. The sitting stool really is a cool feature that makes a big difference at the end of a round.
Click here for more information on the Swivel 3 Push Cart.
Caddymatic Golf X-TREME 3 Wheel Push Cart
If you want another option with three wheels and a seat, you'll love the Caddymatic Golf X-Treme. Like the one above, this is a built-in seat and not an accessory that you have to purchase. This is a premium cart without the premium price.
Pros
Metal frame is heavy duty but still also lightweight and easy to push as well.
Accessories included a mounted drink holder, small storage compartment, and a place for your umbrella.
Removable wheels. With their quick release system you can take off each wheel in seconds.
Cons
One color option. Hopefully you don't mind a bold red secondary color as there aren't any other choices.
Minimal storage. The carts with seats tend to not have much storage as it would only make it heavier and harder to push.
Overall
I love the black and red design and the fact it has a leather seat too. You can't go wrong with this moderately priced cart!
Motocaddy Cube 3 Wheel Golf Push Cart
If you're looking for a higher end 3 wheel push cart, the Motocaddy Cube is a phenomenal option. It's incredibly lightweight and built with the absolute best materials and warrants the higher price.
Pros
The CUBE trolley is extremely lightweight and has a simple folding mechanism. Even though it's relatively big when used on the course, it folds up for the smallest places.
Ergonomic handle is height adjustable and padded.
Plenty of accessories; tee and ball holders, drink holder, storage, and more.
Cons
Could be considered pricey to some, but worth it since it's so light and easy to store.
Overall
I really like this cart as it has three sleek color options, is easy to use, and simple to install (all you need to do is insert two rear wheels). Click here to find your Motocaddy today!
Clicgear 3.5+ Push Cart
If you didn't like the four wheels of the Clicgear 8.0, then the Clicgear 3.5+ golf cart might be a good option for you. This 3-wheeler push cart easily folds quickly and easily so you don't have to worry about storing it in your garage or making it a pain to travel with. It does come with the standard cup holder, umbrella mount, and scorecard storage unit as well.
The biggest perk to this push cart is your ability to accessorize it. Not only do they have nearly 10 different color options but you can add on other accessories as well. Some of the options include a seat, XL cup holder, cooler bag, steering knob and a sand bottle to replace your divots.
I've yet to see a push cart with any more accessories that match perfectly!
Pros
The biggest perk of the Clicgear 3.5+ is that it's durable and extremely lightweight, especially compared to the 8.0 from above. They used aircraft grade, scratch resistant, aluminum tubing to create the frame with airless tires and weighs in at only 18 pounds!
The handbrake makes it easy to lock your cart in place and handle makes it easy to adjust the height setting.
Plus, with all the colors and customization features, it's pretty awesome!
Cons
Like the Clicgear 8.0, there weren't too many negatives about it. The only real complaint is that there isn't a swiveling front wheel which makes it harder to maneuver around the links.
Overall
This clicgear model is another awesome push cart from a company who makes quality products. If you want the 3-wheeler as opposed to the 4-wheeler, this clicgear model is a great fit.
For the everyday golfer who wants something light and durable, this is one of the best golf push carts around. Click here for more information on the ClicGear 3.5+ push cart.
SereneLife 4 Wheel Golf Push Cart
SereneLife is making a name and easy to see why it's one of the best golf push carts today. While the three wheel model is great, the four wheel push cart is awesome too.
Pros
Aluminum frame with patented bag holder.
Handle brake to control 360 degree swirl of front wheels.
Flat fold design. This golf bag has stroller features for an easy to fold and unfold design. At a size of 9.1″L x 14.6″W x 22.8″H it will fit in your trunk no problem.
Cons
Like the three wheel version, there aren't too many downsides on this one.
Overall
It's another great product from SereneLife. If you prefer the extra wheel and have a larger cart bag, this is a great option. Click here to find more info on the Serene Life 4 wheel push cart.
Bag Boy Quad XL Golf Cart
The Quad XL golf cart from Bag Boy is another one of the best golf carts on the market with four wheels. I love that the parking brake is mounted on the handle making it effortless to hit the brakes without fumbling around.
The storage on this thing is amazing too. It has a smartphone mount, beverage holder, umbrella holder, and storage space for more golf gadgets.
Pros
Extra large accessory bag but still lightweight.
I love the simplicity in design and compact compartments with a surprising amount of storage space.
Plus, it comes in several colors so you can customize it to your liking.
Cons
I honestly tried, but I couldn't find anything substantial. The only slight issue might be that the cell phone holder looks a little flimsy.
Overall
If you like the 4-wheel look, this bag boy model is one of the best golf push carts to choose. With several color choices, you can customize it and make sure you stand out for your next round. And with its durability, expect this to last a long time.
Click here to pick up this very-solid 4 wheel golf push cart.
MGI Zip X1 Electric Golf Caddie (Electric Push Cart for Golf)
While walking is great and all, pushing your bag isn't always the most fun. Plus, if you're a senior golfer, you might want the exercise without the hassle of pushing a cart. If this sounds like you and you want to walk but not push, why not get an electric cart caddy?
That's right, the MGI Zip X1 is an electric push cart that you can push or have it do the pushing for you. It's unlike any other cart on this list and fun for all golfers.
Pros
Three wheel push cart can be used with electricity with its powerful 230 watt motor or you can push it like a normal cart.
Fixed swivel front wheel and all terrain tread for the most difficult playing conditions.
Sleek, all black design and comes with everything you need including buggy, battery, charger, GPS holder, manual, and more.
Easily folds up for storage and charging with its zip fold design.
Cons
Having to charge it. Since it runs on batteries, you need to charge it after each round or you're stuck pushing it yourself.
Since this is an electric cart, it does cost significantly more than any of the other ones on this list.
Overall
This electric cart is awesome and does all the work for you so you can focus on your game! As they say, "Feel your best to play your best."
If you want an even more heavy duty electric cart, check out the Navigator which holds a longer charge and as a twin motor. Click here to learn more about it this premium push cart.
Best Budget Push Golf Carts
If you're looking for the lowest cost push carts or intend on walking shorter, executive size golf courses you might not need a swiveling front wheel or tons of storage. The option is to skip something like the Bag Boy Quad XL and instead, go with a two wheel push option. These are also great if you have a lighter, smaller golf bag and want something a little less heavy duty.
If you're looking for an old school, standard golf cart on a budget, here are our top picks.
SereneLife 2 Wheel Golf Push Cart
We love the three & four wheel version and this two wheel alternative is a compact size and great option. The only main difference is the number of wheels and a few less accessories. Otherwise, it has a height adjustable handle, ball bearing wheels, simple braking system (foot brake), and flat fold design.
Click here to find your SereneLife 2.
JEF World of Golf Deluxe Steel Push Cart
Another two wheel option is the JEF World of Golf push cart. This is a little more basic than the SereneLife above but still gets the job done. It's lightweight, folds in half with one fluid motion, has very wide wheels, foot brake and a waterproof scorecard holder (but no scorecard or cup holder).
Even though it's small, it does still work with larger bags and has incredible user reviews. Click here to find learn more.
Additional Golf Accessories
The cool thing with today's selection of push carts is that you don't have to buy one with everything you need. For example, if you love one of the push carts from above but it's missing something like an umbrella holder or scorecard holder, you can buy it separately and attach.
While they might not be quite as good as a built in model, it's nice to have options or even grab one of these to upgrade your existing bag.
Here are some of the best accessories to add to your bag:
Cooler
If you enjoy some icy cold beverages on the course, you probably love golf carts as they almost always have a built in cooler. But if you want to walk and drink, grab one of these coolers that work well with push carts.
This speed cart cooler pouch has a reusable freezer pack, holds up to six 12 ounce cans, and easily attaches to your cart. It also has an insulated lower pocket and carry handle.
Click here to say goodbye to hot drinks.
Umbrella Holder
If you're one of the ambitious golfers who braves it in the rain, you need an umbrella holder. An umbrella holder should come with most carts but sometimes you might break it or lose it if it falls off during the round.
An umbrella holder will make sure your favorite umbrella doesn't fly away in the wind and will keep your stuff dry. If you damage your umbrella holder or it doesn't come with one, grab this one from Bag Boy.
Cell Phone Holder Mount
Some days work and life get in the way of golf… am I right? But if you want to sneak out of a "work from home day" and play some golf, sometimes you need to keep your device close.
Since most golf manufacturers want you off your phone and focusing on the game, they don't usually have a cell phone clip on any carts. But if you want an easy accessory to make sure you don't miss an appointment or email, grab a cell phone holder mount and attach it yourself.
These low-cost accessories clamp onto your push cart and are compatible with tons of different size phones. Click here to grab our favorite one on Amazon.
Golf Cart Heater
If you're braving the winter conditions, a golf cart heater isn't a bad idea. Mr. Heater has a small, portable heater that you can take with you in a golf cart or if you're walking. With 4,000 BTUs it will last for over five hours on a single propane tank (which needs to be bought separately).
It also has a cup holder that you can put in the drink holder of your push cart or traditional golf cart. With its one button ignition it will help keep you warm and focus on golf, not the cold weather. Make sure your cart has a big enough drink holder for this accessory!
Scorecard Holder
Keep your scorecard clean and easy to read with this Bag Bag scorecard holder. It mounts directly to your push cart and can adjust to the right angle for your height. Make sure to double-check it's compatible with your specific model.
Or, check out this model which isn't brand specific and will fit any type of cart.
Push Cart Seat
One of the biggest drawbacks to walking is finding a place to sit between shots or during a wait between holes. If it's wet and cold, the last thing you want to do is sit down on the damp grass and get your pants or towel wet. Luckily, you can purchase a cart seat if you have a Sun Mountain cart.
This easily inserts into the wheel fixture and is spring operated to pop up and easily folds away when not in use. Since only a few options above have a stool seat built in, this is a great way to add this to your cart, stay dry, and rest on the golf course.
Beverage Holder (and bracket)
If you're like most golfers, you always have a drink near. Whether it's water, soda, Gatorade, or an adult beverage (aka swing juice), a beverage holder is convenient. Here are our favorite two options to help you hold your beverage while you focus on the game.
Accmor Cup Holder Accessory: This low cost cup holder works for your push cart, stroller, bike, wheelchair, and other devices. For a small price you can easily attach this holder on any device.
Sun Mountain XL Drink Holder: If you preSun Mountain XL Drink Holderfer to carry a bigger size bottle or insulated thermos for those cold mornings, this is a great option made specifically for your golf cart. It's large enough for a 4.5″ bottle and is easy to install.
Push Cart Storage
If you have the Quad XL (or similar cart bag) and want to store it away for the winter months, this is a great accessory. It will help you keep your cart in great shape and keep your trunk or storage area clean. The Bag Boy Carry Bag fits the quad, quad plus, and quad XL models. Click here to buy it now.
FAQs About Best Push Carts
Do you have more questions that weren't covered in our buyer's guide? If so, hopefully these answers below will help you out so you can find the best
Which is a better 3 or 4 wheel golf push cart?
A 3 wheel golf cart vs. a 4 wheel golf cart is the latest debate but both have their pros and cons of the front wheel. In general, a three wheel cart is bigger but easier to maneuver when pushing. But since it's larger, it's usually a bit more complicated to store and transport.
However, a four wheel push cart has its advantages too. It usually has more storage, more golf accessories (like a seat, umbrella holder, scorecard holder) and better folding system than a three wheel option. But, it's also a lot bigger and heavier than its three wheel alternative.
Overall, it depends on your golfing preferences, storage, and goals of walking. One other thing to think about is wheel size.
Smaller wheels make your cart more compact but they aren't nearly as stable. Larger wheels will help you navigate through rough terrain and rocky paths much easier than smaller ones.
Also, some are inflatable tire style wheels while others don't. Make sure to double-check or have an air pump handy and check the pressure regularly.
Why do you need a golf cart?
You might be thinking, should I get a push cart anyways? My answer – it depends on your golfing habits.
If you're an avid stick who can't get enough of this crazy game, it's a great idea. Even if you don't use it all the time, having the option to walk when the weather is good or you want to burn extra calories is awesome to have. Plus, some of your golfing buddies might prefer walking vs. riding and it's better than renting a cheap generic cart from the course.
Not to mention, if you're preparing for a golf bucket list trip, it's a good idea to get in the habit of walking before your trip. A lot of courses require you to walk (like Bandon Dunes) and sometimes it's more fun as you can take in all the sights. Walking occasionally will help you get in better golf shape so you are ready for the trip and don't get tired during the back nine.
Which is a better push or pull golf cart?
As I mentioned, in the past carts were designed to pull not push. But golf companies got smarter and learned that pushing is much better for players and easier to push your golf bag vs. pull it.
When you're pulling your golf bag for four plus miles every round, it's extremely taxing on your shoulders and upper back. This makes it easy to not have as good of posture and lose some energy later on in the round.
I would always recommend pushing, not pulling your golf cart as they are designed for that and it will help you avoid injury.
Do cart bags fit on push carts?
Yes, cart bags will fit on most push carts. Unless you have a massive, Tour sized golf bag, your new push cart should work perfect for pretty much any bag. But just because they do fit doesn't mean it's the best idea.
Since cart bags are often much heavier than your average stand bag, it makes walking that much more difficult. If you plan on walking 30-50% or more of your rounds, I suggest trading in the bulky cart bag for a stand up model or more hybrid style. This way it's easier to push regardless of which type of course you play and easier on your body too.
How long is it to walk 18 holes of golf?
This is a great question and the answer might surprise you! If you're on the fence about lacing up your favorite golf shoes and buying one of these carts to walk, you might want to know what you're getting yourself into beforehand. So how far is it to walk 18 holes?
Well, if the average golf course is around 6,500 yards for men, that's between 3-6 miles according to Live Healthy. Of course some courses are longer than others but it's the distance between holes that really matters. Some courses have the next tee close to the previous green while others make you walk a few hundred feet (or more) between holes.
Plus, don't forget about elevation changes if you're playing a course with a lot of slope. This will make it harder to push your cart and it's easy to find yourself winded after only nine holes.
If you're just starting out, I recommend only walking nine holes before trying to do all 18. Ease your way into it before making the full 3-6 mile trek!
Is there a push cart designed for women?
Most of the carts on this list will work for both men and women. After researching an endless amount, I didn't find women/ladies specific carts other than the Spin It Golf GC Pro II push cart.
This pink golf cart is simple, easy to use, and has one click folding capabilities. Plus, it has tons of accessories like an umbrella/drink holder, massive storage pocket, and more. It's a very easy to maintain cart with its airless tires and easy to use foot brake.
If you don't want a bright pink push cart, make sure to select a cart from our list that is lighter and easier to push. Luckily, they do make a push cart specific for juniors too!
Do they make push carts for kids (junior golfers)?
While the ones on this list of best push carts are for adults, there are options to help junior golfers walk too. Since their bags are usually much smaller than a normal stand or cart bag, it's best to get their own push cart so the clubs fit and it's easy for them to push.
Here are our two best picks:
Caddymatic Junior Golf Cart: This 3 wheel folding cart is great for junior golfers and gives them a great piece of equipment to grow into as well. With its adjustable design, it grows as your kids do too so you don't need to replay so often. It also has everything a good push cart should including a bottle holder, mesh storage pouch, scorecard/pencil holder, tee slots, and more. Plus, the foot brake is easy to use!
Young Gun Kids Adjustable Golf Cart: This 2 wheel push cart was made for your favorite junior golfer and is extremely affordable. While it lacks the accessories of the Caddymatic, it's only about half the price. Plus, there are rave reviews for its steel design, and ball bearing wheels. Made for junior golfers between ages 3-14 years old.
How do you maintain a push cart?
If you're a committed golfer who wants to make sure your cart will last awhile, regular maintenance is never a bad idea. Some of the most common things to go bad are the straps, brake cable, and wheels.
If you have inflatable wheels, make sure that you check the tire pressure regularly so you don't get a flat on the course. Otherwise, make sure to clean your cart regularly so dirt/debris doesn't build up. If you're a handy type of guy repairs are pretty straightforward and can always contact the manufacturer for new pieces.
Why is there a shortage of golf push carts?
One word (that you're probably tired of reading out) – pandemic. Since the COVID-19 outbreak in 2020, more and more golfers want to social distance and play it safe. Plus, walking is a great way to get more exercise as a lot of gyms are closed!
Needless to say, it's all about supply and demand. While this shortage has tapered off since mid 2020, some push carts could still take a little longer to arrive. Luckily, when you buy on Amazon and are a prime member you know exactly how long it will take for your cart to arrive.
Final Thoughts on Golf Push Carts
As you can tell, there is no shortage of golf push carts on the market. Every golfer can benefit from having one for more exercise, preparing for a big trip, or simply wanting to enjoy being outside.
As long as you like the price, look, and style of the cart, all of these are great options. It really just depends on if you want a 4th wheel, cooler or the ability to accessorize with a scorecard holder, cup holder, and other accessories.
Hopefully, you can pick one of the best golf push carts (or pull carts) or find a good golf carry bag, and start walking more rounds. This will help you start to exercise more and enjoy the game in the way founders of this great sport intended for it to be played.
Make this your best golf year yet and get into the best health of your life by walking your favorite golf course.
Want more products and gadgets to enjoy the game more? Click here for more reviews of popular golf accessories.