Is this the year to stop using a golf cart and start walking for a better golf experience? If so, I've found the best golf push carts so you can make the trek easier.
While I love the convenience of carts, if I'm being 100% honest the game was meant to be walked. Back in the 1800's in Scotland, golfers were wearing shirts, ties, and walking old school links course. Now, people zoom around in golf carts, have motorized push carts, and a few people go old school, walking and carrying.
Courses today aren't like the old link ones which can make it very difficult to walk the full 18 holes. If you want to save some energy (and your back), walking with a push cart is the way to go.
One quick search on Amazon and you can see there are no shortage of options available. Some have three wheels, some have four, and some today even have seats that pop out.
With all the selection, it can make it hard to find the best golf push cart (or pull cart) for your own situation…until now.
Keep reading so you can find the best one for your game and your budget.
Our Pick for Best Golf Push Cart
Bag Boy Triswivell II – Best 3 Wheel Golf Push Cart
Bag Boy Quad XL – Best 4 Wheel Golf Push Cart
Why Do You Need a Push Cart (or Pull Cart)?
So why should you use a golf push cart (or a pull cart as some call it) in the first place? The obvious reason is exercise. With a growing obesity epidemic across the United States, exercise has never been needed more than it is today.
A golf push cart makes it easy to walk 9 or 18 holes without having to worry about carrying your bag and maybe hurting your back. A push cart also makes the game more enjoyable as you can spend more time with your friends and walk straight to your ball.
Even if you can't walk the full 18, start with 9 holes and go from there. I've found that the more you walk the less distracted you are and the looser you are once you're ready to hit your next shot.
What To Look For in a Golf Push Cart
As I mentioned, there are endless choices of golf push carts in the golf world. Here's how you should compare the list of the best golf push carts:
Wheels
One of the biggest differentiators is the number of wheels. Until recently, there was rarely never more than three wheels, but lately a growing trend to add a fourth wheel to make it easier for golfers.
With two wheels on the back and front, you're less likely to accidentally tip over and get flustered mid-round. But the biggest downside is that they are extremely hard to maneuver compared to the convenience of the three wheel model.
Storage
One of the best reasons to push your clubs is to have a little extra storage for your gear and apparel unlike walking. If you're carrying your bag on your back, the last thing you want is more weight! Make sure that there is plenty of storage, especially if you play a lot of golf in the rain so you can keep everything dry.
Accessories
With so many golf push carts on the market, golf companies have stepped it up and made a lot more accessories for each cart. Almost all of them have the standard umbrella mount, adjustable handle, and storage but some have even more. Some of the ones on this list include matching coolers, custom color options, smartphone holders, and even pop out stools.
Size and Portability
The last thing you want to evaluate is the size of the push cart and how easy it is to travel with. Compact size is a must-have. While you're not going to be traveling with these on an airplane, you're going to want to make sure they are light and easy to fit in your car.
Just recently, I threw my golf cart in the trash because I couldn't get it to fold up easily and fit in my car (plus it wasn't one of these from this list).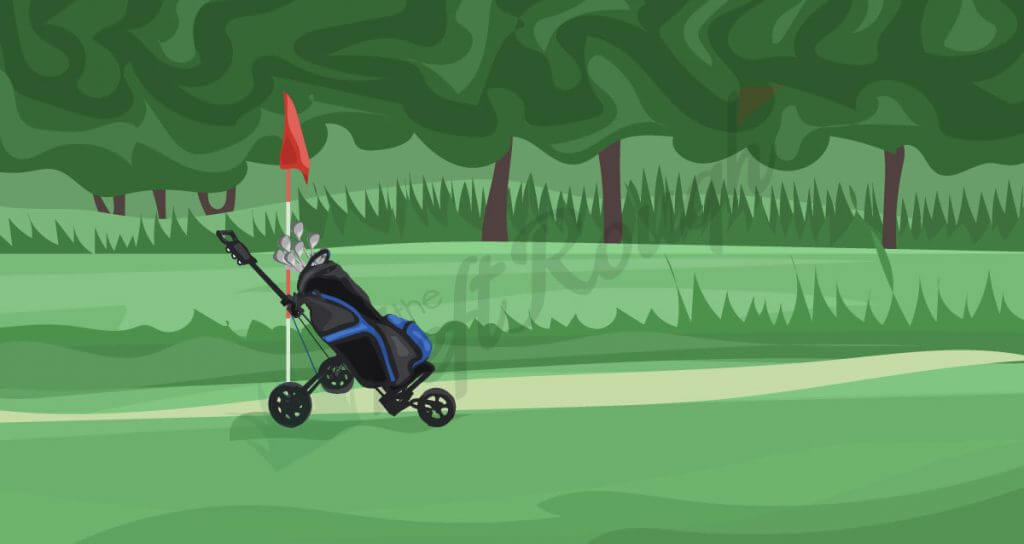 Top 6 Best Golf Push Carts (Pull Carts)
The Bag Boy Triswivel II is one of the best golf push carts for so many reasons! The first being that it's one of the only golf push carts to have a 360* front wheel, thanks to swivel tech technology. Its frame is aluminum which makes it great for tough weather conditions and extremely durable. Plus, it has an awesome storage setup so you can hold your favorite beverage and golf gear yet is still very portable.
Pros
As I mentioned, the biggest pro is the 360* front tire. It makes it so easy to maneuver when you find yourself in a tight spot on the course.
It's also got a handle-mounted parking brake and adjustable handlebar for golfers of all sizes.
Plus, it's super compact and easy to transport in your car.
Overall
This 3-wheel cart is sleek, is a very compact size and functional. With its huge storage compartment, it makes it one an awesome choice to get started walking.
For more information, head over to our full review of the Bag Boy Triswivel or Click here to pick up yours.
2. Clicgear 8.0
The Clicgear Model 8 Golf Push Cart is the first one on this list that is a 4-wheel cart. It also has a powerful brake system in which the front two wheels have a switch on the handle.
Plus, the Model 8 Golf Push Cart is easier to fold than most other carts since it uses a patented V-slide feature. It also has the standard umbrella holder, two cup holders, scorecard storage and more.
Pros
The Clicgear 8.0 has a ton of pros, one of the biggest being the high quality of tires and four wheels give it a very stable base. This thing is very hard to tip over as there's nothing worse than that happening mid-round.
I also love the storage aspect of this push cart as it has options for 2-cup holders (one big, one XL) scorecard holder, and umbrella holder.
Plus, it closes magnetically so if you're playing in the rain it'll keep everything dry!
Overall
This push cart is extremely sturdy and reliable. Some golfers might not want the size of it or the four wheels but otherwise, it's a great product that has very little downside.
Click here for more information on the ClicGear 8.0.
The CaddyTek One-Click Folding golf push cart is another great option that is very budget friendly. Golf's expensive enough and if you don't plan on walking on a regular basis, this might be a great option if you don't want some expensive cart sitting around in your garage. For the price, this is a great deal for a quality product.
The one click technology makes it effortless to fold this up and store it in your car, garage or closet as it's so compact.
Pros
The biggest pro is the convenience of portability and strong aluminum frame. It also has a large storage unit and insulated cooler to keep you hydrated during the round.
Plus, the handle is easily adjustable and is ergonomic.
Overall
This seems to be a step up from the CaddyTeck Superlite deluxe golf push cart I recently threw in the trash. Personally, I wasn't a fan of the previous model but this seems to be a step in the right direction.
Click here to pick up your One-Click Push Cart.
The Tangkula Swivel 3-wheel golf push-pull cart is another great choice and easy to see why it's one of the best golf push carts on the market. It's sturdy base and adjustable handles are great but what makes it really great is the sitting stool! The push cart makes it easy to walk your full 18 and have a great resting spot.
On top of having a spot to rest your feet, the cart also comes with a storage unit and sleek design. I also love that the handles to push (or pull) the cart is shaped for both right and left-handers.
Pros
The Tangkula is super lightweight but doesn't sacrifice quality as it has a very strong steel framework.
The handles are easy to adjust and made for the left and right-handers.
Plus, it's very portable and features a stool with its own storage compartment for maximum comfort and convenience.
Cons
Like most on this list, I found it hard to find many complaints other than the fact sometimes parts were reported missing.
The other thing is that it only comes in one color so if you're not a fan of the neon green wheels, you're going to have to opt for a different push cart as customization isn't possible.
Overall
I'm a big fan of this push cart. The sitting stool really is a cool feature that makes a big difference at the end of a round.
Click here for more information on the Swivel 3 Push Cart.
5. Clicgear 3.5+
If you didn't like the four wheels of the Clicgear 8.0, then the Clicgear 3.5+ golf cart might be a good option for you. This 3-wheeler push cart easily folds quickly and easily so you don't have to worry about storing it in your garage or making it a pain to travel with. It does come with the standard cup holder, umbrella mount, and scorecard storage unit as well.
The biggest perk to this push cart is your ability accessory it. Not only do they have nearly 10 different color palettes but you can add on other things as well. Accessories include a seat, XL cup holder, cooler bag, steering knob and a sand bottle to replace your divots. I've yet to see a push cart with any more accessories that match perfectly!
Pros
The biggest perk of the Clicgear 3.5+ is that it's durable and extremely lightweight, especially compared to the 8.0 from above.
The handbrake makes it easy to lock your cart in place and handle makes it easy to adjust the height setting.
Plus, with all the colors and customization features, it's pretty awesome!
Cons
Like the Clicgear 8.0, there weren't too many negatives about it. The only real complaint is that the front wheel doesn't swivel which makes it harder to maneuver around the links.
Overall
It's another great product from Clicgear. If you want the 3-wheeler as opposed to the 4-wheeler, the 8.0 model this is a great fit. For the everyday golfer who wants something light and durable, this is one of the best golf push carts around.
Click here for more information on the ClicGear 3.5+.
The Quad XL golf cart from Bag Boy is another one of the best golf carts on the market with four wheels. I love that the parking brake is mounted on the handle making it effortless to hit the brakes without fumbling around.
The storage on this thing is amazing too. It has a smartphone mount, beverage holder, and storage space for more golf gadgets.
Pros
This cart is nothing short of awesome if you want a 4-wheeler golf push cart.
I love the simplicity in design and compact compartments with a surprising amount of storage space.
Plus, it comes in eight different colors so you can customize it to your liking.
Cons
I honestly tried, but I couldn't find anything substantial. The only slight issue might be that the cell phone holder looks a little flimsy.
Overall
If you like the 4-wheel look, this is one of the best golf push carts to choose. With eight colors, you can customize it and make sure you stand out for your next round. And with its durability, expect this to last a long time.
Click here to pick up this very-solid 4 wheel golf push cart.
Final Thoughts on Golf Push Carts
As you can tell, there is no shortage of golf push carts on the market. As long as you like the price, look, and style of the cart, all of these are great options. It really just depends if you want a 4th wheel, cooler or the ability to accessorize.
Hopefully, you can pick one of the best golf push carts (or pull carts) or find a good golf carry bag, and start walking more rounds. The point is to start exercising more and enjoy the game in the way founders intended for it to be played.
Make this your best golf year yet and get into the best health of your life. Click here for more reviews of popular golf accessories.