Did you know that Sun Mountain had made push carts for nearly 25 years? The Sun Mountain V1R Speed Cart has been helping golfers since 1999 and the newest design is their best yet.
Let's face it – we all know that exercise is needed as most of us live sedentary lifestyles. Golf is a great way to not only add some competition to your life but also get some exercise too. A general recommendation is to get at least 10,000 steps/day — you can get that and a lot more during 18 holes of golf.
But for the overwhelming majority of people it doesn't make sense to carry your bag. It's unnecessary stress on your back/shoulders and can impact your swing. This is where a push cart comes into play and Sun Mountain can help.
Sun Mountain V1R Review
We've discussed the best push carts before and Sun Mountain has a new one that is definitely a top pick for golfers. They have three models; two are 3-wheel carts and another is a 4-wheel option. Each has their own pros/cons in terms of design, storage, and accessories but I went with the Speed Cart V1R.
According to Sun Mountain, "Speed Cart® is one of the most revolutionary products in golf. Prior to Speed Cart's introduction in 1999, three-wheeled, ergonomically efficient, folding push carts did not exist in the marketplace."
Key Takeaways
Sun Mountain makes great golf bags (cart and stand styles), not to mention push carts.
Push carts are a great alternative to riding in a cart and make it easier on your body as well.
The new Sun Mountain V1R is their latest 3-wheel push cart that makes walking 18 holes easier than ever.
Keep reading to learn more about why so many golfers love these push carts.
3-Wheel Design
I don't mean to age myself but when I was a kid, push carts were known as pull carts and they only had two wheels. You pulled them behind you (which wasn't great for your shoulder/arm) instead of pushing them. The two wheels were very cheaply made and an ergonomic design was not a thing.
Luckily, Sun Mountain and a lot of other brands have updated their designs to make them much easier to push (not pull) during a round of golf. The new V1R speed cart has a 3-wheel design that makes it easier than ever to push your bag, even on a hilly golf course.
The wheels aren't overly big but you can tell they are great for all types of course and weather conditions. The brake is by the top of the bag near the handle and you won't have to worry about it running away from you.
Easy to Use
Another perk with the V1R speed cart is that it's easy to use. There's nothing worse than some carts that feel like you need a science degree just to get it open and closed. I once donated an old push cart to a dumpster after a bad round of golf because I couldn't break it down.
Needless to say, that isn't an issue with this cart. The third wheel collapses with one clamp and the rest of it folds easily with another clamp at the top of the cart.
Plus, it has an ergonomic handle so you can adjust where you want it so you don't slump your shoulders. This should help your posture during the round and hopefully avoid any golf injuries as well.
Storage and Accessories
The handle of the push cart is not only padded and ergonomic but also allowed this cart to have a bigger storage capacity. The netting below it gives you plenty of space to keep your rangefinder, golf balls, handheld GPS or other gadgets you might carry. It also has a scorecard holder too.
Additionally, this cart makes it easy to carry a golf umbrella too. It has a clip on the top of the handle to protect yourself from the rain (or sun) and a convenient drink holder on the other side.
Finally, you can also buy a "speed seat" (more on that below) which isn't something that a lot of push carts have the option for. Or, if you don't need a seat you can carry a sand/seed bottle thanks to the bracket by the left wheel.
Tons of Color Options
Another perk with this push cart is that you can choose from tons of colors. Unlike most brands that typically only have 2–3 colors, most of them black.
Instead, you can choose from 10 colors including some great choices like:
White and blue.
Black and fire red.
Pink and gunmetal.
Whether buying for yourself, significant other, or friend there are no shortage of color options.
Recommended Accessories
While this Sun Mountain push cart is great, here are a few accessories to make it even better.
Speed Cart Seat
Unfortunately slow golf is a big issue in the game and that leads to a lot of waiting on tee boxes. But if you don't have a golf cart, it's not always easy to sit and leads to a lot of standing which isn't always great for your back. Luckily, this cart is compatible with a "speed cart" so you can take a seat whenever you want.
While it doesn't come stock with the seat, it's well worth the small upgraded fee. Simply insert it into the wheel fixture and the spring-operated seat pops up when not in use. It also folds away easily.
Mesh Basket
If you want even more storage you can buy a mesh basket as well. This attaches above the wheel in the middle of the cart and gives you extra storage for rain gear, headcovers, or other items.
Push Cart Cooler
One of the problems with push carts is that they make it nearly impossible to bring a cooler of food, water, and snacks. But there are some coolers that are specifically designed to attach to push carts and it's been a game changer. You can buy the one from Sun Mountain or I've used the Darwav cooler and it works really well.
FAQs About Sun Mountain Push Carts
Do you have more questions about finding the right push cart for your game? If so, check out the most common questions and answers below.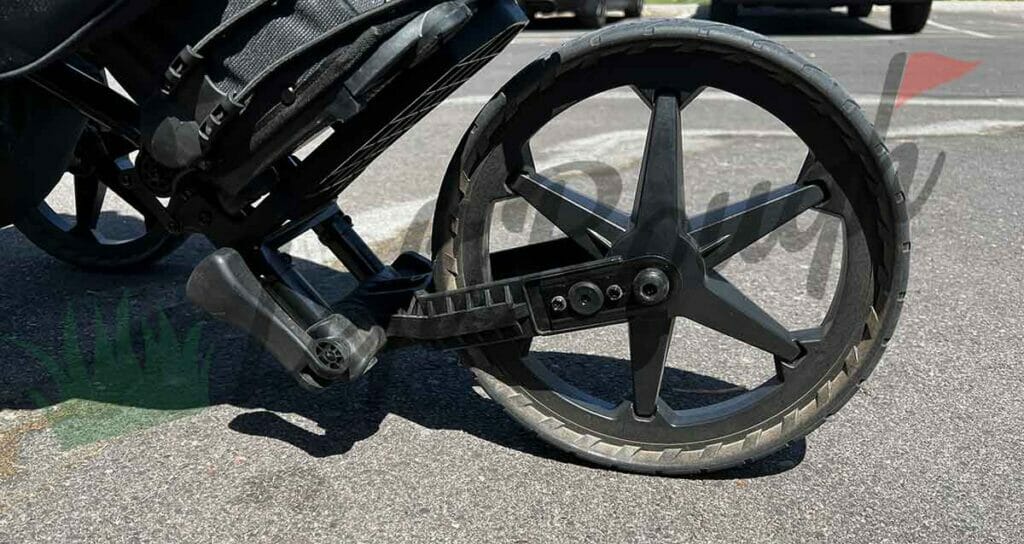 Should I buy a cart with 3 or 4 wheels?
Three wheels are easier to maneuver than a 4-wheel cart and great if you play hilly courses. Not to mention a 3-wheel cart will take up less space in your car or garage. But a 4-wheel cart might be easier to push on a flat course if you have the space to store it.
How much does the Sun Mountain V1R weigh?
This new push cart from Sun Mountain weighs 17.95 pounds. This is pretty standard weight and within one pound of their other two push carts.
Does Sun Mountain have push cart accessories?
Yes, they have more accessories than you could imagine. Not only does this push cart allow you to easily install a seat, you can also buy other items like a cigar holder, beverage holder, rain cover, mesh bag, cupholder, and more.
My Experience
I prefer to ride in a cart vs. walking as I live in Arizona and the summers feel like scorched Earth. But I have to say, this Sun Mountain push cart is making me want to walk more the other nine months out of the year.
I've tried all different types of carts before and always had issues – whether it was too heavy, not sturdy enough, or poorly constructed wheels. But I am thoroughly enjoying this new push cart and have used it several times already. It's super easy to use, fits perfectly in my garage when not in use, and fits in the back of my car with ease.
Final Thoughts
A push cart is one of the best golf gadgets you can buy. Not only will it help you get more daily activity, walking the golf course can:
Appreciate nature.
Stay loose during the round.
Improve pace of play when it's cart path only (winter rules).
Enjoy the game how it was supposed to be played before golf carts.
See different areas of the golf course and make it easier to hit certain shots. For example, it's a lot easier to see the contours of a green as you're walking up to it vs. parking by the side of it.
We hope this push cart helps you play better and get more exercise on the golf course.