Looking for the best golf stand bags? Don't worry, we have you covered.
But what type of bag should you get? This used to be a simple decision; now you have to deicde on a cart bag, Sunday bag, hybrid bag, or a stand bag.
Each has their own pros and cons but today we'll focus on the best golf stand bags as they're extremely convenient. A carry bag is lightweight, doesn't take up as room in your car or garage, and is preferred by avid players. You can still get all 14 clubs in the bag, it has enough room for storage, and you can easily walk 18 holes with it.
But like all things golf related these days, there are more choices than ever. In this post, we'll help you break down what you need in a stand bag and our top picks.
Best Golf Stand Bag for Men
Here are our picks for best stand bags:
For a more in-depth look at each bag, keep reading to see our full list of the best bags on the market. We'll start with super lightweight ones and work our way down to normal size golf bags.
Ultra Lightweight Golf Bags
If you're looking for the absolute lightest bag to carry on the course, you'll love these first few. While they aren't as small as a Sunday bag, they are super lightweight yet still allow you to have 14 clubs and extra gear. These make for great summer bags when the weather is perfect and you want some more exercise.
Titleist Players 4 Carbon
When most people think of Titleist, they hear the slogan from commercials, "The #1 ball in golf." While I do love the ProV1X myself, don't sleep on their amazing clubs or golf bags either.
Titleist recently updated its classic players golf stand bag again this year for an epic product. If you've ever seen them in the past, you know they are one of the best looking golf bags on the course.
Features of the Players 4 Carbon Bag
Double strap.
Weighs less than three pounds!
Player preferred "4-way top cuff."
Comes with Tour inspired matching rain hood.
Built with carbon fiber legs for incredible support.
14 colors to choose from (including teal blue, pink, and more).
You can't go wrong with this bag, especially if you're playing Titleist clubs or balls as it will match them perfectly. Not to mention, this golf bag is highly functional as well with tons of unique features. It's one of the most lightweight golf bags on the list and houses your golf products with ease.
Click here to learn more about it the Carbon Players Bag.
Titleist offers this bag in a regular model, Plus Model, and a waterproof STADRY version. All three models come in a variety of colors and price points. For more information, check out our review of all three Titleist Players 4 Golf Bags.
Callaway Hyper-Lite Zero Bag
The Callaway Golf Hyper-Lite Zero stand bag is the gold standard for Callaway when it comes to making an ultra-lightweight carry bag. Believe it or not, but this bag only weighs 2.5 pounds and has some upgrades from previous versions!
As Callaway said, "An all-new rubberized Shaft Shield™ top provides protection against club shaft wear over time and creates more space for easy club access. Anatomic straps form to your shoulders and are paired with an oversized hip pad delivering a highly comfortable carry."
Features of the Callaway Hyper Lite
11 color options.
Comfortably hold all 14 sticks with four-way full-length dividers.
The legs are made of carbon fiber which has one of the best strength to weight ratios of any bag on this list.
Made with their padded "OptiFit" comfort strap to ease the burden on your shoulders and make it easy to carry your clubs.
Seven total pockets including a velour lined valuables pocket. It even has an individual phone sleeve and good size golf ball pocket. All are easily accessible in a golf cart too.
This bag was engineered to shave every extra ounce out of the product, without sacrificing durability and functionality. If you're playing Callaway golf equipment or balls, you'll love this matching bag as well.
Izzo Ultra Lite Stand Bag
The Izzo Ultra Lite Stand bag is everything you need and want in a stand bag! Not only is it perfect for walking and carrying on your back but it's incredibly affordable. Quite frankly, I still can't believe a bag is this cheap in price yet made with such high quality material.
Features of the Izzo Ultra Lite Bag
3.2 pounds and 4-way organization top.
Five color options; gray/lime, red, navy, and black.
Front golf ball pocket is easy to customize with your name.
Also comes with matching rain hood, "SmartGRIP" handle system, and umbrella holder.
This stand bag is made with 4200 polyester fabric to make it extremely durable! They are everything you need to walk 18 holes comfortably and save money as well.
Click here to learn more the Izzo Carry Bag.
Best Golf Stand Bags
The first few bags on this list were what the golf world considers "super lightweight" and weigh in right around three pounds each. While that's great for carrying, they are not the most functional for storage space.
You won't usually have an insulated drink pouch or other extra pockets to save weight. If you want to add 1-2 more total pounds in bag weight for a few extra pockets, here are the best options for you.
Sun Mountain Lite Speed Golf Bag (4.5)
The Sun Mountain 4.5 Lite Speed bag is one of the more expensive ones on the list but it warrants the higher price. This bag has individual club dividers so every club has their own space. Most of the bags only feature 4-5 compartments which aren't great for club protection and make it easy for your shafts to get stuck or scratched.
Features of the Lite speed Golf stand Bag
Less than five pounds.
X-strap system is easy to get on and off or use the single strap. The shoulder straps are scuplted for maximum comfort.
This brand never disappoints when it comes to their newest golf bags. It's a very functional golf bag that has a great stand mechanism, six pockets, lite dual strap system. If you're walking, it makes for a comfortable carry.
Click here to learn more about the Sun Mountain Bag.
Founders Club Golf Bag (Best Budget Golf Stand Bag)
If you're looking for a non-name brand (and slightly lower price), the Founder's Club bag is perfect for you. While there are only four colors to choose from, they offer a unique divider system unlike most carry bags. Plus, the price is right so you can spend your money on other gadgets.
Features of the Founders Club stand Bag
Molded spots to lock in shafts so they don't bang around when you're walking.
Six zippered pockets and drink sleeve for maximum organization. One pocket is 100% waterproof to protect your valuables too which is great for winter golf.
Built for comfort. This bag has a top handle, dual strap carry system to even out the weight on your shoulders, and a padded hip pad.
Extra bag features including a loop fastener for your golf glove, towel clip, umbrella sleeve and more.
This a good stand bag at an even better price. The only thing it needs is a velcro glove patches like most of the best stand bags on this list.
Click here to learn more about the Founders Club bag.
Ping Hoofer
Let's not forget about the Ping Hoofer bag too! Ping has been making amazing some of the best golf bags for quite some time and the latest Hoofer is another perfect example.
Features of the Ping Hoofer
5.5 pounds.
14 way full length dividers.
Zip off panel for pocket customization.
11 total pockets including a large apparel pocket, magnetic rangefinder pocket, and more.
Extra padded shoulder straps that you can easily convert from a backpack strap to a single shoulder strap carry bag.
Or, if you want a lighter bag check out the Hoofer Craz E Lite.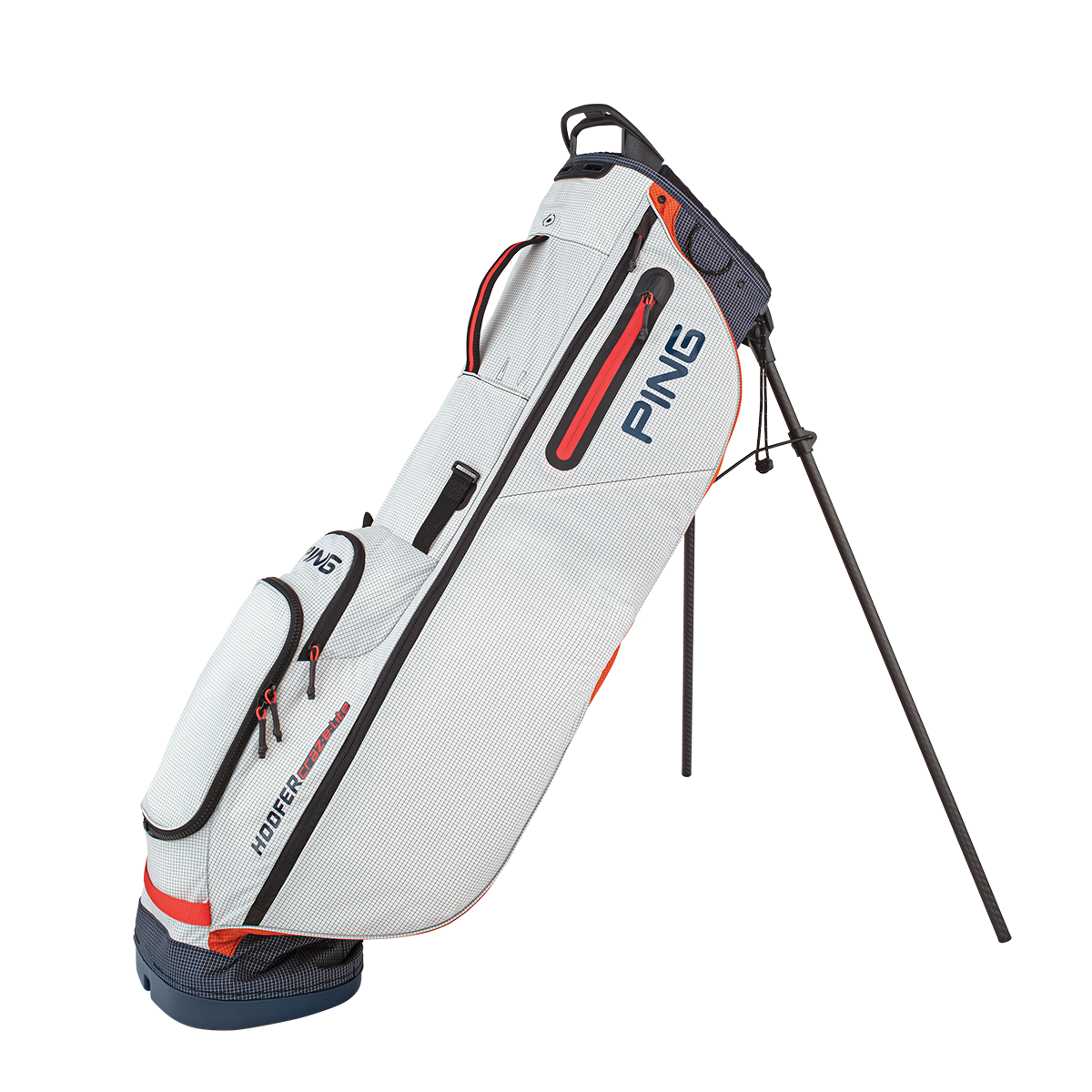 Izzo Golf Lite Stand Bag
While Izzo makes a great ultra lightweight bag, this one is a slight upgrade in a few ways. The Izzo Golf Lite stand bag is still incredibly light at only 4.5 pounds and built with high-quality materials.
Features of the Izzo Golf Lite Bag
Free personalization and magnetic ball pocket.
Six club dividers to help keep your shafts separated and secure.
Five color selections including some bold colors like lime green magnetic blue.
Extra features include a loop for towel or club brush. Plus, a velcro glove holder and insulated cooler pocket.
Even though it's lightweight, Izzo didn't sacrifice anything! This bag also has an adjustable dual strap and smart grip double hand to make it easy to get in and out of your car. Click here to learn more about it this bag.
Nike Golf Bag – Air Hybrid
If price isn't a big factor for your golf bag and you want extreme quality and the best looks on a bag, you will love this Nike Air Hybrid. Nike pulled out all the stops in creating an epic bag that has pretty much everything you could imagine.
Features of the Nike Golf Stand Bag
Strap through design makes it great for riding in a cart.
14 way club divider system. Previously, I'd only seen this in Sun Mountain bags.
Seven color selections including an all white design. While I'm sure it would get dirty in the winter, it could be the perfect summer bag!
If you love Nike apparel or maybe even used to play Nike golf clubs, you will love this bag. Make sure to read our hands-on review of this Nike golf bag.
TaylorMade Golf Select Stand Bag
If you love TaylorMade golf gear or golf balls, you might want to consider getting a matching bag too. The TaylorMade Select stand bag is a top-rated bag and has been for years. While they don't release a brand-new model every year like some manufacturers, it has thousands of favorable reviews on Amazon.
Features of the TaylorMade Golf Select Stand Bag
Total weight of five pounds.
Six color selections to choose from.
Seven total dividers for optimum club storage.
Six total pockets including a velour lined valuables pocket, extra large ball pocket, and easy to access water bottle pocket.
This low-priced golf bag is a great choice for any golfer who wants something dependable. Click here to find the Select Stand bag.
OGIO Fuse Stand Bag
If you're looking for a premium golf bag for the avid player, you will love the Ogio Fuse stand bag. Here's how the company described it,
"The FUSE Stand Bag is a lightweight and fun carrying option for the course. Infused with the iconic features you know and love, such as the 3-ball silo and Fit-Disk carry system, along with the Rapid Access Pockets, the new FUSE Stand Bag is designed to shine."
They also have tons of colors to choose from including very bright ones if you want to make a statement.
Features of the Ogio Stand Bag
Velcro glove patch.
Easy to add your logo.
Adjustable double shoulder straps.
6 front facing pockets including the rapid access snap ball pocket. Plus a water bottle pocket with drainage.
Click here to learn more about the Ogio Fuse bag.
Bag Boy Golf Chiller Hybrid Bag
The one thing missing from most stand bags is a cooler! But the Bag Boy Golf Chiller hybrid bag is here to save the day with its built-in cooler setup.
While it's not the smallest, most compact bag by any means, it's still a great stand bag. If you prefer to use a push cart and want to stay hydrated on the course, you will love this option.
Features of the Bag Boy Golf Chiller
Golf ball retriever sleeve.
14-way full length dividers.
Oversized putter well is great for large grips.
TOP-LOK technology makes it easy to attach to any golf cart and stay secure during the round.
Removable insulated cooler bag. While this doesn't help the overall weight of the bag, it's great to fill up if you're using a push cart instead of carrying!
At 6.4 pounds, this is pretty impressive considering all the storage and cooler as well. Plus, it comes in three different color choices too.
Click here to learn more about the Bag Boy Chiller Bag.
Comparing Golf Carry Bags
As you can tell, there are tons of awesome choices when it comes to finding the best golf stand bags. To help you make it easier, use this six-point comparison to easily decide on the right one for your game. If you've used a cart bag for a while, this will be a big change so make sure to do your research.
Weight
This is arguably the biggest factor when it comes to picking the right bag since you're carrying it more often than not. Or, if you're pushing in a cart, weight is still a big factor as it's quite a workout on your arms and shoulders.
Don't get me wrong, while total price is important, finding a lightweight bag is just as important for your body. The last thing you want is to try and save a few bucks and buy a heavier bag that isn't easy on your back.
When picking your bag, I'd recommend picking one that is under five pounds. There are also quite a few of the ultra-lightweight ones that are three pounds or fewer which are great for senior golfers who want more exercise too.
While you want a lightweight bag when walking, make sure you aren't giving up necessary protection or storage as well. Plus, don't keep anything in your bag that isn't 100% vital to your round. We suggest keeping extra gear and apparel in a golf trunk locker in your car.
Click here to check out our best club organizers!
Straps and Padding
While weight is important, don't forget about the strapping system as well. If you plan on walking more often than not, make sure you invest in a bag that has a backpack strap system. This makes carrying so much easier than a single strap!
For some bags, this is how they're made while others you might need to pay extra for a second strap. Make sure to double-check before hitting the buy button.
Another big consideration is the padding of the straps themselves. You'll notice that some bags on this list have considerably more padding than others. Plus, some will even offer hip padding for where the bag will hit your body as you carry.
Don't forget, walking an average round of golf is four or more miles! Knowing this, make sure to get a bag that is comfortable, ergonomic, and won't hinder your game.
Club Protection (Divider System)
One big advantage that cart bags have over stand bags is the amount of protection for each club. Most cart bags have 14 individual compartments for each club with dividers that run from top to bottom. These full length dividers protects the shafts as well as the clubheads from bumping around and protecting your clubs.
Unfortunately, almost all stand bags only have 4-5 compartments with room to hold only 3-4 clubs in each one. However, there are now a few exceptions like the Sun Mountain LS but this one is one of the higher priced bags (and worth it). If you're using super expensive irons like PXG, it's worth splurging for a bag with 14 separate compartments.
Appearance
Most bags look pretty similar and have a main color and maybe 1-2 complementary colors. If you want to make a bold statement with your bag, check out the Ogio Convoy SE stand bag.
Otherwise, make sure you buy a bag that matches your climate. If you're playing in a lot of wet and muddy conditions, don't go with white or a light color. While they look great for a while, they get dirty quick and aren't easy to clean.
Instead, I'd get a darker golf bag for wet conditions and you can always sub in a lighter color bag for summer weather.
Storage Space
Another advantage that cart bags have over stand bags is the massive amount of storage. But if you're willing to lug around a few extra pounds, some bags have five or more pockets. This will give you plenty of storage for your golf gadgets, rangefinder, balls, and other golf supplies.
Remember if you choose an ultra-lightweight bag, you will usually lose 2-3 pockets so that it's as light as possible.
If you're smart about it, you won't notice the lack of space. Read our article on how to arrange your golf bag.
Price
The last thing to think about is how much you want to spend on your golf bag. In general, most stand bags are fairly affordable when compared to a cart or staff bag.
You can find a few premium models that can get pricey. But as always, you get what you pay for when it comes to quality.
Don't forget to think about it long-term too. While some bags might cost more upfront than others, it might last two or three times longer as well.
Golf Bag Accessories
Now that you have a better idea of what's out there and how to pick the right bag for you, don't forget about accessories too.
Bag Straps: Unfortunately, not all bags come with a dual strap system. If yours doesn't you can buy one separately to make carrying easier on your shoulders. Click here for our favorite straps.
Club Organizers: When you get a new bag, you might keep your old one and create a backup set of your old clubs. This is great in case you have friends/family into town or for some reason, you need to go back to your trusty old sticks. If this is the case, you might want to invest in a club organizer so your house or garage doesn't get cluttered.
Travel Cases: If you're taking your sticks on vacation, make sure they are protected and don't get damaged. Sadly, TSA doesn't seem to care about the sport quite like we do and never take care of your stuff quite the way we want. To help, check out our best travel bags here.
Golf Stand Bag FAQs
Do you have more questions about finding the perfect bag for your golf game? If so, check out our FAQs below to find the answers so you can get your new one ASAP!
What is the best golf cart bag?
There are tons of options when it comes to finding the perfect cart bag. Make sure to read our best cart bags article here to learn more.
What is a Sunday golf bag?
A Sunday golf bag is usually a smaller carry bag that may or may not come with a stand. A great example is the Sunday Golf Loma bag. This is a comfortable carry bag that has a spacious golf ball pocket, holds up to six pockets, and ideal for an executive golf course.
They are usually meant to only take 5-8 clubs and make it very easy to walk a round of golf. While some of them are big enough to carry more clubs, they're not meant for a full set. With Sunday bags, you might not have a stand, extra pockets or any dividers for your clubs.
Click here to read our full breakdown of Sunday bags and the best ones to help you walk more frequently.
How do I choose a bag?
When choosing between carry bags, make sure you weigh the pros and cons of each bag by comparing the factors mentioned above:
Price: How does it match your budget?
Straps: Always opt for the double shoulder strap to make it easier to carry.
Weight: If you haven't walked much or are planning to walk a lot, make sure to find one that is ultra lightweight.
Club Protection: Some stand bags have 14 individual spaces for each club while others have 4-5 compartments.
Storage: If you're a hoarder or have 15 different golf gadgets, make sure you buy a bag with tons of storage.
Appearance: You have to look good to play good right?
Is a cart bag or a stand bag better?
Cart bags versus stand bags is an age old debate in golf.
If you plan on walking at all, I highly recommend getting a stand bag. With stand bags, it's easier to take to the range or the practice green.
Plus, if you want to throw them on the cart, you can always do it as well. Not to mention, they take up much less in your garage, trunk or closet.
However, if you need a little more room but don't want to go full cart bag, check out hybrid golf bags.
How do I clean my golf bag?
With all the different weather conditions, it's important to clean your bag every month or more to make sure it lasts a long time. Cleaning your golf bag is pretty straight forward.
You really don't need much other than a wet towel and maybe a little bit of soap. Sometimes using too much cleaning products (especially ones with bleach) can actually make it worse and potentially ruin your bag.
I'd also recommend buying a golf bag that doesn't have too much white on the design, especially for winter weather. While white bags look good at first (like the Nike one on this list), they also get dirty quickly.
If you're tempted to buy a bag with a lot of white (or an all white stand bag), make sure you switch to a dark-colored bag for winter golf.
What is the best lightweight golf bag?
As you probably noticed on this list, there is a big difference between a normal stand bag and a lightweight stand bag. The super lightweight ones are 2-4 pounds lighter and so much easier to carry on your back.
But since you're giving up on size and weight, that usually means less storage space for all your gear. As long as you're okay with the tradeoff, you can't go wrong with any of the ones on this list.
Can golf stand bags be used on a cart?
Yes, stand bags fit perfectly on electric golf carts! While they weren't "made" for carts with a cart pass through system, they still fit great. Some of them even have specific straps to make sure they stay on and still allow plenty of room for storage.
When using a non-cart bag on electric carts, make sure it's secure before driving away from the clubhouse. Since stand bags are so much smaller than a cart bag, it's easy for them to slide around on the back of your cart. Tighten the cart strap so that your equipment is safe and it minimizes rattle as well.
Is Sun Mountain a good golf bag?
If you're like most golfers, you're probably asking yourself, "Who makes the best quality golf bags anyways?" While you can't go wrong with any on this list, I would argue that Sun Mountain is one of the best overall brands out there.
Don't get me wrong, Titleist, Callaway, TaylorMade and other manufacturers make solid bags, it's just not their specialty. However, Sun Mountain is all about golf bags and other equipment as they don't make golf clubs.
Since they've been honing their craft for quite some time, it shows in their products. Each year for what feels like forever, they are constantly getting ranked as the best golf bags. From super lightweight cart bags to large cart bags, they have dominated the market.
If you're willing to pay a higher price for high-quality material and construction, you won't regret any Sun Mountain bag. They look good, are highly functional, and last a very long time.
Final Thoughts on Best Golf Bags
As you can see, there are tons of great options from top manufacturers. Some are incredibly lightweight and easy to carry on your back for 18 holes with ease. While others are still much lighter than cart bags and will take up a lot less space in your car or garage but have ample storage space.
Remember, if you're a range rat or someone who loves to walk an occasional round of golf, a stand bag is for you. It makes it so much easier to transport your clubs and get some exercise on the course.
Remember, a golf bag is even more important if you are walking instead of riding as well. Without having a cart, picking the right bag to store everything and sit on your back for 5 hours is vital to not getting tired.