Do you ever go to the first tee-box stiff, tight, and barely able to swing a golf club?
If you're like most golfers, you probably don't always get the adequate, 30-60 minute warmup before your round. While you don't need to get there 90 minutes early like PGA Tour guys, warming up has huge benefits. It's very difficult to get off to a quick start if you're stiff, tight, and unfamiliar with how your body is feeling.
Luckily, there is a training aid that can drastically help you get loose and groove your swing. Not only will it help you get loose before the round, but it will also help you master your tempo. This 2-in-1 device is one of the best on the market and it's called the Orange Whip swing trainer.
The History of the Orange Whip Trainer
The Orange Whip trainer is one of the most recognizable training aids around. It's hard to not spot an orange ball at the end of the stick on the driving range or at your local golf course. It's not just any training aid either, it was designed with intention. Here's the backstory of how the Orange Whip swing trainer became one of the most recognizable in the industry.
The creator, Jim Hackenberg, was an aspiring professional who switched gears to become a teaching professional. But as he started working with more and more students, he noticed a trend.
Most of his students couldn't swing in rhythm while maintaining a solid balance throughout the swing. Staying balanced throughout is crucial in hitting it consistent with any club in the bag.
Over time, he began to realize how difficult this aspect of the game was to teach. The majority of his students couldn't quite get the correct feeling. So he tested a lot of training aids to create a "tour pro motion." The result is the best-selling, Orange Whip swing trainer.
What is the Orange Whip swing trainer?
The popular training aid is an orange rubber ball attached to the end of a heavy, black, flexible golf shaft that has a grip on the end like a normal club. The trainer weighs 1.75 pounds and stretches to 47 inches in length, just a few inches longer than a driver.
The device is intentionally designed to be slightly longer than a normal golf club. The extra length helps exaggerate the motions made while swinging your driver. It forces you to adjust your tempo so that your entire body stays connected. If you've struggled with tempo, this device could be a gamechanger.
The Orange Whip is a perfect tool to help you with your full swing and doubles to improve your short game as well.
The Orange Whip trainer has been voted as the #1 teaching and training aid by LPGA and PGA professionals! If it's trusted by some of the best players and instructors in the world, it's probably worth testing out.
This golf training aid increases your flexibility and strengthens your golf muscles through its proprietary weighted and counterweighted system. It will also improve your range of motion while avoiding injury.
What golfer doesn't want more flexibility, increased range of motion, and reduced injury?
Here are some of the best features and benefits of the Orange Whip training aid.
Features of the Orange Whip
Compact and Versatile Design
Let's face it, some training aids are effective but they are way too big to transport to the golf course. Luckily, the Orange Whip is not one of those training aids as it's only slightly longer than your average club. It will fit in any type of golf bag.
The shorter length makes this ideal for indoor use. While you can take it to the course, you can also groove your swing at the office or at home as well. It's perfect for indoor use and travel, and it's convenient length make it great for men, women, seniors, and teens.
Develop Rhythm and Balance Throughout Your Swing
One of the most notable features among scratch golfers and tour pros is that they all have balance. No matter what shot they are hitting, they always seem centered and make it look effortless. It's like the ball just got in the way of a perfect swing. Meanwhile, amateur golfers struggle a lot with with tempo, timing, and a proper weight transfer during the swing.
But the Orange Whip can certainly help you improve your rhythm and balance. You will receive instant feedback with every swing you take. An off-balance and wobbly swing will give you immediate feedback to help you work on your rhythm and timing. Remember, the perfect tempo is a 3:1 ratio of the backswing to downswing.
High-Quality Material and Design
As I'll discuss below, there are some knock offs of the Orange Whip but ultimately, they aren't nearly as high quality. These devices are handmade in the USA and only use American parts.
This isn't one of those training aids that you will use for a season only to watch it break down next season. These are built for endurance and even comes with 2-year warranty!
Alternatives to the Orange Whip
One of the oldest and most popular training aids is the Momentus Swing trainer. The weighted, yellow golf club is meant more for loosening up than training your tempo. But if you just want to get loose quicker before the round, this is a great option.
The SKLZ Gold Flex is very comparable to the Orange Whip. It will help you build muscle memory and strengthen your swing with a 2.5-pound weighted head. It's designed to help you feel the natural lag and develop your core muscles as well.
It's also highly rated but seems to be more used for warming up than mastering your tempo. If you like the idea of the Orange Whip but don't want to spend this much on a training aid, this is a good option.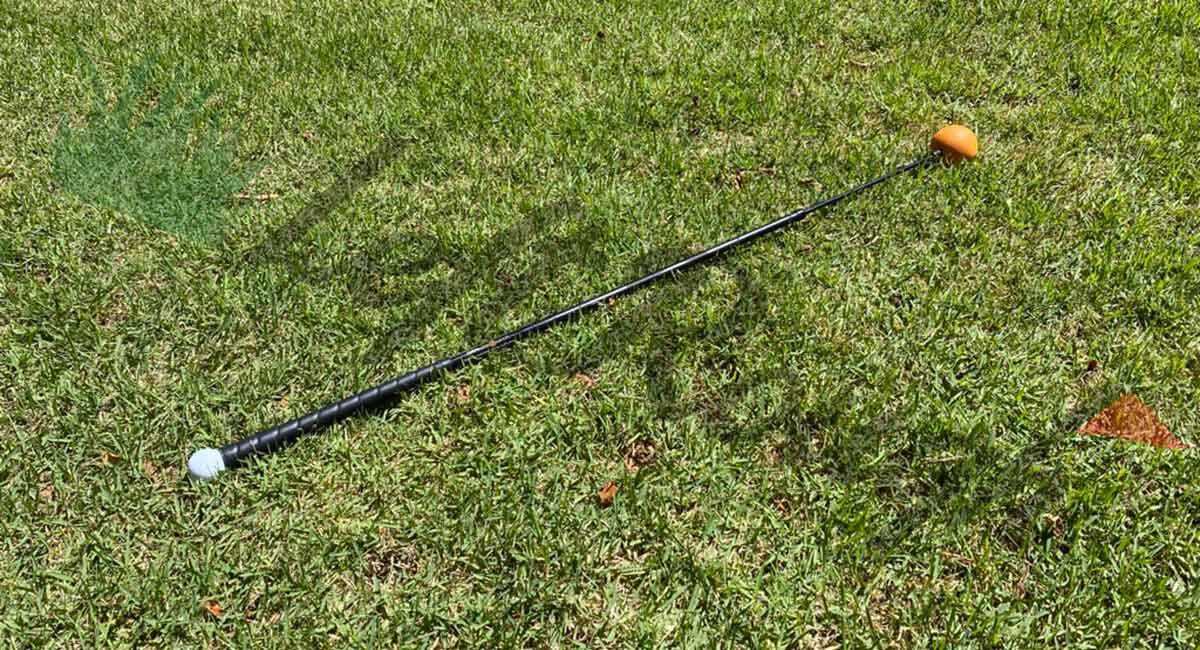 Top FAQs about the OrangeWhip
How Does the Orange Whip Work?
The orange Whip will help you improve your swing tempo, strength, and flexibility. It will help improve your tempo and find the natural feel of lag. Plus, it's great to warm up with before your round.
Is there a women's or junior model?
There is the standard model and a junior model as well. The junior model is slightly smaller and a little cheaper but has all the same benefits.
Are there any accessories?
Yes, the Orange Peel Balance trainer is an awesome upgrade to the swing trainer. It has a concave surface so your stance will adjust to the center and balance your course. It will help create all possible slope conditions that you will find on a golf course.
Paired with the Orange Whip, this will improve balance, strengthen your legs, prevent you from swaying. Plus, it comes with a 2-year warranty and reviews have notated that it's extremely durable.
Summary of the Orange Whip Training Aid
As you know, golf is challenging so get any sort of advantage you can. Whether that's a new golf GPS, a launch monitor or a device like the Orange Whip. The Orange Whip training aid will help you lower your scores and hopefully, have more fun on the golf course. You can strengthen your swing power while maintaining control in this epic device.
Start swinging your most athletic and simple swing yet by picking up this training aid today. It will help you with rhythm, timing, coordination, flexibility and more. Almost instantly, you can feel the improved synchronization between your upper body and lower body to create effortless power. Plus, you will easily gain greater coordination and better muscle memory for a more consistent swing.
Click here to purchase the Orange Whip training aid today on Amazon for the lowest price available.