Wedges are without a doubt the most versatile clubs in a player's bag.
Players use them for full swings off the fairway, to pitch, to chip, and to get out of the sand or thick rough. But they rarely get the attention when you're buying new clubs.
Usually, most golfers focus on buying drivers, irons, putter, and wedges tend to come last in the pecking order. But in reality, you use your wedges way more often than most people think and should find the right ones for your game. Contrary to most beginners' logic, finding the right wedges can improve your scores more than that nice new driver.
As a beginner or high handicapper, you'll need to understand the selection of wedges that are out there before picking the right ones for your game. This post will get you up to speed on what's new in 2021 and help you make an informed decision on your next wedge purchase.
Best Wedges for Beginners and High Handicappers for 2021
As with their other clubs, today's manufacturers make different wedges for different levels of player. Here's a rundown on twelve of this year's best options, and who they're most suited for:
1. Cleveland CBX 2 Wedge
PROS
Extremely versatile yet forgiving.
Big upgrade from the CBX wedge from 2018.
The cavity back design provides exceptional forgiveness.
Available in lofts from 46 to 60 degrees in two-degree increments.
Two different V shapes on the sole of the CBX maximize forgiveness and maintain versatility.
The CBX 2 wedge plays amazing off the turf thanks to a front-to-back V shape. A heel-to-toe V shape allows players to open the face with no loss of versatility in the sand.
Available in lightweight steel or graphite shafts designed specifically to promote feel and responsiveness.
A hollow chamber near the heel and a heavyweight in the toe maximizes MOI and perimeter weighting for unprecedented short game forgiveness.
Fourth Generation Rotex Face technology delivers the sharpest Tour Zip Grooves and most aggressive face milling for maximum spin and short game control.
Enhanced Feel Balancing Technology delivers a toe-bias center of gravity, while a Gelback TPU Insert reduces vibration. It all combines to deliver a pure feel at impact (despite having a cavity).
CONS
Not for professionals or low handicappers.
Nothing over 60 degrees of loft.
Limited shaft availability.
The Cleveland CBX 2 wedge made the hot list for Golf Digest in 2020 making it on the best wedges for amateurs this year. Manufacturers usually don't think "forgiveness" when it comes to a wedge, but Cleveland Golf sure did.
According to Cleveland Golf, their new CBX 2 wedges – "Provides off-the-charts forgiveness thanks to a new Hollow-Cavity, while the Dynamic Sole boosts all-around versatility. The Cleveland CBX 2 is a forgiving, versatile wedge optimized for golfers who play cavity back irons."
The CBX wedge line may just be the best wedges for beginners and high handicappers as well, on the market today. If you fall into this class of player and you don't already have a couple of these in your golf bag or checkout cart, go to our review of the Cleveland CBX 2 Wedges.
Click Here to Order the CBX2 Wedge.
2. Callaway Mack Daddy CB Wedges
A new entry to the list this year is the Callaway Mack Daddy CB wedges. These are the most forgiving wedges offered from Callaway and very different from the Jaws wedges which are a traditional blade. For higher handicaps and beginner players, these wedges are much more forgiving and easy to hit.
The Mack Daddy CB wedges are a cavity back design to help you score better from short range. Since most golfers play a cavity back iron, it makes sense to play a cavity back wedge too – especially a pitching and gap wedge. The transition from irons to wedges is incredibly easy.
PROS
With this wedge you still get tons of forgiveness but also tons of spin as well. Talk about a win-win scenario!
Not to mention, they're some of the best looking wedges for higher handicap golfers. They aren't big and bulky like some which provide a seamless transition from your irons.
Callaway offers two sole grind options for maxim consistency – the full sole and the W-grind sole. The full sole is great for pitching and gap wedges while the W grind is for higher lofts to enhance bounce and forgiveness. This makes it easier to hit from sand and thick juicy rough (remember, bounce is your friend).
While they're player friendly, they also provide tons of spin with their patented Jaw groove design. The 46-52 degree options have conventional grooves, while the 54-60 degree wedges offer full face grooves. This allows for more spin with shots that are closer to the green and is great if you're short sided and need your ball to stop quickly.
Finally, you get two different shaft options to choose from as well. This is another huge perk as so many golfers play graphite shafts in irons then go to steel with wedges. This is a hard transition as the swing weight and tempo is very different.
But with the Mack Daddy CB wedges you can choose from the KBS hi-Rev 2.0 steel shaft (105 grams) or the KBS Hi-Rev graphite shaft. Plus, each comes with a custom Golf Pride SG-1 short game grip for even more control.
CONS
Honestly, it's hard to find anything not to like about these wedges.
This is Callaway's most forgiving wedge they've ever made. You could do much worse than putting these in the bag.
You can can click here to purchase your Mack Daddy CB wedge or here.
3. Callaway Sure Out 2 Wedge Review
PROS
An extremely versatile club for golfers of all handicaps around the green.
Bunker shots made easy: Callaway upgrade from the original Sure Out wedge by enhancing the sole to refine the bounce angle, and added more heel relief. The Sure Out 2 is designed to help you hit better shots from the sand and to give you much better playability from every lie.
A larger face and wider sole, than typical sand or loft wedges, lead to better contact and optimal distance control.
17 full-face grooves with an aggressive groove pattern to promote fast, tour zip grooves.
Available in either lightweight steel or graphite shafts designed specifically to promote feel and responsiveness.
Exceptionally forgiving on full shots from the fairway as well as chips, pitches, and bunker shots.
CONS
Somewhat pricey but worth the price.
Only available in sand and lob wedge configurations (56, 68, 60, and 64 degrees)
Callaway engineers and world-famous golf instructor Hank Haney put their heads together to create the new "Sure Out" wedge and upgraded it with this Sure Out 2 model.
Callaway makes the bold promise that the Sure Out 2 will get the ball up and out of trouble, and makes greenside shots exceptionally easy to play, even from the sand and thick rough.
The Sure Out 2 works as advertised making it one of the best wedges for high handicappers. It's an excellent club for beginners and players who haven't quite cracked 90.
Click Here to Order the Sure Out Wedge.
4. Cleveland CBX Full Face Wedge Review
Speaking of full face wedges, Cleveland recently developed their own version as well. The Cleveland CBX full face wedge is a great addition to their already popular CBX wedges which made the Golf Digest Gold Host List in 2021. The CBX Full Face is a great alternative to the CBX 2.
So what's the big deal with full face wedges? One word: forgiveness.
PROS
With grooves on the entire golf club, no matter where you hit it on the face, you'll get plenty of spin. This makes it a great choice for higher handicap golfers who might not always find the sweet spot. As they said on their website, "Rotex Milling, Laser Milling, and Tour Zip Grooves cover every millimeter of the hitting surface, ensuring maximum versatility with maximum spin."
These full face wedges have a high toe profile to help with off center hits, a half cavity back design for forgiveness, and a sole that's good for all lies. This makes it a very versatile club that should take the fear out of those tough greenside shots or ones in the bunker.
Another perk is that it's available in graphite or steel shaft option. You can choose from the Dynamic Gold 115 wedge shaft or the Rotex Precision graphite shaft with wedge flex. Both come with a Lamkin 360 all black grip. Left handers beware though, only the 56 and 60 are available at this time.
CONS
The one downside is that these wedges are only offered in four lofts; 56, 58, 60, and 64 degrees. And while the 64 degree sounds fun, I wouldn't recommend this option for most golfers as you can't hit it very far and does require a bit of a learning curve. Instead, opt for a 58 or 60 so that it's gapped 3-4 degrees from your sand or gap wedge.
Click here or here to learn more about the CBX Full Face wedge.
5. Cleveland Smart Sole 4 Wedge Review
PROS
Now available in three lofts (42, 50 and 58)
Cleveland's Feel Balancing Technology places the center-of-gravity toward the middle of the club face and makes it more forgiving on full shots.
An extra-wide three-tiered sole, with added leading edge bounce, provides maximum forgiveness from the fairway, rough or out of the bunker.
A real true high handicappers club made specifically to help you get out of the sand.
Exceptionally forgiving on full shots off the fairway.
CONS
Not available for left-handed women.
Imparts almost no spin.
Not the best for pitching or chipping.
Not the most attractive looking golf club
The Smart Sole 4 simply makes the short game easier. Cleveland engineers put all of their knowledge into designing a game improvement wedge that will get you off the beach and onto the green, every time. Plus, with the 2020 model, there are now three lofts. This is a great way to make golf easier but not suggested for anyone breaking 90.
You won't be backing up the ball with this club (you probably won't be doing that with any club anyway) but, you will be getting out of the sand a lot more often. The Smart Sole 4.0 is a definite game-changer for players who struggle with the sand.
Click Here to Order the Smart Sole 4.0 Wedge.
6. Mizuno JPX 919 Wedges
Let's not forget about Mizuno wedges. While they're primarily known for their high quality irons, their wedges are pretty awesome too. In fact, the ES21 wedge might be the best looking club on this list and on the market!
So what makes this wedge so special (besides its good looks)?
PROS
A redesign that helps the everyday golfer from short range distance. Mizuno moved the sweet spot up on the face for more forgiveness which helps a ton for beginners who might decelerate at impact.
Plus, it has a high toe profile for off center hits and a slight cavity back too. For Mizuno, it's pretty rare to have so many features for high handicappers but easy to see why golfers love it.
What makes this club so awesome is that it has a very sleek top line that is similar to a Titleist Vokey or Callaway Jaws wedge. And it still has tons of technology to make it an easy to hit golf club.
Another huge perk is that there are tons of different loft and bounce options. They have wedges from 54 to 64 degrees and bounce from 4 to 12 degree options. So no matter what type of swing you have and what type of conditions you play in, you can find the club for you.
CONS
The biggest downside is that it's only available for right handers at this time. And only available in steel, making it not ideal for some golfers who use graphite iron shafts and want an easy transition to wedges.
Overall though, if you're a decent ball striker and looking to become a wedge wizard, these clubs can help. Their sleek all black design and top thin line make these some of the best wedges for 2021.
You can purchase your Mizuno ES21 Wedges here or here.
7. Ping Glide 2.0
PROS
Milled Face and Specialized Grooves – Specialized facial grooves increase the spin and improve control and precision on both full and partial shots.
Four available sole grinds include SS Grind, WS Grind, TS Grind, or ES Grind.
The proprietary Dyla-Wedge Grip is three-quarters of an inch longer than the traditional grips. This will allow you to choke down further on the club for better shot-making and ball control.
"Fitting by Sole" makes sure that your wedges match your game. You can be fit for a sole grind based on the typical turf conditions where you play, your attack angle, and divot taking depth.
Sharper and closer together grooves increase friction and impart more juice on the greens.
CONS
A bit pricey.
Geared more towards better players.
Not available directly from Ping.
The original Ping Glide was one of the best cavity backed wedges on the market. But the new Glide 2.0 has new, sharper grooves that are closer together for increased friction, imparting more spin (up to 400 rpm in testing) for precise distance, and trajectory control from full swings or finesse shots.
They're excellent clubs for low and mid handicappers but less skilled players will find better choices.
Click Here to order the Glide 2.0 Wedge
8. Titleist Vokey SM7 Wedges
PROS
A progressive center-of-gravity, precisely aligned with the impact position, produces exact distance and ball flight control.
Titleist's "Spin Milled Technology" provides maximum spin, control, and consistency. Each loft has different face grooves and texture for optimal performance.
A grind for every player – Vokey wedge grinds are the game's benchmark. No other wedges offer players the same level of shot-making versatility.
Available in three different finishes – Tour Chrome, Brushed Steel, and SM7 Raw.
Available in lofts from 46 to 64 degrees, in two-degree increments, and various combinations of bounce and grind.
CONS
Not for the average player with its blade design.
Somewhat pricey compared to others on this list.
The Vokey SM7s are some of the best wedges on the market but you need the skills to get the most out of these clubs. They feature top-notch feel and feedback and offer excellent distance control with grooves that dig in and create plenty of juice.
There's a grind for every shot and style of play. These are serious clubs for serious players. Not the best choice, however, for beginners and high handicappers.
Click Here to Order the Vokey SM7 Wedge
For more details on the Vokey SM7 wedges, check out our in-depth review of the Titleist Vokey SM7 Wedges. Titleist just released the new SM8 wedge lineup. You can read our full review of the Titleist Vokey SM8 wedges here.
9. C3i Wedges
PROS
Amateur friendly design .
2″ wide sole to glide across the turf and through the sand to eliminate fat chips and flubbed bunker shots.
Hosel section shaped to minimize material collecting in the pocket for maximum zip on the greens.
12-degree bounce is placed closer to trailing edge so the club is less likely to blade.
COG (center of gravity) is is located up and back within the clubhead for extra backspin.
Glare-reducing black finish.
Bottom groove painted white so it's easy to line up directly at your target.
Conforms to the rules of golf.
CONS
Only for high handicap players.
Not a good looking wedge.
Only comes in 59 and 65 degrees.
While they aren't a sexy golf club, they are arguably some of the best wedges for high handicappers. They take the frustration out of the 50-yard shots and in to make your short game less stressful.
As their website said, "The all-new C3i Wedge is specifically designed for amateur and recreational golfers to deliver an ultra-forgiving, "never-fear-the-sand-again" experience. No digging. No blading." It's got plenty of loft (65°) to handle any bunker or flop shot without having to open the club face. And with 12° of bounce, it's perfect for practically any kind of sand – from firm to fluffy.
All you do is set up square and swing.
Click here to learn more about the C3i clubs.
10. TaylorMade Milled Grind 2 (MG2)
PROS
Precisely crafted sole grind on each and every wedge that produces optimal turf interaction and consistent performance.
Thick head design: By redistributing mass, Taylormade optimized center of gravity (COG) location for precise flight and enhanced feel.
TP RAW Groove Design is engineered for extra greenside spin, with sharper, narrower, and deeper grooves in the face, as well as laser etching.
The TPU Insert in the back cavity of the wedge is designed to provide vibration dampening, creating a solid, positive feel at impact.
Two finish options – matte black and satin chrome
48 degrees -60 degree options (spaced ever two degrees)
CONS
Face rusts over time.
Only available in a steel shaft.
Most expensive wedge on this list.
Not geared towards beginners or high handicappers.
These Taylormade wedges are also played by one of the greatest short-game players ever – Tiger Woods so you know its for really good golfers. The all-new Milled Grind 2 wedges combine precision-milling with Raw Face Technology designed to create more spin, precision and feel. While the face rusts over time, the rest of the head will maintain its original finish.
Click here to order the Taylormade MG2.
11. Cobra King PUR Wedge Review
PROS
Pure Spin technology provides enhanced control and accuracy for players looking to attack the pin and save strokes.
Progressive Spin Tech uses broader and shallower grooves in the weaker lofted wedges and narrower and tighter spaced grooves in stronger lofted wedges. This provides more consistent trajectory through the range of different lofts.
Variable Face Roughness uses a varying level of roughness across the wedge face. Along with Cobra's Pure Spin and Progressive Spin technologies, Variable Face Roughness provides better spin and more control around the green.
Available in three grinds – Widelow for swings deep or typical approach angles and soft to neutral conditions, Classic for neutral swing angles in all conditions, and Versatile Grind for typical or sweeping swings on average or firm conditions.
Has a stainless steel rust-resistant finish.
A taller muscle back design provides a softer feel and tighter shot dispersion.
CONS
Not for beginners or high handicappers.
Limited loft availability.
Cobra put plenty of effort into the PUR line of wedges. Along with clean and stylish looks, and lots of technology, the PUR sand, and lob wedges perform as advertised.
They're a great all-around club but, not necessarily good for beginners and high handicappers.
Click Here to Order the PUR Wedges.
12. Square Strike Wedge
PROS
Made the "Hot List" from Golf Digest thanks to the unique features.
330 grams total weight: This is in line with most putters and about 30g heavier than a typical sand wedge. The purpose is to minimize your hand/wrist action while engaging the larger muscles of your arms and shoulders like a putting stroke.
Precisely Centered COG & High MOI: By moving mass to the toe, the designer's COG (center of gravity) is located precisely in the center of the clubface and marked by a vertical line. Plus, its MOI (moment of inertia) is higher than a typical wedge.
Impossible to hit fat (according to their website – copyright 2020).
Now available in green or black wedge color.
Legal for tournament play.
60-day money-back guarantee.
CONS
Only can be used inside 40-50 yards.
Not a good looking golf club.
The final wedge to end this list is one that you've probably seen every 30 seconds if you watch the Golf Channel for a while. It's all about making it easy to stop hitting fat and thin chip shots with a simple, straight back, straight through movement. It's a good choice if you're just getting started but not one for players who can break 100.
Click here to purchase a Square Strike Wedge.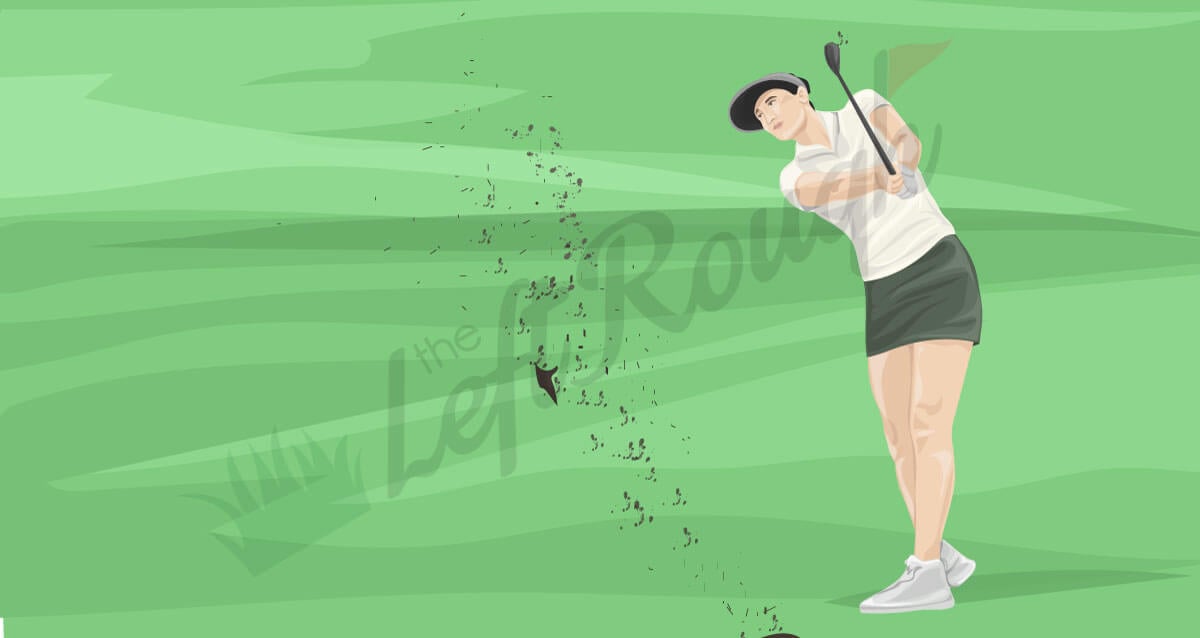 Golf Wedges 101
Now that you know the best golf wedges for beginners, let's dive into what makes these clubs so versatile on the course. The more you know about your equipment, the better equipped you are for any situation.
Golf wedges come in four main categories – pitching (PW), gap or approach (AW), sand (SW), and lob (LW). Here's a rundown on each:
Types of Wedges
Pitching Wedge
​If you're like most golfers, you probably think of the pitching wedge as more of an iron than a wedge. Despite its name, players rarely pitch the ball with a pitching wedge. Manufacturers almost always include a PW as part of an iron set, and golfers rarely buy them individually. But even though other wedges are better for pitching, it's still a great tool to get up and down when you're chipping or using for bump and runs shots.
Gap Wedge
The gap wedge comes in handy when a full swing with a sand wedge won't reach the green but a pitching wedge is too much club. The loft of a gap (or auxiliary) wedge falls right in the middle of the two. The club fills the traditional 8-degree gap between the sand and pitching wedges, thus the name "gap wedge."
Sand Wedge
If you carry only one extra wedge, it should probably be a sand wedge but if you're a savvy golfer, you should have 3-4 total. Sand wedges were explicitly created to help you get your ball out of the sand and onto the green with a unique sole design. They have a more substantial head which provides the necessary momentum to power through the sand and get the ball out easily.
But the way the club is designed, they're also helpful from the rough as well. On a full swing, expect to get more height and about ten to twenty yards less than the gap wedge. They also tend to spin more so make sure to plan accordingly.
Lob Wedge
With even more loft than the sand wedge, the lob wedge works great for short shots that require extra height. Most lob wedges work reasonably well out of the sand as well, especially if the bounce matches the sand conditions. These clubs also come in handy for a quick stop on fast greens and the tricky, 30-60 yard shot.
Golf Chipper
These are special clubs designed just for chipping. They are not technically a wedge but some players carry a chipper instead of one of the wedges above. They look a little bit like a putter but they have a little bit of loft on the face so that you can use your putting stroke to chip around the greens. You don't see many of these in golf bags, but for the select few who use them swear by them. Go here to read our full article on chippers.
Wedge Basics
Now that you know the four different types of wedges, let's move on to the properties that differentiate each golf wedge from the next.
Loft
The loft is the angle of the clubface in relation to the shaft. The higher a club's loft angle, the higher it will launch the ball and shorter the distance. Not long ago standard lofts (in degrees) were – PW (48), AW (52), SW (56), and LW (60).
Nowadays, manufacturers have strayed from these numbers for a variety of reasons so make sure to check the specs when purchasing new clubs. For example, some club manufacturers now produce lob wedges with as much as 64 degrees. If you accidentally buy this instead of a 60 degree it can add a huge gap in your clubs.
Bounce
Bounce is the angle between the club-face and the sole of the club. A club's bounce can help it glide through the sand, or keep it from digging into the turf.
Wedges with a bounce angle between 4 and 6 degrees are best for players who tend to sweep the ball. They also are much easier to hit the ball from firmer grass, tight lies, hardpan, and bunkers with hard sand. But the leading edge is also a lot different than mid or high bounce so keep that in mind next time you're buying.
Mid-bounce wedges have angles between 7 and 10 degrees. They're the most versatile option of all bounces and accommodate a broader range of conditions and swing types.
Wedges with a bounce angle over 10 degrees are considered high-bounce. These wedges work best in fluffy sand, deep rough, and softer fairways.
To learn more about wedge bounce, check out our detailed article on wedge bounce.
Grind
Many new wedges have another property called grind which refers to the shape of the club's sole. Years ago, players would customize their wedges by grinding down sections of the sole – thus the term "grind."
The modified sole allowed them to open or close the clubface without affecting its bounce property. For most golfers, finding the right wedge ranks much higher on the list than worrying about its grind.
Cavity Back
According to Cleveland Golf – eighty percent of golfers should use cavity back wedges. The cavity-back design allows manufacturers to push the weight to the periphery of the head which makes the club more forgiving and provides better launch, even on mishits.
But I would bet that at least 80% of players are playing the exact opposite wedges trying to mimic their favorite tour pro. This is why is so many amateur golfers struggle from 120 yards and in. Plus, it's 100% okay to have a combination of cavity back and blade models.
For example, if you're a golfer who shoots in the 80s, you could have a pitching and gap wedge with cavity (for increased forgiveness and blad wedges for your sand and lob. T
Blades
Blades are forged from blocks of carbon steel. They're then shaped by machine, or by hand, and plated with chrome. Blades are also known as "muscle-backs" because they have a solid back of the clubhead, as opposed to a hollowed cavity back.
Low handicappers and tour pros use blade-style wedges (and irons too), as they provide better control than the more forgiving cavity backs. But as I mentioned, they are much less forgiving so it's important to find the right wedge for your swing and current skill level (which I'll cover).
Remember, don't make golf any harder on yourself by playing equipment that isn't suited for your game.
How Many Wedges Should a Beginner or High Handicapper Carry?
Why not carry them all?
There is a 14 club limit and you should carry whatever helps your game.
You probably already have a pitching wedge that came with the set. If you don't have a gap wedge, try to get one in the same model as the clubs you're now playing. This will give you consistency and fill the distance "gap" that this wedge was designed for.
Everyone needs a sand wedge. No other club does what it does out of the sand or around the green. The sand wedge is also the club that most players use to pitch the ball.
Many players, especially beginners and high handicappers, shun the lob wedge. It can be challenging to master and requires a good hack to make the ball go anywhere. But, nothing beats a lob wedge to get out of, or over, a steep bunker, or getting the ball to stop on a slick green so I suggest carrying four.
A lot of golfers think it's more beneficial to carry another fairway wood or hybrid but in reality, you'll use each wedge much more than those clubs.
What loft of wedges should I carry?
This is a great question and 100% depends on the loft of your irons. Many clubmakers nowadays strengthen lofts to give players more distance.
Ideally, you'll want lofts spaced four to five degrees apart.
If you add a lob wedge, opt for the 60 degree. The 64 degree wedge can be extremely difficult to hit, without a lot of practice and won't help the average amateur player.
What is the best degree for a sand wedge?
If you use your sand wedge off the fairway and to pitch, as well as getting out of the sand, then go four degrees higher than your gap wedge, or eight degrees higher than your pitching wedge.
If, however, you will only use the sand wedge to get out of the sand, then go with the loftier 58 degrees. 58 degrees will give you a better chance at popping the ball out of the sand, and onto the green on the first attempt.
Just as with drivers, woods, and irons, major golf manufacturers put a lot of effort and technology into their wedges. You'll be hard-pressed to find a poor performer on the shelf nowadays.
But, just as with their other clubs, today's manufacturers make different models for different levels of players. Here's a rundown on eight of this year's best options, and who they're most suited for:
By now you may have drawn your own conclusions, or you might be even more confused than when you started reading. Here's what we have found:
What is the Best Wedge for Beginners in 2021?
If you only carry one wedge, you should have a sand wedge. But again, why make the game harder on yourself?
A good sand wedge will save you strokes every time your ball lands in one of those big sandy craters, with incredibly magnetic powers, that seem to cover about ninety percent of the course.
Of all the sand wedges looked at today, the Cleveland Smart Sole 4.0 will save you from the dreaded snowman, more times than not.
What is the Best Sand Wedge for High Handicappers?
The Smart Sole 4.0 is a great club out of the sand.
Unlike beginners though, High handicappers use a sand wedge for a variety of shots and would do better with either the Callaway Sure Out or the Cleveland CBX 2, with the CBX 2 having an edge off the fairway.
What is the Best Lob Wedge for High Handicappers?
As you can tell, there are a lot of great choices for the best wedges for high handicappers in 2021. The biggest thing to make sure of is that your wedges help, not hurt your game. Remember, you don't need any golf wedge sets, you can mix and match for what's right for your game.
If you're playing cavity back irons and have blade wedges, you could be making the game a lot harder. But Cleveland CBX 2 wedge makes its a lot easier. Thanks to "Feel Balancing Technology," the Cleveland 60 degree CBX Lob Wedge feels and swings just like a cavity-backed iron. It will give you the confidence needed to take a good hack at the ball, and the forgiveness required when you miss.
Going back to the original question, however, who makes the best wedges for high handicappers in 2021?
The Cleveland CBX 2 gets the nod and is a must have item for the new decade.
The cavity-backed design, together with Cleveland's "Feel Balancing Technology," makes them feel and forgive like a game improvement iron. They play well off the fairway, out of the sand, and everywhere in between. Feel, forgiveness, and playability make the Cleveland CBX 2 this year's best wedge for high handicappers, mid handicappers, and beginners as well. It was a nice upgrade from the CBX wedge of 2018.
While the CBX 2 is still the champion, the new Callaway Mack Daddy CB wedges are giving Cleveland some stiff competition. If you're a Callaway person, make sure to give these a try.
While there are tons of other good choices, some of them are expensive, others have too sharp of a leading edge, and others are too gimmicky for some players. Next time you go shopping for new clubs, don't forget to also upgrade your wedges as well!