If you're like most golfers you've probably heard about overspeed training. Ever since Bryson bulked up in 2020 it seems like the golf world cares about distance more than ever.
Unfortunately, the everyday golfer doesn't have a strength and conditioning program, certified precision nutrition coach, and licensed physical therapist to guide them along the way to more distance. But with a modified implement training you can gain speed and improve your physical ability.
But what is overspeed training in golf? How does it actually work and help you hit it longer than ever? Is there a risk of injury?
These are good questions and ones we'll address today to help you understand this important concept. If you're ready to take your game to the next level and hit it longer than ever, this is the article for you.
Overspeed Training Golf
Overspeed training is a way to make your body faster than normal by retraining the brain.
Here's how SuperSpeed Golf defined over speed when it comes to the golf world.
"Your brain remembers how fast your body usually moves when you make a golf swing. Overspeed Training works by making your body faster than normal during the training, gradually causing the brain to remember this faster speed."
This concept works in golf and other sports to increase movement and create more speed. Overspeed training can improve baseball bat swing velocity, increase speed endurance development, enhance sprint speed, and swing the golf club faster.
Basically, if you want to increase swing speed you need to get your mind and body to adapt for more speed. This was previously reserved mostly for the PGA Tour and professional golfers but now this is available for everyday golfers too.
Key Takeaways
Overspeed training is a way to train your muscles over time to generate club speed.
More speed in your swing leads to faster clubhead and ball speed which equates to more distance.
The longer you hit it off the tee, the easier it is to improve your scoring average as you'll have shorter approach shots.
There are tons of overspeed training systems available to help you increase speed over time without spending hours and hours in the gym. But building strength paired with speed training is the key to unlocking your distance potential.
What is Overspeed Training?
Before getting into the details, I'm sure you've asked yourself, "Why should I start overspeed training?"
Because speed equals distance; the more driver speed you have, the longer you hit it and statically the easier it is to shoot lower scores.
Arccos Golf found that "Adding 10 yards or more off the tee helped 81% of those players gain strokes. In comparison, 65% of the players who lost 10 yards or more off the tee lost strokes. So assessing the numbers, players who add distance are more likely to improve their scores."
A longer drive equals a shorter approach shot, which makes it easier to hit it on the green and log a lower score. Even if you're in the rough, a shorter club makes the hole much easier.
Benefits of Increased Club Speed
The biggest advantage of overspeed training is that it leads to longer distances, not only off the tee but with every club in the bag.
Imagine a par 4 at your local course or country club. Let's say you hit a driver and mid-iron to reach the green normally. Imagine how much easier it would be if you had a pitching wedge for your approach instead?
Second, it doesn't take much time out of your day and can lead to fast results in your game. Most training sessions only take 15–20 minutes, 3-4x per week.
These sessions are a great way to warm up before the gym and get your body loosened up. Within 8–12 weeks (and sometimes a lot sooner) you will see huge improvements in your speed.
Lastly, a lot of golfers worry that speed training can hurt the technical aspects of their swing. According to SuperSpeed Golf this isn't the case.
Saying on their website, "Studies have shown that starting an overspeed training program will not only increase your swing speed, but also the athletic efficiency of your golf swing. Most players will see an improvement in consistency and ball flight as a result of these programs."
Types of Overspeed Training
The good news is that you don't have to create your own speed training system with weights and other exercises. Now, there are a handful of different products that make it easier than ever to add clubhead speed gains to your game.
Here are three of our favorites…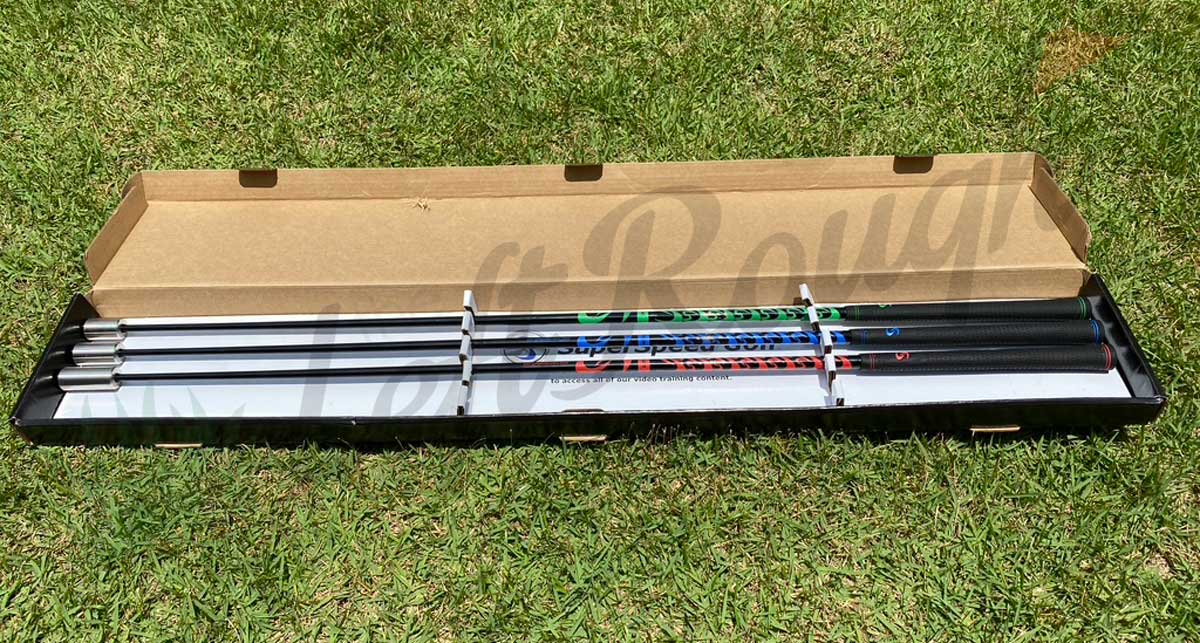 SuperSpeed Golf
One of the biggest names in the speed training world is SuperSpeed Golf. They've revolutionized the sport for everyday golfers with their easy to use weighted sticks.
Each set comes with three speed sticks; green, blue, and red. The green stick is 20% lighter than a driver, while the blue is 10% lighter. And the red stick is 5% heavier.
On their website they provide different levels of overspeed training programs to follow depending on your experience. These routines don't take long and see a huge improvement in speed over the next few months. These clubs are trusted by more than 700 Tour players and countless amateurs around the world.
Pros
The first advantage to SuperSpeed Golf is that they're cheaper than some systems. They also have different training systems for all types of players including a junior training program, family set, and long drive set.
They also offer SuperSpeed C which is a counterweight training program. Here's how SuperSpeed described it, "By moving mass behind the player's hands, we are able to reduce the resistance of the club head releasing around impact, helping the golfer to train maximum arm/hand and release speed in their golf swing."
The other big advantage is that you don't need a separate launch monitor to measure your swing speed results.
Cons
The main downside to SuperSpeed Golf is that you have three speed training sticks, not just one like other systems.
This makes it more challenging to keep them all in your bag as you need to rotate through them during each session. With others, you can change the weight and keep it in your bag more easily.
The other downside is that it's not as advanced for some users who want a more detailed training plan. The Stack for example uses algorithms inside their app to create custom training plans based on tracking with the use of a launch monitor.
But for beginners that haven't done any overspeed training yet this is a very effective method to get started.
Check out our full review of SuperSpeed Golf here.
Rypstick
The second commonly used system is known as Rypstick. This program has some similarities to SuperSpeed Golf and is a great way to get started and increase your speed. 
The RypStick features a 60 gram counterweight, eight different weight combinations, and it's easy to change weights quickly. It also has a free app to help guide you along the way and show detailed video instructions – a big advantage over SuperSpeed which doesn't have an app.
They claim on their website you can add 15–25 yards in the next six weeks! Imagine how much that extra distance could impact your golf game?
More than 100 Tour players use this product, five of the world's top 10 long drive professionals, and more than 1,000 teaching pros.
Pros
The major advantage of Rypstick over SuperSpeed Golf is that it's only one club with interchangeable weights. This makes it easier to carry in your bag at all times and might lead to using it more consistently.
Like SuperSpeed, Rypstick has different versions for different types of players. They have a men's, senior, ladies, and juniors. Not to mention they have an indoor version which is shortened and great to use in the off season without leaving home.
Lastly, the app is free and available on the App Store and Google Play.
Cons
It's hard to find any downside with the Rypstick protocols. The app is free (unlike the Stack System) and it's only one club with interchangeable weights unlike SuperSpeed Golf.
They also offer a cheap speed sensor to monitor your progress over time. Not to mention a free swing analysis is included with your purchase.
The Stack System
The third popular overspeed training golf program is known as The Stack System. This is the most advanced system in the market and used by a lot of guys on the PGA Tour and LIV Golf.
The Stack System comes with a stick, interchange weights, and an app (that is free for the first year). Here's how they described it on their website.
"The Stack includes a highly engineered training club and 5 CNC milled Stack weights that enables 30 unique weight combinations from 0g to 300g, which are easily adjusted with a threaded fastener. TheStack includes a dual-purpose weight case, which stores easily in your golf bag and doubles as a phone stand during training sessions."
Pros
The first advantage is like the Rypstick is that it's only one club with interchangeable weights. This makes it easier to carry in your bag and likely use more often so you stick to the plan.
Second, it provides detailed information about your swing using the advanced algorithms in the app. This allows them to create a custom plan for your game instead of a generic speed training protocol.
Lastly, the Stack app has other advanced programs to help you gain speed.
Cons
The main downside to the Stack System is that you need a separate launch monitor or speed radar to measure your results. With SuperSpeed you don't need any other devices although they can help. But to pair the Stack app with your training program, you'll need to measure swing speed.
These devices can range in price depending on if you buy a speed radar or personal launch monitor. A speed radar device – which can work for other sports too like baseball – is less than $100. Check out our review of the Sport Sensor radar here.
Launch monitors are usually more than 2-3X the price of a swing radar system, not to mention the Stack is the most expensive program out there. But you can use them for a lot more than just overspeed training.
The other downside to the Stack is that an app is required which might be too complex for some golfers. It's overall a more complex speed training system than SuperSpeed Golf and I think it's a better fit for an advanced golfer.
The Stack app is free for a year but then a paid subscription. Check out our full review of the Stack System here.
Other Speed Training Tips
We've covered a lot thus far but wanted to include a few last minute tips to set you up for success on your speed journey.
First, don't associate speed training with golf – think of it as another sport entirely as Sasho Mackenzie (the creator of The Stack System) explained in this Golf.com article.
Your goal of speed training is to "swing the stick fast. It's a form of exercise designed to help you both gain strength, and train your muscles to release that strength, similar to lifting a dumbbell. It's a different exercise, designed to train your neuromuscular system,"
Of course the motion is similar but you're not actually hitting a ball.
The goal with speed training is to increase your potential for speed when you're back on the range or golf course.
Second, don't try to swing like Bryson DeChambeau on the golf course. When you think of your speed session as its own unique training it can help swing the club with.
As Sasho said in the same Golf.com article from above. "Where I see people get caught in the trap is when they look at it like: 'Bryson's at 190 ball speed. I can swing at 190 ball speed.' But Bryson is swinging at 80 percent of his [max speed] to get to 190 ball speed."
When you have more speed potential, you can swing easier on the course which means straighter, longer drives. If you do need to max out on the course for a short par 4 for example, you know you have a little bit more in the tank.
Remember when Bryson drove the first hole at the last Ryder Cup? That was only made possible by his hard work with speed training.
Next, stick with the protocols and don't over do your training. While it's easy to get addicted to new swing speed gains, more isn't always better – just ask Bryson. Overtraining can lead to golf injuries and/or fatigue on the golf course.
While you shouldn't do a full speed session every day, you can use them as part of your warm-up routine. I've incorporated them into my driving range routine and seen a great improvement in my swing on the first few holes. Not to mention the weighted sticks make it easier to loosen up – especially on those cold mornings at the course.
Finally, I do think it's beneficial to buy a speed radar or launch monitor so you can measure your progress over time. This will help you stay motivated and ensure you're making progress toward your distance goals.
FAQs About Speed Training
Do you have more questions about speed training to help your golf game? If so, keep reading our most frequently asked questions and answers to learn more now.
How can I increase my club head swing speed?
Overspeed training is the easiest way to increase your clubhead speed and hit it longer off the. Other methods include golf workouts, stretching (so you have more flexibility), finding the right driver, and speed training range sessions.
To learn more about increasing your club head speed check out our full guide here.
Can I do SuperSpeed every day?
It's best to not use SuperSpeed (or any overspeed training method) on a daily basis. The workouts are strenuous on the body and need to allow yourself time to recover (usually 24 hours). This will ensure you're refreshed and ready to go for the next overspeed training session.
How do I gain 10 mph clubhead speed?
This depends on your current clubhead speed. If you're at 85 or 90 mph currently, there are a lot of ways to add 10 mph including the use of speed training and workouts.
But if you're already at 105 or 110 mph, adding 10 mph is a lot more challenging. This will require a longer time horizon.
How many days should I work on speed?
In general, it's best to train 3-4X per week (at most). It's best to follow the training protocols for whatever speed training system you use. Make sure to take a rest day in between training so you don't overdo it and wear yourself down.
If you're playing in a competitive event I'd also recommend not training the day of a tournament. Instead, use the speed training sticks as part of your warm-up as each of them have their own protocols. This will be a fraction of the work you'd normally do but can help you get loosened up before the round.
Does SuperSpeed make baseball products?
Yes, SuperSpeed Slugger is a way to improve normal baseball bat velocity using a similar training regimen.
My Experience
More distance off the tee makes it easier to play golf at a higher potential. When you can produce power on demand it can improve your golf performance like nothing else.
In high school I maybe hit the driver 240 yards, now it's closer to 300 and let me say it has made a significant difference in my game. Having a few clubs less into each green leads to more scoring opportunities.
My biggest piece of advice is to stay consistent with your training. The workouts don't take a lot of time and can lead to some huge distance gains.
However, it won't happen overnight. While you will get some "newbie gains" at the beginning, you need to stay consistent for long-term results. This is what it takes to retrain your muscles to swing faster and hit it longer.
A secret benefit I never imagined from speed training was that it improved my tempo as well. I used to have a very slow backswing that led to a rushed transition and not the most consistent ball striking. But speed training has helped with a faster (smoother) takeaway which has led to better tempo in my golf swing.
Finally, I now use The Stack every day before hitting balls at the driving range using their warm-up protocol. This has helped me improve speed before the round and get loosened up more than when I didn't use it. As you can see, there are so many benefits to getting started and staying consistent with overspeed training.
Final Thoughts on Swing Speed Gains
From elite level juniors to senior golfers are using them to maximize performance. Gaining speed isn't as hard as you might think!
Even if you don't have any ambitions of getting into a long drive competition, speed training is a great idea for most golfers. If you can hit a bucket of golf balls pain free, you can and should take advantage of an overspeed training program.
A faster swing leads to longer drives and more distance with every club in the bag. Hitting your driver longer off the tee can do wonders for your confidence and give you a ton more scoring opportunities. Not to mention can improve mechanics, ball flight, and help you shoot lower scores.
What's great about speed training is that it doesn't take a lot of time out of your day. All it takes is 15–20 minutes, 3-4X a week and over the next few months it can transform your game.
Don't forget, golf courses aren't getting any shorter so any advantage you can create will help. If you're an avid golfer, start speed training sooner rather than later to make this game a little bit easier.
Have you ever tried out speed training?
Let us know in the comments below.