Do you have a face balanced or toe hang putter? Or, do you not have a clue about the putter design?
If not no worries as there is a lot to think about in terms of golf equipment – especially with putters. But let's face it, the putter is one of the most used clubs in the bag as it's used every single hole. The sooner you can gain confidence on the greens, the sooner you can shoot lower scores fast.
One of the ways to gain confidence with the flat stick is buying the right type of putter. Today we'll discuss face balanced vs. toe hang putters and which one is good for certain types of players. Plus, provide a few of our favorite putters too.
Face Balanced Putter vs. Toe Hang Putter
Putting is simple but it's not easy – meaning, the motion is so much less complex than the full swing. You're not swinging the putter fast like a normal golf club and you don't need to hit it far. But that makes the equipment you use that much more important.
When it comes to putting consistently you'll want to think about:
Type of putter head (blade vs. mallet vs. high MOI).
Face pattern.
Shaft length.
Neck bend.
Toe hang.
Lie angle.
Grip.
Let's focus on toe hang or face balanced and provide resources to other areas too.
Key Takeaways
There are two basic putter types; mallet or bladed putter.
Face balanced putters are better for straight back, straight through putting styles. While toe hang putters are better suited for putters who have more arc in their strokes.
Playing the right type of putter head can have a huge impact on your putting performance and getting the most of your game.
Face Balanced Putters (Straight Back)
So, what are face balanced putters?
A face balanced putter is a type of putter that is ideal for golfers who have a straight back, straight through putting motion. While they can work with a small amount of arc, they can also help if you shut the face too quickly at impact.
Face balanced putters are not typical blade putters… instead, are usually more traditional mallets. The head shape is much larger and usually has better built-in alignment. Not to mention it makes the forward stroke easier as it's typically heavier too.
As TGW said, "Typically, what you'll find is that larger mallet style or high MOI putters are almost always face-balanced, while it's smaller mallet shapes and blades that are toe hang putters.
There are face-balanced blade putters and toe hang mallets to be found, such as the Odyssey Toe Up #1 or TaylorMade Spider mallets, but they're more rare."
I think a majority of golfers can benefit from these putters as they are more forgiving than a blade style. Putts hit off the toe or heel still roll very similarly to putts hit on the sweet spot. This will help improve distance control on lag putts to hopefully avoid costly three putts during the round.
Make sure to check out our list of the best mallet putters now.
Toe Hang Putters (Slight Arc)
A toe hang putter is the exact opposite of face balanced putters and work better with an arched stroke. First off, how do you figure out if your putter has toe hang or not?
Here's what the same TGW article recommended, "To check a putter yourself for toe hang, balance the putter across your palm or index finger so that the shaft is parallel to the ground. You'll find that the clubface on a face-balanced putter will point straight up.
With toe hang putters, if you balance them the same way, the toe will hang toward the ground, and the more the toe hangs directly toward the ground, the more toe hang that putter has."
This is where it can get confusing – there is a different amount of toe hang on putters. It's not one size fits all approach.
If you have a small amount of arc in your putter motion, it's ideal to have some toe hang. But if you're the type of golfer who has a ton of arc and very in-out stroke, you need more toe hang. This will help you get the face square at impact and not miss a lot of putts to the right of the hole.
Blade putters are more old-school but still used by tons of players – both professionals and amateurs. Make sure to check out our list of the best blade putters now.
What to do Next – Figure Out Your Putting Stroke Style
Now that you know the difference between toe hang vs. face balanced, it's important to ensure your putter matches your stroke. Otherwise, you're just making golf harder on yourself by using the wrong equipment.
Start by recording your putting motion with the slow motion camera on your phone. It's pretty easy to tell if you're more of a straight back, straight through putter or an arc putter.
If you have a high arching stroke path, opt for a blade putter with more toe hang. If it's a minimal arc, opt for one with less arc. And if you're a straight back putter, opt for mallet style putters.
Other Putting Factors
While finding the right type of putter is key, don't forget about the other factors mentioned above.
First is the type of putter face as you can choose between inserts vs. milled faces. Milled putters have more feel and less forgiveness. While insert putters (like the Odyssey White Hot) have more forgiveness but less feel.
Next, is putter length – which ranges from 32 to 36 inches for men. Having a putter with the right length will ensure your eyes are in the right position for a consistent setup on every putt. While some golfers prefer the arm lock method which requires a putter length between 38–42 inches.
The type of neck bend can also play a role. Some players prefer center shaft putters, while others prefer a double bend, heel shafted, or plumber's neck. 
Read our article on single vs double bend shafts for putters.
Lie angle is another important factor when it comes to rolling putts consistently well. This is why we suggest getting a custom putter fitting to find the right settings and test out different shafts.
Your putter grip is the final thing to consider when customizing your putter. Some players prefer smaller grips, while others prefer larger "fat grips."
Thicker grips can help minimize excess wrist movement but also decrease feel. Ultimately, each has their own pros and cons so make sure to do your research before buying a new grip.
FAQs About Putters
Do you have more questions about putting and finding the right type of putter for your game? If so, keep reading through the most frequently asked questions and answers below.
Can you face balance a toe hang putter?
As TGW mentioned in the article above, "There are face-balanced blade putters and toe hang mallets to be found, such as the Odyssey Toe Up #1 or TaylorMade Spider mallets, but they're more rare."
In general, a toe hang putter is a blade design meant for an arced stroke. While mallets are typically face balanced to match the type of stroke for each putter design.
Which Scotty Cameron is face balanced?
Scotty Cameron makes some of the best putters in golf and is used by tons of PGA Tour players. Not to mention, Tiger has won all but one of his 15 majors with the same, trusty Scotty Cameron. Must most of them have a good amount of toe hang which isn't ideal for all types of golfers.
But if you want a face balanced option they do have the Scotty Cameron Phantom X series. These are ideal for a more straight back, straight through putting stroke. Additionally, they also offer mid-bend shafts that are close to face balanced models.
Can you use a face-balanced putter with an arc stroke?
A face balanced putter is better suited for a straight back, straight through putting motion. However, you can also buy a new putter with interchange weights if you still have an arc stroke.
Now putters (like PXG) allow you to change the weight balance just like a driver. This can help if you miss putts left or right and want to fully customize it to your putting stroke.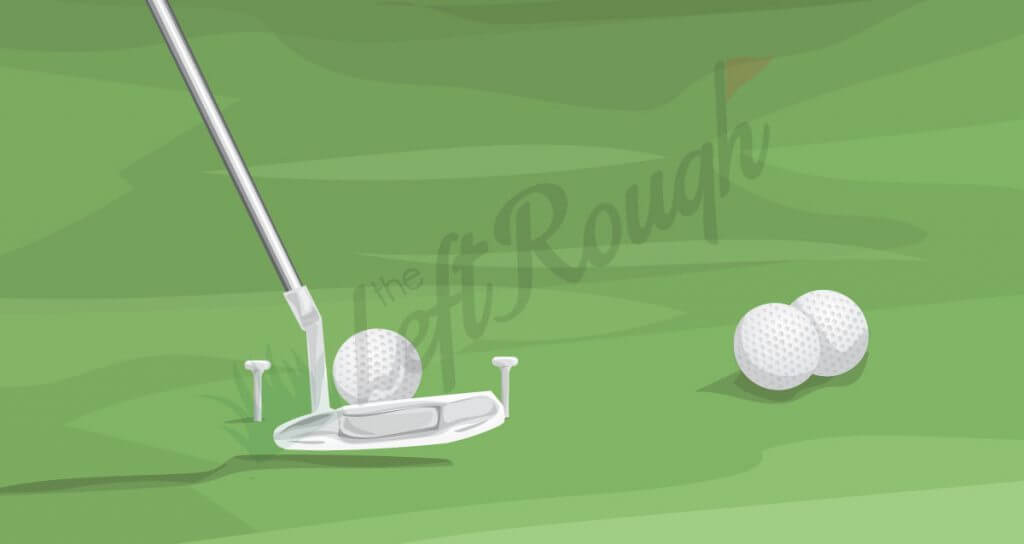 How do I improve my putter mechanics?
Even if you have the best putter for your stroke, you need sound putting mechanics too. Most golfers can shoot significantly lower scores by spending an hour or two each week on the fundamentals like:
Ball position.
Grip pressure.
Keeping head down.
Accelerating through the putt.
That's why we suggest buying an indoor putting green to help develop a fluid stroke that holds up under pressure. Paired with the right practice drills, you'll make more putts than ever on the golf course.
My Experience
Choosing the right type of putter is crucial to getting the most out of your game.
I've played a face balanced mallet style (non-toe hang model) for more than a decade and love it. I think it helps me hit the golf ball more consistently and minimizes wrist movement.
While other golfers prefer a toe hang design as they have an arced stroke. At the end of the day, use a club that is right for you!
When buying a new putter, think about all the factors mentioned above from club head to grip size. Plus, putter fittings can help test out if a hang or face balanced is right for you.
Final Thoughts
The sooner you understand your putting motion, the sooner you can buy the right putter for your game.
To recap:
Face balanced putters are better for straight back, straight through putting strokes. These are mallet or high MOI (known as modern mallet) putters like the TaylorMade Spider.
Toe hang putters are better for players with an arc putting style. The more arc you have, the more toe hang you need.
Once you find the right putter head shape, don't forget the other factors mentioned above. With a good routine and regular practice, you can take your putting to the next level.