Whether you're shopping for Christmas, birthdays, Father's Day or any other occasion we're here to help you find the best golf gifts. Let's face it, shopping for a golfer in your life isn't easy.
It's easy to wonder if you should buy clubs, balls, golf socks, gear, clothes, or accessories. Today we'll help simplify the process with a wide selection of gifts for all types of golfers.
Best Golf Gifts in 2023
Key Takeaways
Golf gifts can vary a lot based on price ranges, unique gifts, and someone's golfing experience.
The best golf gift isn't necessarily the most expensive but one that either helps a player improve their golf game.
Or, a golf gift that is personalized and might have some sentimental value.
Let's start with golf tech that can help any golfer in your life.
Golf GPS Watch
A golf watch is a perfect gift for weekend warriors and avid golfers alike. This one gift can have a huge impact on their game as watches can:
Help analyze their rounds.
Keep score and track statistics.
Provide more details about the hole and greens.
A golf watch is like having a caddy on your wrist! Check out the best golf watches here.
Portable Personal Launch Monitor for Golf
If you're shopping for a golf gift for someone who is an avid player a portable launch monitor is a great idea. This small device can help teach golfers more about their swing path, smash factor, ball speed, clubhead speed, and a lot more.
Check out our list of the best golf launch monitors here and a few top picks below.
Rapsodo Mobile Launch Monitor
If you're looking for a lower price mobile launch monitor it's hard to beat Rapsodo. It uses a phone as a launch monitor and it is easy to see why it was a top-rated monitor in 2022.
Here's the description from Rapsodo, "The Rapsodo Mobile Launch Monitor is as accurate (within 2%) as Trackman at only 2% of the cost. We use proprietary Doppler radar technology that works with your iPhone or iPad camera to provide professional-level accuracy on: shot distance, ball speed, club speed, shot shape, smash factor, launch angle, launch direction, and more."
Needless to say, any golfer who loves to practice will get a ton of benefit from this device.
You can order the original Rapsodo MLM here or here. If you want to really impress your golfer, you can order the upgraded Pro version here or here.
Garmin Approach R10
The Garmin Approach R10 is one of the best gifts to help someone improve their golf game. This small portable launch monitor can help provide tons of swing data in real time.
It works outdoors or indoors and helps any golf lover learn more about their game. The device provides dozens of golf metrics, record video clips of each shot, play virtual rounds, and a lot more. Not to mention it has 42,000+ virtual golf courses and connects with the best golf simulator software as well.
The Garmin Approach R10 is available here or here.
SkyTrak+ Launch Monitor and Golf Simulator
SkyTrak+ is a fantastic launch monitor that also doubles as a golf simulator too. It's small, easy to use, and works indoors or outdoors. It measures so much data about the swing and provides an amazing simulation experience.
Bushnell Launch Pro Personal Launch Monitor
Not everyone will be able to afford this gift but it's worth nothing on this list because it's one of the best monitors in golf. Here's how Bushnell described it, "The Launch Pro combines proprietary high speed/high resolution cameras with infrared which has been optimized in an auto calibrating three-camera system to deliver Tour-level performance and accuracy on every shot."
The Bushnell monitor measures tons of data and has "Tour" proven consistency. It's easy to see why this monitor is used by top teaching pros and amateurs alike. It helps players know their numbers (on or off the golf course), provides true to life simulation, and is compatible with a variety of software packages.
If you buy this no doubt whoever is on the receiving end will say it's the best gift ever! You can order a Bushnell Launch Pro here.
OptiShot Golf in a Box Simulator System
This is a complete package for someone who truly loves golf. It's the ultimate indoor golf experience that allows players to practice at home.
Here's what's included in the Golf in a Box package:
OptiShot 2 simulator.
High-grade hitting net.
Access to 15 epic golf courses.
Hitting mat that is designed for the OptiShot 2 simulator.
It's no doubt the perfect gift for someone who wants to practice at home in the offseason. It also works for up to four players too. You can order this gift here.
Please note this simulator is for indoor use only and not something that can travel to the golf course (like a launch monitor).
Rangefinders
To navigate the course better every golfer needs a rangefinder. But one search for the best rangefinders and it's easy to get overwhelmed with the massive selection.
Here are some of our top picks:
Or, you can check out all the best rangefinders here.
Arccos Caddie Smart Sensors
This sport is a lot easier with a caddie, but for most players this is rarely an option. While rangefinders can help, there's a new gadget that can act like your caddy on the course.
The Arccos Caddie Smart Sensors is not only a rangefinder but a ton of other helpful features. As you play, it logs your shots and holes to compile a clear picture of your round besides just the score.
This A.I. acts like a personal caddy to help you find the perfect distance (as it even considers wind, elevation, temperature, etc.) but also learns about your game. Over time, it will help you create the optimal strategy to shoot lower scores with advanced analytics.
Any golfer who wants to improve will be more than excited to start using this to start shooting lower scores.
You can order the smart sensors here.
Bushnell Wingman GPS Speaker
If you're shopping for a golfer who enjoys music on the golf course this is a great idea. Bushnell makes some of the best range finders in golf but also a great speaker.
The Bushnell Wingman GPS speaker is well priced and attaches to the golf cart with ease. It also comes with the Bushnell Golf App to provide aerial views and flyovers of hole layouts with distances. Plus, it's small enough to easily store in a golf bag too.
You can order the Bushnell Wingman here.
JBL Clip 4 Speaker
If you're shopping for a Bluetooth speaker the JBL Clip 4 is a great alternative to the Bushnell. It's cheaper, smaller, and clips to a golf cart or bag with ease.
It has great sound, super portable, waterproof, dustproof, and has ten hours of battery life on one charge. Great to use off the course too for family events, BBQ's, camping, etc.
Best Golf Gifts For Improvement (Training Aids)
As you likely know, golfers are always trying to get better and take their game to the next level. This section will help you find training aids and other gadgets to improve their swing.
Whoop 4.0 Health and Fitness Tracker
Whoop is a great gift for all types of golfers and anyone interested in learning more about health and fitness. This wearable device is smaller than an Apple Watch and less distracting too. No screen means no notifications but it's constantly collecting data 24/7.
The Whoop is used by the best golfers in the world on the PGA Tour and can be worn on the wrist or upper arm. Some of the benefits of this device include:
Tracking and improving sleep.
Tracking and improving workout routines.
Coaching using Open AI to help achieve your goals.
Learn more about recovery and how different habits impact health.
You can order a Whoop 4.0 here.
Golf Forever Training Program
If you want to help your golfer get into better shape the Golf Forever Training Program is a great gift. This is a full system that helps with golf workouts using a set of fitness tools and app specialized for a golfer's swing.
Players can use this on or off the golf course as part of a golf workout program. Or, attach it to their golf cart as part of a pre-round warm up routine.
The SuperSpeed System
If your golf enthusiast is working out and wants to add distance to their game, the Superspeed System is a great golf gift. This one gift can help their golf game for the rest of their career when used correctly!
What is it?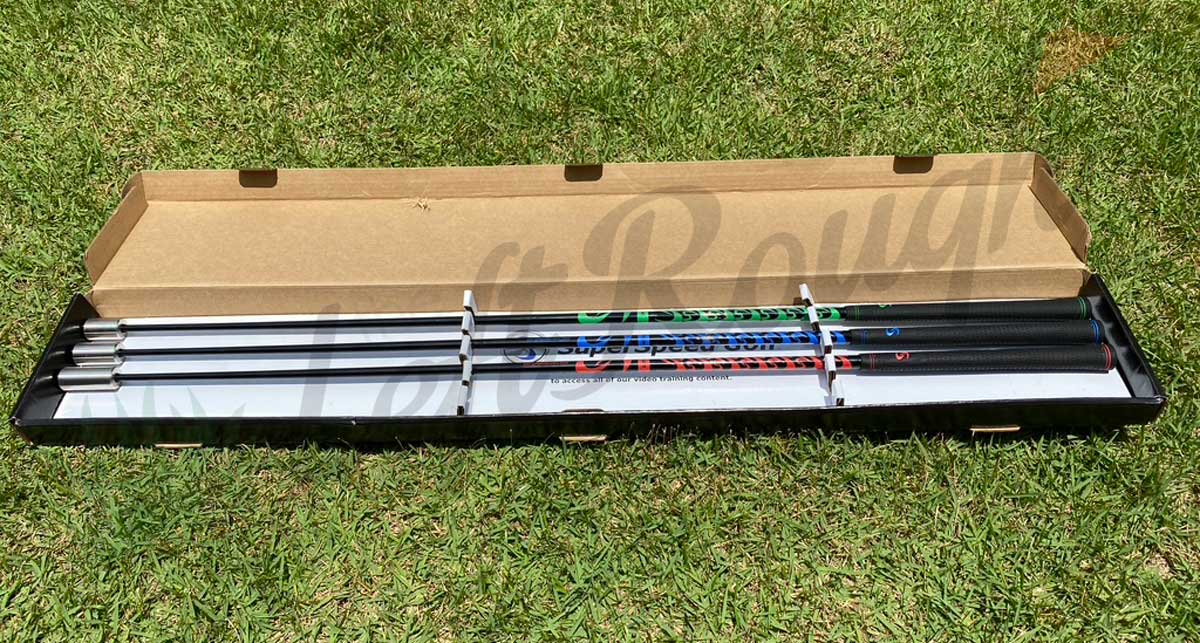 A speed training system that helps golfers learn how to add speed to their swing with practice drills and training protocols. It's one of the best speed training systems around and used by tons of professional golfers. It's also a great warm up tool to use before the golf course too.
Read our full review of The Superspeed System here.
Therabody Mini Massage Gun
Golf is not easy on the body so the best gift might be something to help players loosen up before the round. This small massage gun from Therabody is small and lightweight but very powerful.
It also connects to the Therabody app to control the device and improve recovery. Before hitting balls on the driving range or going to the putting green golfers can use this to loosen up and start the round fresh.
It's small, easy to use, and can easily be stored in a golf bag.
You can order the Therabody Mini here.
SKLZ Golf Swing Trainer Warm-up Stick
If your golfer needs some help warming up before the round to avoid injuries, the SKLZ warm up stick is a great choice. It is a lot cheaper than something like the Stack or SuperSpeed Golf.
Order the SKLZ swing trainer here.
Lag Shot Training Aid
The Lag Shot training aid was voted the #1 swing trainer in 2022!
This training aid is so cool because it helps any golfer in your life create "lag." If you don't play golf, you might be confused but this is a great thing to have in your swing.
More lag means more ball speed, better shots, and some of the best golf in your life!
This training aid is so great because golfers can hit balls with it on the driving range or use it at home without hitting golf balls. With only 10-15 minutes of work every few days, golfers can groove a more consistent swing!
It's a great addition to any golf bag. Click here to learn more now.
Indoor Putting Green
Putting is one of the most important parts of the game and something all golfers can get better with (even if you're shopping for a seasoned pro). Indoor putting greens are an awesome golf gift that is practical and can last a long time.
Indoor putting greens vary in price depending on the type of material, length of mat, type of holes, and more. Some of our favorite choices include:
Prime Putt: This is one of the best mats in the industry and a golf gift everyone will want to add to their list.
Breaking Ball Putting Mat: This is not only a putting mat but has a unique golf ball system included. While you can practice with real balls you can use their "breaking balls" to simulate a golf ball that breaks on the green.
BirdieBall Putting Green: This is a perfect gift idea for the home or office as you can easily customize it with a logo.
Check out our favorite indoor putting greens here.
SKLZ Smash Bag
Shopping for someone who likes to hit the golf ball into a net and practice at home? If so, the SKLZ Smash Bag is a great idea so they can train at home for performance on the golf course.
This lightweight but heavy duty bag helps golfers eliminate fat or thin shots and improve ball striking.
Orange Whip Training Aid
If you're shopping for a golfer who has trouble loosening up before a round, the Orange Whip Swing Training Aid is a great option. This is a top-rated golf swing trainer that is used by PGA and LPGA professionals worldwide.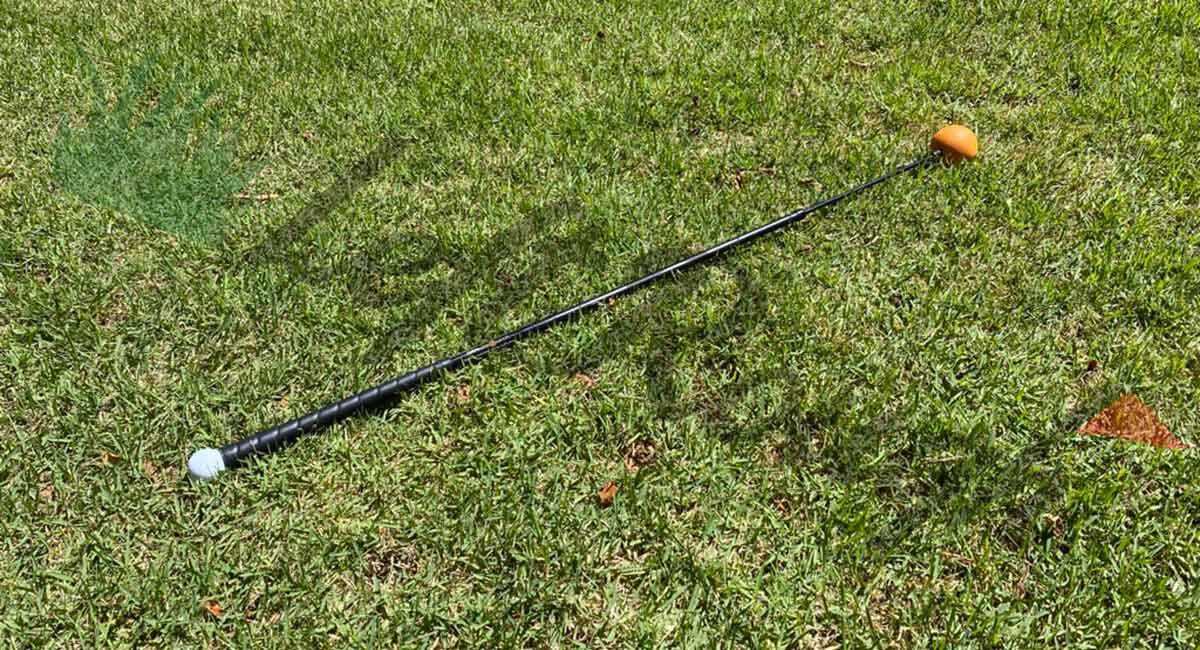 It's designed to increase flexibility and strengthen golf muscles with its counterweight system. Plus, with its flexible shafts, this golf swing trainer will help coordinate the proper rhythm and timing for a great pre-round warm up session before hitting golf balls.
Other Awesome Gifts for Golfers
Need some more thoughtful gift ideas that show a more personal touch than buying a golf rangefinder or training aid? Your favorite golf aficionado will definitely love these items.
Mullybox – The Subscription Box for Golf
Mullybox is a unique gift that will help anyone look better on the golf course. This subscription box service is a quarterly service and very easy to get started for some new golf clothes.
Simply choose gender, shirt size, style, glove hand/size, and type of membership (choose between the Mullybox or Apparel box). They also accept returns too if something doesn't fit or match their preferred style.
Learn more about Mullybox here.
New York Times Personalized Golf History Book
The history of golf is one of a kind and this coffee table book is a great is sure to entertain. Here's how the NY Times described it,
"This coffee-table book practically puts you on the 18th green on the final day of a championship tournament. It retraces golf's greatest players and biggest tournaments as told through rarely seen pages from The Times archives. The anthology comes with a stately green leatherette cover that can be personalized with the recipient's name."
Plus you can get it personalized too! This is definitely better than picking something up last minute at the sporting goods store.
Hole in One Display
A hole in one is one of the most unlikely shots in golf (about 12,500 to 1)! Needless to say, it's important to celebrate a hole in one with a great piece of home decor.
The Chez Monett hole in one case is a great choice and has engraving options too.
Custom Dog Photo Golf Head Cover
Does the favorite golfer in your life also love his dog nearly as much as golf? If so, it's hard to beat a custom dog photo golf headcover.
Some brands simply upload an image of your pet on a headcover but others like Petsies go above and beyond. This personalized golf gift is 100% unique as each headcover is handmade to look exactly like a dog (or cat).
All you need to do is upload the image and they'll take care of the rest. They're a little more money but it's definitely a legendary golf gift. Make sure to plan for a little longer shipping as each headcover is 100% unique and handmade.
Sunday Golf Bag
Another one of the best golf gifts you can buy is a Sunday golf bag.
These bags are smaller than normal bag and meant to help players carry their bags with ease. If you know a golfer in your life who wants to walk more than ride (or like playing short courses), grab them a small, lightweight "Sunday" golf bag.
One of our favorites is the Sunday Golf Loma Bag.
This one bag is small, weighs less than two pounds, and makes it easy to carry 6–7clubs with ease. Plus, unlike a lot of bags it has a cooler pouch and plenty of pockets too.
Plenty of room to carry golf tees, balls, rangefinder, and other accessories. It won't fit every golf club but great for practice and casual summer rounds.
FootJoy Golf Shoes
If you're looking for great shoes, FootJoy is arguably one of the best choices in the game. The Pro SL shoes aren't cheap but they look great and perform amazing for all types of golfers.
According to FootJoy, "The StratoFoam cushioning system uses a proprietary blend of materials to provide optimal support and comfort for conditions encountered while playing golf – swinging, walking and everything in between."
They make walking 18 holes easy thanks to the shock absorption features and should help reduce end of round fatigue. A must for golf lovers who enjoy walking vs. riding in a golf cart!
Click here to find the right color and size.
Other picks from FootJoy include:
Custom Golf Shoes
While FootJoy has a huge selection of shoes, it's hard to think of a better golf gift than a custom FootJoy shoes. They allow you to custom design shoes with different styles, colors, and more to make them truly one of a kind (and make their golf buddies jealous).
Choose your style, make it your own by picking the laces, leathers, and even custom details like adding initials. These are great golf gifts for players that have it all and special occasions.
Apparel
Lastly, there are tons of choices when it comes to great golf clothes and accessories. Here are some of our top picks:
Genteal Apparel: This newer apparel company has everything a golfer could need. The buttery soft fabrics, comfortable pants, and great polos make them a top choice for golfers. Their Clubhouse Stretch pants are some of the most lightweight golf pants I've ever seen and one my favorite pants in my closet!
FootJoy Hydrolite X Rain Jacket: A great gift for someone who plays a lot of winter golf and needs a high-quality outer layer.
FAQs About Golf Gift Ideas
Do you have more questions about the best golf gifts for your favorite golfer? If so, keep reading through the most frequently asked questions and answers now.
Should I buy golf balls as a gift?
The one thing every golfer needs to play are golf balls. So yes, it's a good golf gift idea as long as you get the type of ball they normally play. Make sure to check their bag or ask one of their friends to ensure you buy the right type of golf balls.
Most golf courses have them for sale too but might cost more than buying online. You can also order golf balls online with customization like a business logo or initials too.
What do you get a guy who plays a lot of golf?
It depends on the type of golfer you're buying for as they're endless gift ideas. Easy gifts include golf balls, a new golf glove, or a new outfit. Others might want training aids or golf accessories like the ones mentioned above.
What is the best golf subscription box?
If you're looking for golf essentials in a box there are some great choices as it's a very thoughtful gift. Some of our favorites include MullyBox, Birdie Bundle, Swinger Box, and more.
Should you buy golf clubs for someone?
I'd strongly recommend against it as golfers are very particular when it comes to equipment. Every golf club needs to suit their swing perfectly so if you do buy make sure it's the right one (or keep the receipt just in case).
My Experience
As I'm sure you know – not all golf gifts are created equal.
I'm a golf lover myself and received some great gifts from friends and family over the years. But I've also received some gifts that I couldn't wait to return either.
While every golfer is different I can say that most golfers likely don't want a new golf glove or golf towel. Not that we don't need those things, it's just not the most fun golf gift.
While buying clubs is a nice gesture, it's also hard to shop for the right clubhead, shaft, etc. I'd suggest skipping these items and instead focus on the gear mentioned above to give the best gift possible.
Final Thoughts on Best Gifts for Golfers
So, what is the best golf gift?
It depends on your budget and the type of golfer you're buying for. Some want golf apparel (like golf socks) while others want training aids, gadgets, or a golf watch. Some want something for the course, others want something to practice or work on their game at home.
We're convinced the list above will make every player happy and have tons of options for all budgets.